No matter how much you love your low carb way of eating, life is filled with temptations. If you are struggling with Keto then we are here to help you with these tips on how to stick with keto. These handy tips for sticking to your low carb diet will help you stand strong during those moments of weakness.
If you are just getting started with the Keto diet then you will also want to check out the 5 Tips for Starting the Keto Diet and the Keto Diet Basics, that will help you with understanding the Keto diet and low carb way of eating.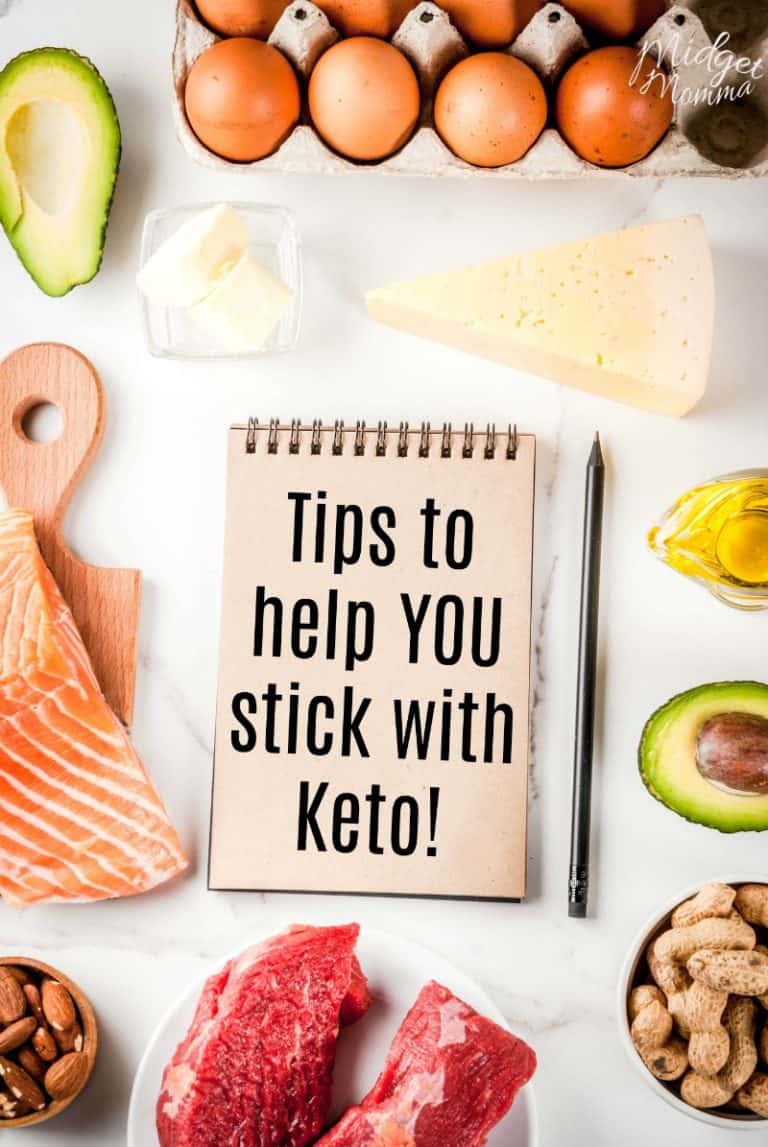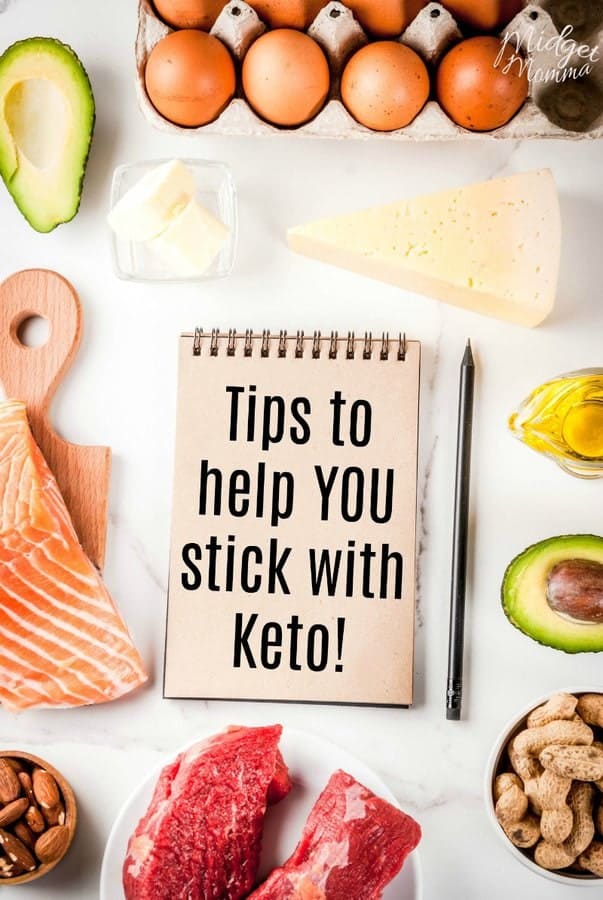 Tips for sticking with Keto
It takes time to adjust to any big lifestyle change, and low carb is no exception. Despite all the delicious foods you can enjoy as part of your keto lifestyle (like bacon!), the carb-loving world continues to go on all around us. And it's only natural to have moments when we feel the call of "forbidden food".
These helpful tips for sticking to your low carb diet will help you to avoid some of the common pitfalls before they trip you up.
Tips for Sticking to Keto and Low Carb Diet
Always Have Favorite Low Carb Foods Available
If you make sure to always have some of your favorite low carb foods within reach, you are much less likely to succumb to temptation. Cook up keto friendly treats to take with you whenever you are out in the world. Whether heading to work or just running errands, you'll be less likely to reach for a donut or slice of pizza if you have some tasty meats, cheeses, and favorite veggies on hand when you want to snack.
Stay Off the Scale
You know the feeling. You're proud of yourself because you've stuck to your eating program all week long and you just can't resist getting on the scale to see if it's made a difference yet. And that evil scale has bad news for you – not only have you not lost anything, you're actually a half pound heavier than you were last week. It's enough to make a person's head straight to the kitchen for a sandwich!
One of the best tips for sticking to your low carb diet is to avoid the scale as much as possible. Weight loss on low carb or keto can be weird. Some days there could be a sudden drop in weight because you suddenly released a lot of water. Other times you may find that the scale doesn't move at all – for two weeks or longer. The more you get on the scale, the more you open yourself up to these potentially crushing blows, which can undermine your determination. Ideally, aim to weigh yourself only once a month, if that.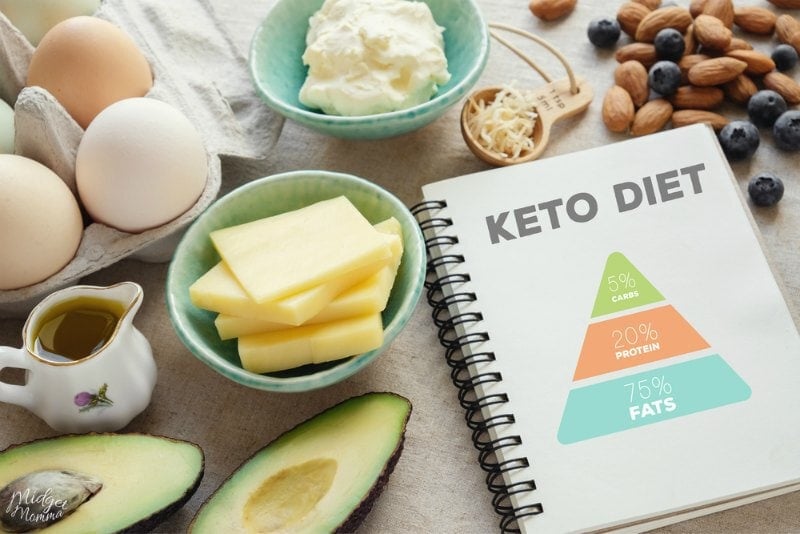 Your Tape Measure Is Your Friend
When you eat low carb or keto, you shift your body away from a reliance on carbs for fuel. Instead, it becomes a fat-burning machine, while leaving your muscles healthy and strong. So even when the scale is being uncooperative, your tape measure is your friend. It is actually one of the best ways to accurately see your progress.
Muscle weighs more than fat, but fat takes up a lot more room. So even when the scale hasn't moved much at all, you may still find that, according to your tape measure, you've lost 15 inches from various areas of your body.
Find a Great New Recipe
Any way of eating can feel boring and repetitive after a while. Fortunately, there are so many great sources for low carb recipes and keto recipes these days, including my site. So if you find yourself needing to shake things up a bit, try making something new and delicious.
It's hard to feel bad about your food plan when eating Spinach Artichoke Chicken Casserole or Low Carb Blueberry Cobbler.
Some of my favorite Keto and Low Carb Recipes are:
Journal Your Feelings
No matter what goals you are pursuing in your life, journaling is a great tool. Something about the process of writing out your thoughts and feelings can do wonders for lifting your spirits and getting you back on track. So if you find yourself tempted to give in to bad choices, try doing some journaling. Write about how you used to feel at your highest weight, and how much better you are feeling now. Celebrate your progress. Write about the things you dream of doing. And be sure to tell yourself how proud you are of YOU!
Any big life change can be challenging, and shifting to a keto lifestyle is no exception. I hope that you will find these tips for sticking to your low carb diet to be helpful – making it easier for you to stay on track when those difficult moments arise. And if you care to share, I'd love to hear about your progress on low carb in the comments below!
If you are new to Keto check out these informational posts!
It is always important to remember that this journey is YOUR journey. It is no one else's, and you should always be proud of yourself for making any life changes that you make. There are going to be times when your journey is different then other people's and that is OK! There are times that things work for you that don't work for others and there are things that will work for you that don't work with others. It is great to surround yourself with supportive people, but remember that everyone is on their own journey.
My Favorite Keto Items to buy on Amazon:
Make sure you snag the FREE Keto Cookbooks too! They will help with getting ideas for meals? 
Get Our Newest Keto Recipes!
Subscribe to get our Newest Keto Recipes by email.