If you are looking for the Extra Magical Things to Do At Disney World you are totally in luck! With many Disney trips under our combined belts, Lauren and Stephanie have lots of things they love about Disney World. Combined we have compiled this list of things to do at Disney that will help you with your Disney world vacation planning. These things to do at Disney World will make your Disney World trip extra magical!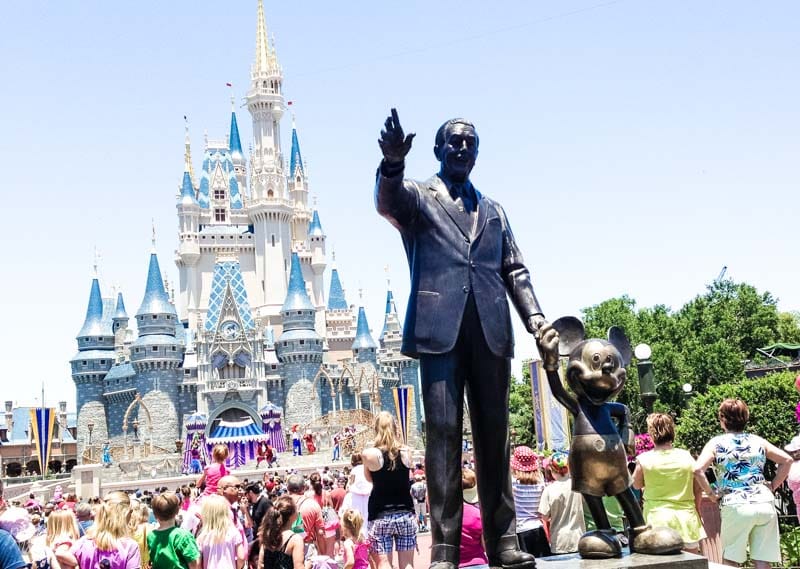 Things to Do At Disney World
Going to Disney World is quite a splurge to begin with and it is always a magical trip no matter what you do while you are there. However there are some amazing extras at Disney World that are worth splurging on even more for your Disney World Trip.
Both Stephanie and Lauren are know as "the Disney Family" with their friends and family and end up with a lot of questions about making a Disney World trip. What can we say, Disney is a place we both LOVE!
Stephanie is more of the planner, she is the one who plans things out before she goes. She has spent countless hours watching youtube videos, podcast and browsing Pinterest to plan their family Disney World trips. Lauren plans a little, she is more of a figure it out type of person. So while at Disney is rather spontaneous and figures things out on an "oops" basis most of the time. Combined we have got a wealth of Disney information in our heads that we are happy to share to help other make the most of their Disney World trips.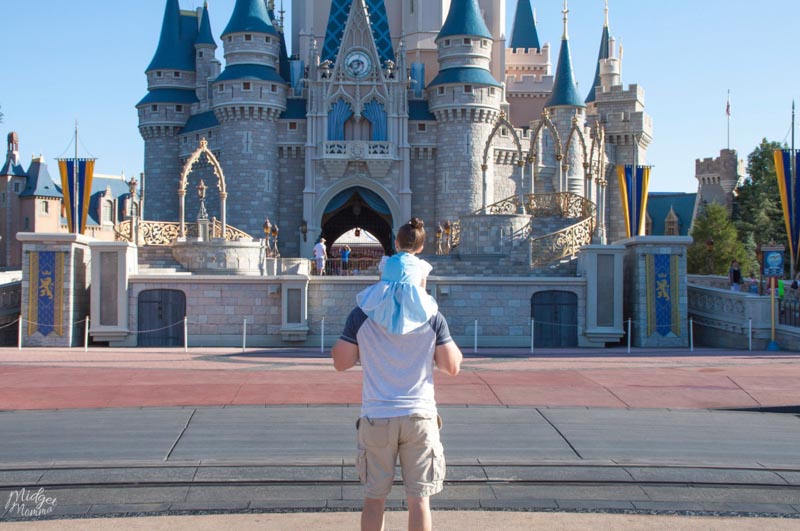 Extra Magical Things to Do at Disney World
You are going to be surprised at just how many extra magical things to do at Disney World there are. From Disney character dining, hands on learning experiences, and more there are so many things you can add on to your Walt Disney trip that will make it extra magical.
I am going to warn you, that some of these extras can be a hit on the budget and get a bit expensive. We tried out different splurge items over the course of the last few years and trips to Disney World. These are our favorite parent tested and kid approved Disney World Splurges that will take your Disney World trip over the top! These over the top things have REALLY taken our magical experience to the next level and adding at least one to your Disney World trip we think is important.
Before we get started on the Extra magical things to do at Disney, let me say we know Disney isn't a cheap vacation. But it is TOTALLY worth it and the family will make amazing memories! My kids still talk about their first Disney World vacation years after the fact. Be sure you also scroll to the bottom of this post, for more Disney world vacation planning including ways to save money at Disney World, that will help the budget when you are splurging on these amazing extras. My big trick to affording the splurges is to save money at Disney where I can and then take the savings and use it for awesome splurges.
Magical Disney Experiences
Yes I know that Disney World is magical just driving on to the Disney property or walking into a Disney Park, but there are extra special and extra magical things to do at Disney with the kids.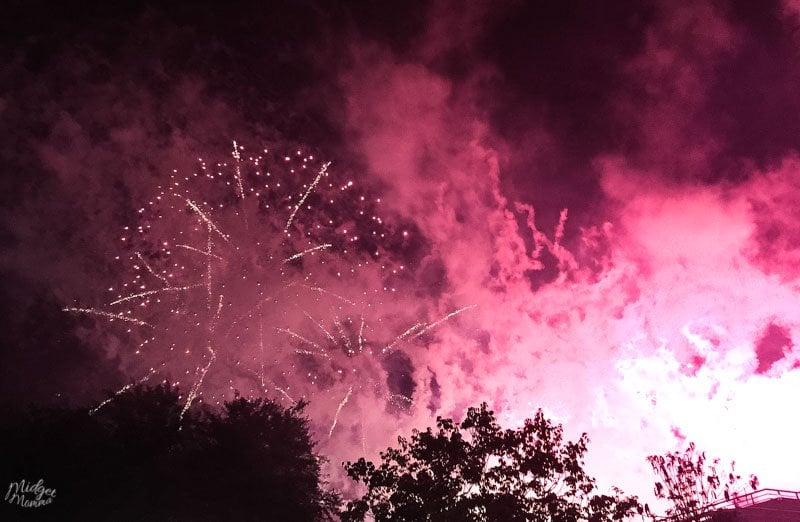 Disney World Fireworks
With Disney World Fireworks everyone can see them. Going to a Disney Fireworks Dessert Party means you get the best views they have of the fireworks in each park. Plus you get to enjoy super tasty desserts that are themed. Adding a Disney Fireworks dessert party to your Disney World vacation planning will totally add that extra magical touch to your Disney World trip!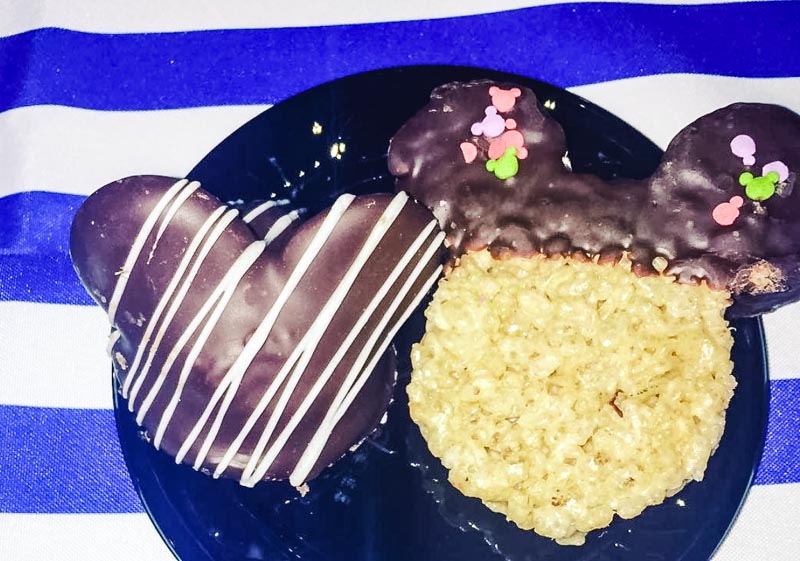 Disney World Fireworks Dessert Parties
There are multiple options for Disney Fireworks Dessert Parties. Each park has their own dessert party option that goes along with the fireworks show that they have. We have done the Epcot fireworks dessert party and not only were the dessert options amazing but the view of the fireworks was the best that we have had ever.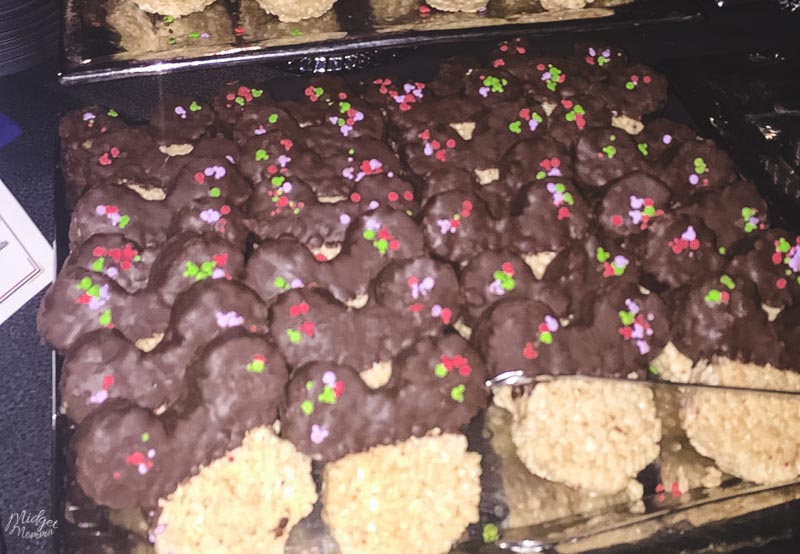 To enjoy a Disney Fireworks dessert party, you do need to make advanced reservations for your party.
Magic Kingdom Fireworks Dessert Party – get more information here.
Epcot Fireworks Dessert Party – get more information here.
Hollywood Studios Star Wars Fireworks Dessert Party – get more information here.
Epcot Frozen Ever After Fireworks Dessert Party – get more information here.
Fantasmic! Dessert & VIP Viewing Experience –  get more information here.
Rivers of Light Dessert Party –  get more information here.
If you have a favorite Disney World fireworks show that you must see when you are on your Disney World trip, add in the dessert party to make it even more magical.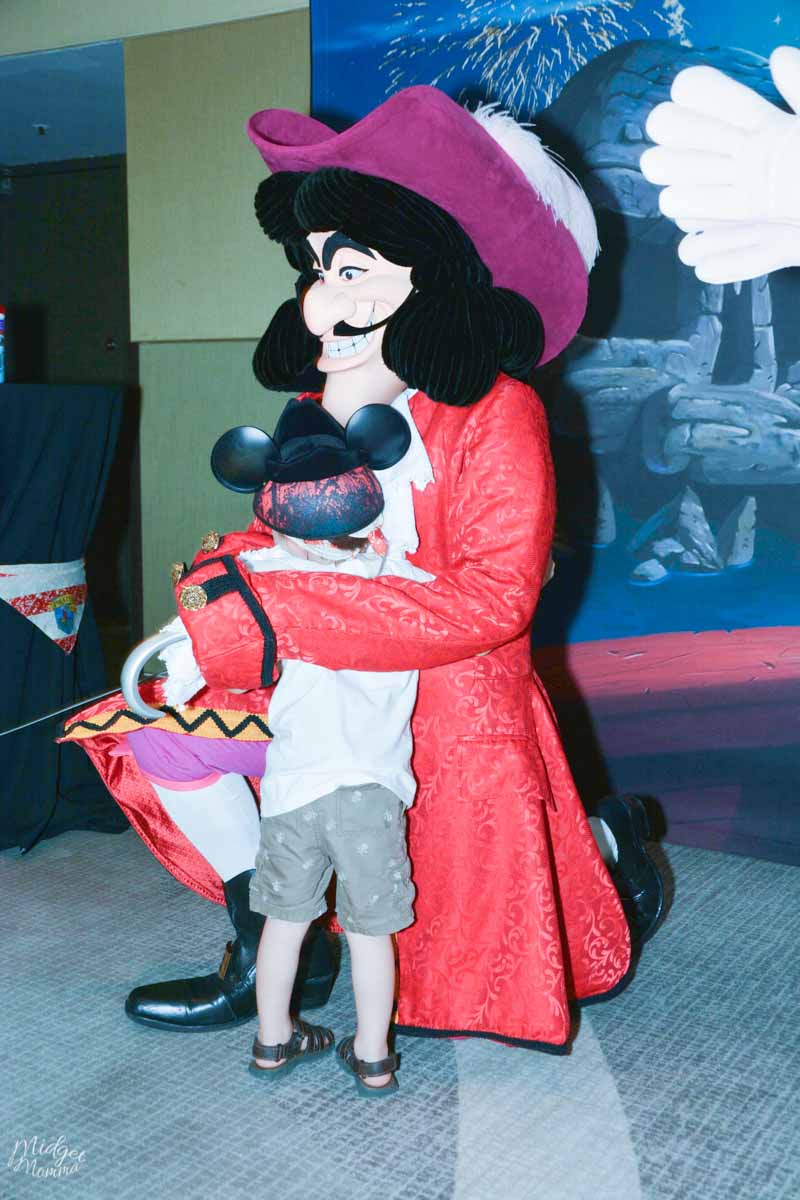 Pirates and Pals Fireworks Voyage
Now if you want to take watching the fireworks up a notch even more from a dessert party then you are going to love the Pirates and Pals Fireworks Voyage!
This cruise takes place at Disney's Contemporary Resort and is so much more then just a tasty party. It is a full on experience that the kids will love! My son is obsessed with anything and everything pirates and he LOVED the whole experience from start to finish.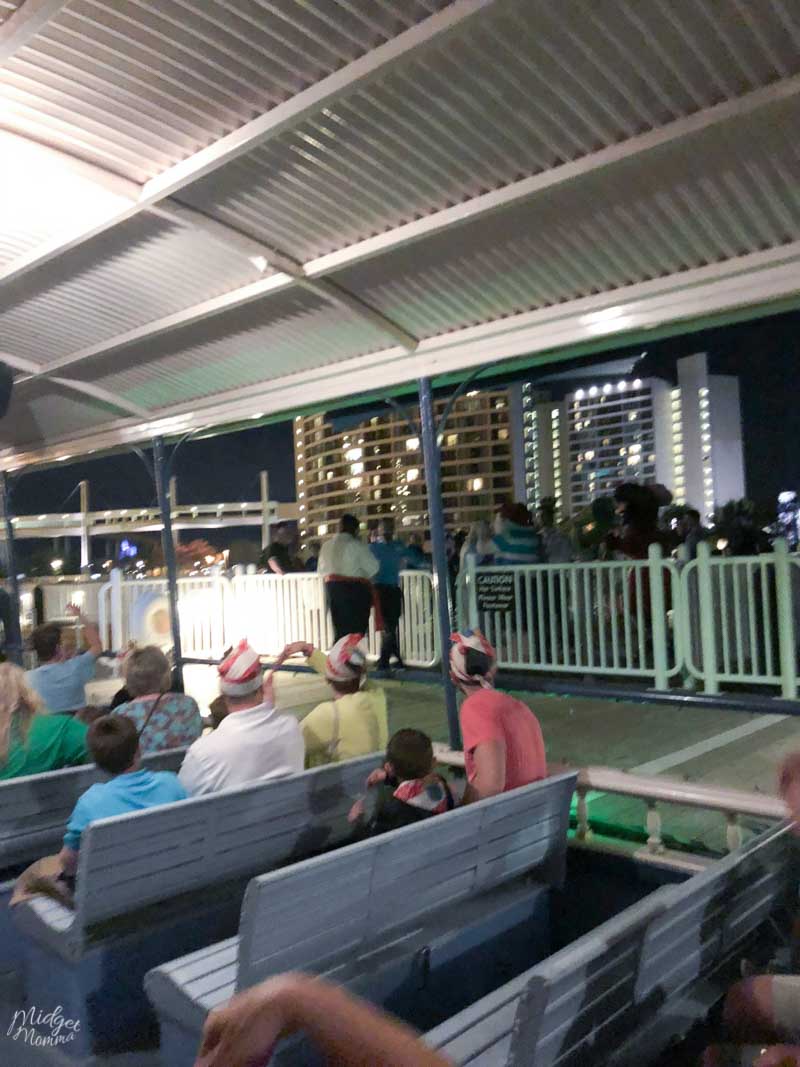 Before your schedule voyage time, get there early so you can take part in the fun scavenger hunt with a chance to get a piece of captain Hooks pirate treasure at the end. Once it's your scheduled time, the doors will open for your pirate party with Captian Hook and Smee! After you get your groove on with Hook, they will bring you to your boat to set off on the Seven Seas Lagoon to have the best view of the fireworks.
Even if you're not obsessed with pirates like my son, this is one of the coolest things to do at Disney. I was in shock in awe watching the fireworks from this location. Keep your eyes open at the end of the cruise there might be a magical surprise waiting for you when you dock!
If you have a pirate fan, adding the Pirates and Pals Fireworks Voyage to your Disney World vacation planning will totally add that extra magical touch to your Disney World trip!
Get more information and book yours here.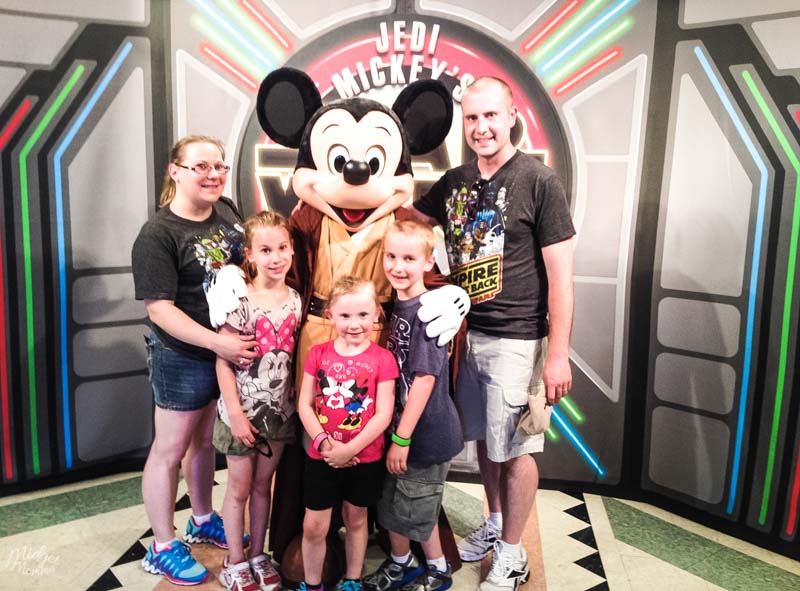 Disney World Dinner Shows
If you are looking to go the next step up from just a dessert party or up from a character dinner, Disney World has quite a few Dinner Packages that give you a fun meal and then continue the fun with a show! Depending on the dinner package there are a variety of restaurants to pick from. When you watch the fireworks with a dinner package, you get AMAZING seating too!
An extra perk of the dinners shows at Disney World, is some of them are also character meals. So you get the perk of having a character dinner and amazing seating for the show.
Disney Fireworks Dinner Shows
We have done the Fantasmic! Dining Package and choose the Hollywood and Vine Jedi Mickey dinner when they had it as an option. It was a ton of fun, the kids loved getting one on one time. The interaction with the characters was amazing, and since we are huge Star Wars fans, it being Star Wars themed dinner made it even better.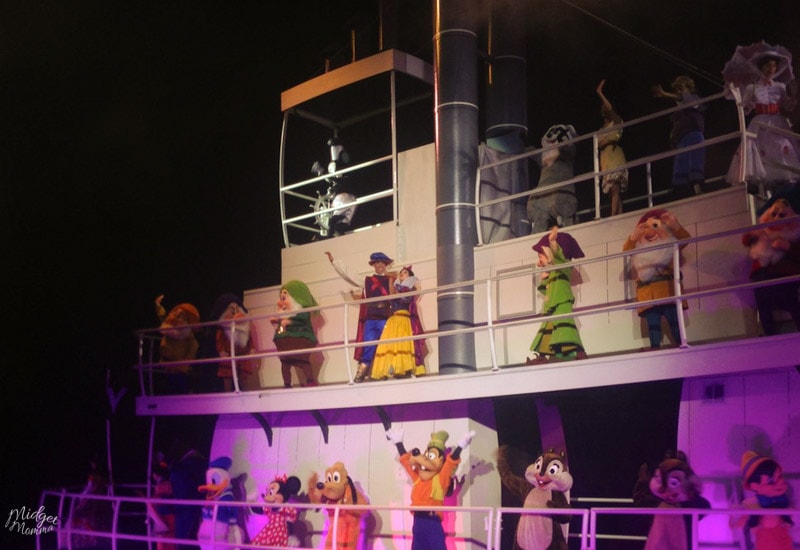 Currently the options for character meals at Hollywood and Vine are Minnie's Seasonal Dine at Hollywood & Vine and Disney Junior. You can pick from eating breakfast, lunch or dinner as your meal and then get the special seating later for the show.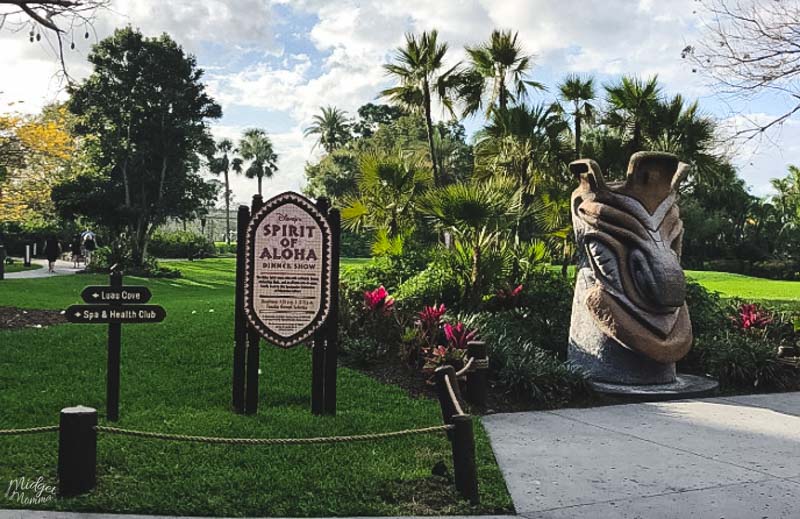 Disney World Dinner Shows
The Spirit Of Aloha is a Disney World dinner show at the Polynesian resort. On one of our days off from the parks, we wanted to do something fun with the kids that would keep the Disney feel. We were staying at the Polynesian and I thought it would be fun to stick with Polynesian theme.
I (Stephanie) have to admit I was a little nervous about this show. I did my research like I always do and  there were some bad reviews on this show. My husband and I talked and he said "there will always be negative people everything is what you make of it". He was totally right and I am so glad we made the choice to do the Spirit Of Aloha dinner show.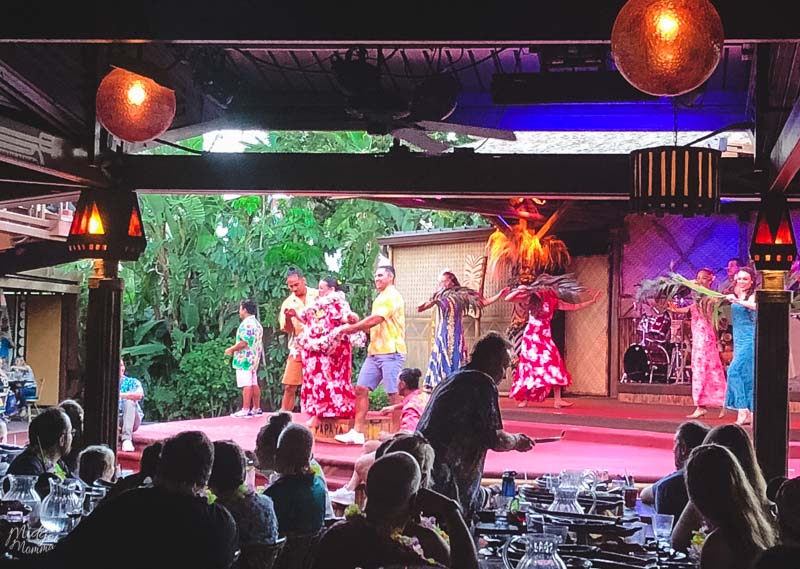 The Spirit Of Aloha dinner show is one of my favorite memories from this Disney World trip. My daughter's face lite up with amazement when watching the show. During the show, they invite the children to come up and learn how to do a dance. It has been a year since we saw the show and my daughter still dances the dance!
The food is served family style, and delicious! The meal consists of Aloha pulled pork, Polynesian ribs, roasted chicken and a vegetable medley. You also get a fresh salad with mixed greens and ginger-lime dressing. For dessert they serve pineapple-coconut guava cake with chocolate crunch! We really enjoyed the food, especially the yummy Aloha pulled pork. You HAVE to try the Aloha pulled pork!
Advance reservations are highly recommended and can be made up to 180 days prior to your visit. See more information here.
If you love shows and tasty food adding a Disney dinner show to your Disney World vacation planning will totally add that extra magical touch to your Disney World trip!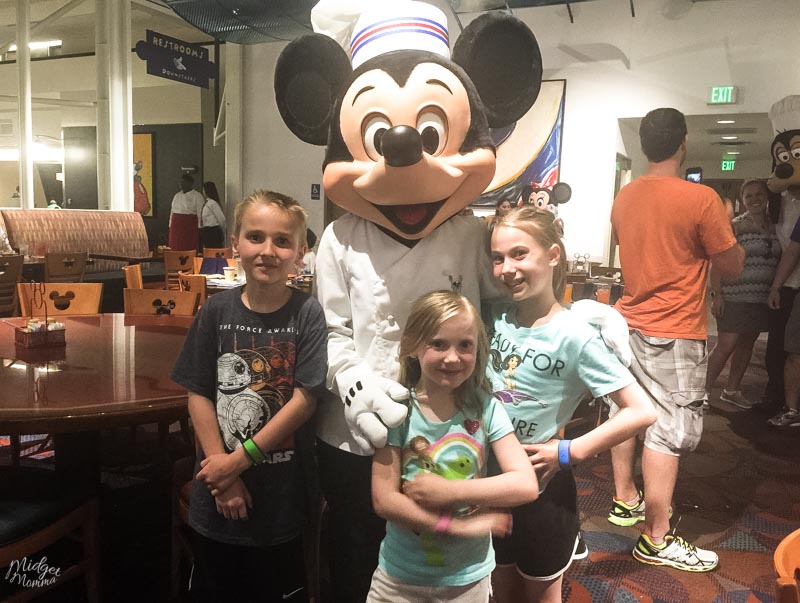 Disney World Character Dining
It is one thing to wait in line to meet the characters, it is another to sit down and have a meal with them. Disney World character dining is a great way to get some extra fun with the characters when you are at Disney World. We love Disney character dining as a splurge because they are so much fun and a great place to make memories.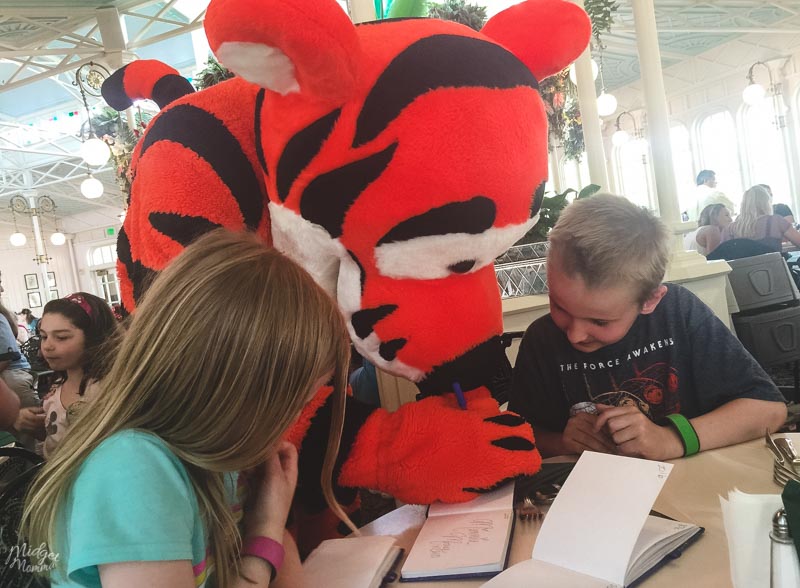 Have you ever dreamed about going into Cinderella castle? Well if you score a Cinderella's Royal Table reservation, you will be able to fill that dream. It one splurge that we think everyone should do at least once!
If you are looking to enjoy a meal with Mickey Mouse, Minnie and the rest of the gang, Chef Mickey's might just be the perfect Disney character dining meal for you!
There are lots of different options when you are looking for Disney character dining fun. We have been to quite a few and we have our favorite place to eat with characters at Disney World. I honestly don't think you can go wrong with any of the Disney World Character Dining options, however be sure to check out our Disney World Character Dining post where we share what we think is the best character dining at Disney World.
If you love meeting characters and tasty food adding a Disney dinner show to your Disney World vacation planning will totally add that extra magical touch to your Disney World trip!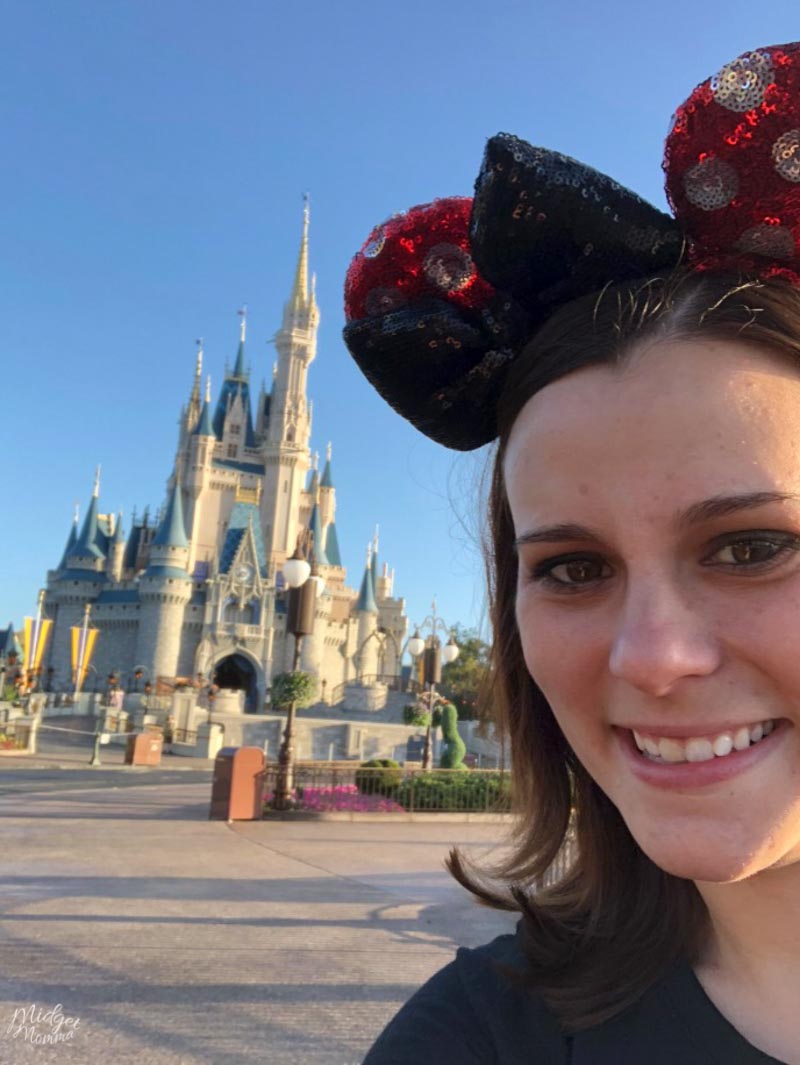 Get Into Disney World Before the Park Opens
While we are on the subject of food there is a small secret that gives a BIG experience for your Disney World trip. There are restaurants in all four parks open at 8:00 am which means you can make dining reservations as early as 8am!
When you have a Disney dining reservation for 8am, you are able to get inline to enter the park as early as 7:30!
Having early reservations gives you the ability to get that amazing Disney castle picture in the park with a minimal amount of people in the background! If you have the photo pass, they will even have those photographers lined up right down the main street.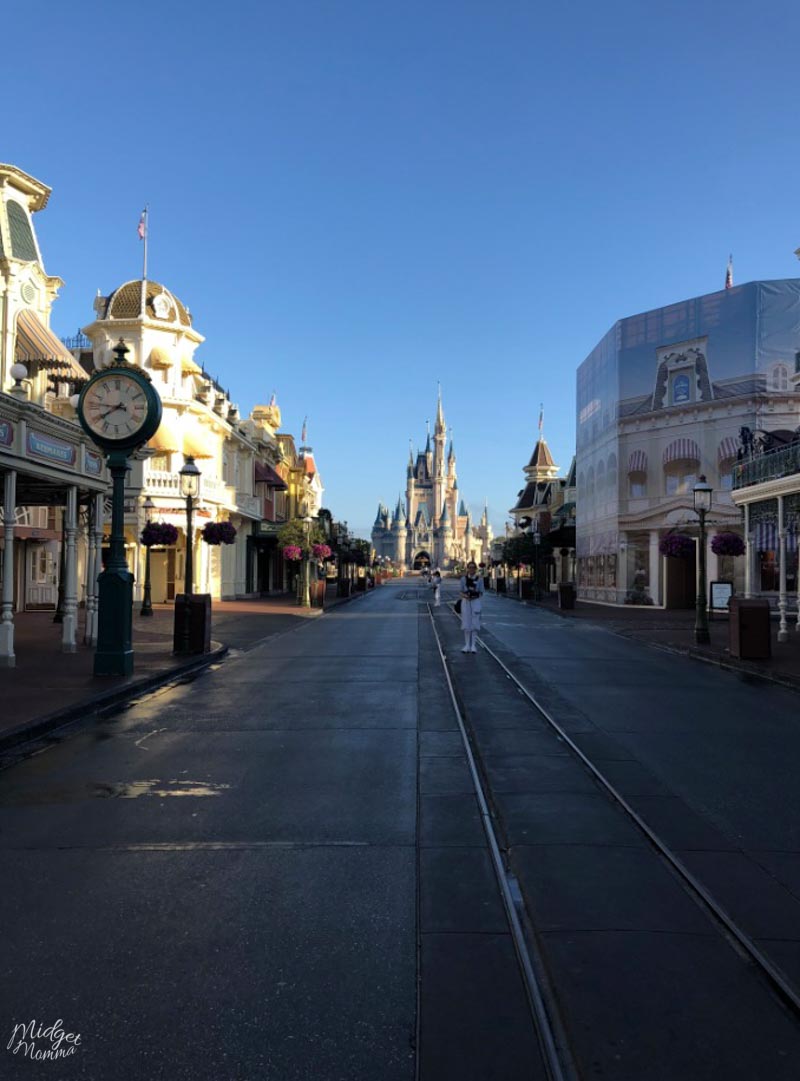 This also means is that depending on the restaurant you choose you could be done eating breakfast before the park is even open. Which means you can get a good spot in line for some of the long-lined attractions like Snow Whites Mine Train or Jedi Training.
It is important to note that all of the restaurants that offer 8am breakfast reservations are sit down meals with the exception of Be Our Guest. To make your meal go quicker, be sure to ask for you check as soon as you order so when you are done eating you can head on out to the park.
For better odds at getting a reservation be sure to book it at the 180-day mark before your trip.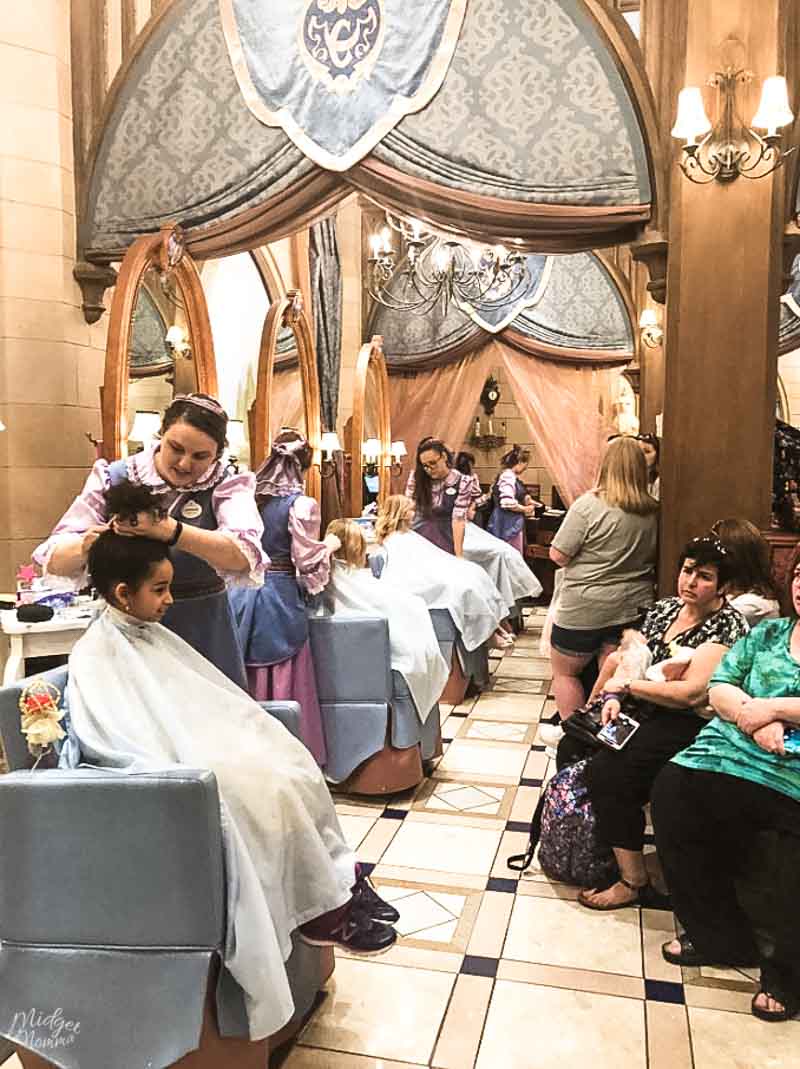 Bibbidi Bobbidi Boutique
I am going to be 100% honest here, when I am doing Disney on a budget I totally DIY Bibbidi Bobbidi Boutique Hair. However this is a splurge I think all little girls should do at least once.
If you have never heard of Bibbidi Bobbidi Boutique it is the place little girls wishes come true! It is a fairytale salon where your child will be turned into the princess of their dreams. Oh and they also have packages for boys who want to be princes too!
They have two locations, one in the Cinderella's castle right in the magic kingdom and one in Disney Springs so you have options when planning your trip to visit the Bibbidi Bobbidi Boutique.
Plus the Bibbidi Bobbidi Boutique at Magic Kingdom opens at 8am, so you can totally make your reservation for 8am and enjoy the "no one in the parks" perk we mentioned above.
Nothing makes a little girl feel more like a princess then having her hair done and picking out her own princess dress with her own Fairy God Mother. So be sure to read out full post about Bibbidi Bobbidi Boutique at Disney World.
Disney World Souvenirs
Souvenirs at Disney are amazing and of course you can not go home with out one. I really think that is a written rule somewhere! While there is a lot of free stuff at Disney World that you can get and bring home as a souvenir there is nothing like a handpicked souvenir that has awesome memories attached to it.
I also normally plan some souvenirs before we even leave for our Disney World trips by grabbing items Disney Stuff at the dollar store. Then while we are there I use them to give them to the kids while we are on our Disney World trip. We then give the kids a budget to spend on souvenirs that they can buy in the park but prebuying some Disney souvenirs of them gives us more budget for the kids to spend in the parks.
Here are two Disney Souvenirs that we have done, that were not only souvenirs, but also fun experiences that made our Disney World trip even more magical.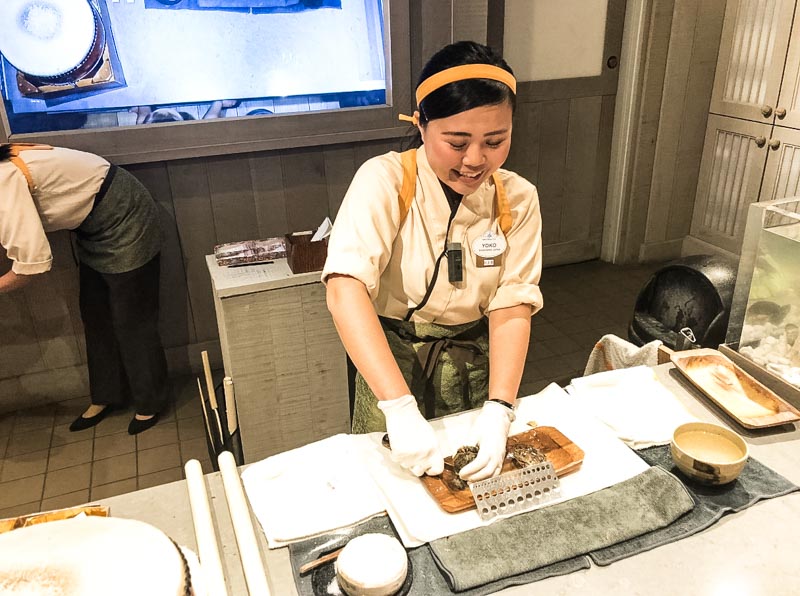 Epcot Pick A Pearl
The Epcot Pick a Pearl was a great experience my husband surprised me with for our anniversary. The splurge part of this comes with the setting you choose which is an extra cost.
You will find the Epcot Pick a Pearl in the Japan pavilion in Epcot. Head into the Mitsukoshi Department Store , where you will find the counter that you can pick your own pearl. Well technically you pick your own oyster and then inside it has a pearl.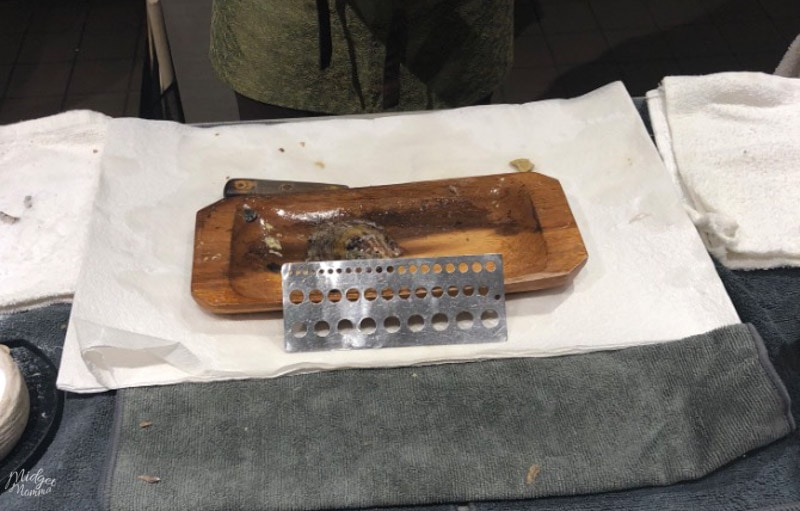 It costs about $17 for you choose which oyster you would like the cast member to open. Then you get to watch the cast member open the pearl and find out what you got! It is so much fun to watch them open the pearls. When the cast members are opening them you will see people are lined up to watch!
*Inside tip – Select the ugliest looking oyster you can find. The ugly ones usually have the best pearls inside! I got a beautiful grey pearl.
I then choose a beautiful white gold setting for the necklace. This necklace holds so much sentimentality to me after letting my daughter pick out the oyster and it being a surprise from my husband. This would also make a great souvenir for a teenager.
Get more information here.
In-Room Gift Packages
In room gift packages are the perfect way to start the fun as soon as you walk into your Disney Hotel room. Disney has a lot of different packages, that are perfect for celebrating many different special occasions like birthdays and anniversary.
We did the In-Room gift package for my daughter on our first Disney World trip. I was able to set this up while I was doing our Disney vacation planning ahead of time online. I chose the My First Disney Visit package which my daughter just adored; it was so cute seeing her with her first pair of ears. It was the perfect in room gift!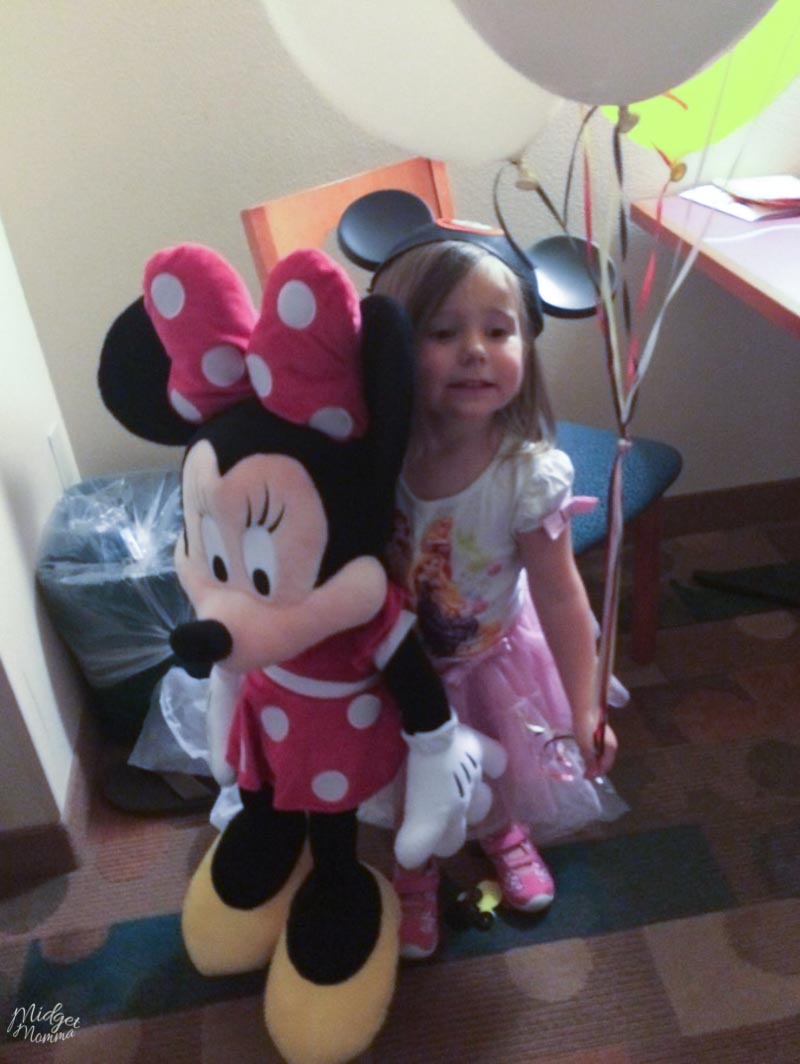 All you have to do is head on over here, to the Disney floral and gifts website pick the one you want and then it will be delivered for you. You can also have them leave this special surprise right in your room so its one of the first thing they will see when they walk through the door.
Get more information here.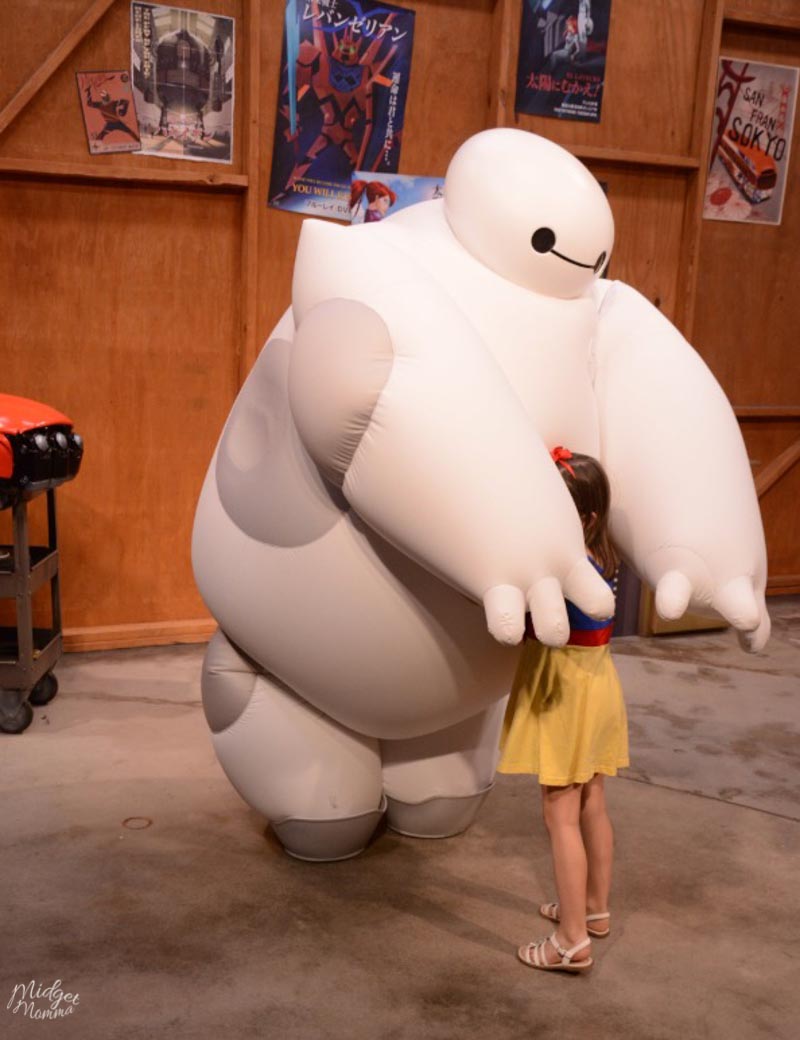 Get Disney World Memory Maker Photopass
Disney's PhotoPass or Disney Memory Maker which ever you want to call it is seriously the best splurge I can recommend to anyone.
On our first trip to Disney, I was like why on earth am I going to pay for the photo pass when I can hand the Disney photographers my camera to snap a shot of us for free! Sadly those photos just never can out as well as their pictures since its different cameras then they are used to using.
When my daughter finally met Baymax from Big Hero Six, she was able to get a fist bump, and you can see her joy through her whole body in this picture.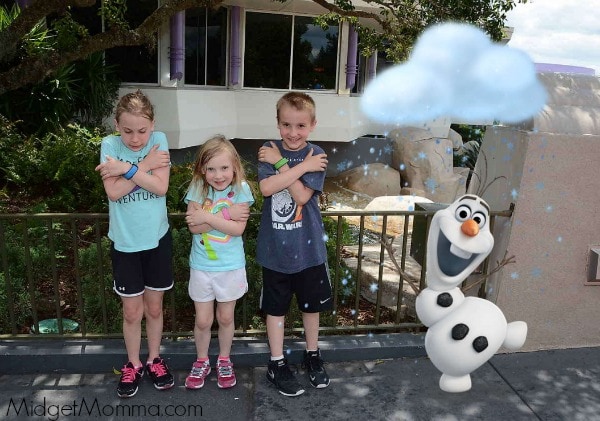 Plus there are photo opps where the cast members can add some extra magical fun into the photos. Those photos are so much fun to see when you are going thru the photos after they were taken on your Disney World trip.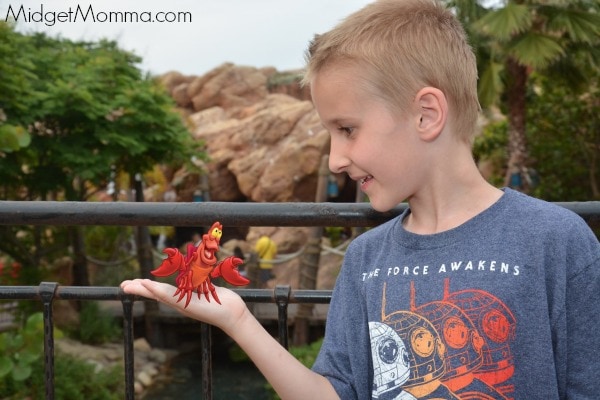 There are also photos that are taken that you wouldn't be able to take yourself, like photos on rides. Some of my favorite family photos have been of us on rides. Seeing the reactions captured keeps the memory of the ride alive.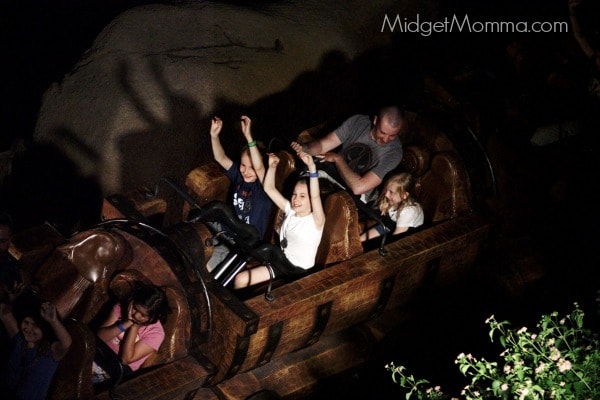 After our first trip, I decided to always get the photo pass. The Disney photographers are there snapping away so you can live in the moment and not miss out on being involved. I know I am normally missing from our photos because I am the one taking them. Some of my favorite pictures are ones captured by with the photo pass.
Get Park Hopper Plus Tickets
Upgrading your Disney Park Tickets to the Disney World Park Hopper Plus Tickets is both a splurge and a way to save money. It is a splurge because it does cost more then the base ticket and the Hopper pass ticket. However with that being said, the perks that come with it also make for some really great savings! Be sure you check out the 3 GOOD Reasons to upgrade to the Disney Park Hopper Plus Ticket.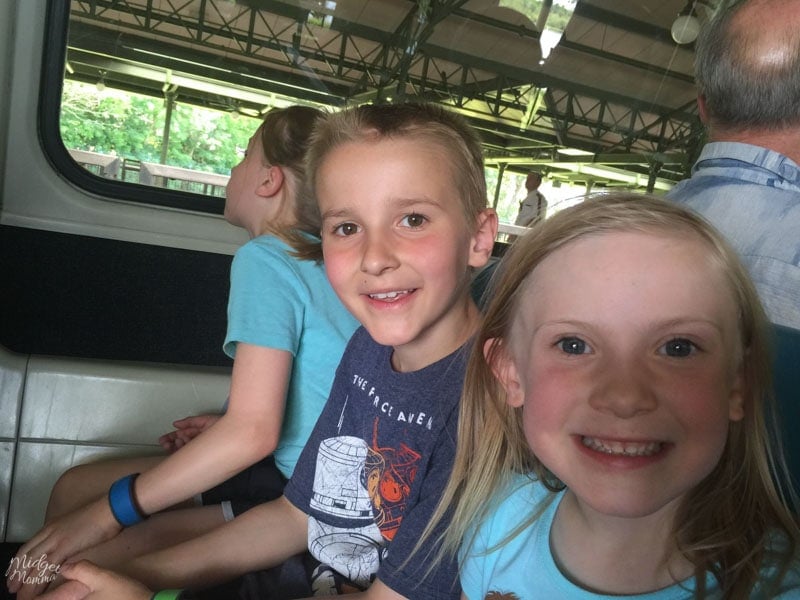 Staying At A Deluxe Resort On The Monorail Line
If you are wanting to make a big splurge then staying at a Disney Deluxe Resort on the Monorail line is going to be one that does come with quite a big price tag. However we have stayed at all 3 of the monorail resorts at Disney for at least one night at each and there are some for sure worth it perks.
The Resorts on the Monorail line are Disney's Polynesian Village Resort, Disney's Contemporary Resort and Disney's Grand Floridian Resort & Spa.
Be sure you check out the Reasons to Stay at a Disney Deluxe Resort on the Monorail line.
Be sure to check out all of our other Disney World vacation planning posts, to help you make the most of your Disney World trip!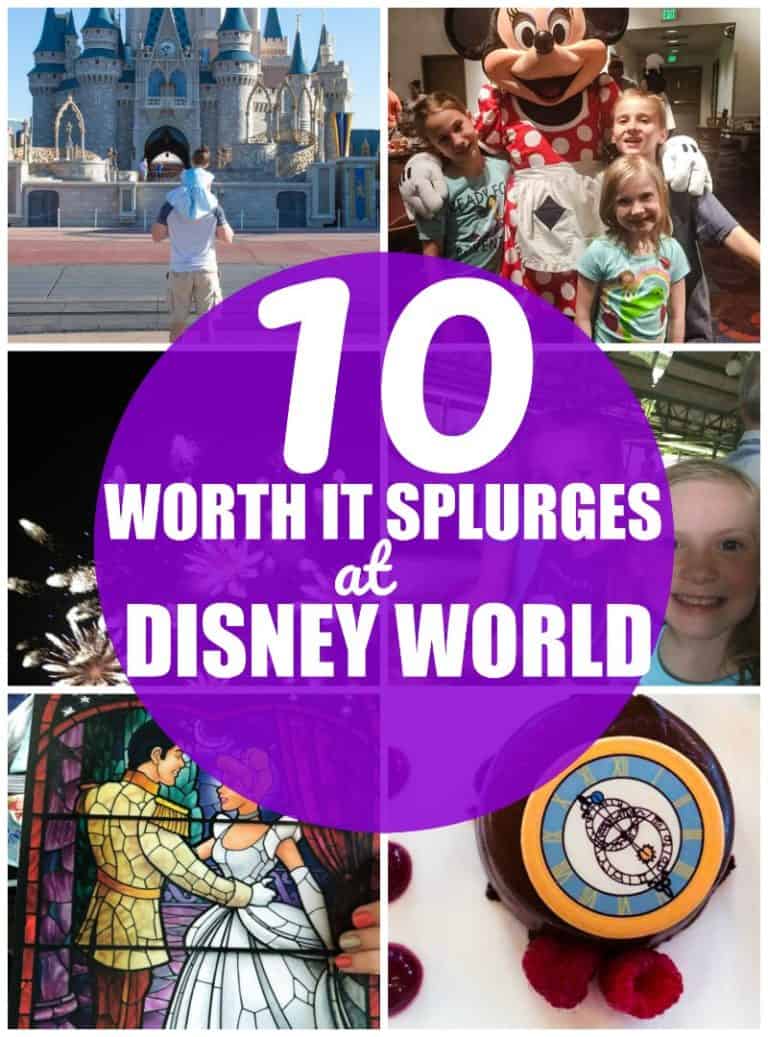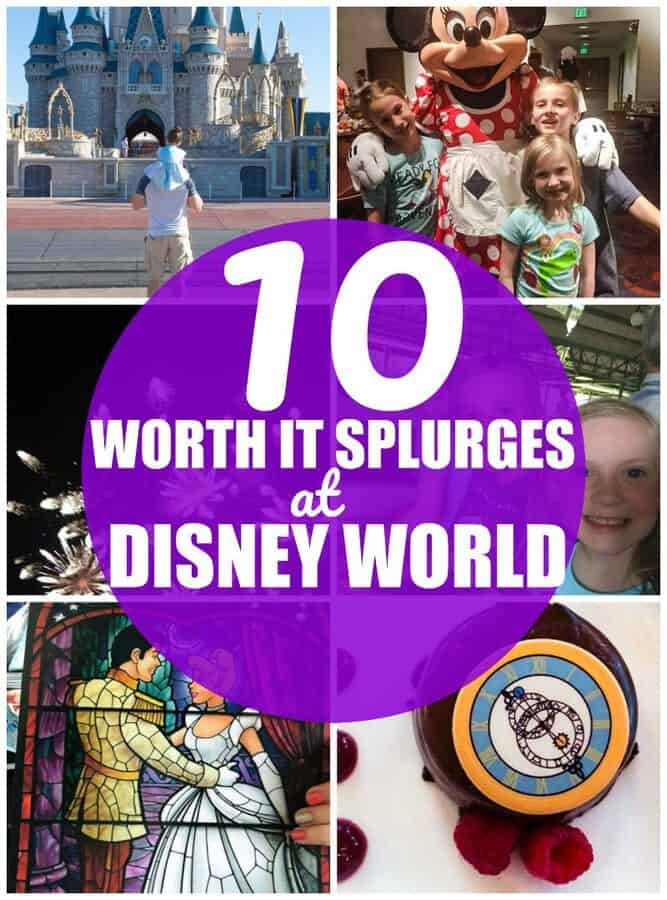 Join the newsletter
Subscribe to get our latest recipes right in your inbox every time we post a new one!