Christmas time is such a fun time of the year! There is so much that you can do and enjoy with the kids to make it super fun! One of those things is a FREE Phone call to Santa with Santas Phone number!
My kids always love it when we call Santa using Santas phone number and love it even more now that we can facetime Santa too!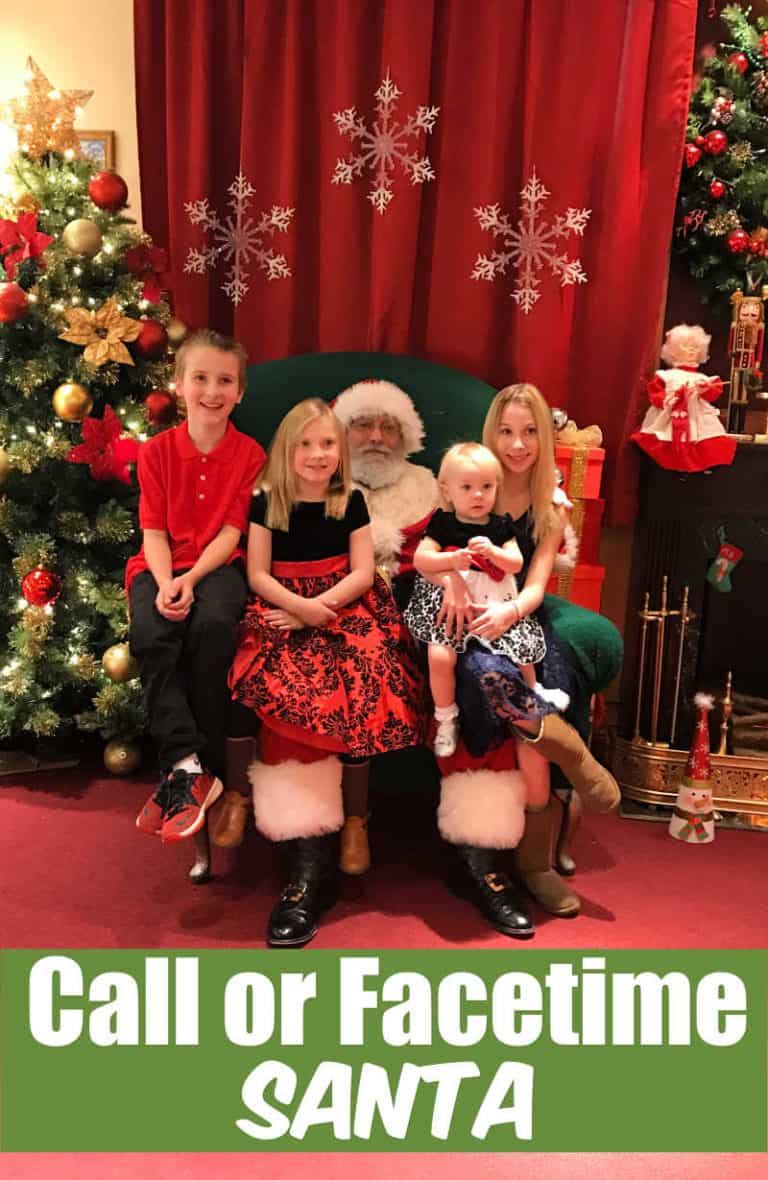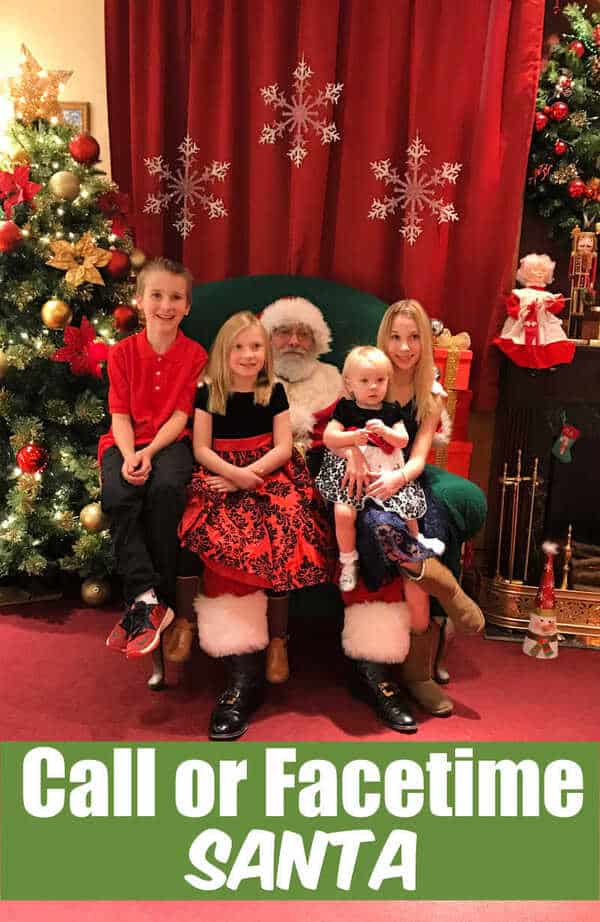 Of course I made sure to have things covered for you so you can call Santa for FREE with giving you Santas Phone number!
My Kids love it when we call Santa on his personal phone number each year!
Santa's Phone Number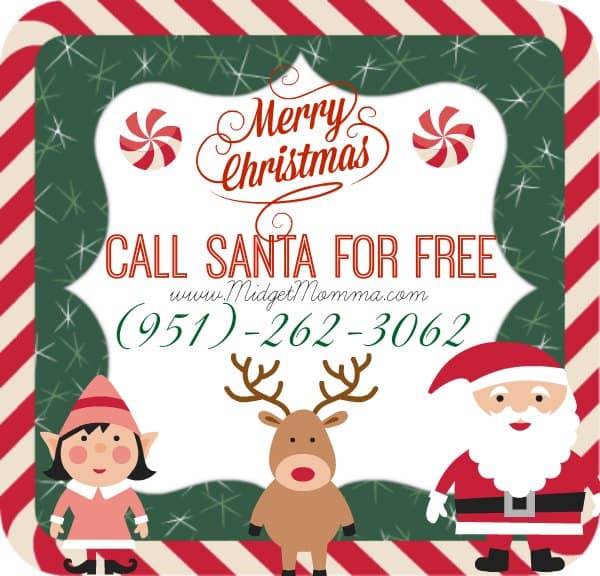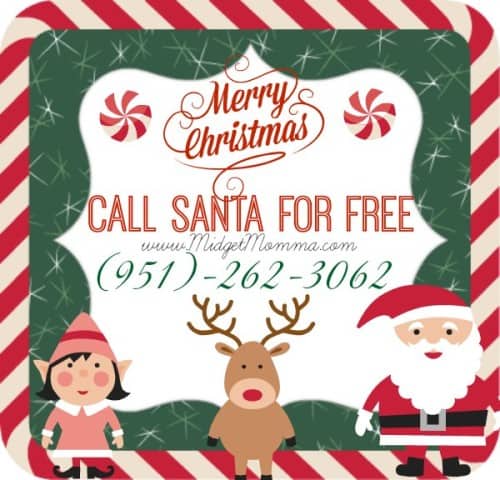 What is Santas phone number?
Wahoo! Here is something fun! You can call Santa at his own personal number for FREE! The kiddos are sure to love this one, they can listen to a message from Santa and then leave him a message too!
Santa's Phone number is 1-(951)- 262-3062
It is also a great idea to put Santas Phone number in your phone under Santa to make your life easier when you are giving Santa a phone call!
If you are planning on calling Santa, then it is a good idea to put the phone number in your phone under Santa Clause's Phone number!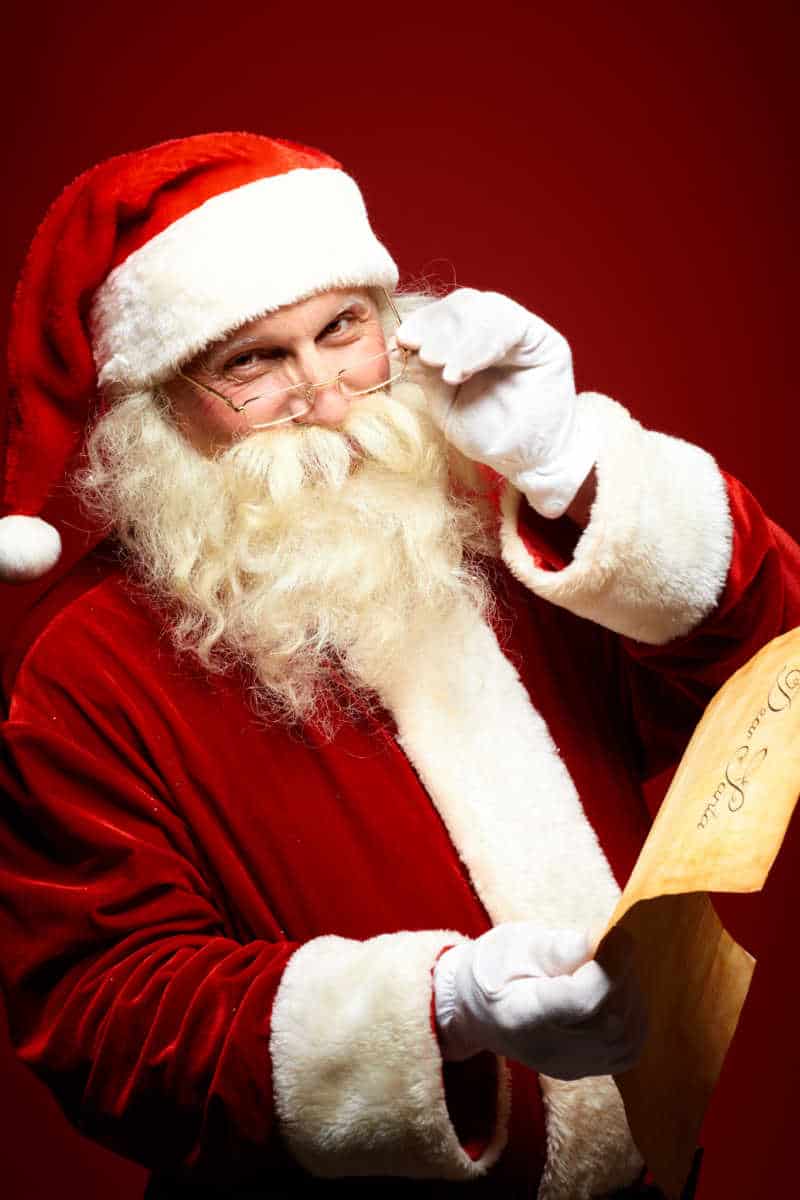 Facetime with Santa
Yes! I know you are all as excited as I am about being able to Facetime Santa! We are all in luck because there is also an App that you can download to your phone and you can have your child FaceTime with Santa Clause.
The Santa Facetime app is called Video Calls with Santa. It costs $1.99 but that is totally worth it to me to see that smile on my kids face when they Facetime with Santa! Grab the Santa Facetime app here and let your child FaceTime with Santa Clause!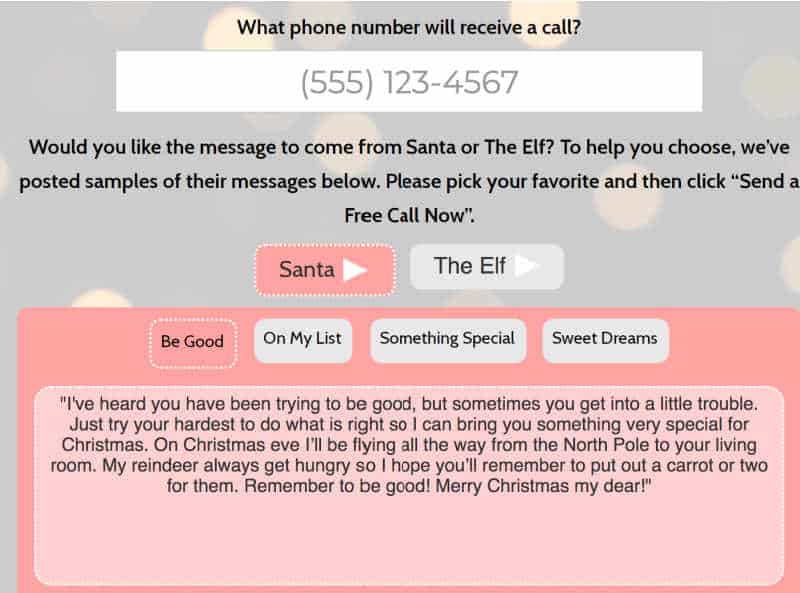 Get a Call from Santa
You can also get a Call from Santa (Or the Elf too!) From ChristmasDialier. Just head on over here, enter the phone number that you want to get the call and then select the message you want to be said on the call.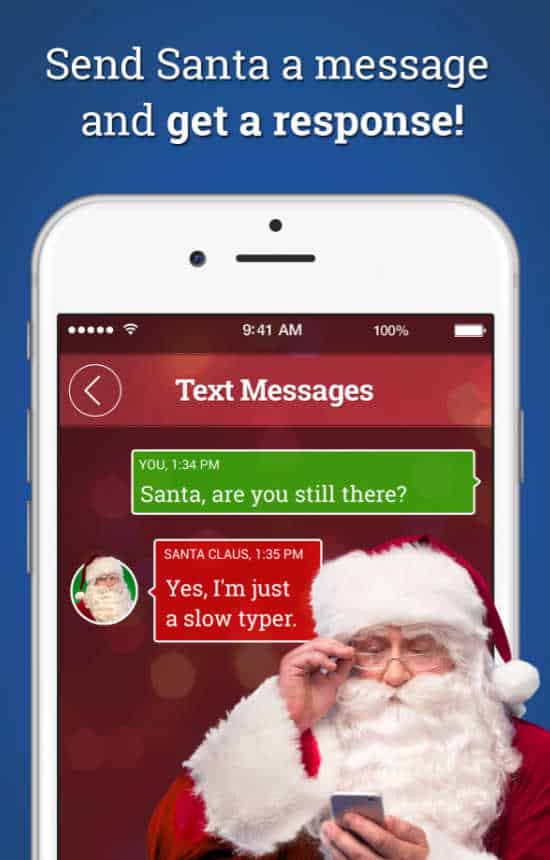 Get a Text Message from Santa
The Message from Santa app has tons of features! Parents can help their kids start a video message from Santa, receive a phone call, call his voicemail and even text with the jolly old elf himself. This is a free app (with in-app purchases for additional features) and is available for iOS and Android devices.
Talk to Santa with Ask Santa
Ask Santa lets the kids have free, real-time convos with Kris Kringle himself. It's Coppa Certified Kid Safe and easy to use. All you have to do is create an account, which you can then use to either type of record a question for Santa to answer.
Call Santa With Google Home
Use your Google Assistant and Google Home device to call Santa! All you have to say is "Hey Google, call Santa" and you'll get to hear about how Santa Claus is busy rehearsing for a musical concert—but he only knows one song and needs your help! Kids can also make a call on a Smart Display to see the all the fun album covers from the North Pole bands.
I hope you all have fun calling Santas Phone Number and when you Facetime Santa!
Send Santa a letter! We have 5 free Santa letter printables that you can download and print to write Santa a letter!
Love Santa? Check out the other Santa fun we have!
More Christmas Fun for Kids
Of course I am sure aside from calling Santa there is a lot more fun that you want to do with your kiddos so be sure to check out all the Christmas Fun for kids that we have here at MidgetMomma.com!
Does Elf on the Shelf come to visit your house? If so make sure you check out these awesome Elf on the Shelf Ideas!
We have LOTS of elf on the shelf ideas too so make sure you check them out!
If you are doing Elf on the Shelf, then be sure you also print out the Elf on the Shelf Rules
Looking for Christmas Crafts to do with the kids? We have lots of those too! So be sure to check out the Easy Christmas Crafts for Kids, for LOTS of fun Christmas Crafts Ideas to do with the kids.
There are so many tasty Christmas Treats for Kids that they will love and they are all perfect for any kids Christmas parties that you might have. Some of our favorite Christmas treats are Santa Hat Cupcakes and Whoville Cookies ! But you can check out the full list of Kid Friendly Christmas Treats and pick out your favorites to make with the kids!
Love making things fun for Christmas? Be sure to check out all the other Christmas Recipes that we have!
If you are looking for cookie recipes we have you covered there too! Check out our Beautiful Christmas Sugar Cookies, 12 Days of Christmas Cookies, and Christmas Tree Desserts Recipes!
Join the newsletter
Subscribe to get our latest recipes right in your inbox every time we post a new one!