Pumpkin Apple bread is a tasty twist on your traditional pumpkin bread. Since both apples and pumpkins are in season at the same time, this is the perfect fall bread recipe to make! This moist pumpkin bread makes an excellent breakfast or snack!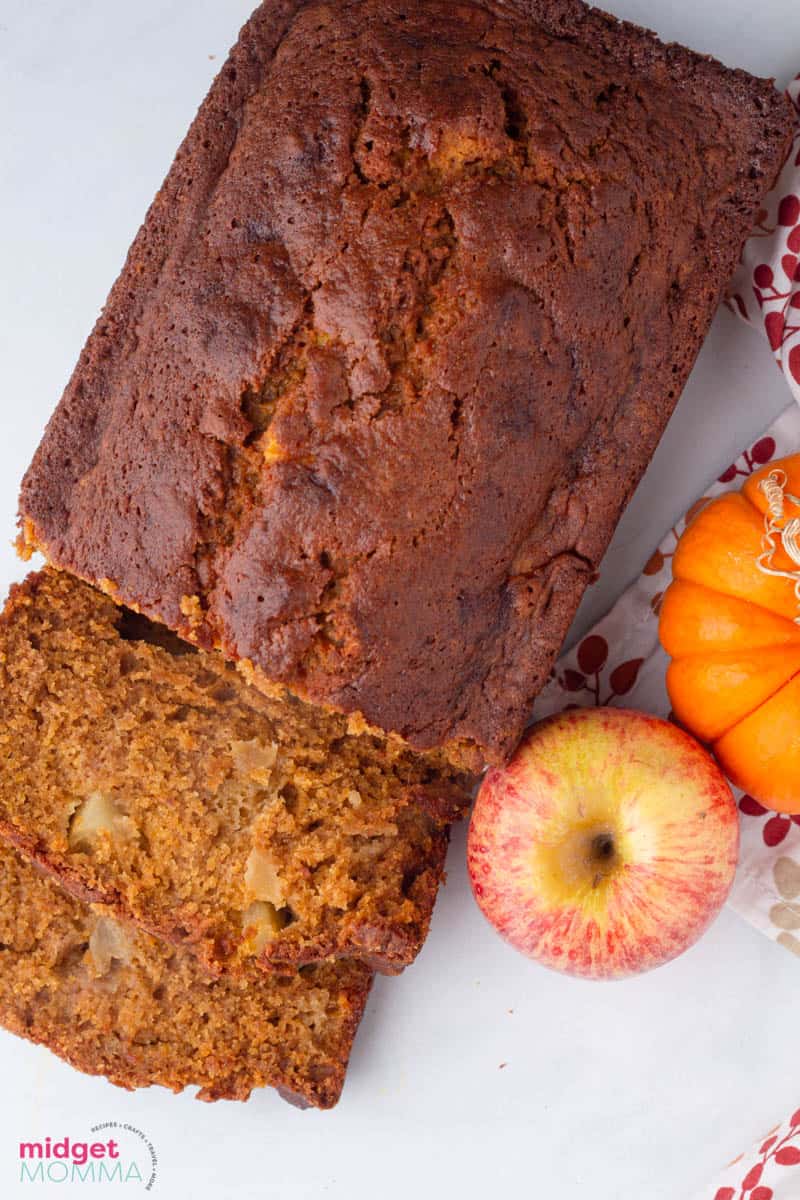 Pumpkin Apple Bread
I am always looking for a special twist on pumpkin bread, which I love! There is a reason there are so many different pumpkin bread recipes I have shared with you, including Pecan Maple Pumpkin bread, pumpkin Banana bread and of course the traditional homemade pumpkin bread.
We recently went apple picking, and for us that means a TON of apples. It is like once the kids start picking they can't stop! This always leaves me with lots of fresh apples to use up and make tasty recipes with!
This moist pumpkin bread is perfect for breakfast, enjoy it with a nice hot cup of coffee and you will start the day out amazingly! I have to admit that there are also many times that I have enjoyed this tasty bread for lunch too!
Love Pumpkin? Be sure to check out these other great pumpkin recipes!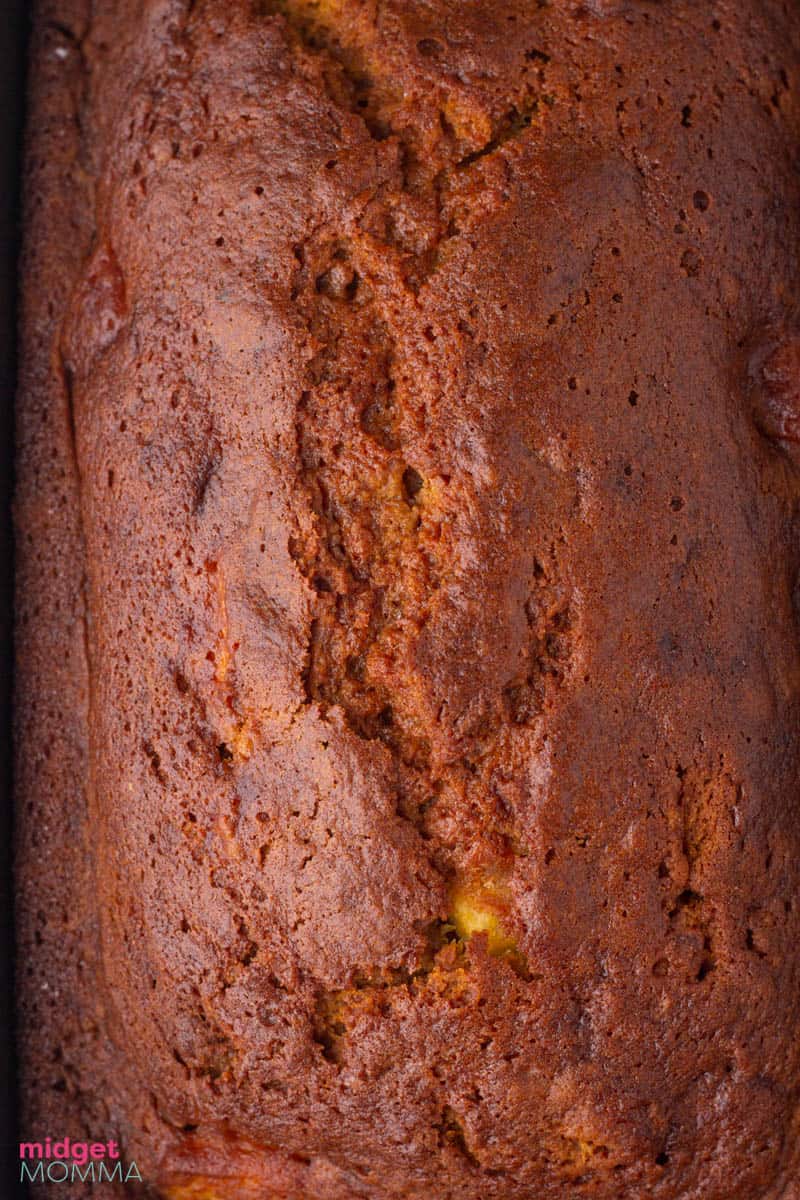 Why Use Apples in Pumpkin Bread?
Apples always add extra moister the breads which helps make homemade pumpkin bread extra yummy. Yes I know, pumpkin bread is amazing the traditional way, but I know you are going to LOVE this apple Pumpkin bread! Using apples in your pumpkin bread, will give you a perfectly moist pumpkin bread.
What type of Apples Do I Use for Pumpkin Bread with Apples?
There are a few different options when it comes to the best apples for making bread with. You want to make sure you are using a crips and tart apple when you are baking. This is so you don't end up with mushy gross apples in your bread.
My top choices of apples to use when making pumpkin bread with apples are granny smiths, Honeycrisp, Courtland or gala apples.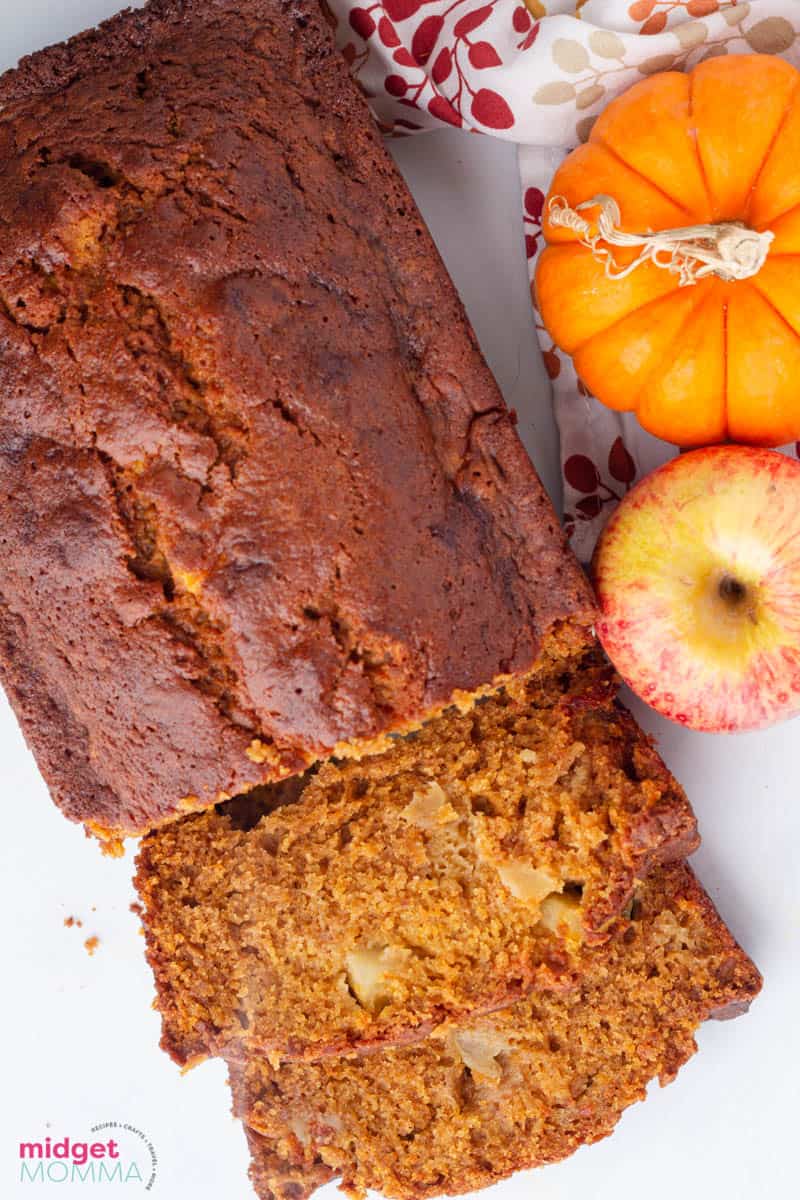 How long will this bread stay fresh?
To maximize the life of pumpkin bread, wrap the bread with foil or plastic wrap, or place the bread in a plastic bag to prevent drying out. Store it on the counter or in the fridge.
How to store Pumpkin Apple Bread
Properly stored, freshly baked pumpkin bread will last for 2-4 days at normal room temperature. You can extend the life a little bit longer if you store it in the fridge. If you are wanting to store the bread be sure to follow the how to freeze pumpkin bread directions below.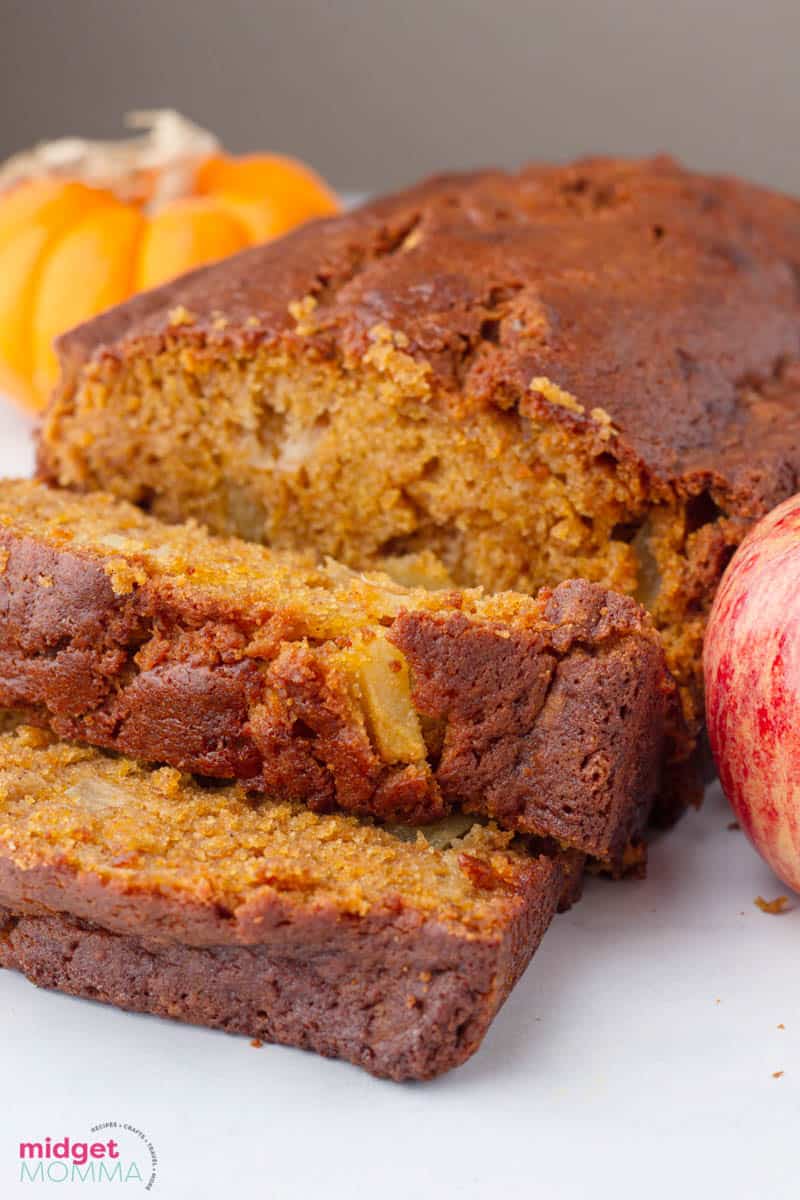 How to Freeze Pumpkin Bread
This easy Pumpkin bread recipe is a great recipe to double or triple and then freezer for a quick and easy breakfast or snack! A few seconds in the microwave and you will have a tasty fresh pumpkin muffin or bread!
This pumpkin bread recipe also freezes very well you just need to wrap it in a few layers of plastic wrap than a layer of aluminum foil. Then place the bread into a freezer bag and label with the date and place the bread in the freezer. This bread will keep in the freezer for 3-6 months.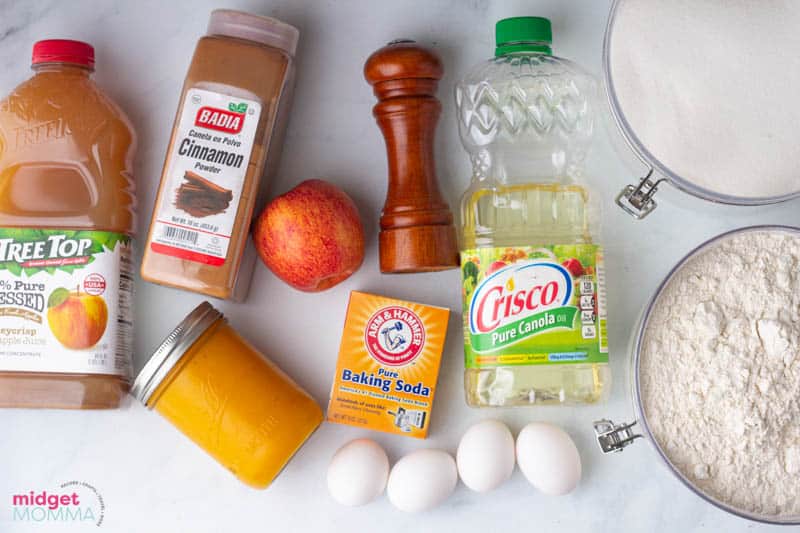 Pumpkin Apple Bread Ingredients
ground cinnamon
baking soda
salt
sugar
Pumpkin – you can make homemade pumpkin puree or use canned pumpkin
eggs
vegetable oil
apple juice
apples
How to Make Pumpkin Apple Bread
This homemade bread recipe will make 2 loaves of bread baked in your standard 9×5 bread pan. It is also VERY important that you grease your bread pans generously or use parchment paper in your pans to avoid the bread sticking to the pan.
Preheat the oven to 350° F.
Grease two 9 x 5 inch loaf pans or line them with parchment paper. Wash and cut the apples.
Combine dry ingredients in one mixing bowl.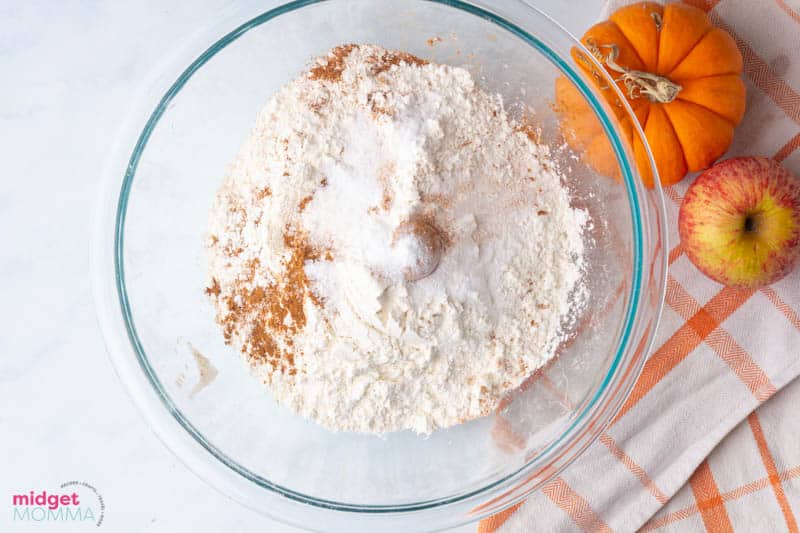 In another bowl combine the wet ingredients.
Mix just until blended.
Then add pumpkin puree.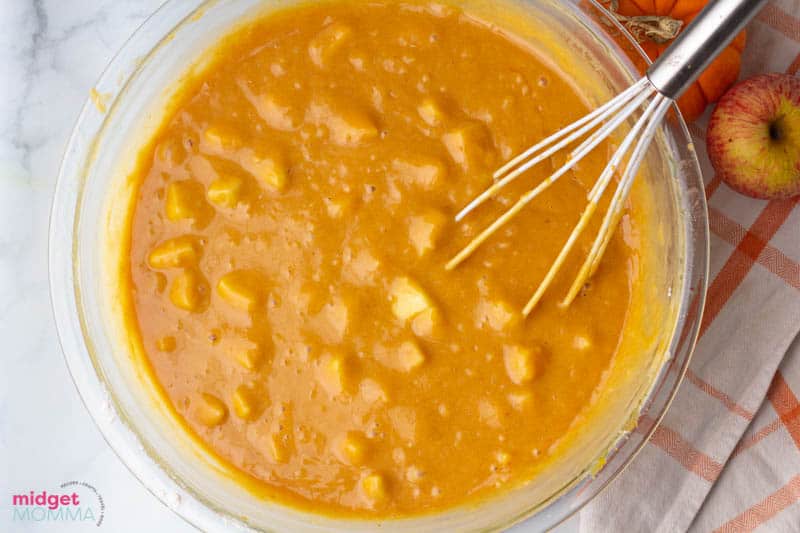 Add in the chopped apples and fold into the bread mixture.
Spoon the batter into the 2 loaf pans evenly.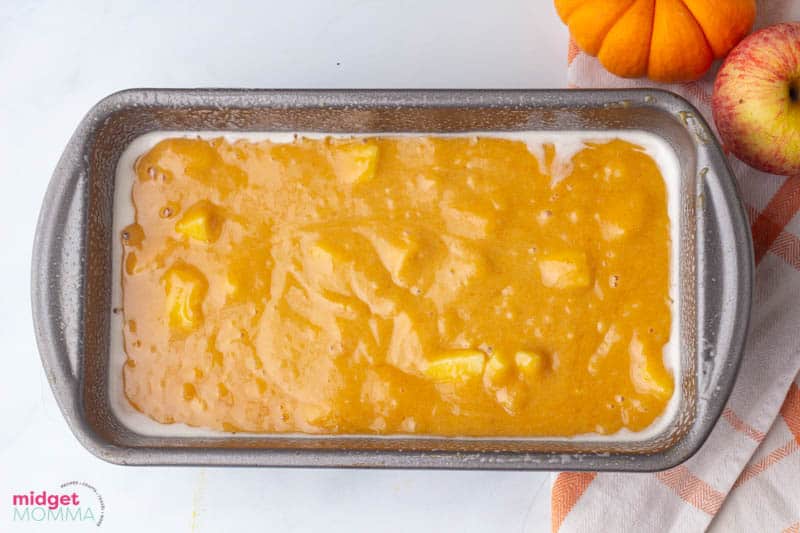 Bake for 1 hour.
Easy Bread Recipes
Make The Holiday Easier!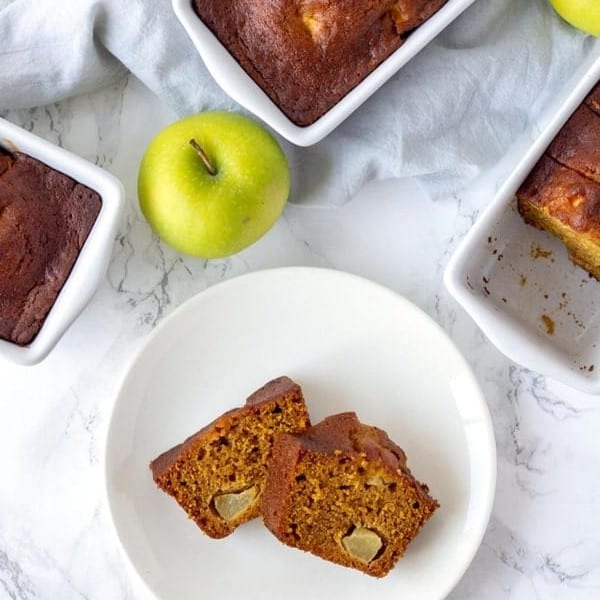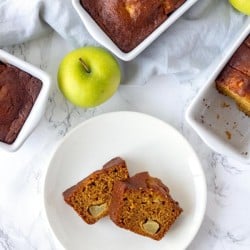 Pumpkin apple bread
Servings
This homemade pumpkin apple bread is a moist pumpkin bread that has all the perfect fall flavors!
Instructions
Preheat oven to 350° F.

Grease two 9 x 5 inch loaf pans or line them with parchment paper. Wash and cut the apples and set aside.

Combine flour, cinnamon, baking soda and salt in large bowl and set aside.

Combine sugar, pumpkin, eggs, vegetable oil and apple juice in large mixer bowl and mix it until just blended.

Add pumpkin mixture to flour mixture; stir just until moistened.

Gently fold in apples.

Spoon batter equally into prepared loaf pans.

Bake for a hour or until wooden pick inserted in center comes out clean.
Calories: 282kcal | Carbohydrates: 61g | Protein: 4g | Fat: 2g | Saturated Fat: 1g | Cholesterol: 40mg | Sodium: 373mg | Potassium: 127mg | Fiber: 2g | Sugar: 41g | Vitamin A: 4210IU | Vitamin C: 2.2mg | Calcium: 20mg | Iron: 1.7mg
pumpkin apple bread
bread
Join the newsletter
Subscribe to get our latest recipes right in your inbox every time we post a new one!