This Spaghetti Squash Au Gratin recipe is one that will make your taste buds happy! Spaghetti Squash Au Gratin has all the amazing flavors that potato's au gratin has but with amazing spaghetti squash. This Low Carb spaghetti Squash dish is one that is always a crowd pleaser.
If you haven't tried spaghetti squash yet you are really missing out. This squash takes on the favor of what ever you cook it with. It has a texture like a noodle which is why they call it spaghetti squash, and is just amazing.
This Spaghetti Squash Au Gratin recipe the squash takes on the amazing cheese flavor but with out all the carbs that are in a dish like potato's au gratin. Guys, the cheese flavor in this easy spaghetti squash recipe is amazing! It is so creamy and cheesy, and simply amazing!
Spaghetti Squash Au Gratin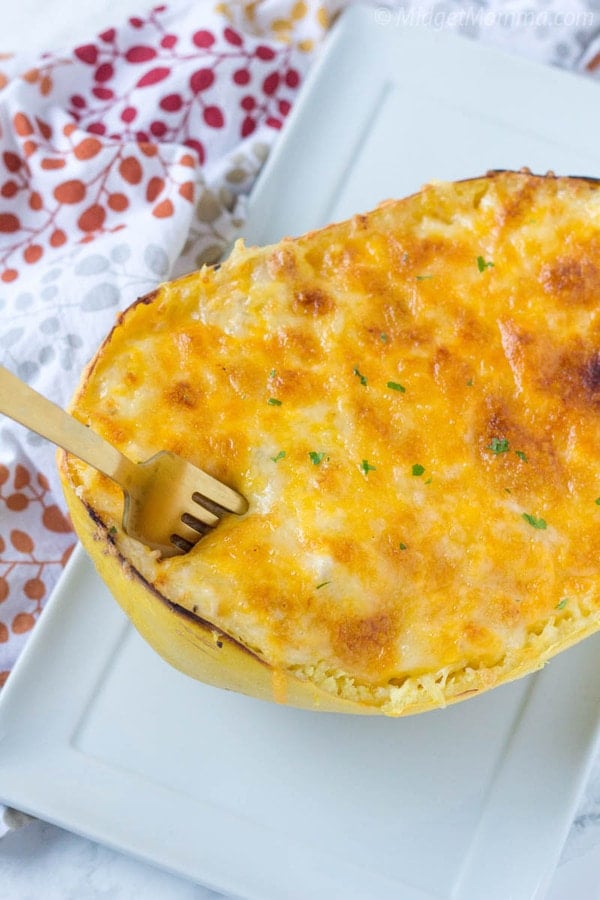 Spaghetti Squash Au Gratin Recipe
This cheesy spaghetti squash recipe is one that I make often. Sometimes we make it as a spaghetti squash side recipe, other times it is the main course and I serve it with a salad.
This Spaghetti Squash Au Gratin is easy to make and could easily become a family must have every week!
Everyone asks is spaghetti squash low carb? And YES! This amazing dish is low carb, but it soo doesn't taste it! One ounce of Spaghetti Squash has just 1.5 carbs which is a whole lot less then potatoes! 🙂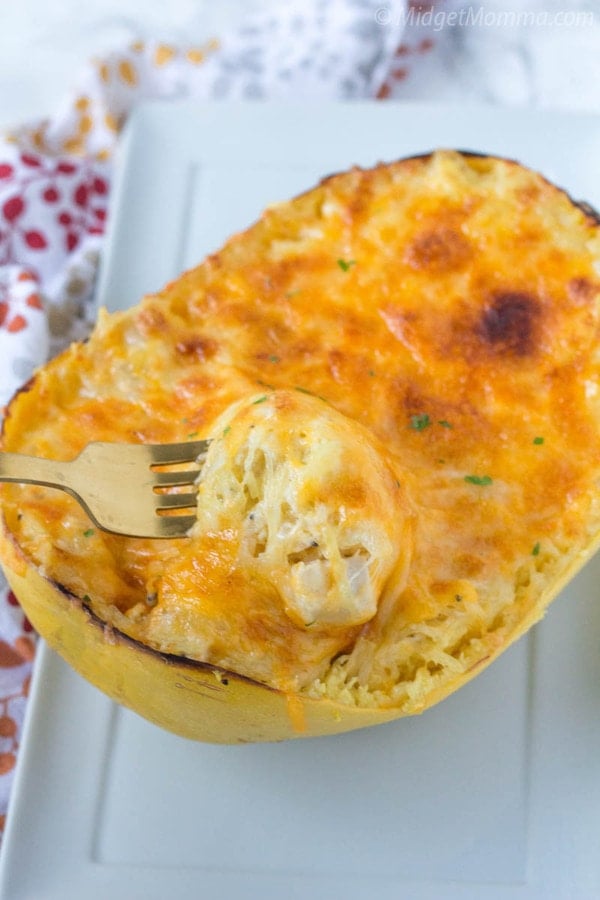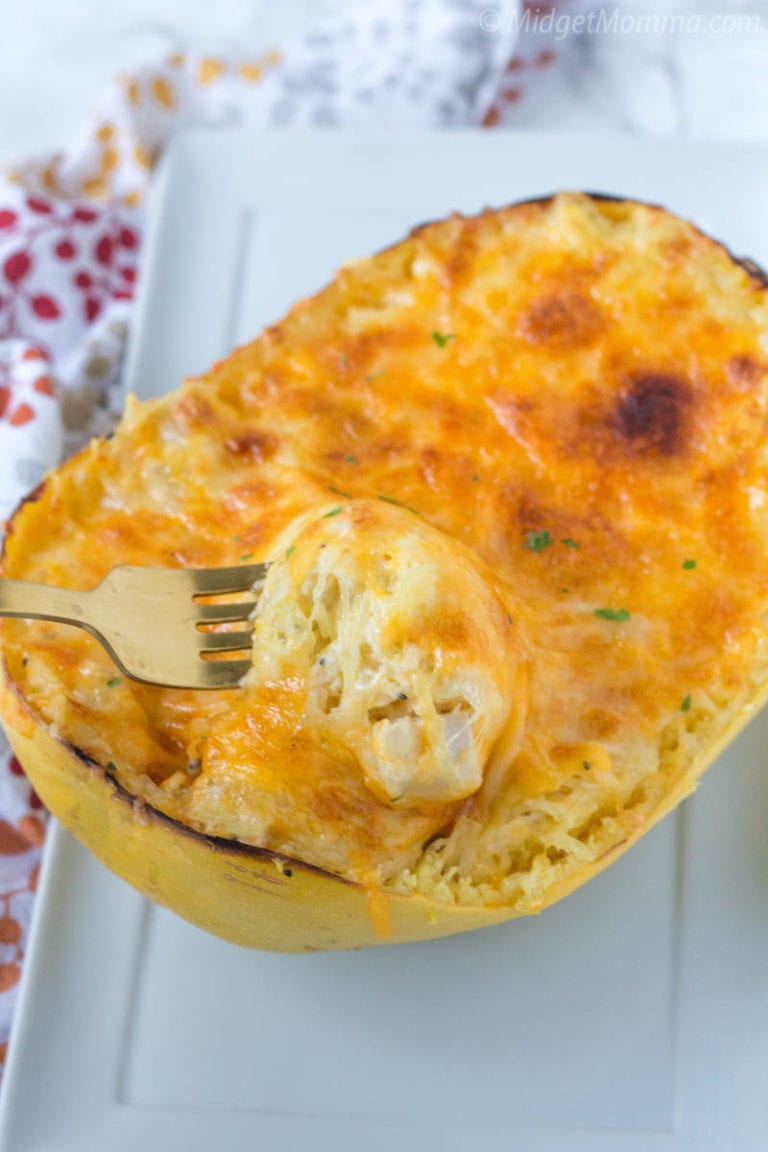 Cooking Spaghetti Squash
If you have never cooked spaghetti squash before you might be a bit nervous, but don't be! Cooking spaghetti Squash is so easy! Make sure you check out How to Cook Spaghetti Squash for all of the different ways that you can cook spaghetti squash, from microwave spaghetti squash, to baked spaghetti squash, to slow cooker spaghetti squash and more ways to cook it!
When you are cutting veggies, especially cutting spaghetti squash you want to make sure that you are using quality knives. It will make the cutting of the squash sooo much easier. I have the KitchenAid Knife set and have had it for over 7 years now.
With this spaghetti squash recipe you will have to chop onions, eek! Anyone else hate having to chop onions because it burns your eyes? I use this food chopper, and it gets them the perfect size and I don't have to touch the onion and deal with watery, burning eyes! It also takes a lot quicker to chop the onions up with it then using a knife 🙂 Save your eyes, get a chopper it will be like the best thing you ever did for when you need to cut onions! I promise!
These are my favorite baking sheets – they are on the cheaper side which I like because once a pan gets gross looking even though it is clean it bugs me so I have to buy new ones 🙂 But they are nonstick and last quite a while before looking gross.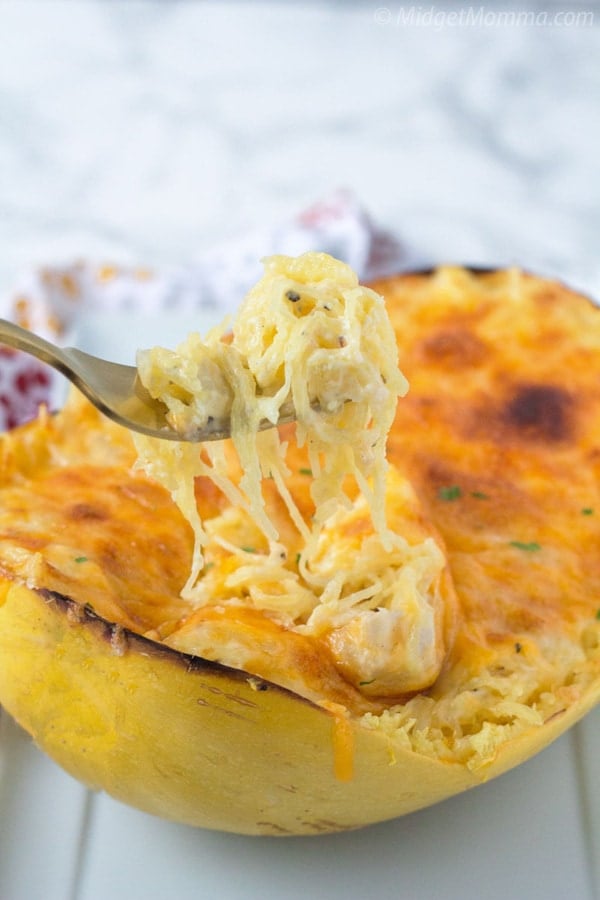 Spaghetti Squash Recipes
If you are a fan of spaghetti squash then you also need to check out my other 3 favorite spaghetti squash recipes! Chicken and Broccoli Alfredo Spaghetti Squash, Chicken Enchilada Spaghetti Squash and Chicken Pesto Spaghetti Squash. All three of these easy spaghetti squash recipes are are also low carb spaghetti squash recipes!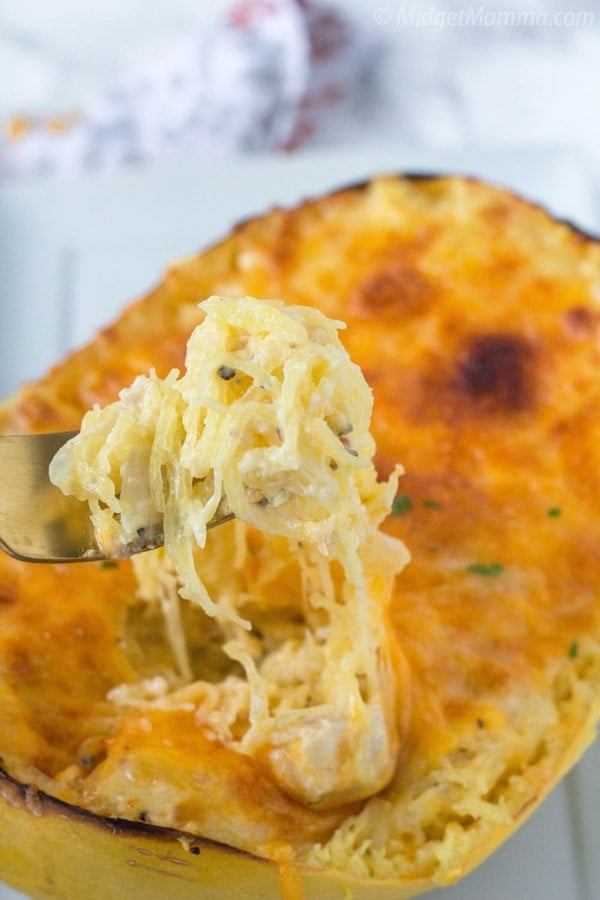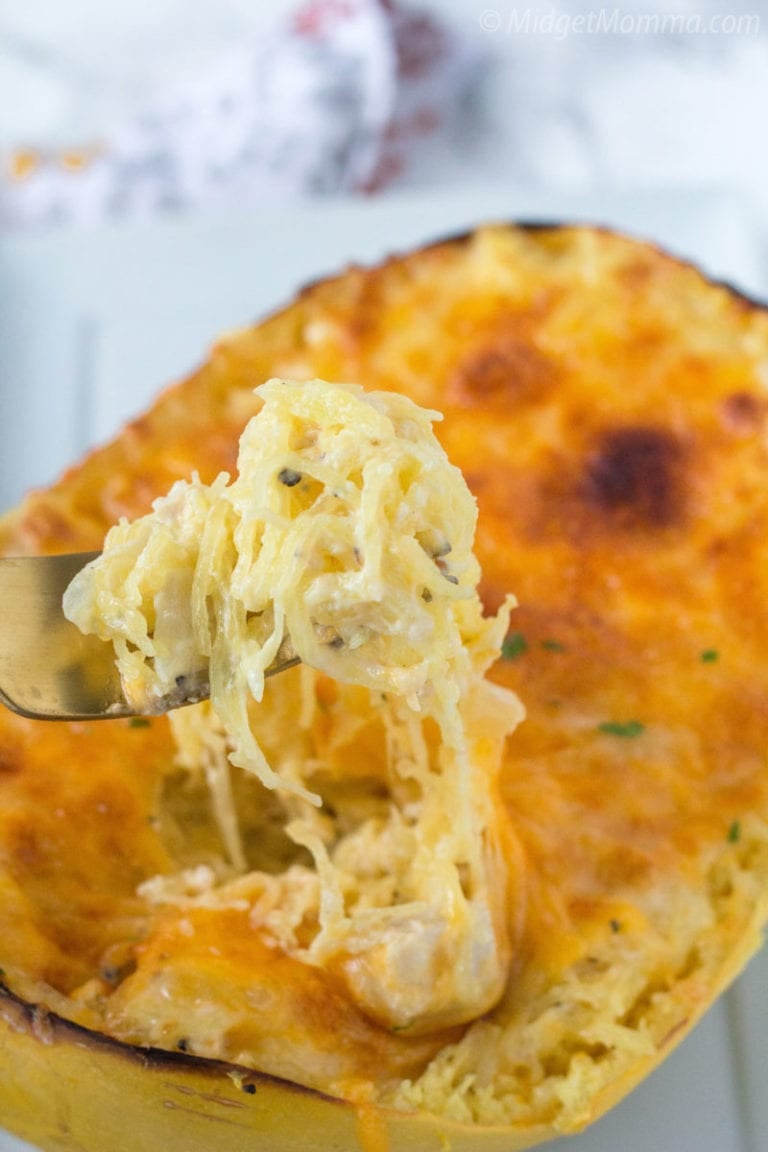 How to Cook Spaghetti Squash Au Gratin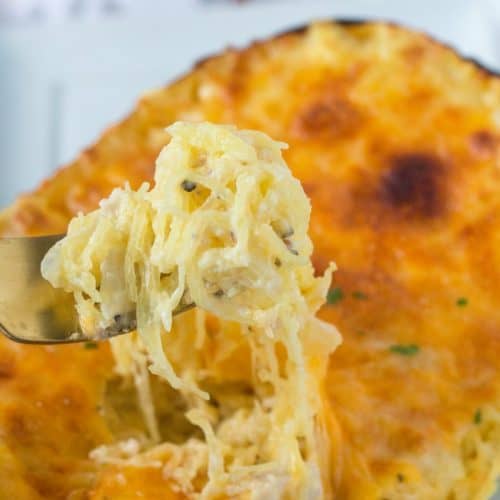 Spaghetti Squash Au Gratin
Spaghetti Squash Au Gratin. This amazing easy spaghetti squash recipes is cheesy and amazing. It is always a crowd pleaser when I make it!
Pin Recipe
Print Recipe
Ingredients
1

medium spaghetti squash

2

chicken breast

about 3/4 a pound-1 pound depending on how much chicken you prefer in your dish.

1

medium onion

diced

2

tbsp

butter

2

cloves

garlic

grated

3/4

cup

plain greek yogurt

1 1/3

cup

cheddar cheese

1/2

tsp

salt

1/2

tsp

black pepper
Instructions
Preheat oven to 375 degrees.

Cut squash in half and scoop out the seeds with a spoon.

Lay skin side down on a rimmed sheet pan that is lined with aluminum foil.

Cut your chicken breast so you have four pieces of chicken. Place the chicken on the sheet pan, season with salt and pepper.

Bake for 45 mins or until cooked to a touch with a fork. When the squash is cooked Scrape the flesh with a fork to create noodles and dice your chicken in to small pieces.

While the chicken and squash are cooking place the onions with the butter in a pan on the stove over medium low heat until very soft.

Once everything is cooked combine the noodles, chicken, onion, yogurt, 1 cup of the cheese, salt and pepper in a large bowl.

Place the mixture back into the empty shells and top with the cheeses and place under the broiler until golden brown.
Notes
This recipe makes 6 servings if you are making it as a side dish and 2 servings if you are making it as a full meal item. 
If you are strict Keto then you can use sour cream instead of the greek yogurt.
Nutrition
Calories:
295
kcal
|
Carbohydrates:
14
g
|
Protein:
26
g
|
Fat:
15
g
|
Saturated Fat:
8
g
|
Cholesterol:
86
mg
|
Sodium:
508
mg
|
Potassium:
539
mg
|
Fiber:
3
g
|
Sugar:
6
g
|
Vitamin A:
586
IU
|
Vitamin C:
6
mg
|
Calcium:
255
mg
|
Iron:
1
mg
6 Weight Watchers SmartPoints when using regular cheddar cheese. If using Fat Free Cheddar cheese, this recipe is 3 points per serving.
More Spaghetti Squash Recipes You will Love!
More Tasty Recipes
Join the newsletter
Subscribe to get our latest content by email.
This post may contain affiliate links. Please read my disclosure policy here