Looking for when you are supposed to expect the Elf on the Shelf to arrive at your house and when the expected leave date is? If you have never done elf on the shelf I am sure you have lots of questions. What is Elf on the Shelf? When does Elf on the shelf start? When does Elf on the Shelf end? What in the world does the Elf on the shelf do? Don't worry we have you covered! You are in luck, we got you covered with all the must know information.
One of our favorite Christmas traditions is Elf on the Shelf. Our elves George Twinkle and Snow have been coming for over 10 years and they are an important part of our holiday traditions.
If this is your first year doing Elf on the Shelf then make sure you grab the Elf on the Shelf Arrival letter and the Elf Names printable check out how to start Elf on the Shelf, for everything you need to know about Elf on the Shelf.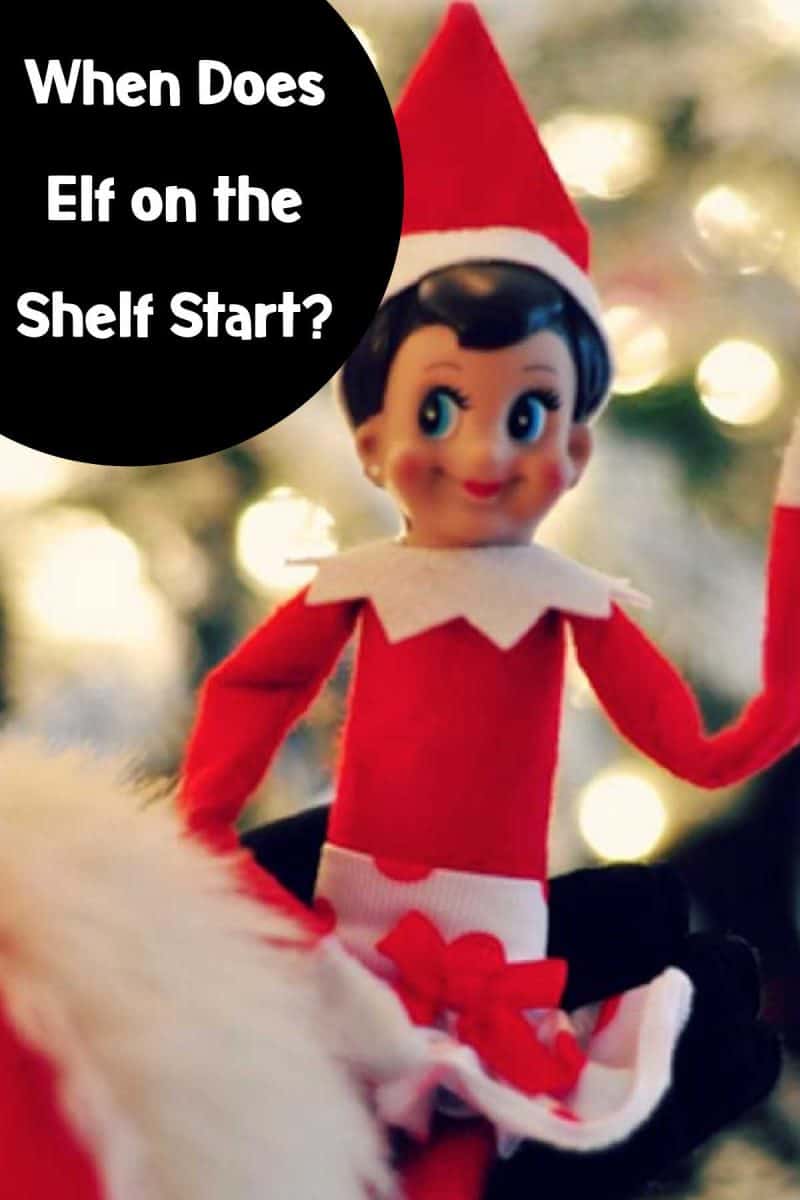 When Does Elf on the Shelf Start?
According to the makers of Elf on the Shelf the start date is a day between November 24th and December 1st. This week time frame is known as Scout Elf return week and it is a very busy week for the elves. If your elf comes a little bit earlier or a little bit later it is ok, they will arrive eventually.
When the Elves arrive many times they bring a welcome letter if it is their first time, or they bring an I'm back letters (or We are back letter if you have multiple elves) with them. Sometimes they bring small gifts, our elves like to bring advent calendars for the kids on the first day that they arrive.
There are lots of different ways that the Elf arrives, and many elf on the shelf arrival ideas. If you are having the elf come for the first time, it is always fun to have the kids get a special certificate of elf adoption and also to make sure they a good to go the clean bill of health certificate is great too.
When does Elf on the Shelf End?
Christmas Eve morning is the last day you will see your elf. When Santa arrives to deliver the gifts, he brings the scout elf (or elves if you have more than one) home with him. I suggest having the kids say good-bye to the elf and see you next year to their elf friend before going to bed on Christmas Eve.
Many times when the elves leave they leave a good bye letter or sometimes a tiny gift.
Elf on the Shelf Fun
Check out this Elf on the Shelf Ideas calendar which makes it sooo easy to know what you are doing each day for your elf fun! I am also going to suggest that you also check out Reasons your Elf Did not move… it might happen sometimes! 😉
More Christmas Fun for Kids
There are so many tasty Christmas treats that the kids will love and they are all perfect for any kids Christmas parties that you might have. Some of our favorite Christmas treats are Santa Hat Cupcakes and Whoville Cookies!
But you can check out the full list of Kid Friendly Christmas Treats and pick out your favorites to make with the kids!
If you are looking for cookie recipes we have you covered there too! Check out our Beautiful Christmas Sugar Cookies, and Christmas Tree Desserts!