Disney has an awesome option for parents with young kids who want to still be able to ride all of the rides. The Disney Rider Switch! The Disney Rider Switch makes it possible to enjoy all the fun when you are on your Disney World trip even if you have children who are unable to ride certain rides because of height or age restrictions.
Taking little kids to Walt Disney World is so magical, until you realize they might not meet the height requirement for an attraction you really want to experience. Luckily, Disney has made it so easy for both parents or adults to get on without having to wait in line twice.
You can see all of the official Disney Information about rider switch here.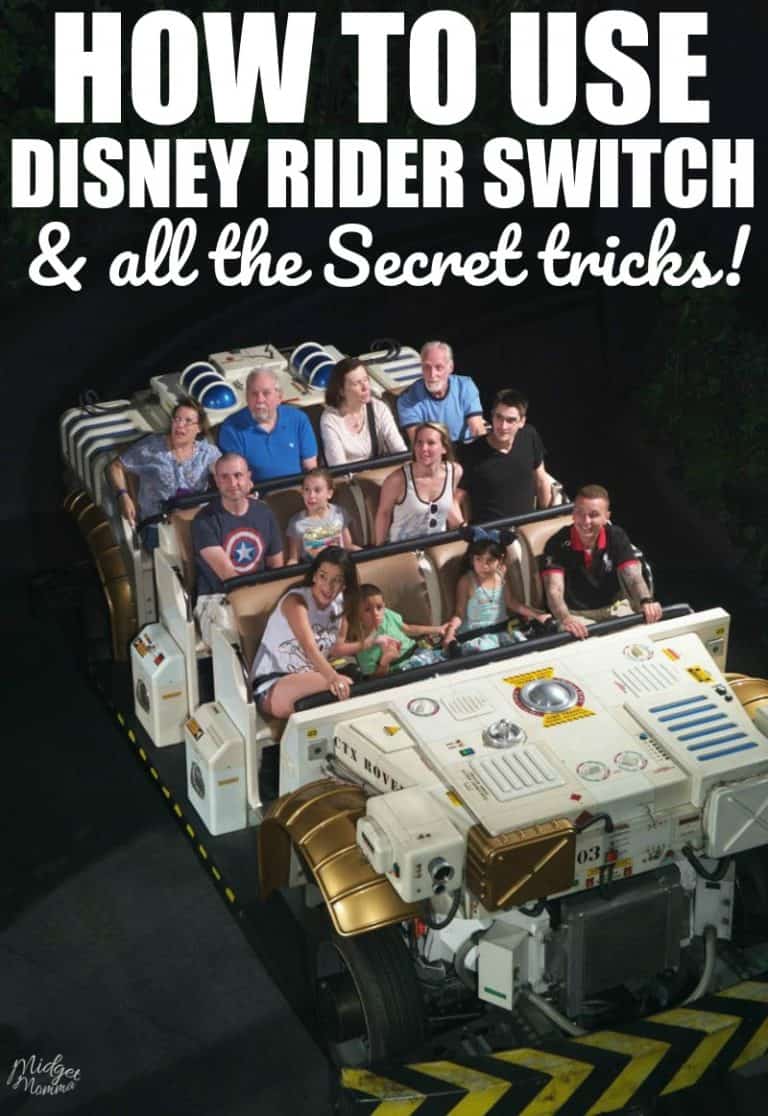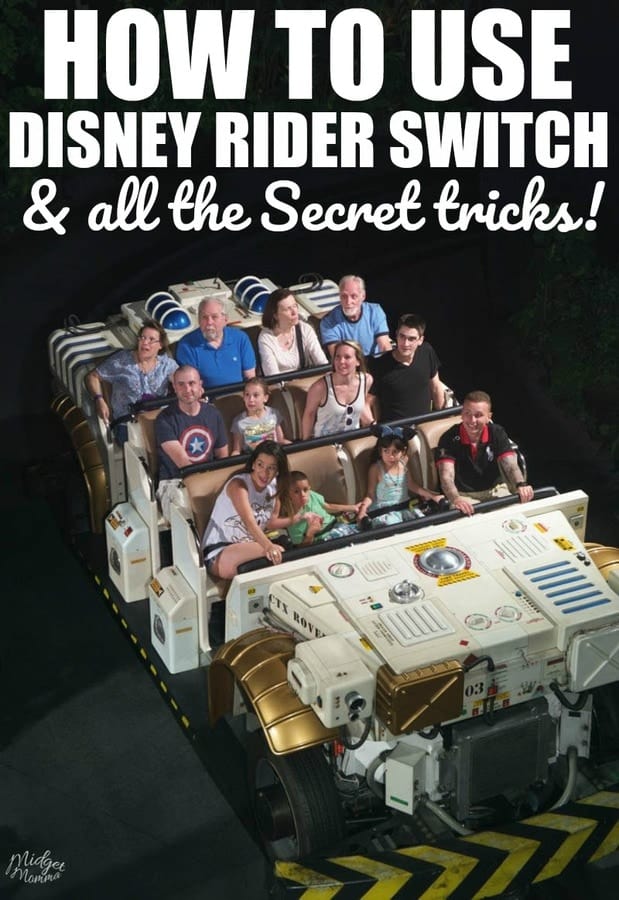 Disney's Rider Switch
For our Disney trips we always upgrade to a Disney World Park Hopper Pass because we love the ability to bounce between parks as we want to. I know that not everyone is able to spend the extra money for Disney Park hoppers, even with using the steps for how to get discounted Disney Gift Cards. So I wanted to make sure you all knew about the amazing way to make sure your family gets on the most rides they can.
I also know that when you are at Disney World you are going to want to make it the most magical vacation ever, so really I should add the Disney Rider Swap to my list of Disney free stuff, because Disney doesn't charge for this awesome program they have going on in the Disney World parks.
Yes I know I have shared about How to Ride More Rides at Disney World already, but this whole Disney Rider Swap thing is JUST what parents need for their family trip to Disney World.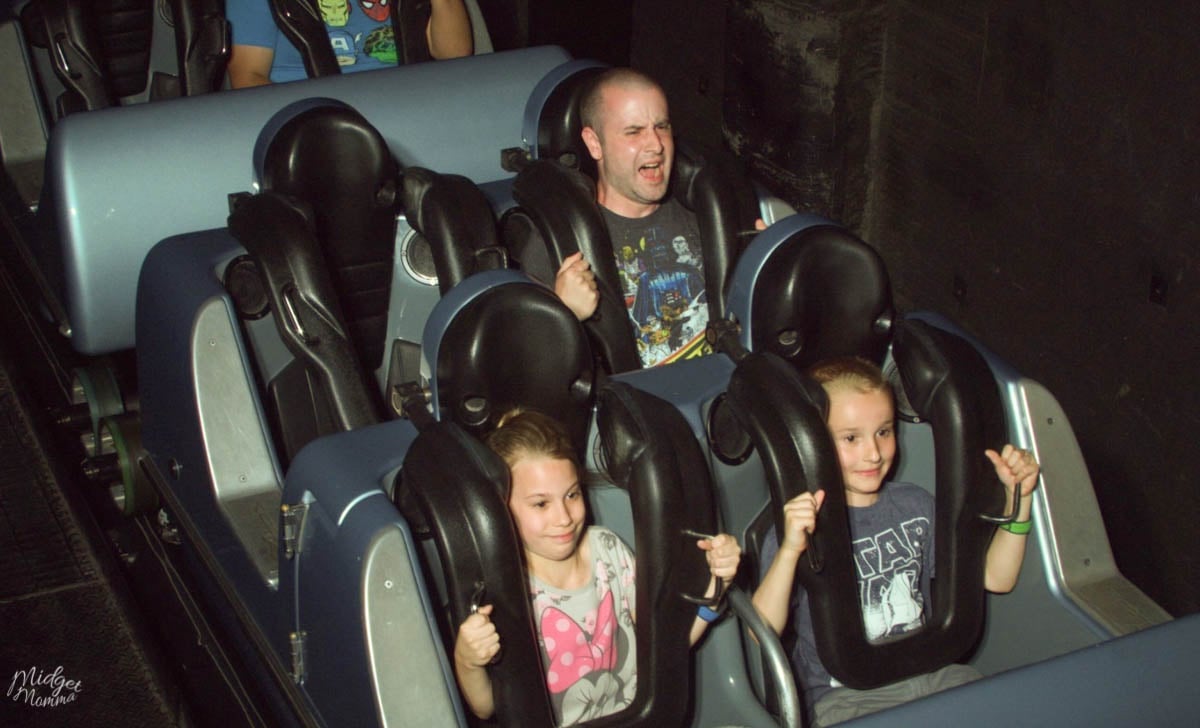 What is Disney's Rider Switch?
Before we get into How to Use Disney's Rider Switch, it is important to know what exactly Rider Switch is.
Rider Switch is often called Child Swap, The Disney Rider Swap Program or Disney Rider Swap but really it is all the same thing.
Essentially all it means is that, if the child (or children) that you are traveling with don't meet the height requirements for an attraction OR they do not want to ride, that everyone in the party will be able to ride the ride with out having to wait online twice. This is perfect for Disney fans who love thrill rides to be able to ride the attraction on their ride wish list, even though they have small children with them. It also makes it os that the long lines are avoided by everyone having to wait twice.
Some of your party will be allowed to wait with the child and the others will get on and experience the attraction. When they are done, they go wait with the child or children and allow the others to ride.
This can also be done so that some people in your party get to ride the same ride twice in a row. We will get into more specifics below, but rider switch also makes it so each parent can enjoy a ride with the older children when a younger child is not able to ride the ride.
In the past, paper Rider Switch passes were given for Group B but now everything is going digital. Cast Members will scan the Rider Switch pass on your MagicBand or park ticket for Group B. You will be able to see the Rider Switch pass added to the My Disney Experience app under the FastPass+ section.
This time window does cut into FastPass+ selection time frames as well, so either use it right away or keep that in mind while booking any additional FastPass+ for the day. confused yet? Don't worry there is a lot more to keep on reading, that will have you totally unconfused and ready to rock using Disney Rider Switch when you are on your Disney World trip.
We have some helpful tips to master Rider Switch and give everyone in your party the chance to do all that is offered! So don't worry, we will have you covered for everything you need to know about using Rider Switch at Disney World.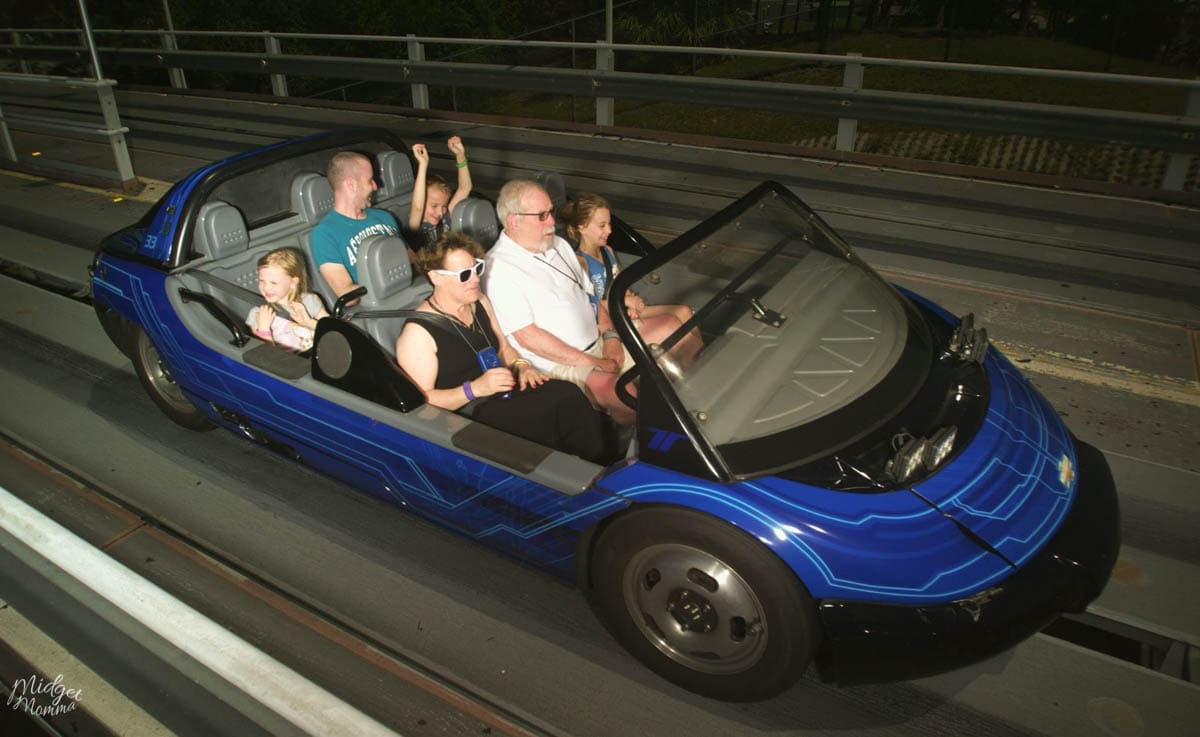 What Do you Need to do for a Rider Switch Pass at Disney World
Disney makes it really really easy to get your rider switch pass. All you have to do is have 2 adults and at least 1 NON rider with you to be eligible for the rider switch. All parties involved in the rider switch need to be at the attraction entrance together before anyone gets on the ride so the cast member can give the rider switch pass to the nonriding adults/party members. And you need your magic bands.
So if you have Mom, Dad and a Baby, you can get rider switch for Mom to ride first and then Dad to ride second.
If you have a larger family its the same, just one adult needs to be with the child or children who can not ride while the other adult is on the ride.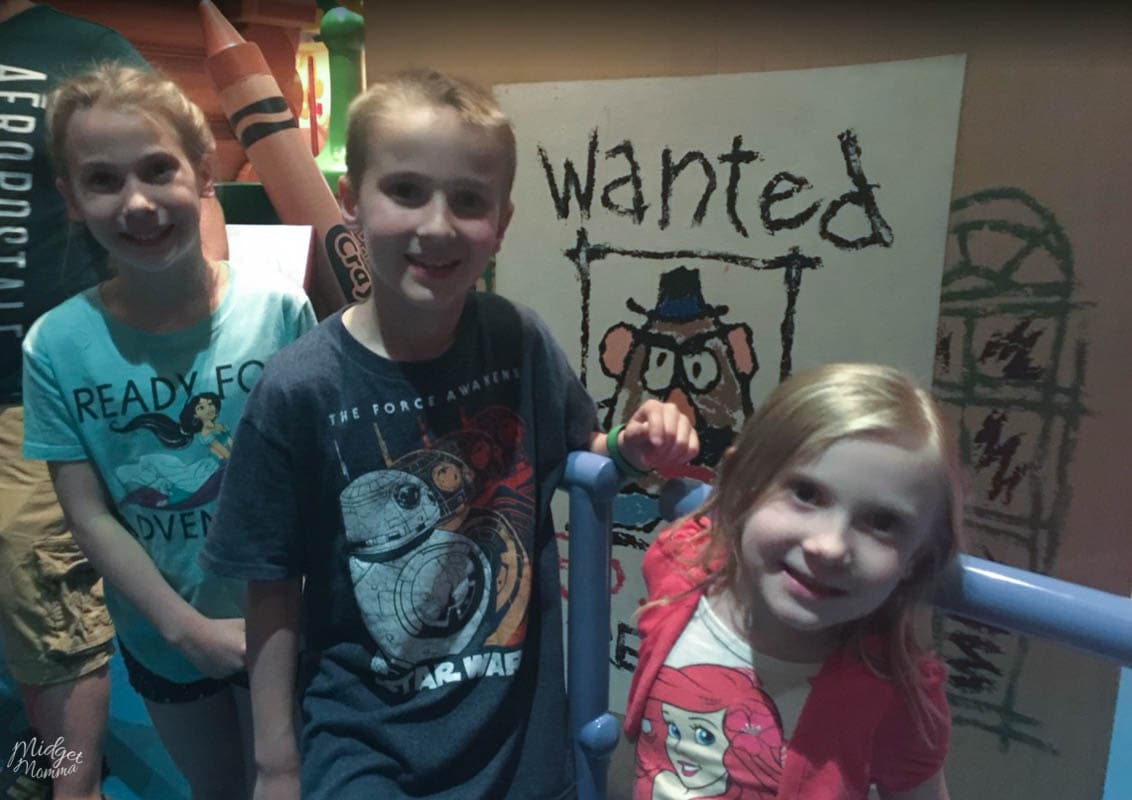 How Disney's Rider Switch Works
Thanks to Disney technology the process for rider switch is simple. Here are the basics, we are going to get into some fun tricks that you can do to make the most of the rider swap at Disney World combined with using fastPasses a little later.
Step One
Everyone in your party shows up at the ride entrance and you request the Rider Switch pass from the cast member at the entrance. Using your magic band, a Disney cast member will scan the band loading the rider switch pass on to it for your party. This is the same whether you have a FastPass+ for that attraction or you are just going to wait in the Stand By line.
Step two
Those in your party who in the first group going on the ride will go in the ride line, those who will be riding the second time will wait in whatever area the cast member tells them to.
Step Three
When group one is done riding, those who were in the non riding group will go into the loading section of the ride and skip waiting in line again and go on the ride.
Rider Switch at Disney World Example
Mom, Dad, kid age 14, Kid age 9, and a kid age 2 are the group. Both Mom and Dad want to enjoy the ride with the older kids, but the 2 year old does not meet the requirements for the ride. Everyone will go to the ride entrance as a group, and request the Rider Switch pass.
Mom waits online with kid age 14 and kid age 9. Dad takes 2 year old to the designated waiting area. Mom and the kids, go thru the line and go enjoy the Disney World ride. When they are done, Mom stays with the 2 year old. Dad takes the 2 kids ages 14 and 9 to the designated loading area they are told to go to and rides the ride with the kids without having to wait online again.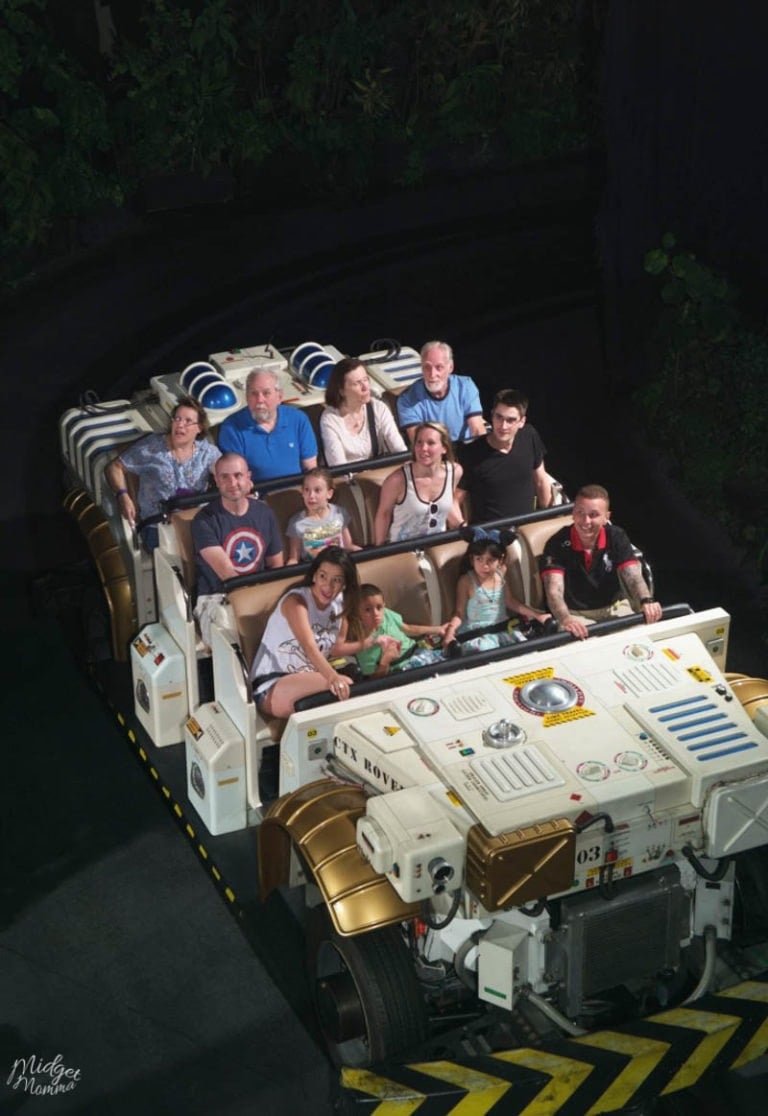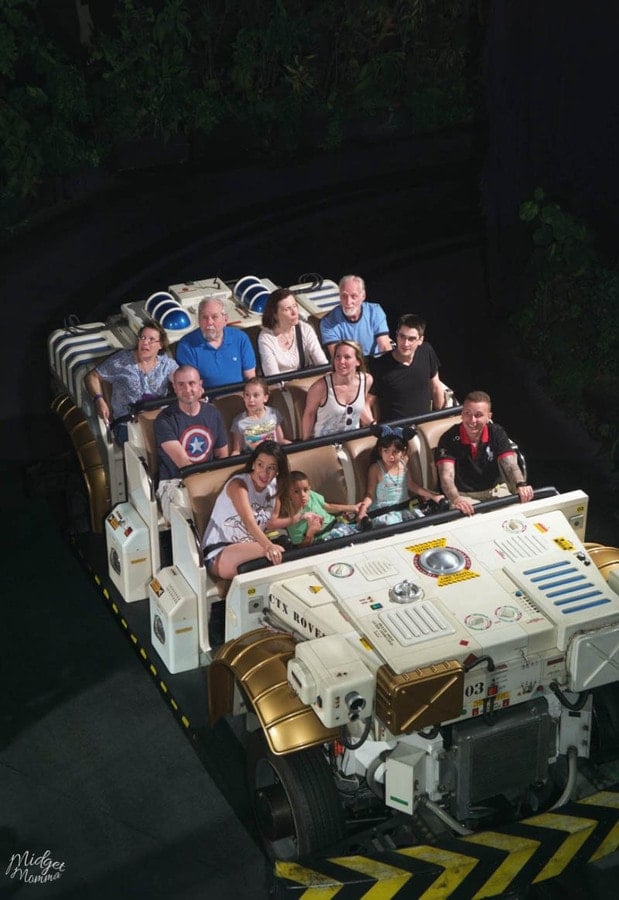 Disney Rider Switch Rides
Not all of the rides at Disney World allow for Rider swap, the ones that don't kids of all ages are able to rider them. Here are the rides that you can use Disney Rider swap with, and as you can see they are all of the "must do Disney Adult and big kid rides.". Disney totally has mom's back with the cool things they have going on! I love it!
Magic Kingdom Park
The Barnstormer
Big Thunder Mountain Railroad
Seven Dwarfs Mine Train
Space MountainSplash Mountain
Stitch's Great Escape
Tomorrowland Indy Speedway
Epcot
Frozen Ever After
Mission: SPACE
Soarin'
Test Track
Disney's Hollywood Studios
Alien Swirling Saucers
Rock 'n' Roller Coaster Starring Aerosmith
Slinky Dog Dash
Star Tours® – The Adventures Continue
Twilight Zone Tower of Terror
Disney's Animal Kingdom Park
Avatar Flight of Passage
DINOSAUR
Expedition Everest – Legend of the Forbidden Mountain®
Kali River Rapids
Primeval Whirl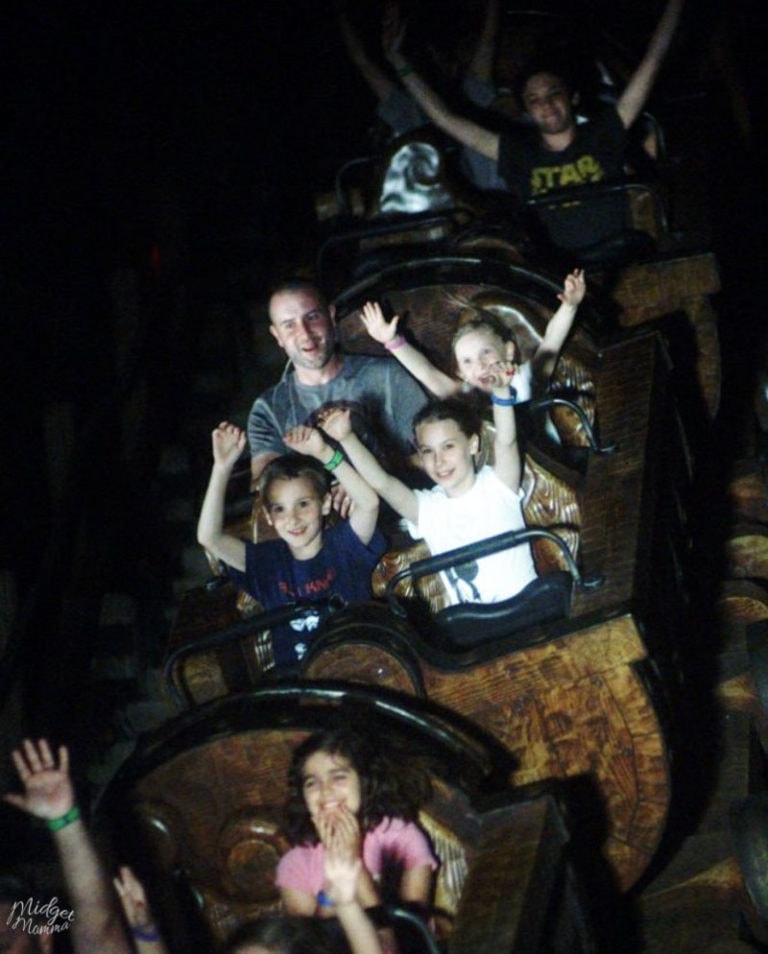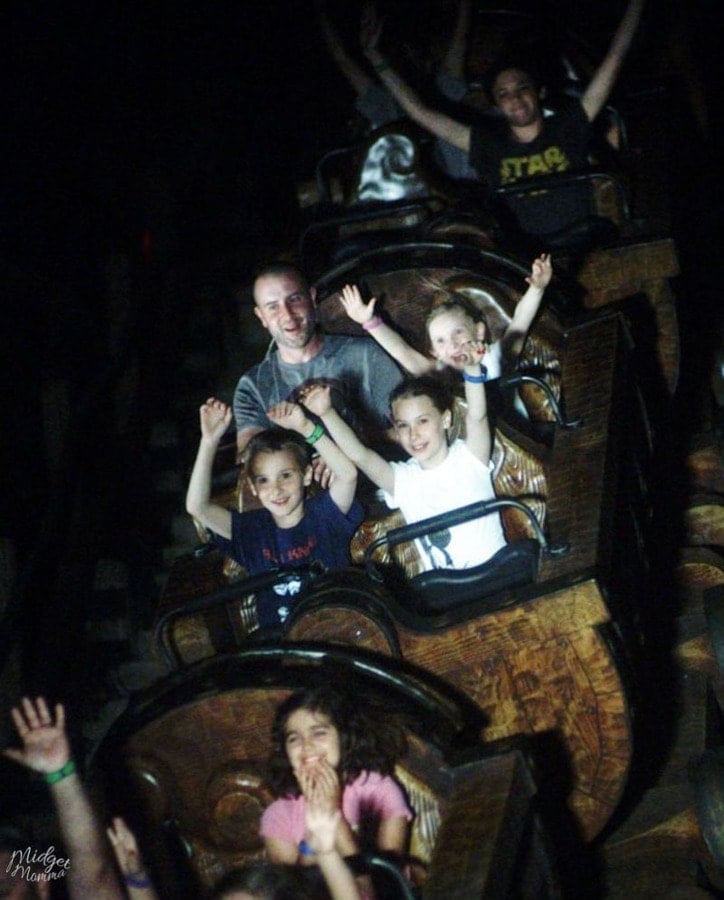 Can you use Rider Switch with Fast Pass?
You totally can. In fact using a Disney Rider Swap Fast pass game plan is the BEST way to get on the most rides when you are at Disney World!
Making the Most of Rider Swap and FastPass at Disney World
Ok so now we are going to get into the tricks that you can do with Rider Swap and FastPass to get on as many rides as you can!
#1 Schedule Fast Pass by group of riders
This is one of the fantastic things that I LOVE about using Fast Pass and rider swap together. I am going to warn you that it does get a little bit on the tricky side here. Bear with me and I promise you that you will never rider rides any other way when you are at Disney World!
We have a group of 6-8 depending on the day we are going anytime we are at Disney. But to make this easier I am going to just go with a group of our family of 6.
Break your group up into group 1 and group 2 for ALL of your Disney World FastPass planning for a FULL Day. 
We have 6 of us, me, Tom, McKenzie (14), Logan (12), Alyssa (9) and Hannah (2). Hannah can not ride every ride as she is to small.
Group 1 – Tom, McKenzie, and Logan
Group 2- Myself, Alyssa and Hannah
Group 1 Books fast pass for a ride on Big Thunder Mountain at 10am. All of us go to the ride, Group 1 rides, Group 2 gets a Rider Switch pass for those who can ride it.When the first group is done, the second group gets on the ride.
Group 2 Books fast pass for a ride at Splash Mountain for 11am. All of us go to the ride, Group 2 rides, Group 1 gets a Rider Switch pass. When the first group is done, the second group gets on the ride.
We have now made it so we have DOUBLED our fast passes. Be sure when you are doing this that you are scheduling fast passes for rides that are near each other, otherwise you will be running like chickens trying to make all the fast passes.
I find it easy to schedule Fastpasses for rides near each other for us to be able to optimize the ride time. Scroll down below to check out a magical plan on how to use Rider Swap at Disney with a Large Party and not waste any fast passes!
#2 INSANELY CRAZY COOL Rider Swap Plan for Large Families
So above I told you about doing the Rider Swap for 2 adults and 3 kids who can ride all the rides, with 1 kid not being able to ride them all. But what if you have 4 adults, 3 kids who can ride it all and 1 kid who can't, but everyone wants to get on all the rides. Well, it is a little bit more tricky but it CAN be done! And you won't be wasting any fast passes!
Step 1
Assign the fast pass for adult #1, Adult #3, Kid #1 Kid #2
Step 2
Adults 1 and 2 go up with the nonrider child and rider kid #1 and get a child swap, adult 1 and kid #1 has a FP and goes on. Adult 2 goes back to the group.
Step 3
Adults 3 and 4 wait a few minutes and then go up with the nonrider child and kid #2 ask for a child swap. Adult #3 and kid #2 has a FP and goes on and adult #4 goes back to the group.
Now you have 2 Child Swaps.
Step 4
Adults 2, 4 and kid #3, wait for the can now go ride on one of the child swaps when adult 1 and kid #1 are done with the ride.
Adult 5 waits with the nonrider and upon the return of Adult #3 and kid #2, adult #5 gets to go on the ride bringing 2 people who want to ride again.
The whole party of 7 people, have all just ridden the rider with only using 4 fast pass selections. 
*NOTE* Only one Rider Switch can be active on a band or card at a time. So you will need to make sure when you are doing your rider swap plans that you keep track of your groups and your planning so you don't accidentally miss someone getting on a ride.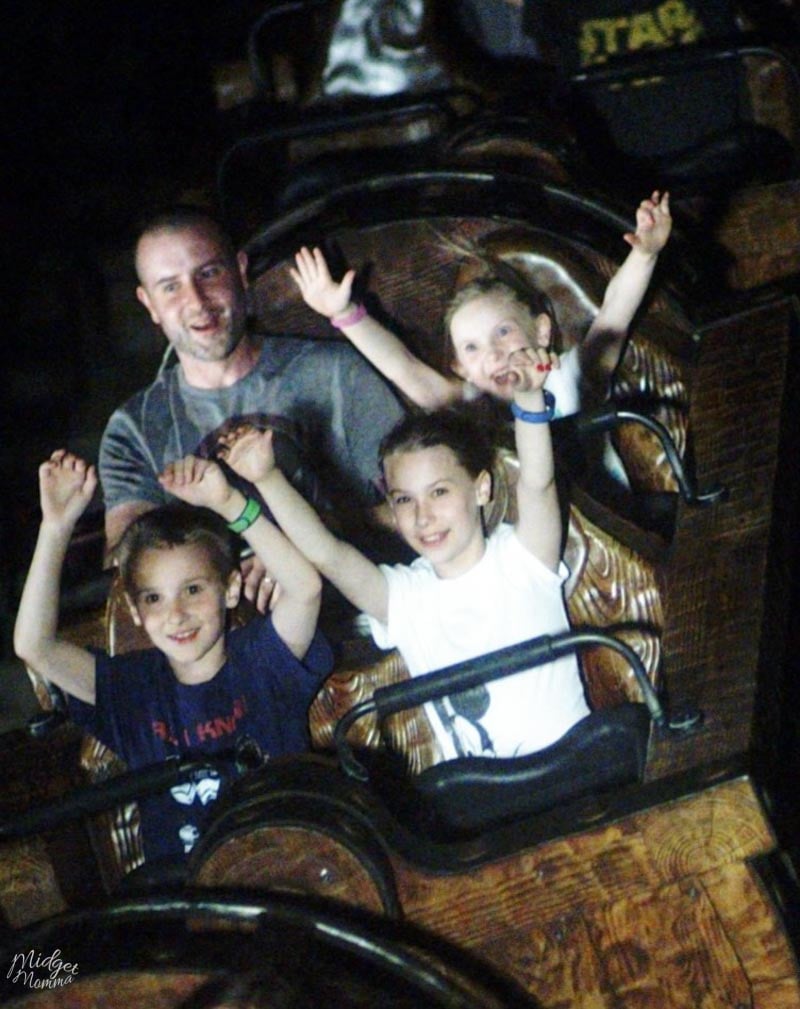 Rider Switch Disney World Tips
1 Hour Use Time Frame for Rider Switch
You will be given a 1 hour return window to utilize the pass. You also get a 10 minute grace period. So you do NOT have to have the second group use their rider switch pass immediately after the first group gets off the ride. This is great because while the first group is on the ride, group number 2 can go to get snacks for everyone and eat while waiting and then have food ready for the group riding when they get off the ride.
Grab a quick snack, hit the restrooms or get on a ride while group two waits.
The wait times can be long, especially if your first group is using the standby line. Most of the time there is plenty of time for the waiting group to grab a quick snack, and hit the restrooms. We have also at times had time to get on a ride nearby that is age appropriate for the youngest in our party.
For example, our first trip to Disney we only had 3 kids and Alyssa was 3 years old, the older kids were 6 and 8. We did rider switch for Dinosaur in Animal Kingdom, and Tom took the older 2 kids thru the fast pass line and I kept Alyssa with me. I noticed that the TriceraTop Spin ride near by had no wait time, so I took Alyssa on that ride. By the time Tom and the older kids were done riding Dinosaur, Alyssa and I were done with TriceraTop Spin. Tom then took Alyssa on TriceraTop Spin again while I took the older 2 on Dinosaur.
If you want to just relax, you can do that too and just wait near the exit of the ride.
Kids under 3 do NOT need a fast Pass Scheduled!
Yes, it is a wonderful thing that makes life super easy when you are at Disney World. A child under 3 does not need a ticket to enter, they do not need to be on the dining reservations for most places and they do not need to have a fast pass scheduled for them. They can just join the group in the FastPass line for any rides the rest of the group has scheduled.
Share Magic Bands
Disney doesn't care if you share magic bands among your party members. If you book a fast pass for something with one person's ticket and they don't want to ride it, you can have another person in your party use that magic band to use the FastPass.
Only ONE Adult needs to stay with the nonrider child.
Remember that the child/children only needs one adult to wait with them for the Rider Switch so that frees up other adults and older kids to possibly ride twice. Now if you are like our family, the kids are always up for riding as much as they can, some adults don't want to ride certain rides at all. Then there are times that everyone wants everyone to ride at the same time so one of the adults hangs back. So we change things up a bit at times, but when doing rider swap we always make sure that we are not over booking rider swap passes.
The Rider Switch makes it so easy to bring along smaller children without having to miss out on any of the fun! Happy riding!
Be sure to check out all of our other Disney World vacation planning posts, to help you make the most of your Disney World trip!