Lucky Charm Marshmallow Treats take your traditional cereal and marshmallow treat up a notch! A little bit salty, perfectly sweet and two types of marshmallows make for the best marshmallow and cereal treat bars!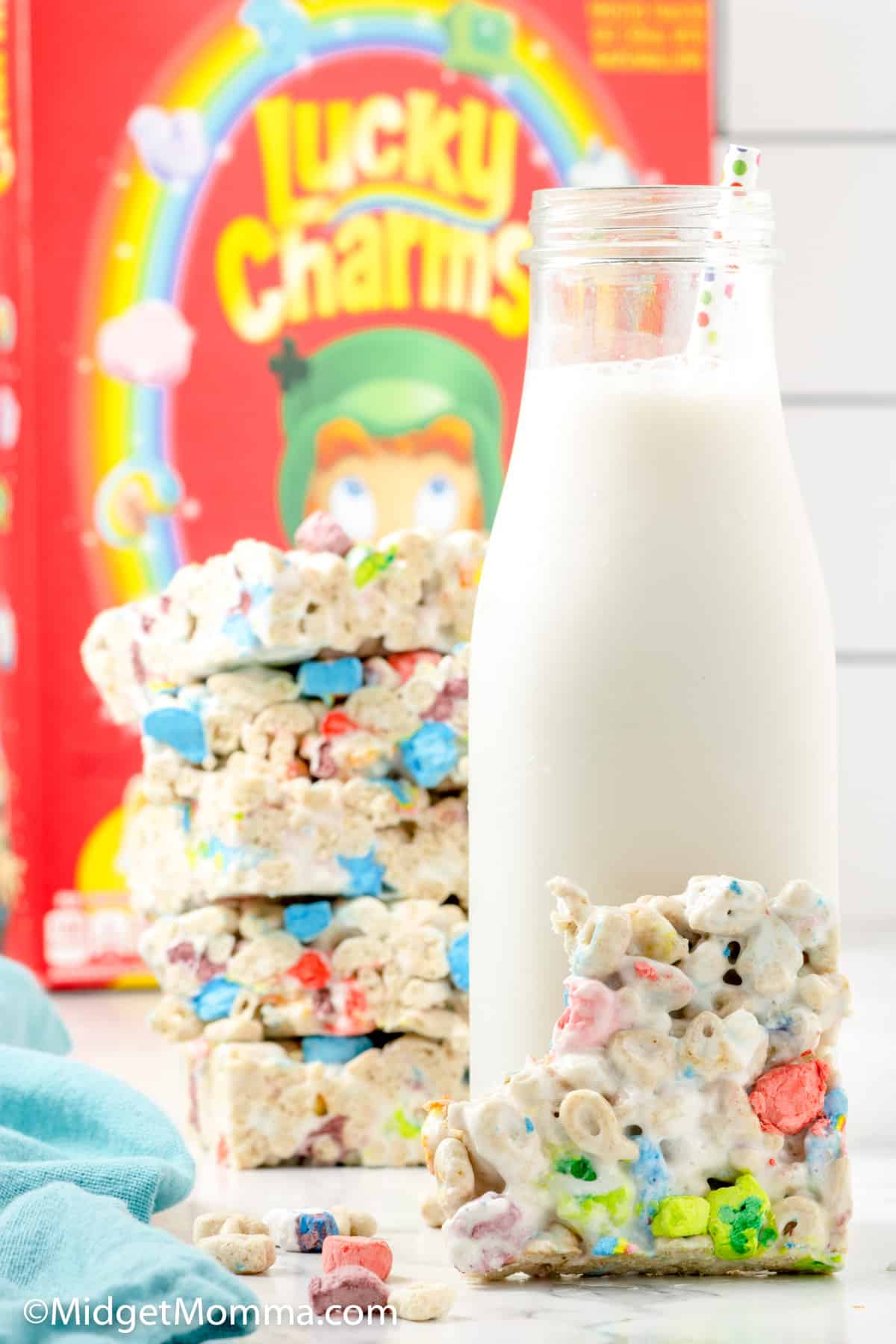 Lucky Charm Marshmallow Treats
If you love rice krispie treats then you are going to LOVE these Lucky Charm Marshmallow Treats! They are the perfect way to change up your loved Rice Krispie treats! Lucky charms cereal combined with melted marshmallows make for this easy treat.
With just 3 ingredients and 10 minutes to make, these marshmallow cereal bars are the perfect treat to make!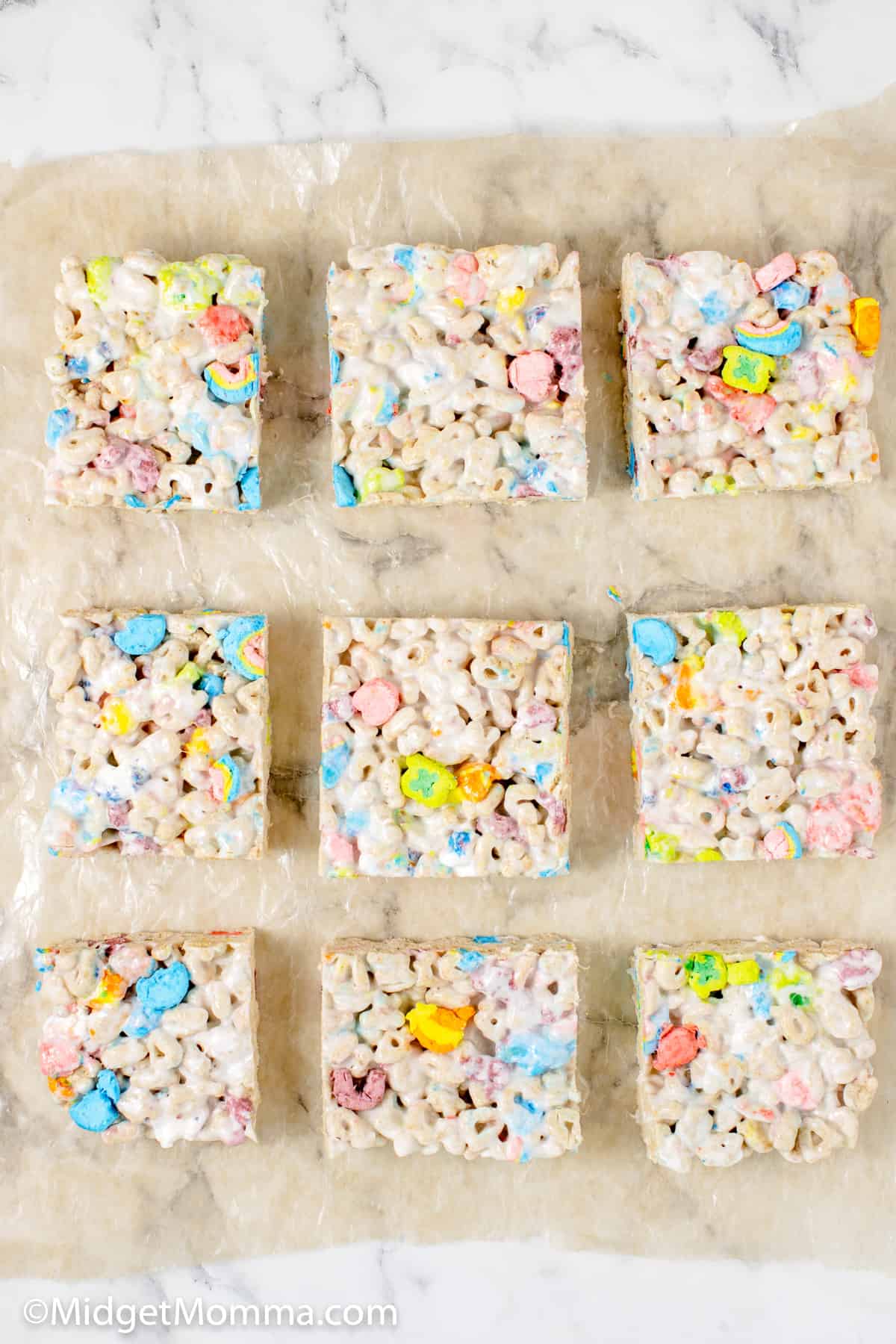 There really is nothing better to remind me of when I was growing up then Rice Krispie treats. I have always been a rice crispy fan and it was a treat my mom would make for us.
Of course you all know me, I like to change up the traditional ways and put a fun new twist on them. And tada! We have Lucky Charm Marshmallow Treats!
A few years I forgot to plan a dessert for our St. Patrick's day dinner and saw the box of lucky charms in the pantry. I thought lucky charm treats would totally make up for my lack of planning. It worked, the kids loved them and every since have asked me to get lucky charms anytime we have gone to the grocery store.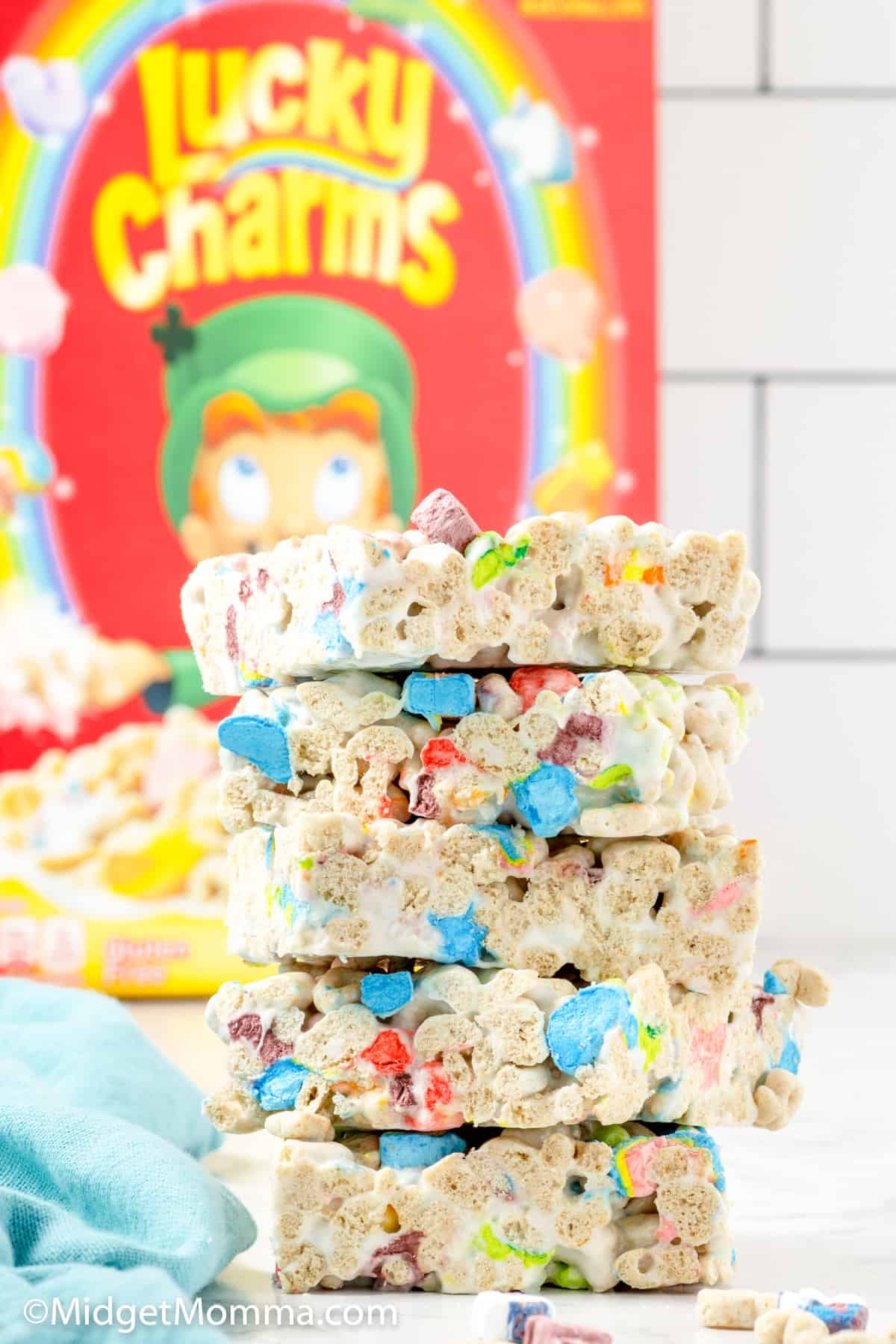 They are even better then your normal rice krispie treats, I know, I know you are seriously doubting me right now but trust me. Adding marshmallows, with sugar coated cereal and marshmallows makes one amazing treat! These lucky charms cereal bars have quickly become a favorite in our house.
If you ask my kids, they totally believe these lucky charms cereal bars are acceptable for breakfast since they are made with cereal
We also used the awesome finding Dory cereal to make Finding Dory Cereal bars, you should totally try them too!
Easy Rice Krispies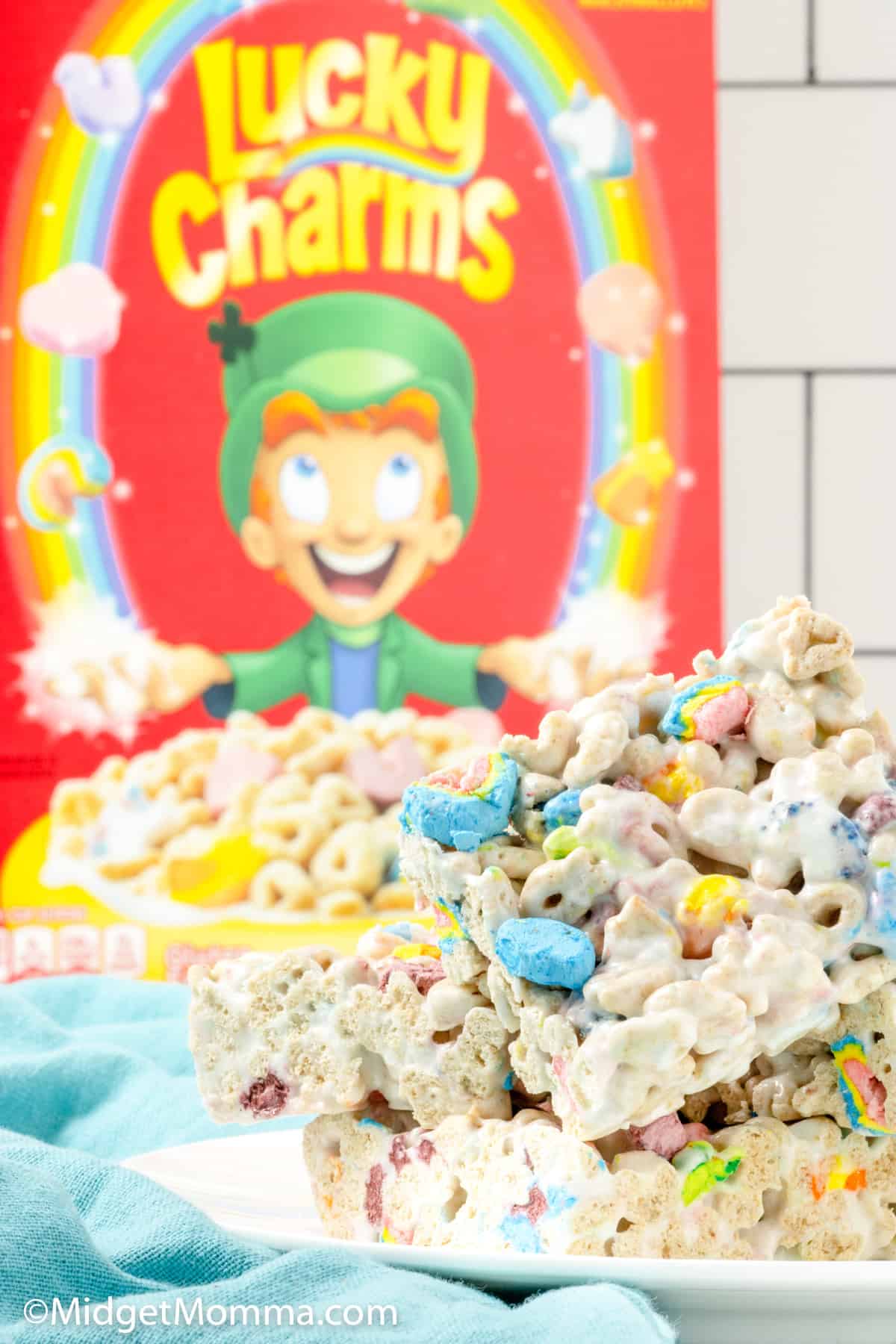 For St. Patrick's Day our normal menu consists of corned beef and cabbage or Bangers and Mash, Irish Soda bread and a St. Patrick's Day dessert. Dessert is my favorite part of St. Patrick's Day dinner because I can have fun and get creative and end the day with a tasty treat. Of course the kids love having a tasty treat after our St. Patrick's Day dinner just like every holiday.
If you are looking for an awesome easy St. Patrick's Day dessert this is the one! Or if you are like me, who may have accidentally forgotten that it is St. Patrick's Day on more then one occasion this is the perfect quick kid friendly dessert!
St. Patrick's Day Recipes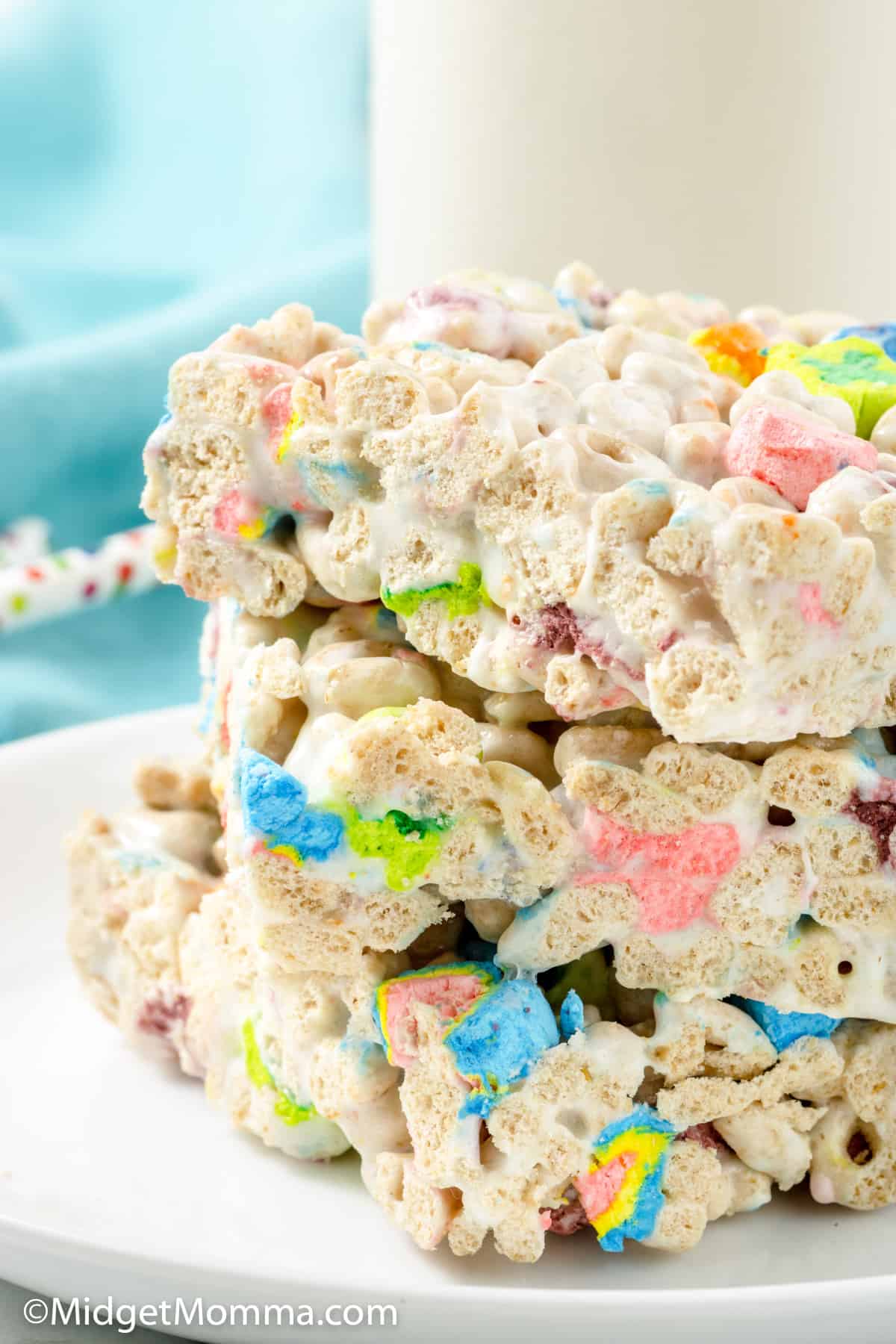 Tips for Making this recipe
Do not pack marsmallow treats mixture in to the pan. To achieve soft, and chewy while being crispy marshmallow treats you want to be gentle when pressing the mixture into your baking pan.
Use a silicone spatula. I find it best to use a silicone spatula or spoon and spray it generously with non stick spray. Then I gently spread with out pushing down hard, the cereal and marshmallow mixture into my baking dish.
Prevent Sticking. When you are making these line your baking dish with greased parchment paper. If you don't have parchment paper on hand make sure you grease your baking dish well. I use nonstick baking spray to grease my baking dishes and parchment paper.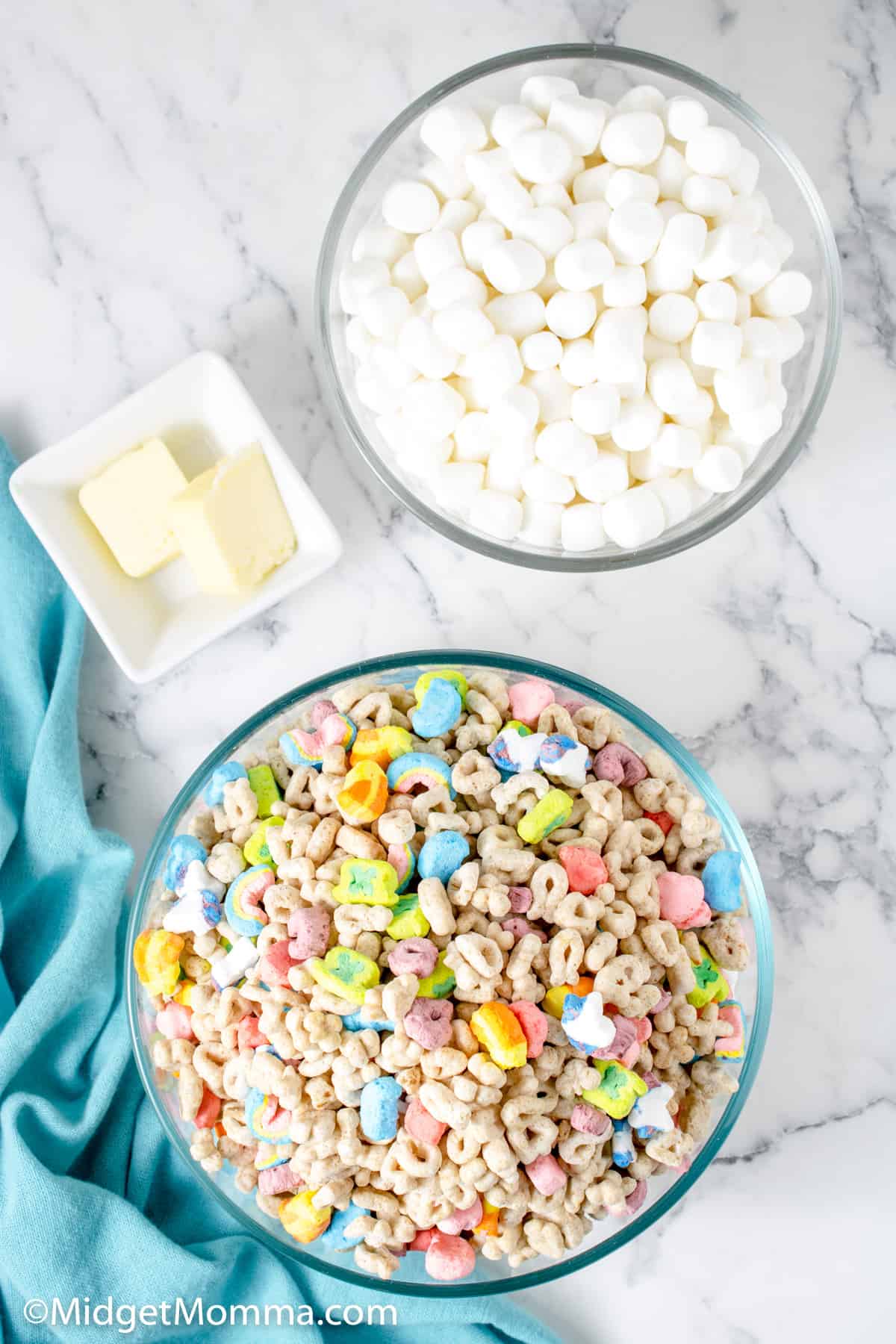 Lucky Charms Treats Ingredients
Marshmallows
lucky charms cereal
butter
How to Make Lucky Charm Marshmallow Treats
Melt butter and marshmallows together.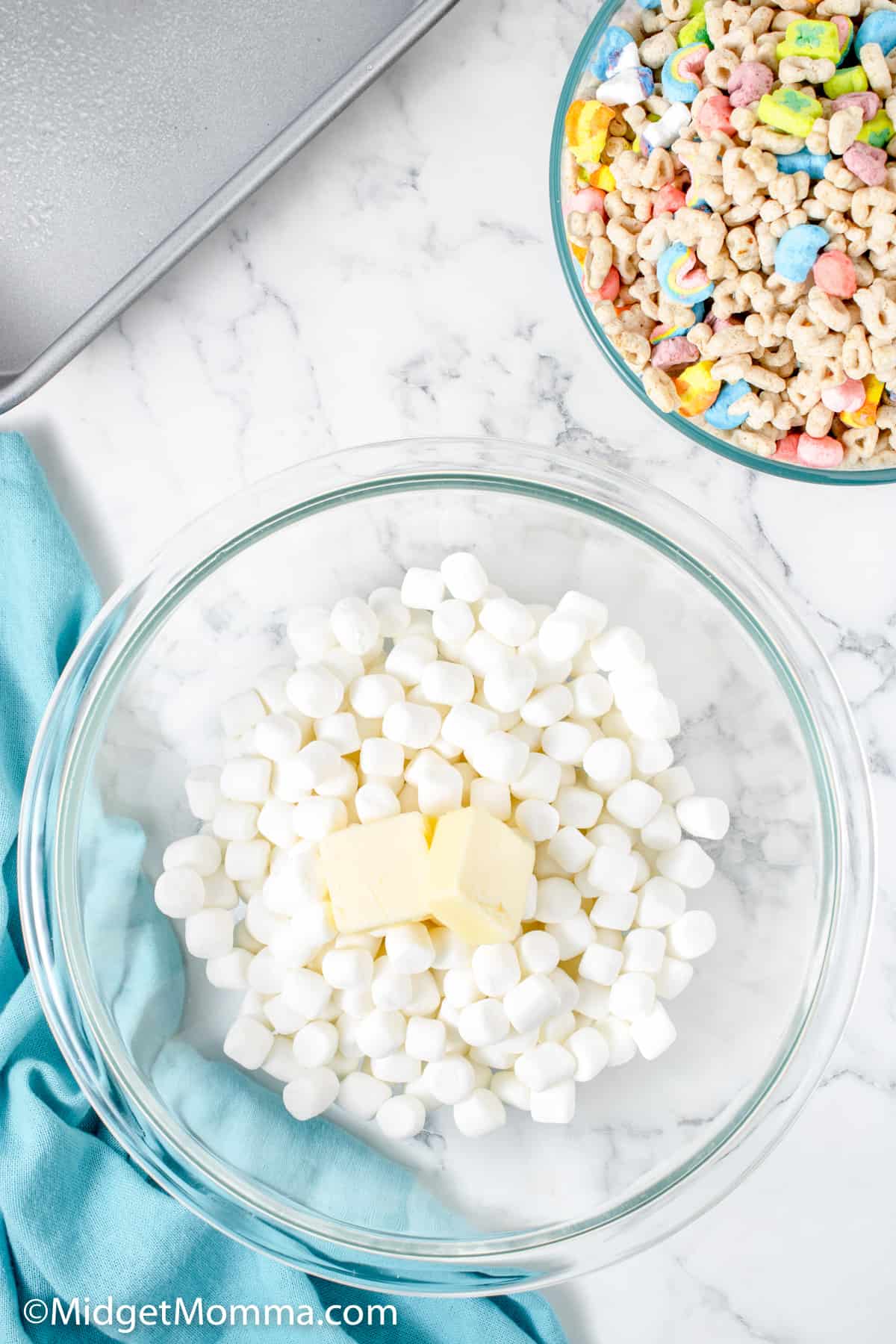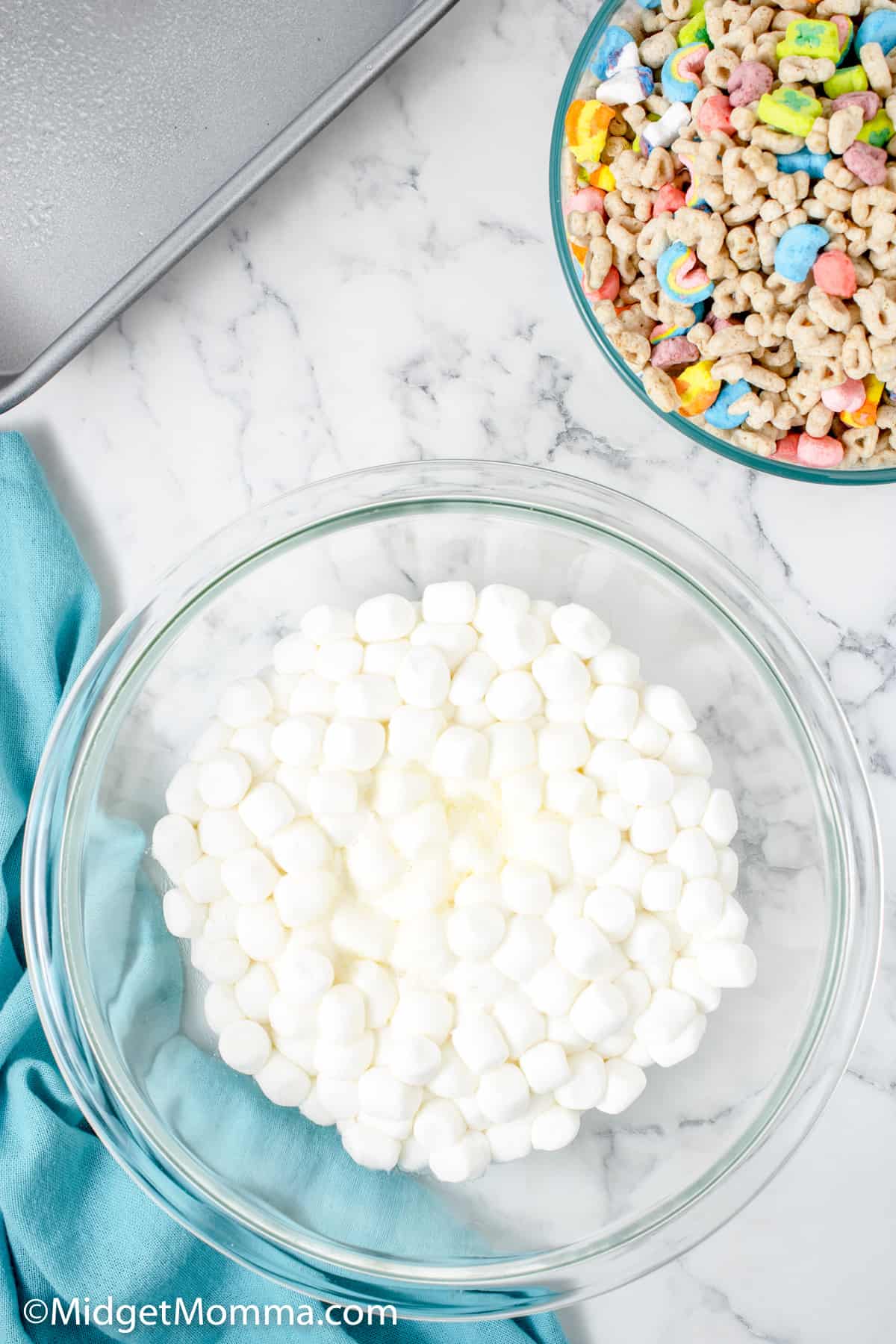 Mix lucky charms cereal in to melted marshmallows.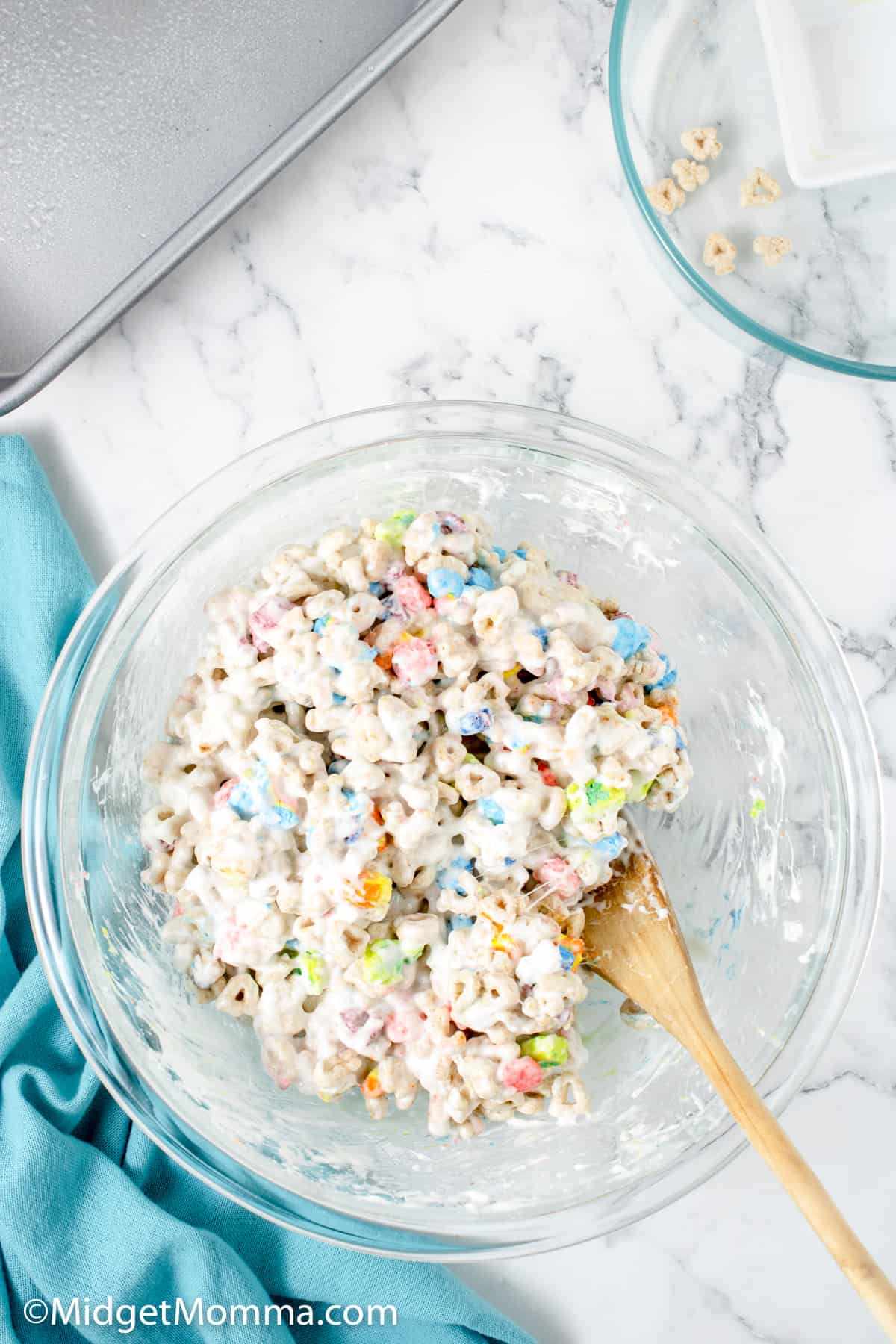 Pour into a baking dish and spread the lucky charms cereal bars mixture.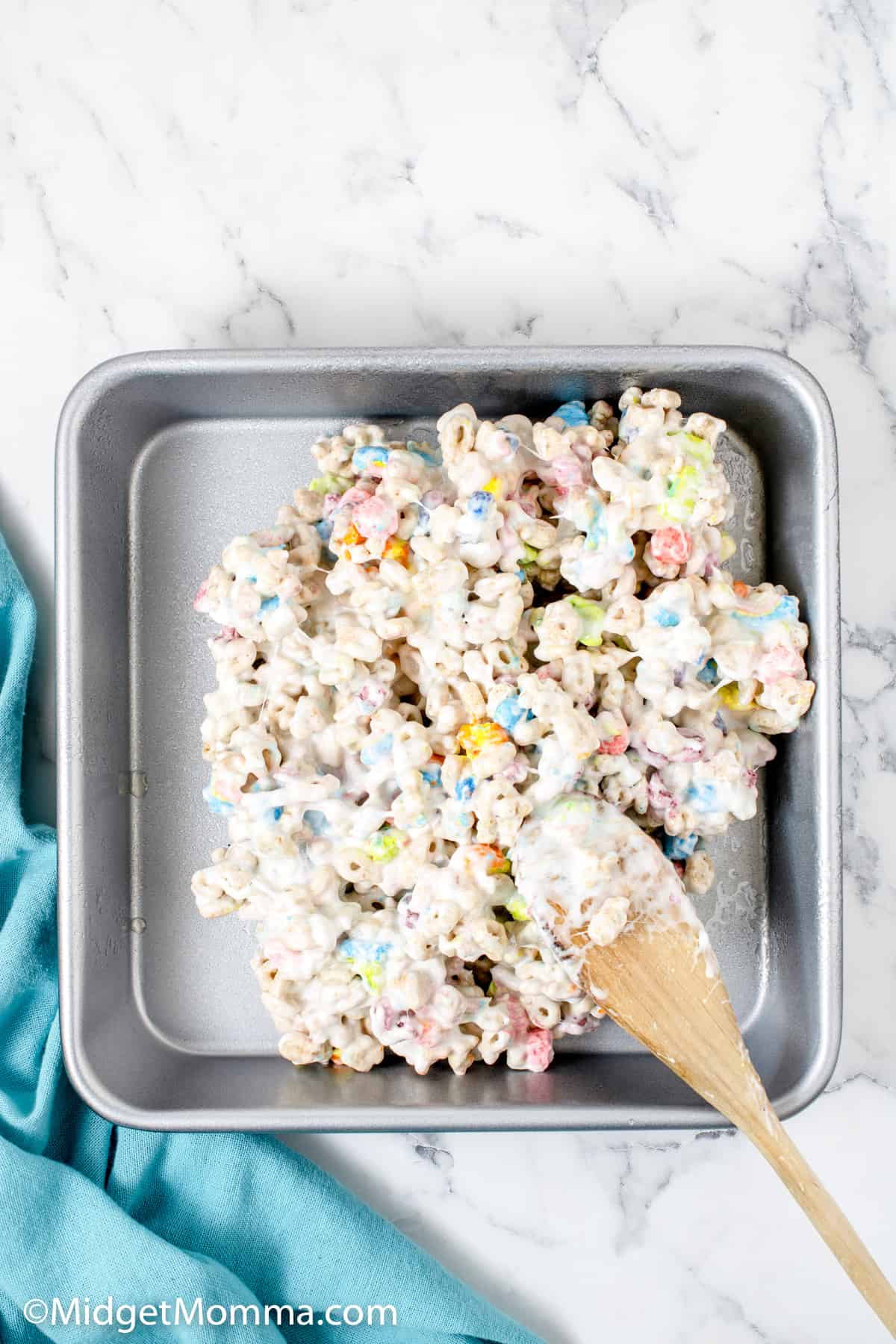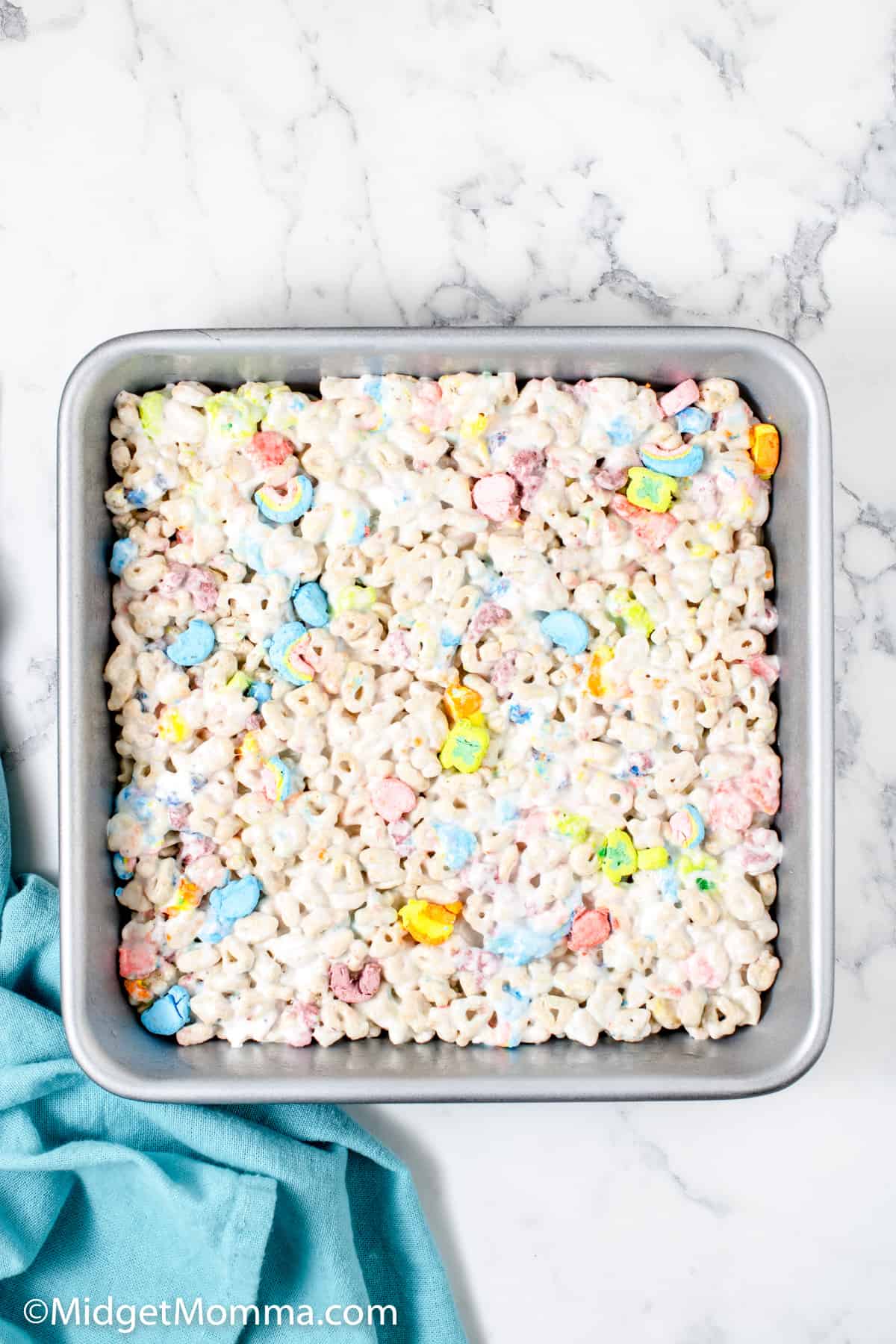 Allow to cool and then enjoy.
St. Patrick's Day Dessert Recipes
Baking Supplies
Love to bake? Here are some of our favorite tools to make it easier!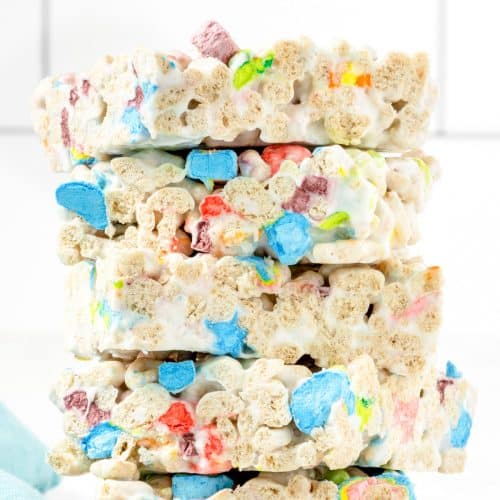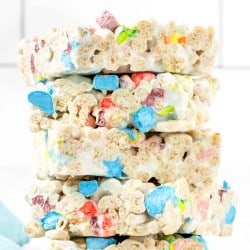 Lucky Charm Marshmallow Treats
Servings
If you love rice krispie treats then you are going to LOVE these Lucky Charm Marshmallow Treats! They are the perfect way to change up your loved Rice Krispie treats!
Ingredients
3 cup marshmallows
4 1/2 cup Lucky Charm cereal
2 tablespoons butter
Instructions
Grease a 9×9 square pan with the cooking spray.

In a large microwave-safe bowl place in the marshmallows and butter.

Place them in the microwave for 30 seconds at a time till they are melted.

Stir the cereal into the marshmallow until well combined.

Pour the mixture into the pan and press it out to fill the whole pan.

Place in the refrigerator for 20 minutes until the marshmallows set up.

Slide a butter knife around the edge of the pan to loosen the treats from the sides.Cut the treats into 3×3 squares.
Calories: 127kcal | Carbohydrates: 26g | Protein: 1g | Fat: 2g | Saturated Fat: 1g | Cholesterol: 5mg | Sodium: 119mg | Potassium: 29mg | Sugar: 15g | Vitamin A: 440IU | Vitamin C: 3.6mg | Calcium: 59mg | Iron: 3mg
Lucky Charm Marshmallow Treats, lucky charms cereal bars
Dessert
Notes
If you like thick treats you can use a 9×9 pan and if you would like them thin you can use a 9×13 pan. When you spread out the treats you can a sheet of wax paper that has been greased with pan spray.
More Dessert Recipes to try:
Join the newsletter
Subscribe to get our latest recipes right in your inbox every time we post a new one!