Pumpkin Snickerdoodle Cookies, pumpkin cookie meets snickerdoodle cookie. These soft and chewy snickerdoodle cookies are packed with pumpkin flavor and coated in a pumpkin spice sugar coating for the perfect fall cookie. This Pumpkin Snickerdoodle Cookies recipe is one of my favorite fall cookies.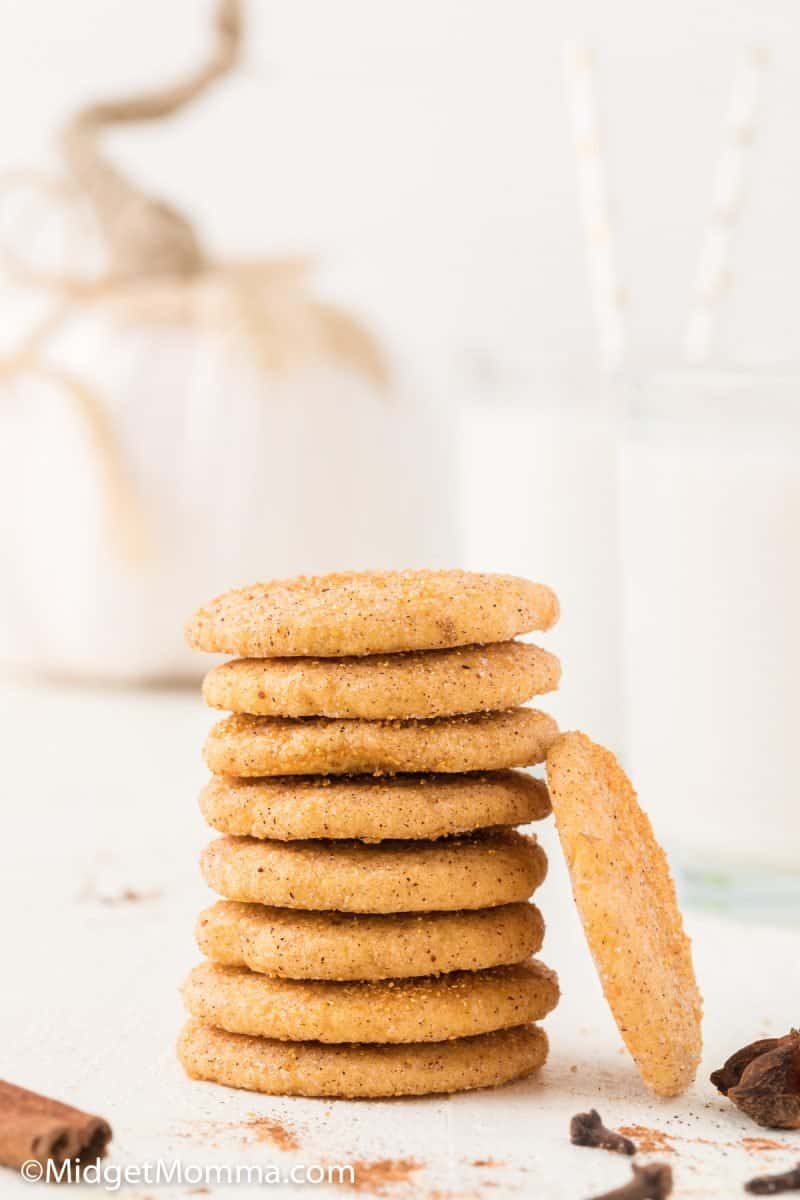 Pumpkin Snickerdoodle Cookies
Fall time means a great blend of spices. These Pumpkin Snickerdoodle Cookies combine the great texture and flavor of sickerdoodles with the well loved flavors and spices of fall. For a tasty twist on the traditional cookie, I have added pumpkin puree and pumpkin spice to give the traditional holiday cookie a fall twist.
When the fall comes I am all about everything pumpkin and pumpkin spice. I count down the days during the summer until it is acceptable to start making all things pumpkin and then it is on in our house! We make pumpkin everything as often as we can and enjoy every minute of it, including this pumpkin snickerdoodle cookie recipe.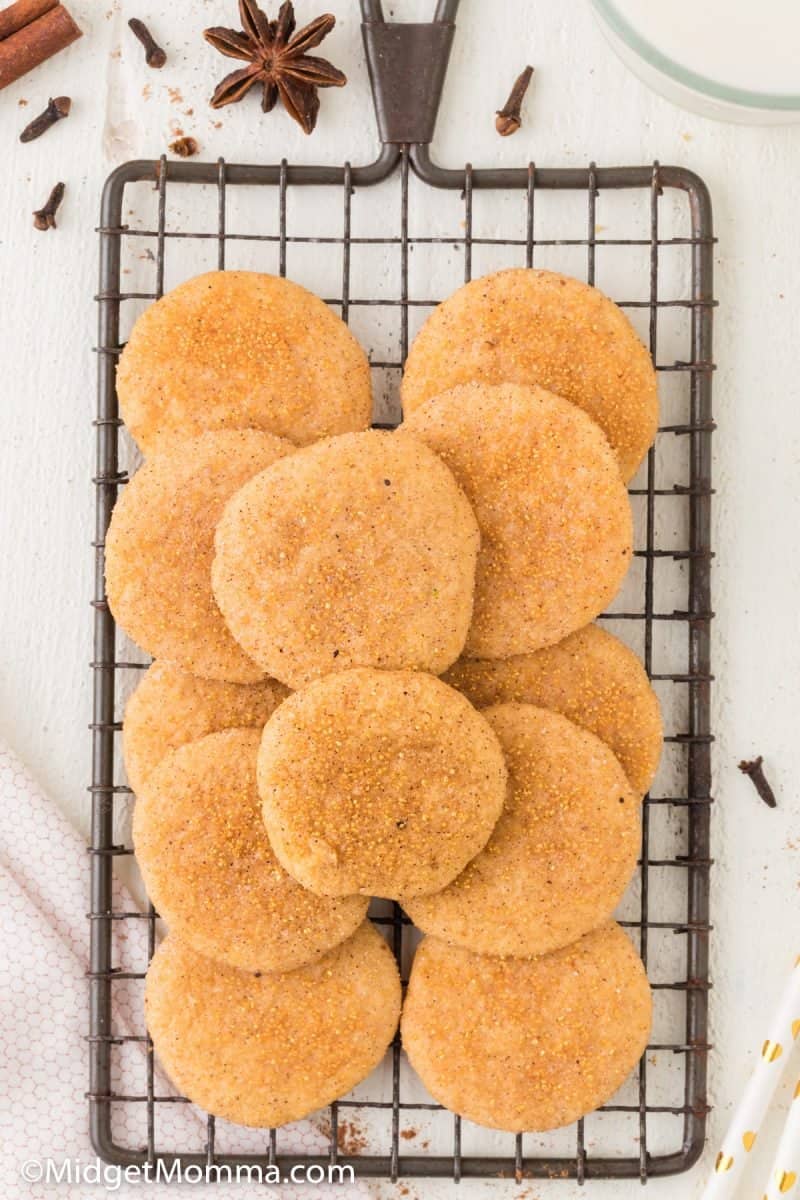 One of my favorite cookies is the snickerdoodle. For this pumpkin cookie recipe, I wanted to change things up with my favorite cookie and add my favorite flavor, pumpkin. I am so happy about this cookie recipe and how it turned out. I am sure you are going to love this Pumpkin Snickerdoodle Cookies recipe as much as my family does!
Easy Pumpkin Recipes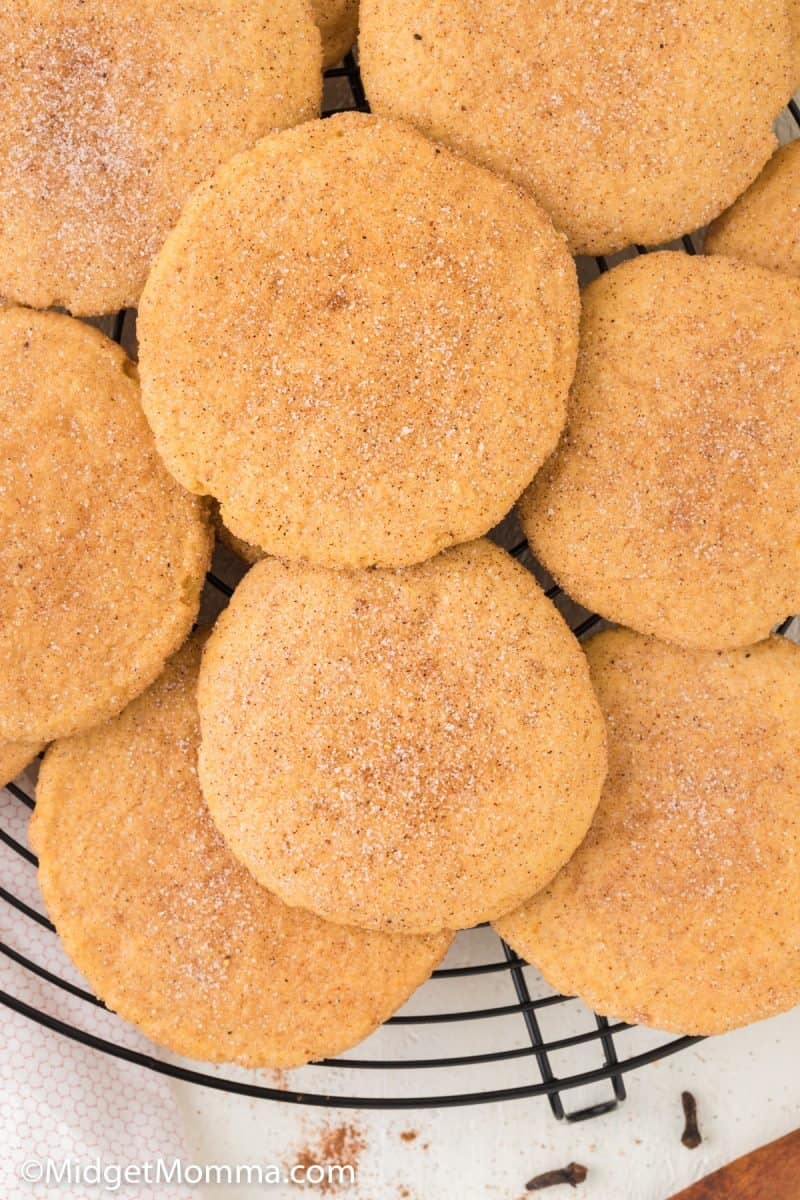 What is a snickerdoodle cookie?
A snickerdoodle is a soft and chewy sugar cookie that traditionally is rolled in a cinnamon sugar mixture before baking. For this fun twist on the traditional cookie recipe, we have swapped out the cinnamon for pumpkin spice in this pumpkin snickerdoodle cookie recipe.
They are not exactly a sugar cookie because of cream of tartar or baking powder being used that prevents the cookies from forming sugar crystals like in your traditional sugar cookie recipe. Not having sugar crystals form means you end up with pillowy soft and fluffy cookies.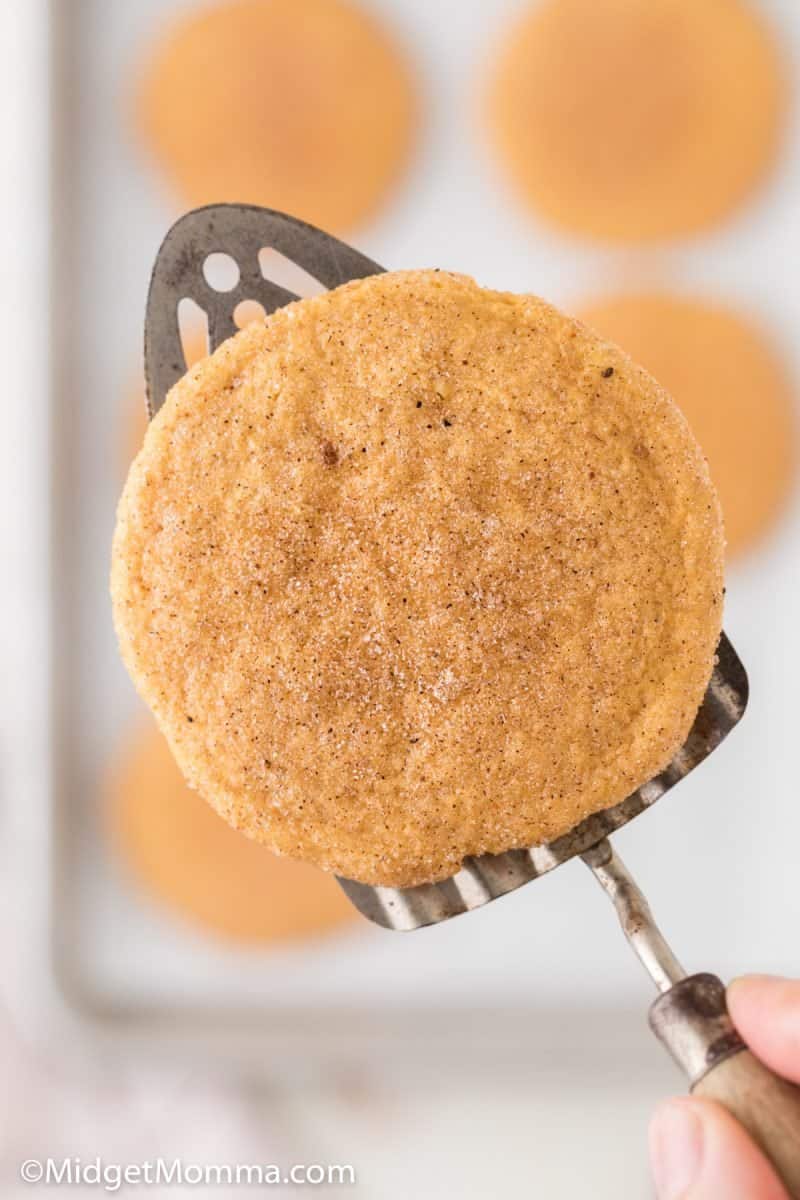 Tips for Making this recipe
Homemade or canned pumpkin. I personally like to use homemade pumpkin puree when making this Pumpkin Snickerdoodles Cookie recipe, however if you are looking for quick and easy you can totally use a can of pumpkin.
Homemade or store bought pumpkin spice. You can use store bought or homemade pumpkin spice seasoning when you are making these cookies.
Line the cookie sheets. I suggest that whenever you are making cookies you use silpats, you line your cookie sheet with them.
Don't skip on the chill time. The butter is softened to make the cookies and then whipped, you need to be sure to chill the cookie dough for long enough time for the butter to re solidify before baking or you will end up with a runny cookie mess. At a minimum the cookie dough needs to chill for one hour, however you can chill it for as long as 48 hours. The longer the dough is chilled the more flavorful the cookies are.
Measure the ingredients properly. The biggest thing to have exact is the flour. To much flour will give you a cake like cookie instead of a soft and chewy cookie. When you are measuring the flour instead of scooping it with your measuring cup from the bag, use a spoon and scoop the flour into the measuring cup until slightly overfull. Then take a butter knife and scrape and flatten the flour to be even with the measuring cup.
Perfect Bake time. When you are checking for the cookies to be done baking you want them to be light golden brown around the edges and look like they look they are almost done in the center. When you let them cool you will see that they are perfect and soft baking them this way.
Fluff the butter and sugar enough. You do not want to skimp on the mixing time for the butter and sugar. Having fluffy butter and sugar is important when making snickerdoodle cookies.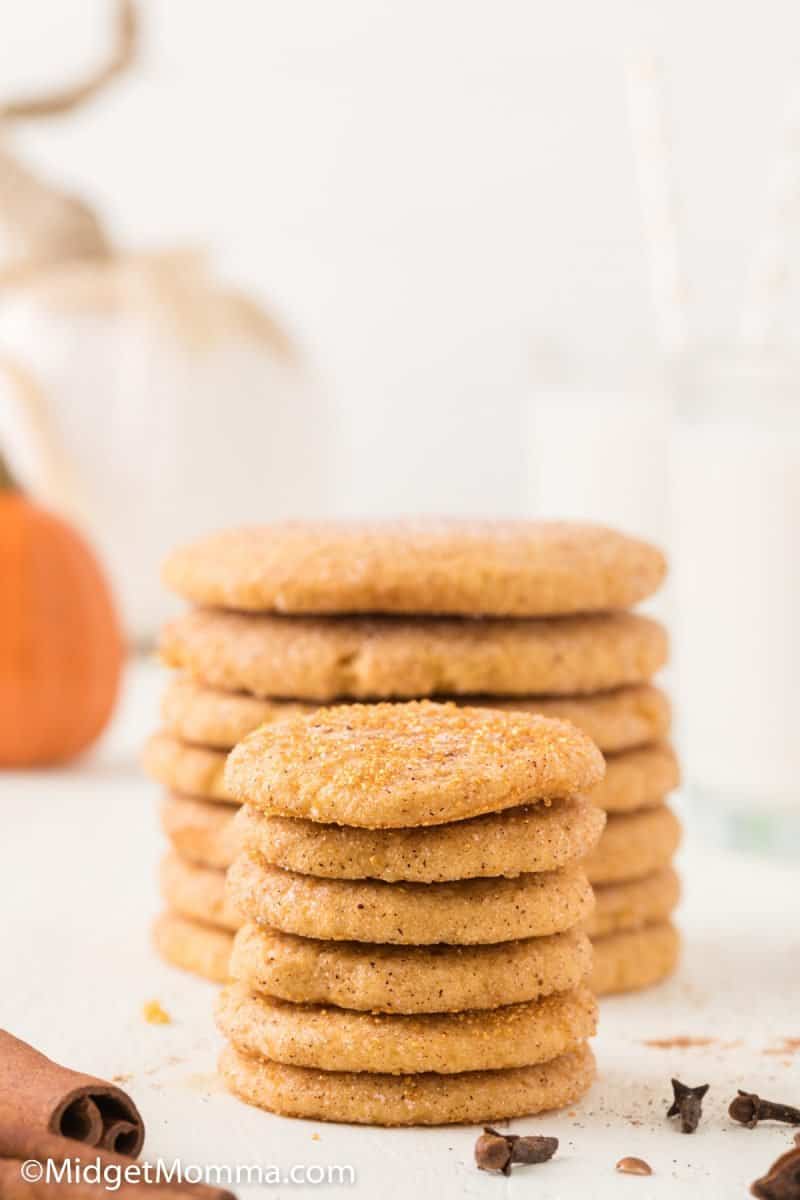 Variations of this Recipe
Add sprinkles. You can decorate these cookies if you want to with sprinkles to match the season you are making them for. Add the sprinkles after the cookies have baked before they cool or roll them in sprinkles before baking if you want them.
Change up the sizes. You can make these cookies as big or as small as you want to. When I am making them for a kids party I make them smaller. Just roll the balls smaller.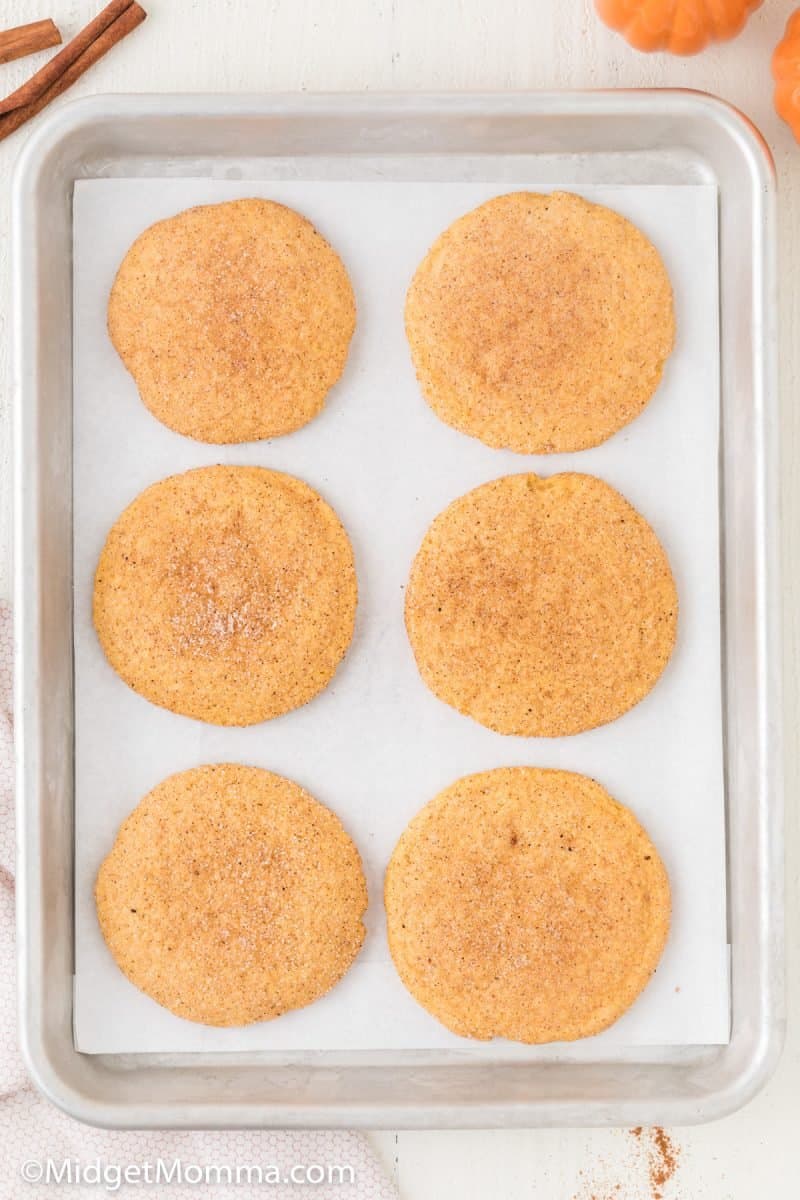 How to Store Snickerdoodle cookies
Cool the cookies completely and then store in an airtight container with a piece of bread in with them at room temperature. The cookies will remain soft and the bread will get hard. The cookie will keep for 3-4 days.
Can you freeze snickerdoodle cookies?
Pumpkin Snickerdoodle cookies can be frozen for up to one month in an airtight container or a plastic zip close freezer bag.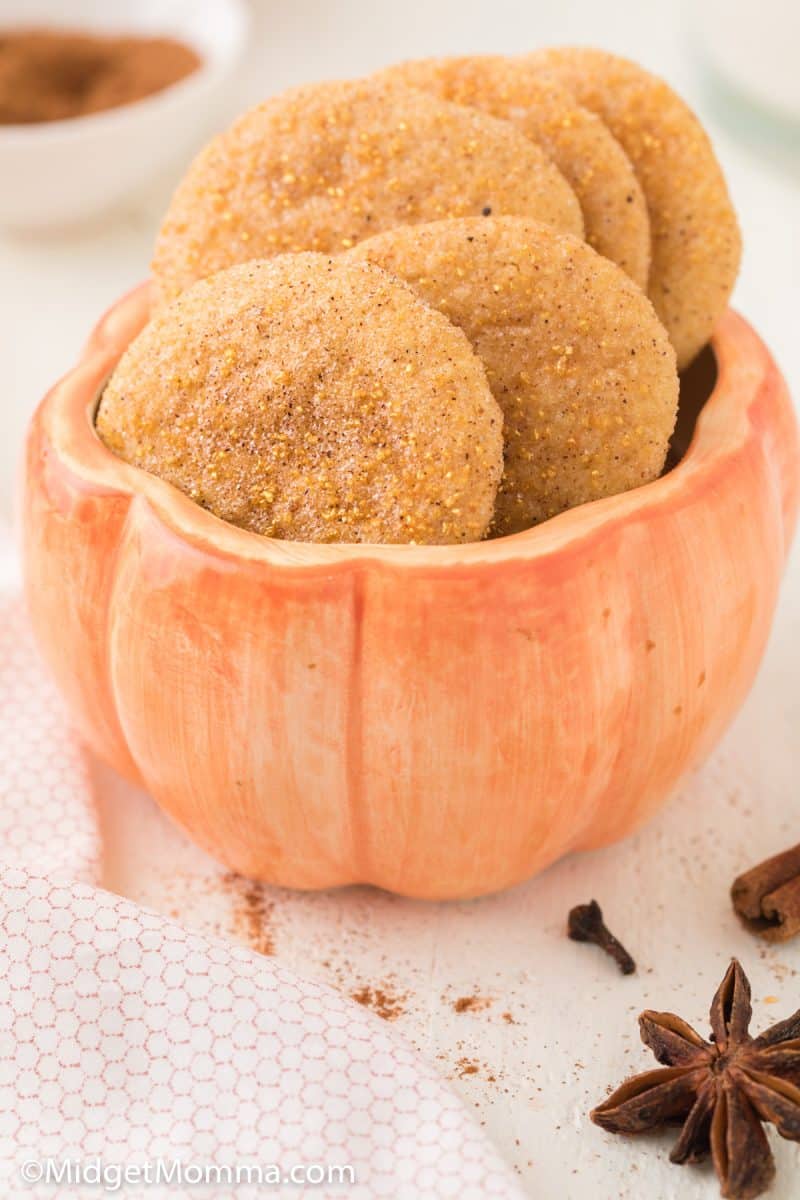 Can you freeze Snickerdoodle Cookie dough?
If you plan on freezing the snickerdoodle cookies to use at a later date follow the recipe except for the baking. Roll the cookies in the cinnamon sugar mixture and then place on a baking sheet lined with parchment paper. Place the baking sheet in the freezer for 3-4 hours to freeze the cookie dough.
Remove the cookie dough balls from the baking sheet and store in a freezer safe plastic zip close bag. The snickerdoodle cookie dough will keep in the freezer for uptown 3 months.
To bake the frozen snickerdoodle cookie dough add an extra 2-3 minutes to the bake time.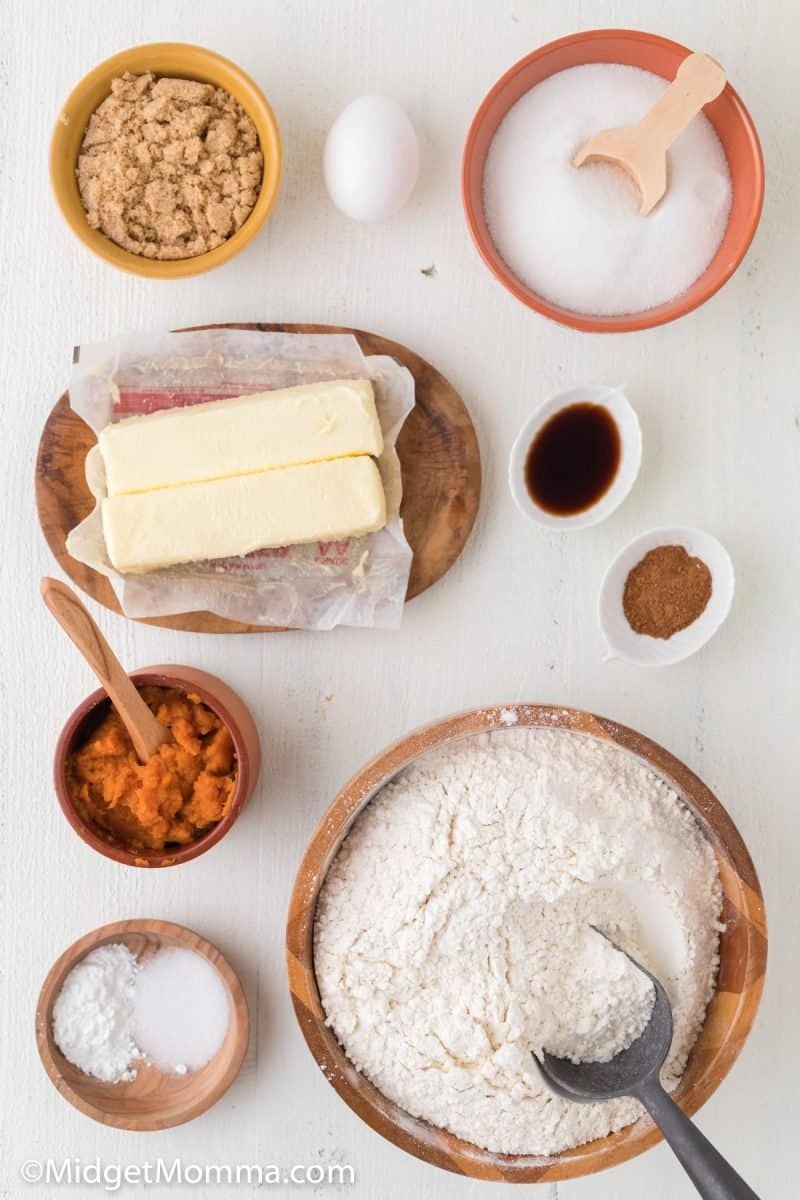 Pumpkin Snickerdoodles Cookies Ingredients
All-purpose flour
baking powder
salt
unsalted butter, at room temperature
granulated white sugar
egg
How to Make Pumpkin Snickerdoodles Cookies
Mix the dry ingredients, All-purpose flour, baking powder, salt, pumpkin spice with a whisk.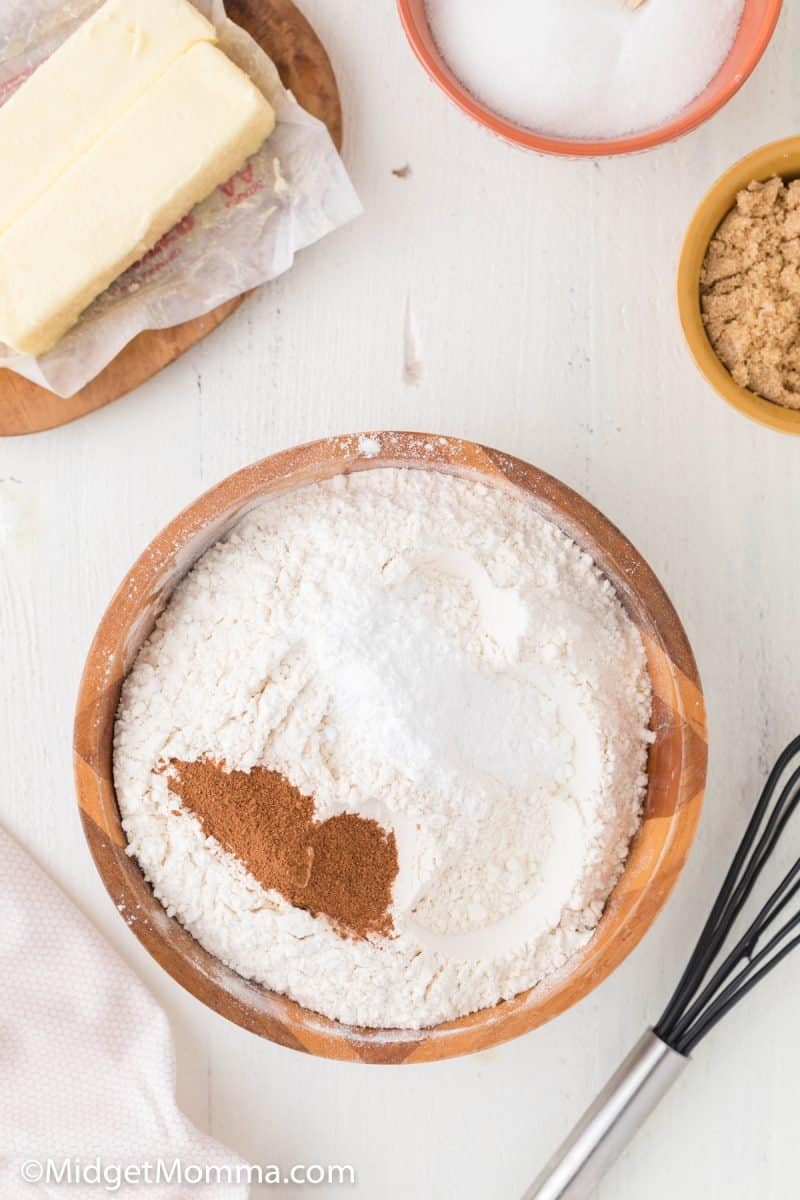 With a hand mixer or a stand mixer mix the wet ingredients, unsalted butter, white sugar, brown sugar, pumpkin puree, egg, and vanilla extract until they are mixed well.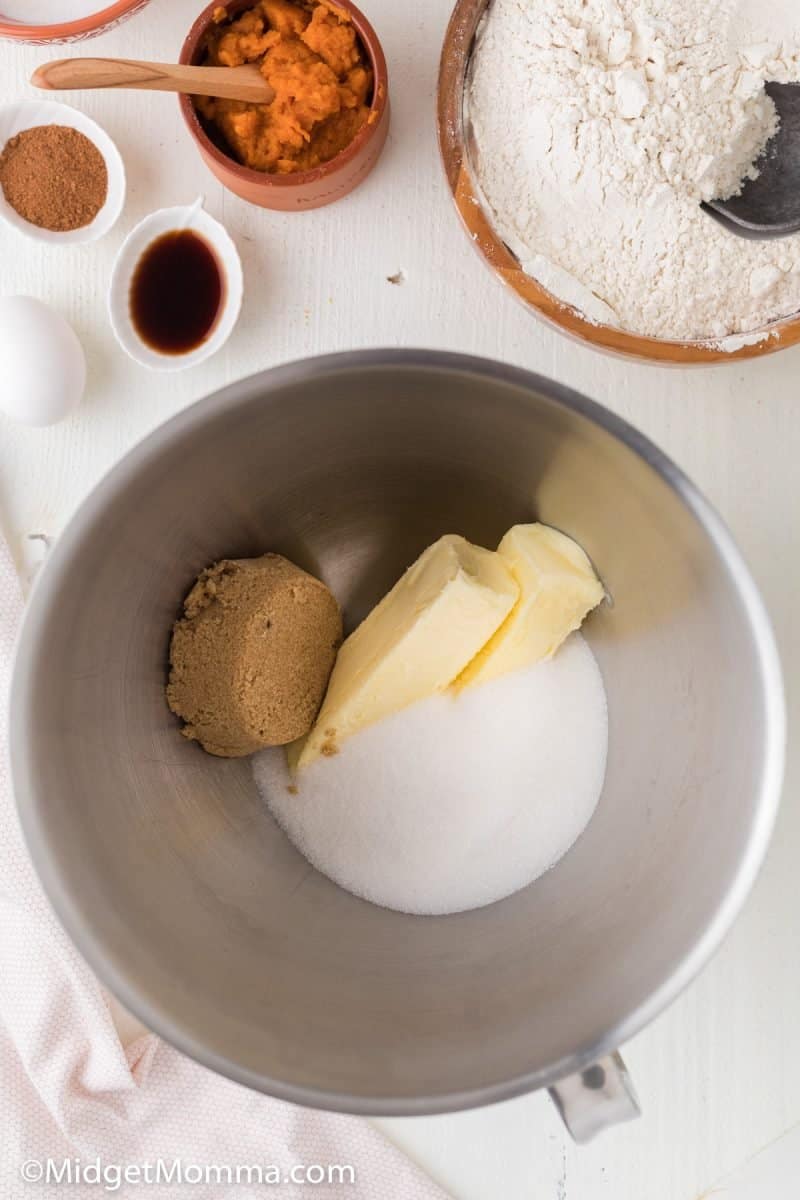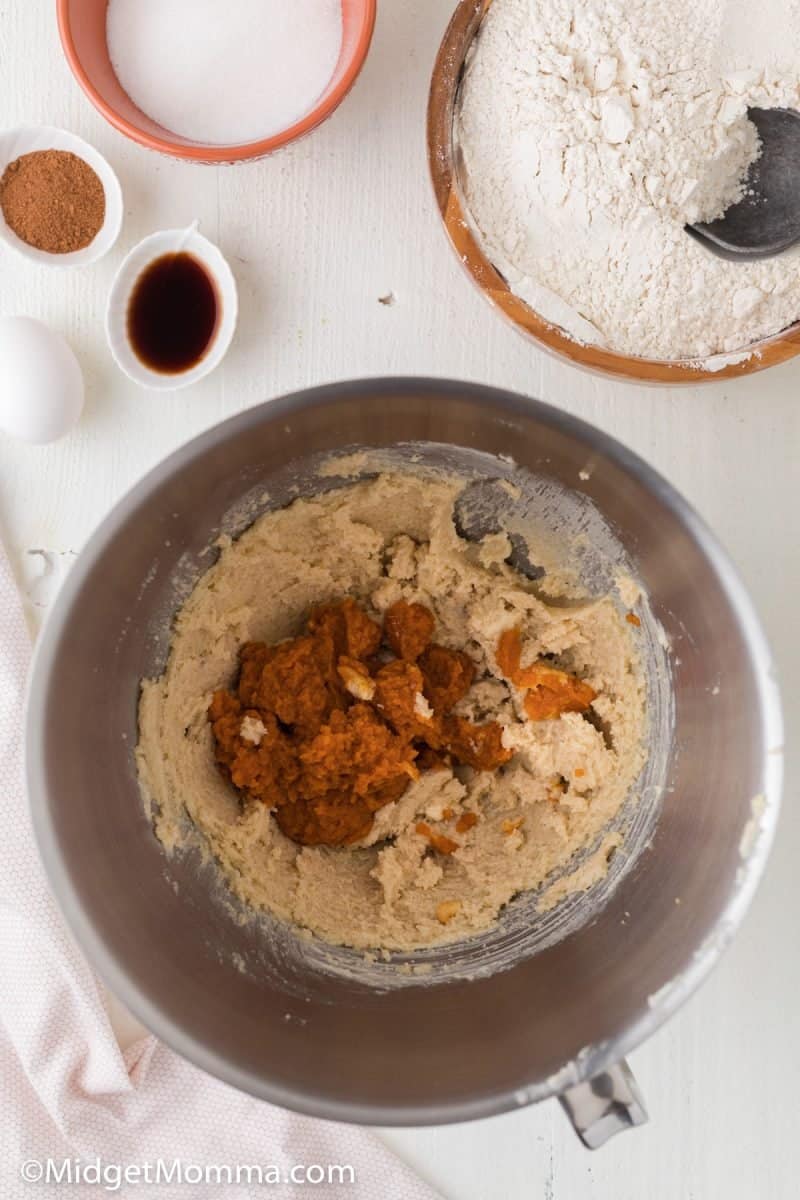 Combine the wet and dry ingredients together JUST until combined. Do NOT over mix.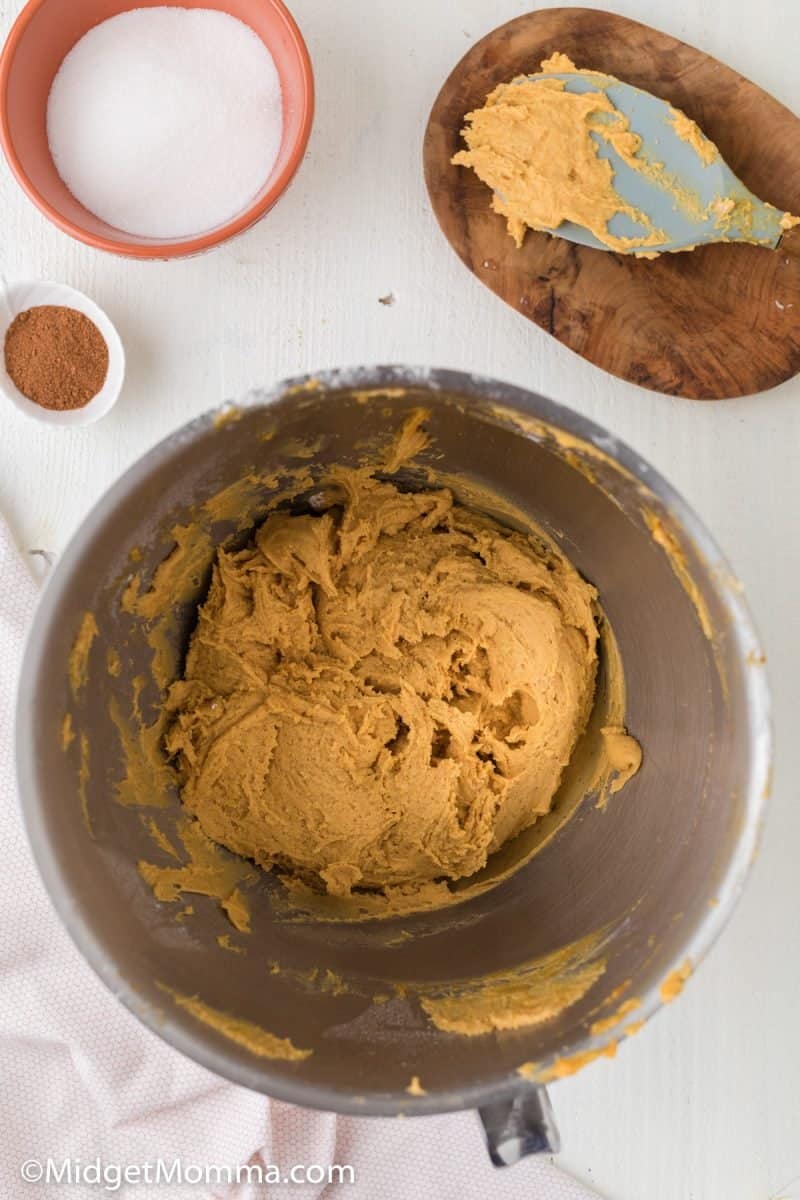 Chill the snickerdoodle cookie dough for 1 hour in the fridge.
In a small bowl add the white sugar and the pumpkin spice in a bowl.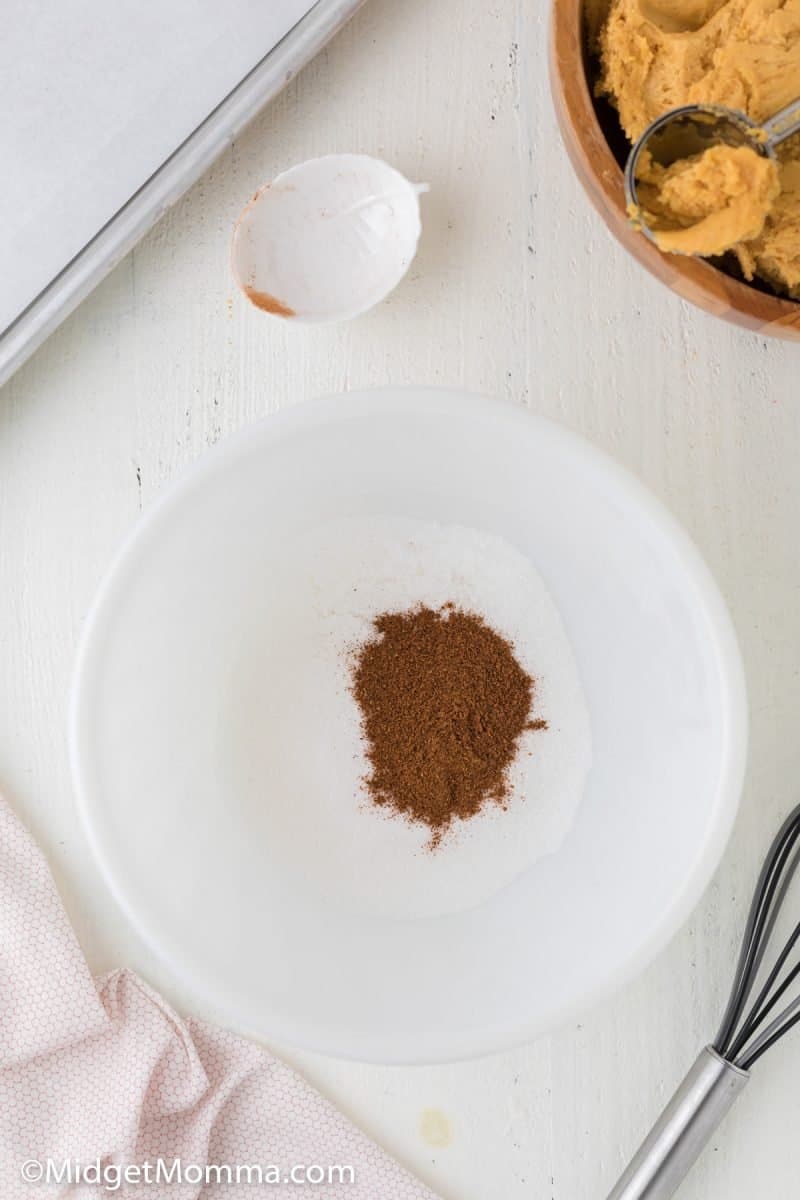 Roll the dough into balls and coat with pumpkin spice sugar coating. Continue until all of the cookie doughs balls are covered and on the baking sheet.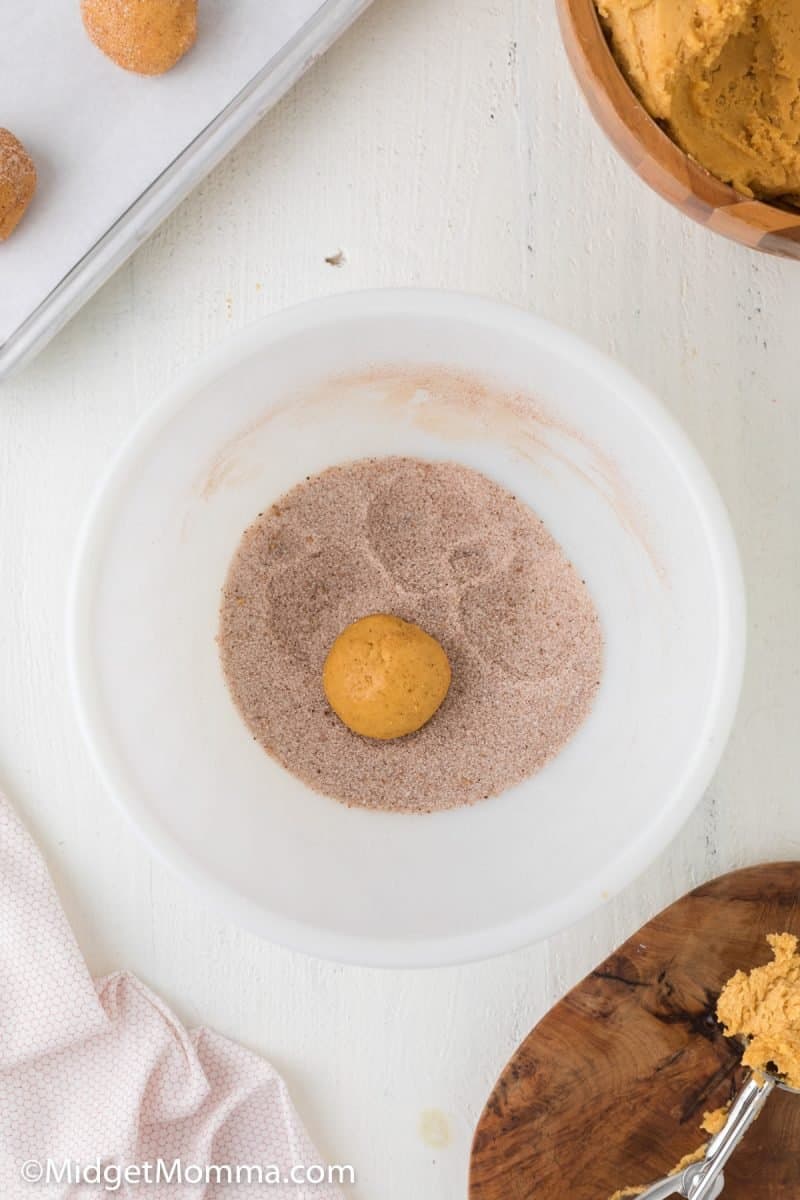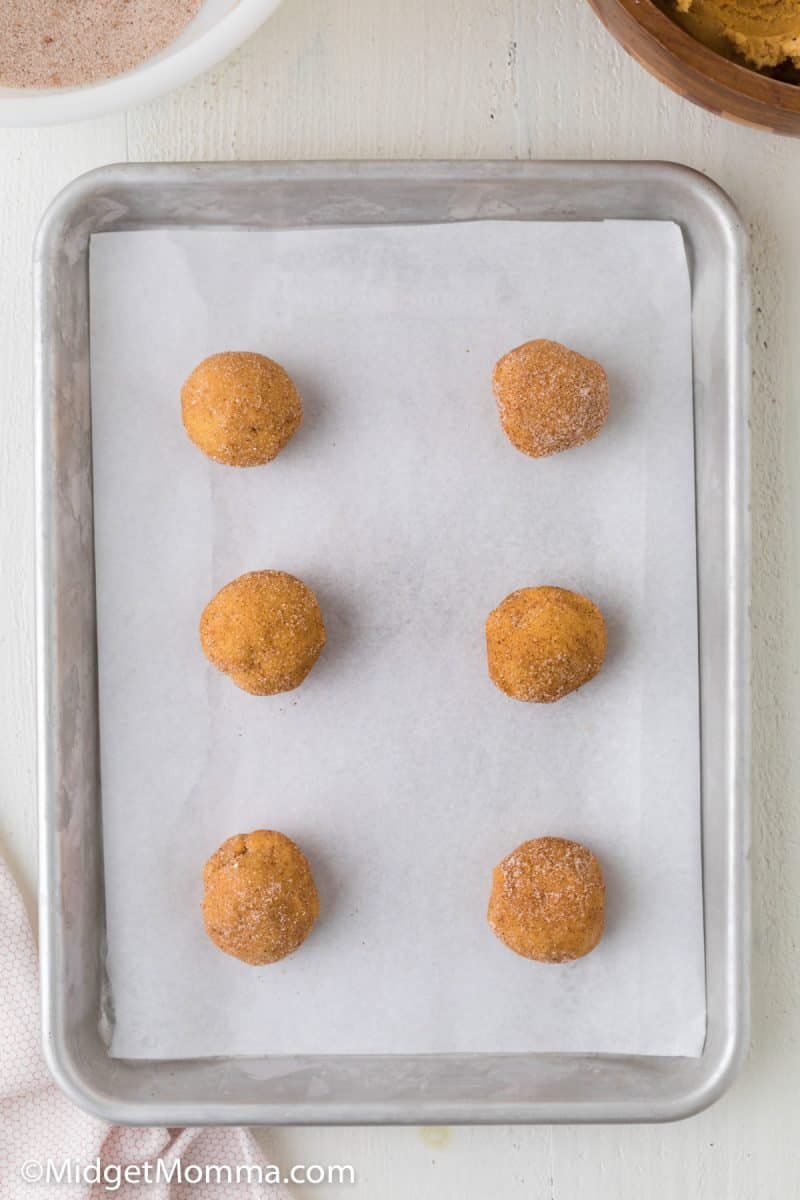 Press the dough balls with a glass gently to flatten and add more pumpkin spice and sugar mixture on top.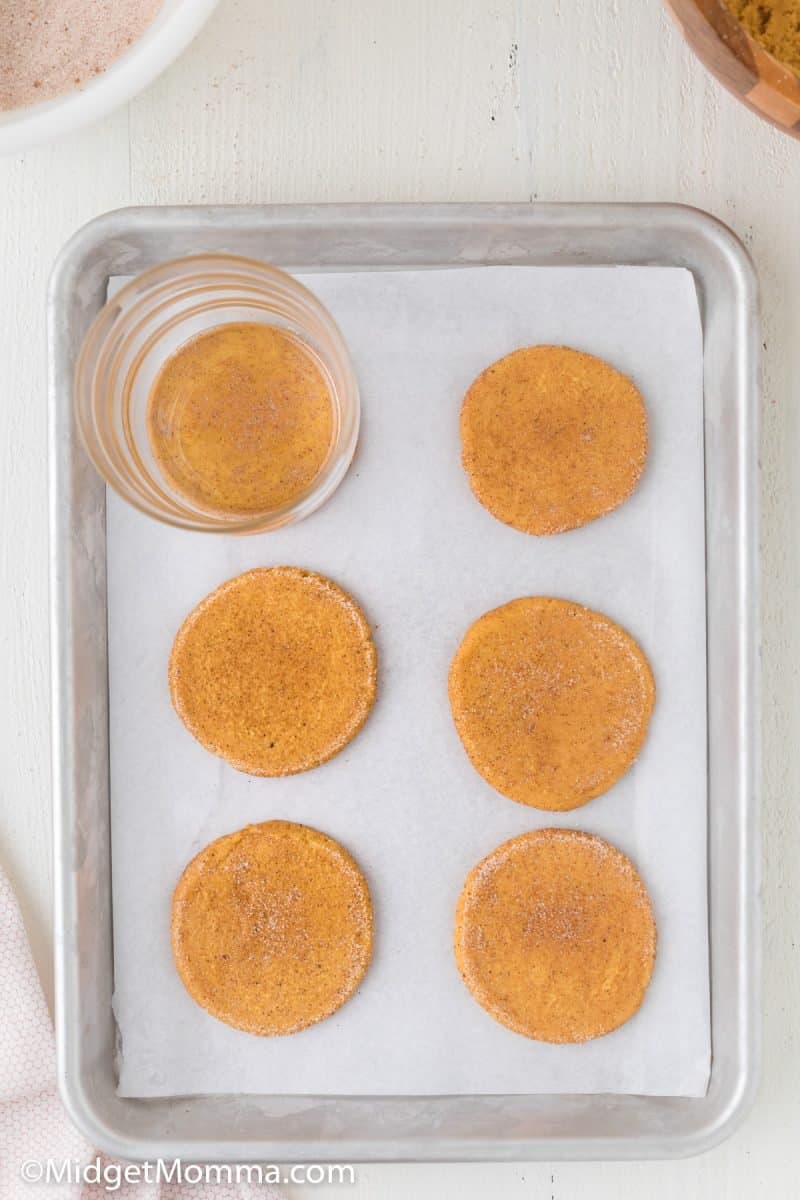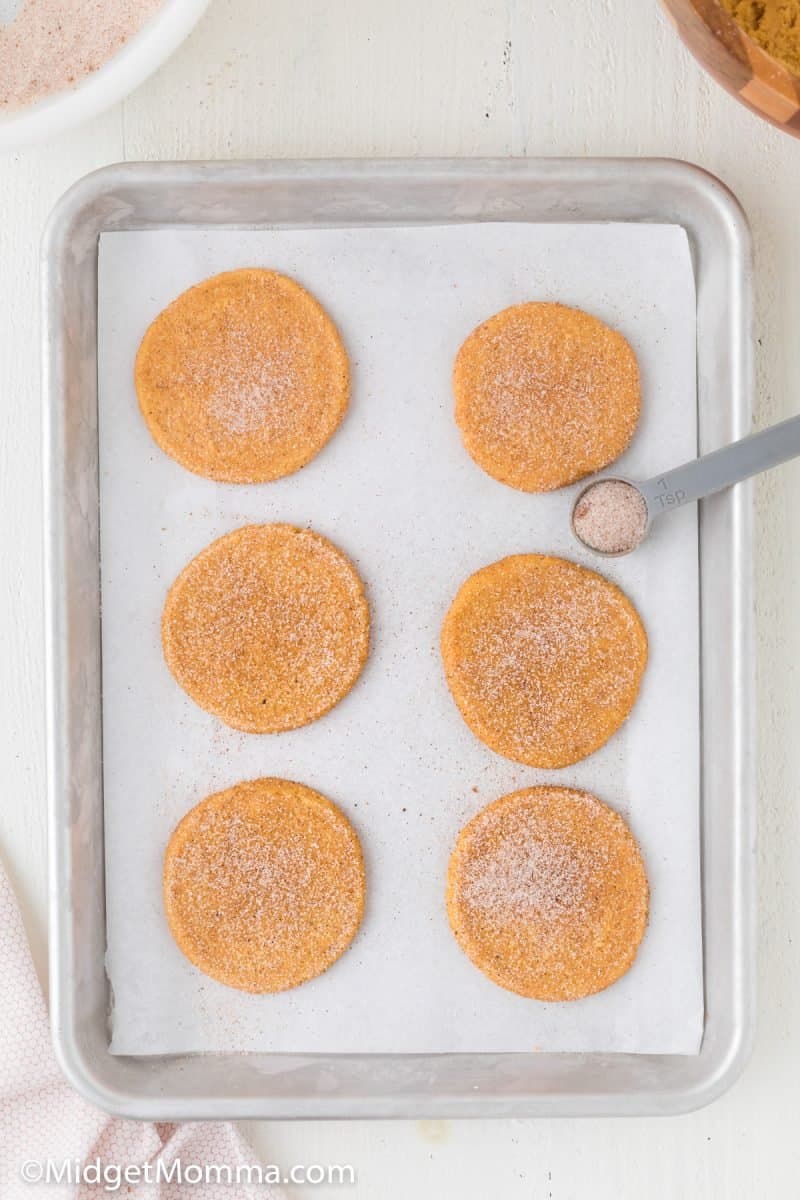 Bake and let cool.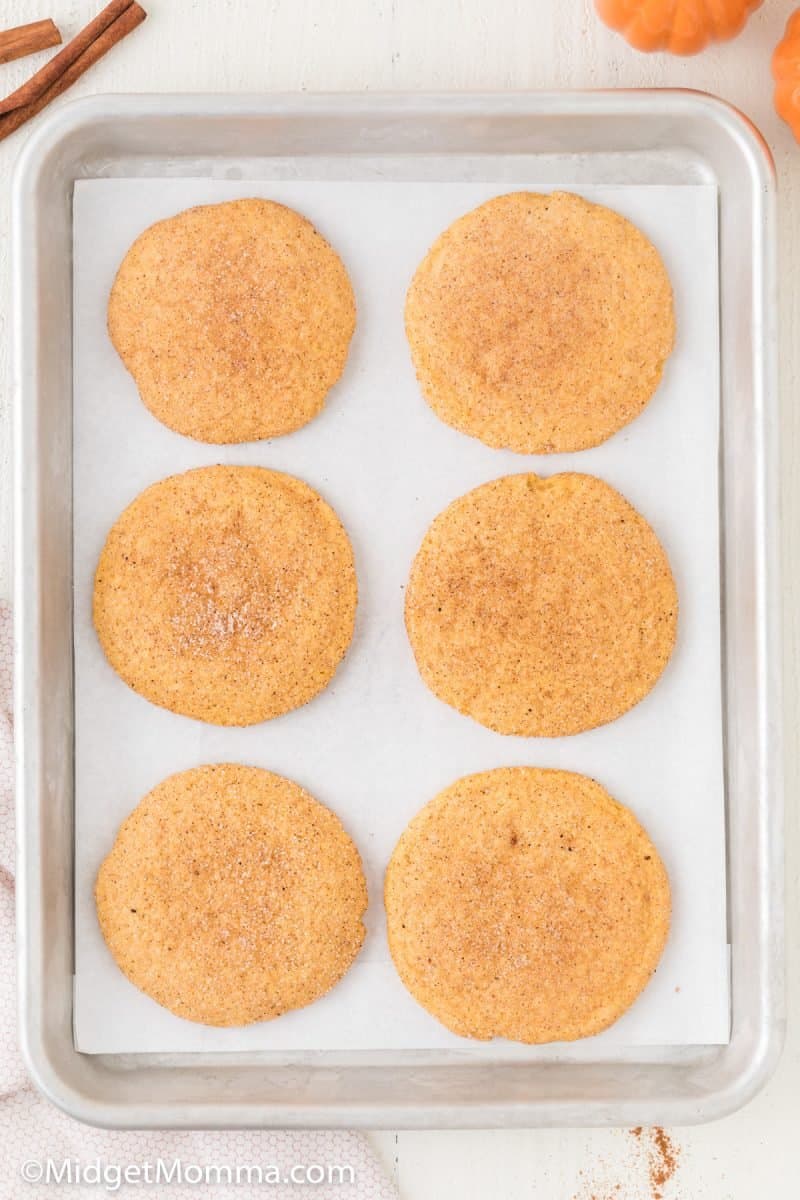 Easy Pumpkin Dessert Recipes
Cookie Making Supplies
Want delicious cookies that come out perfect every time? Check out some of our favorite tools to make super easy cookies with fun decorations!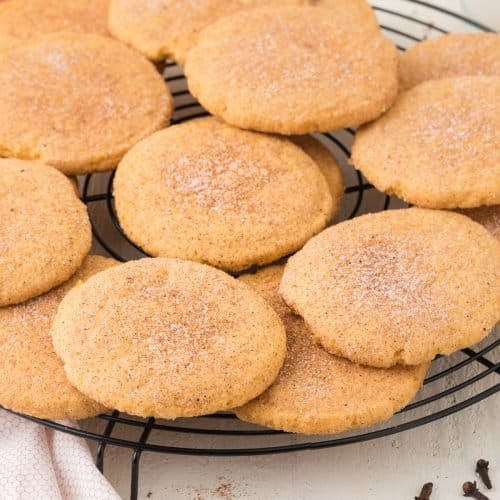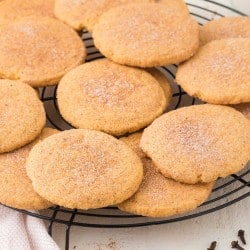 Pumpkin Snickerdoodle Cookies
Servings cookies
Pumpkin Snickerdoodle Cookies – pumpkin cookie meets snickerdoodle cookie. These soft and chewy snickerdoodle cookies are packed with pumpkin flavor and coated in a pumpkin spice sugar coating for the perfect fall cookie.
Ingredients
Pumpkin Snickerdoodles Cookies Ingredients
Pumpkin Spice and Sugar Cookie coating
Instructions
Remove butter from the fridge and bring to room temperature.

In a medium bowl, combine 3 3/4th cup flour, 1.5 teaspoons baking powder, 1/2 teaspoon salt, and 1 teaspoon pumpkin spice. Whisk to blend and set aside.

In the bowl of an electric mixer, beat together the butter and 1 cup granulated white sugar, and ½ cup light brown sugar on medium-high speed until light and fluffy, 2-3 minutes.

Blend in the 3/4 cup pumpkin puree.

Once pumpkin is well mixed in add the egg and vanilla extract and mix until incorporated.

With the mixer on low speed add in the dry ingredients and mix just until incorporated.

Cover and chill the dough for at least 1 hour.

Preheat the oven to 350˚ F.

Line baking sheets with silicone baking mats or parchment paper.

Combine the sugar and pumpkin spice for the coating in a bowl and mix to blend.

Scoop the dough and roll into a ball.

Coat the dough ball in the sugar-spice mixture and place on the prepared baking sheet.

Repeat with the remaining dough to fill the sheets, spacing the dough balls 2-3 inches apart.

Press the balls down and sprinkle the sugar mixture on top.

Bake the cookies for 10-12 minutes, or until just set and baked through.

Let cool on the baking sheets about 5 minutes, then transfer to a wire rack to cool completely.

Repeat with the remaining dough.
Calories: 212kcal | Carbohydrates: 33g | Protein: 2g | Fat: 8g | Saturated Fat: 5g | Cholesterol: 27mg | Sodium: 55mg | Potassium: 73mg | Fiber: 1g | Sugar: 17g | Vitamin A: 1438IU | Vitamin C: 1mg | Calcium: 24mg | Iron: 1mg
Pumpkin Snickerdoodle cookies
cookie, Dessert
Join the newsletter
Subscribe to get our latest recipes right in your inbox every time we post a new one!