My daughter loves to get in the kitchen to make something. She loved the Christmas tree cupcakes I had made but she wanted something that she could do since she is only 3 years old. I grab some extra sugar cones I had laying around and let her go to town with the leftover frosting I had. This ended up being a huge hit when I took my kids to grandmas house, all the kids loved doing this from one years old to 6 years old. It was fun to see how different the trees looked with each kid.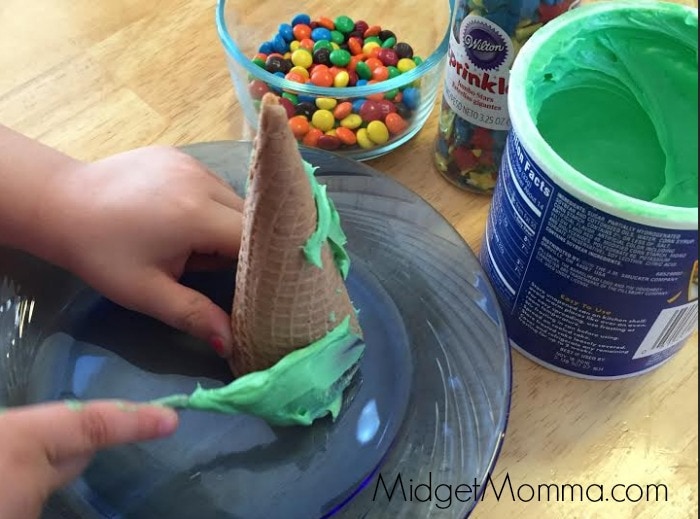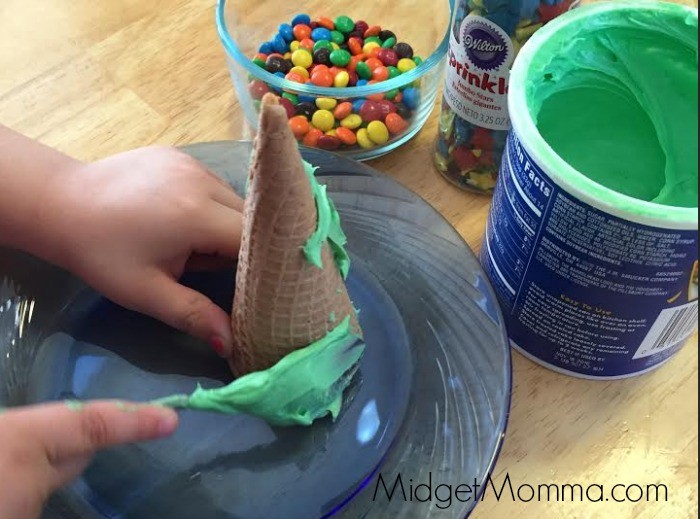 Since this is just going to be for kids you can make it with a can of vanilla frosting colored green with a little food coloring. I was able to find the star sprinkles at michaels craft store, they are made by wilton.
Ice Cream Cone Christmas Trees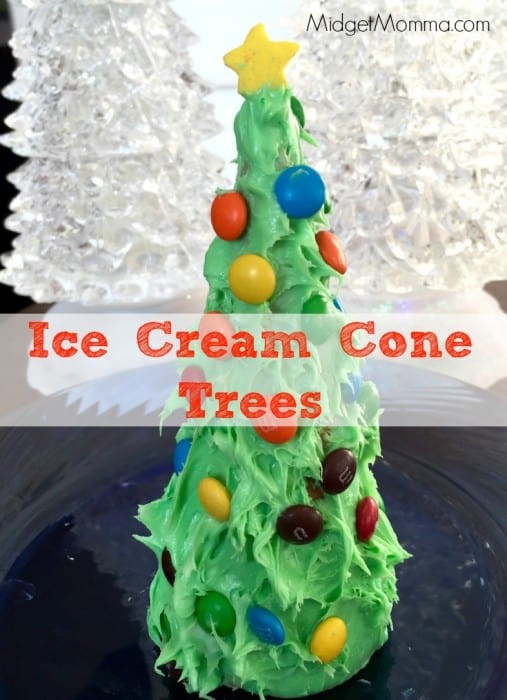 Ice Cream Cone Christmas Trees Ingredients
Sugar cones
Green frosting
Mini M&m's
Star sprinkles
Ice Cream Cone Trees Christmas Directions
Place an ice cream cone on a plate so it's standing up. Place the frosting, M&M's, and stars in their own separate small bowls. Let your child cover the cone with the frosting using a small offset spatula or spoon. Let them place the M&M's on the tree like lights and top it with a star on top of their tree.
Join the newsletter
Subscribe to get our latest recipes right in your inbox every time we post a new one!
More Holiday fun to check out!
You can Facetime Santa for a fun Santa Phone Call!
If you are looking for more Christmas fun for kids make sure you check out 16 Kids Christmas Crafts and this HUGE list of Tasty Christmas Treats for kids, they are all things that the Elf can make the kids or bring the kids as activities if you wanted him too!
When does Elf on the Shelf come? And everything else you need to know about the Elf on the Shelf!
Elf on the Shelf Letter – Perfect Elf on the shelf printable letter that you can print out and have your elf on the shelf bring with him or her when he comes to visit! Plus this Elf on the Shelf Rules printable is awesome to print out and hang on the wall for the kids!
You should also check out these 135 elf on the shelf ideas! There are over 135 Elf on the shelf Ideas that kids will love! If you are running short on time, then make sure you check out this list of Quick Elf on the Shelf ideas!
Make sure you also check out Reasons your Elf Did not move… it might happen sometimes 
if you are stuck on Elf Names, Check out this awesome list of 110 Elf on the shelf names! We have girl elf names and boy elf names!