If you are looking for the perfect cake for the 4th of July, this American Flag Layer cake is one you have to make! It makes a perfect addition to your summer barbecues or fun holidays like the Fourth of July. While it might look complicated is actually quite simple to make. Making this American Flag Layer cake involves laying three different colored cakes.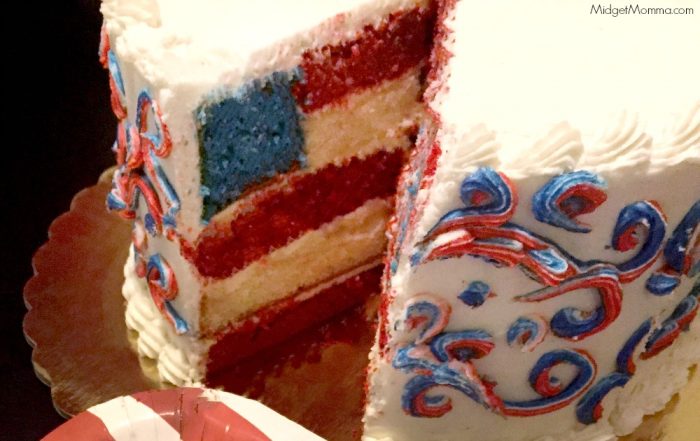 To make the cakes for this American Flag Layer cake I use my special recipe on how to make a box cake mix taste like a bakery cake or you can make this homemade vanilla cake recipe. I double the recipe and divide the batter into three and color one-third of it red and another third of it blue.
This cake is easier to make if you have three 8 inch cake pans. If you do not have that many you will just need to bake the cakes one at a time by each color. If you would like you can use a classic vanilla buttercream  or if you want something different you can try this marshmallow buttercream. It will look the same but have a different flavor.
You can decorate the cake on the outside however you would like because the inside is what's really going to wow everyone. I like to decorate the outside to be red, white and blue. These Red, white and blue star sprinkles sprinkled all over the cake are an easy way to decorate it.
American Flag Layer cake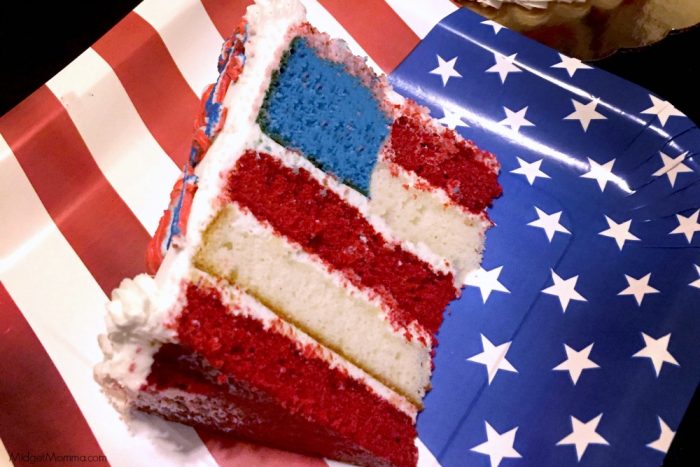 American Flag Layer cake Ingredients
8″ vanilla cake colored red
6″ round vanilla cake colored red
8″ vanilla round cake colored blue
8″ vanilla cake left with out color (this will be your white layer)
1 batch of buttercream
American Flag Layer cake Directions
Bake all of your cakes and let them cool. Once they are cooled remove them from the cake pans. Do not do this to early or you will have your cake crumble because it is to warm to take out of the pan.
Cut the red cakes and white cake in half lengthwise so you end up with six layers of cake.
Cut out a 4-inch circle out of parchment paper. Use this as a template to cut one of the 6-inch red cake layers into a 4-inch circle. Used this same template to cut out a 4-inch  white cake. Then cut out a blue 4-inch circle but save the outside ring, not the inside 4-inch circle.
Place one of the 8-inch red cake layers on your cake plate and add a layer of frosting then sandwich a white layer of cake on top of the frosting.
Add another layer of frosting on top of the white cake and place the red layer of 8-inch cake on top of that. Spread a layer of frosting on top of the red cake.
Place the outer circle of the blue cake on top of the red frosting. Spread a layer of frosting on top of the 4-inch white cake.
Insert the 4-inch white cake into the middle of the blue cake. Top the white cake with the 4-inch red.
Frosty outside of the cake and whatever design you would like.
64 Weight Watchers Smart Points per serving when this cake is 8 servings
43 Weight Watcher SmartPoints per servings when this cake is 12 servings
If you love baking and are looking for more amazing and tastiness check these out! 
Join the newsletter
Subscribe to get our latest content by email.
This post may contain affiliate links. Please read my disclosure policy here