These Apple Waffles made from scratch are one of my favorite things to make when I am wanting a fall feeling breakfast. Homemade from scratch waffles with fresh picked apples are the perfect fall breakfast recipe!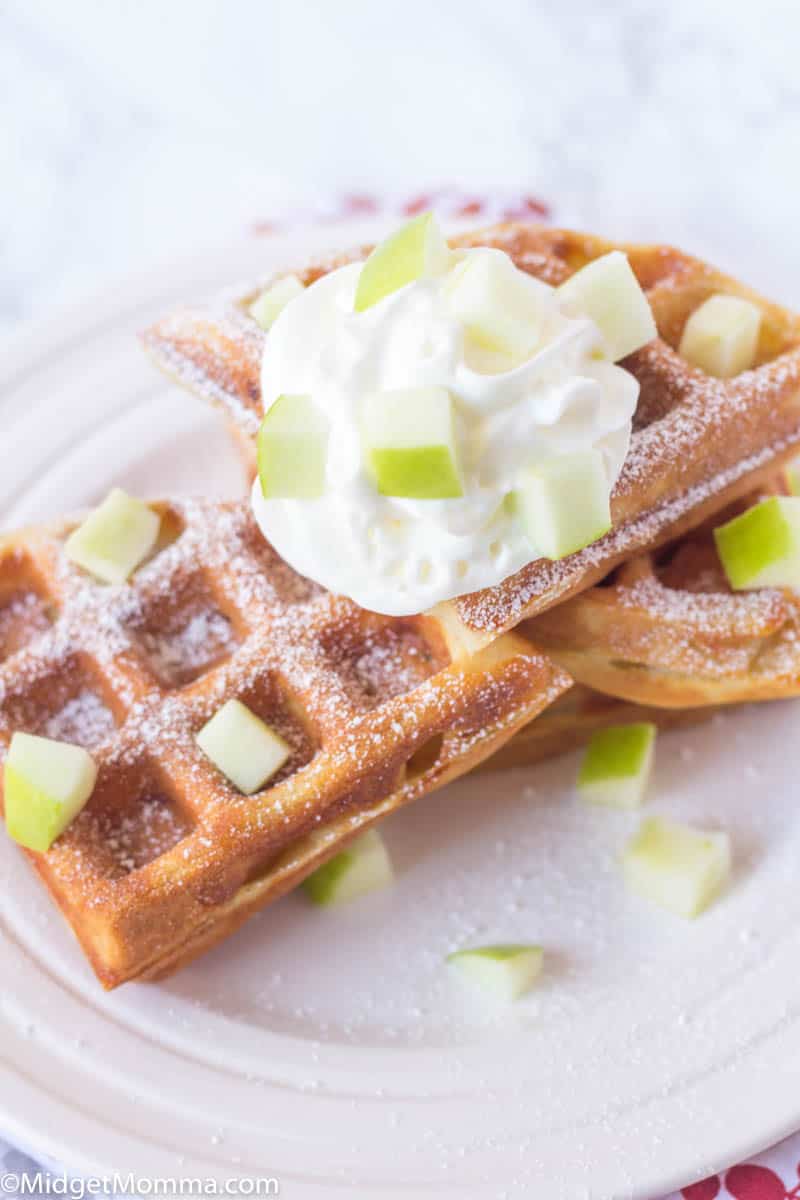 Homemade Apple Cinnamon Waffles
Breakfast for dinner is one of my favorite things, thankfully my kids love having breakfast for dinner to. During the fall months we always go apple picking and end up with tons of apples. Whenever we have an overload of apples we make all things apples. It is a good thing we all love apples!
These Apple Waffles made from scratch are one of my favorite things to make when I am wanting a fall feeling breakfast. Homemade from scratch waffles with fresh picked apples are the perfect fall breakfast recipe!
These Apple Waffles are a great way to make breakfast fun and tasty! These apple waffles are easy too and the kids always love them!
Waffle Breakfast Recipes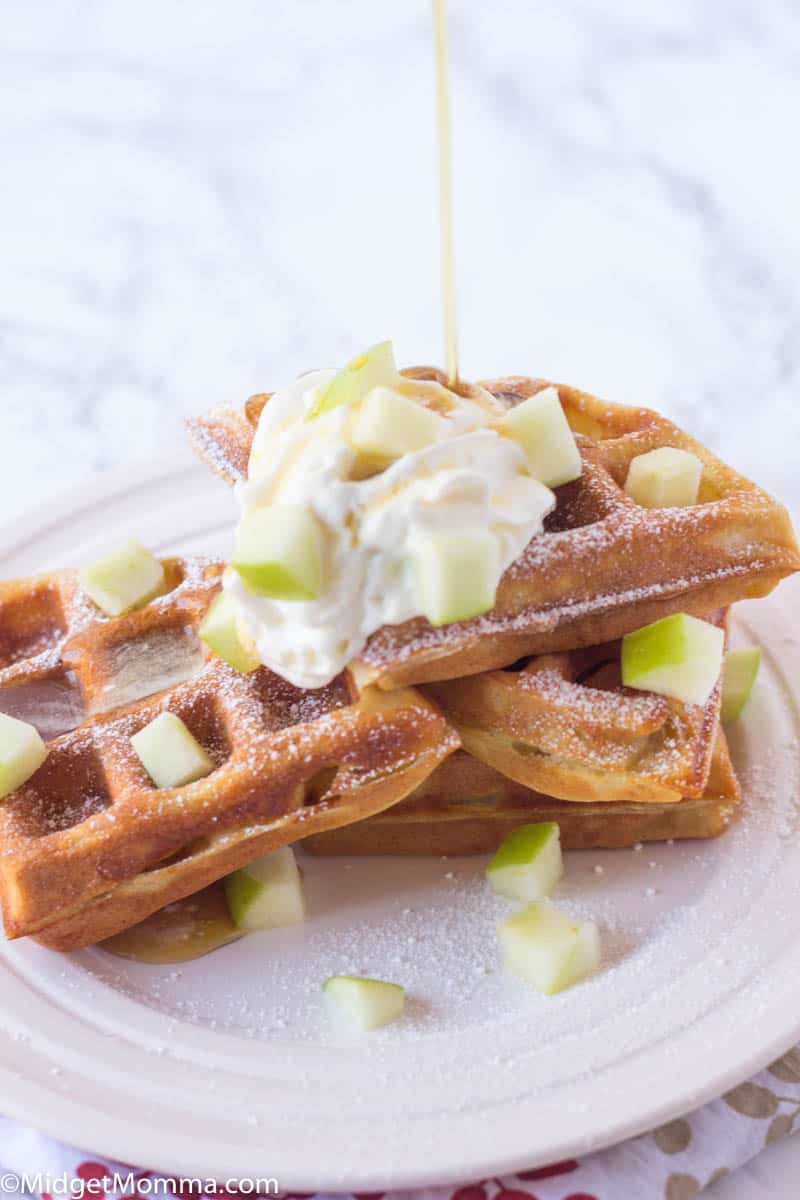 Tips for making this recipe
A GOOD Waffle maker. For me it is important that I have an amazing waffle maker, seriously you need a good one. Spend the extra few bucks to get a good one, it is so worth it! It doesn't matter if it is a square waffle maker or a round waffle maker, either one will work.
Let the waffle maker heat up completely. It is important that the waffle maker is heated completely before you put any waffle batter on.
Grease the waffle maker. Greasing the waffle maker will keep the waffles from sticking and will help them get crispy. Use a silicone brush and brush oil on the heated waffle maker before pouring the waffle batter on.
Do not peek! It might be tempting to open the waffle maker to check on them, but that is not good for making the perfect waffle. Wait the full cook time before opening the waffle maker.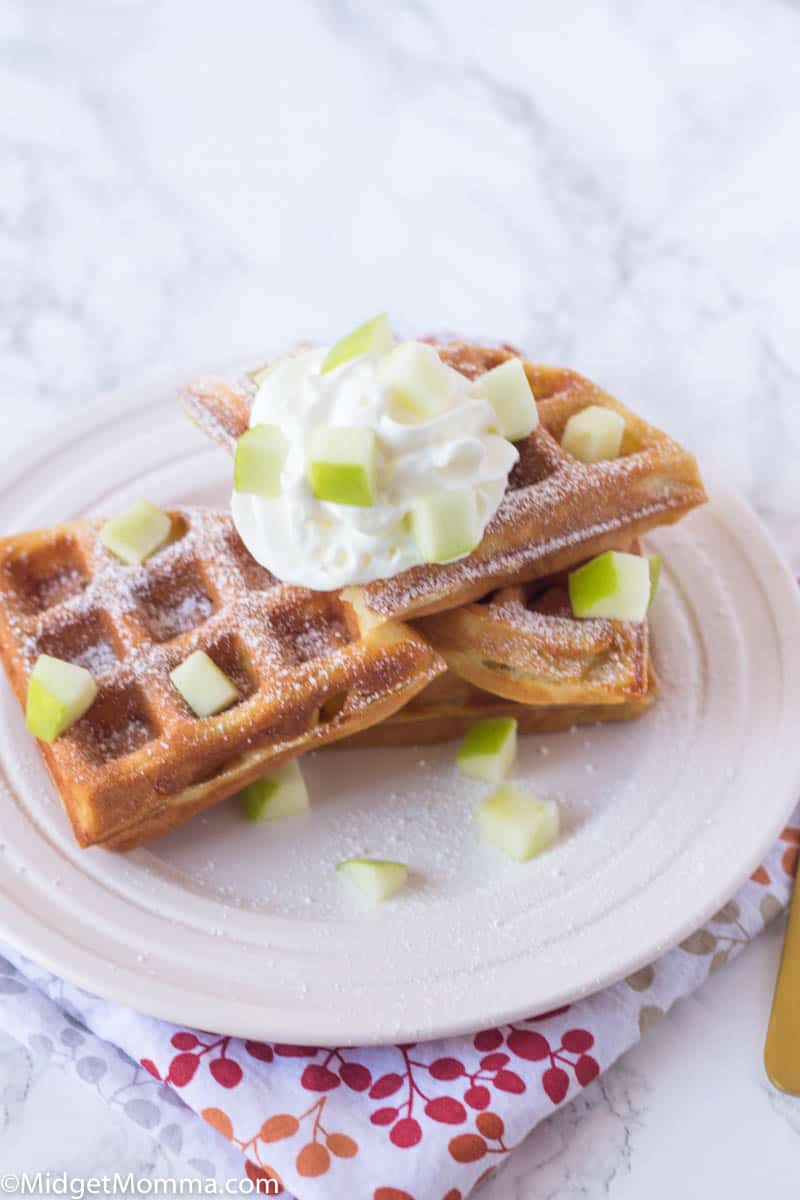 How to Serve Apple Waffles
These easy waffles are so good on their own with out even having to add any syrup but of course you can if you want to!
Our favorite way to serve them is topped with butter, diced fresh apples, maple syrup and a little bit of whipped cream.
How to Freeze Homemade Apple Cinnamon Waffles
It is easy to freeze waffles. Let the waffles cool and then wrap each waffle individually with plastic wrap. Place wrapped waffles into a freezer bag and zip shut. Place waffles in the freezer. They will stay fresh for about 2 months in the freezer. However mine tend not to last that long because everyone eats them.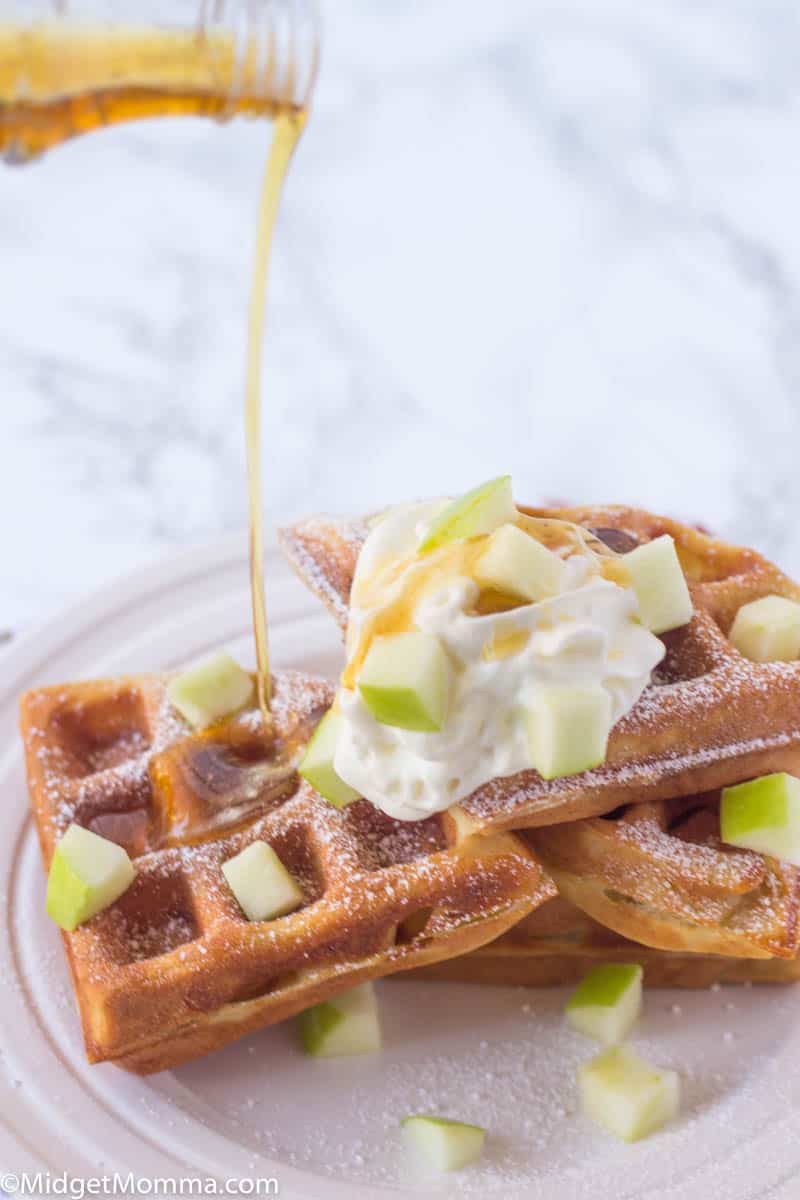 What to Serve with Homemade Waffles
As far as side dishes for waffles, the list is basically endless. Anything that counts as a breakfast recipe will work as a side dish for waffles. I try to make a balanced meal when I am serving waffles, we have lots of easy breakfast side dishes that we go to when we make waffles for breakfast:
Bacon – we love brown sugar bacon
Sausage
Canadian Bacon
Scrapple
Pork Roll
Eggs
Fruit Salad
Fresh Fruit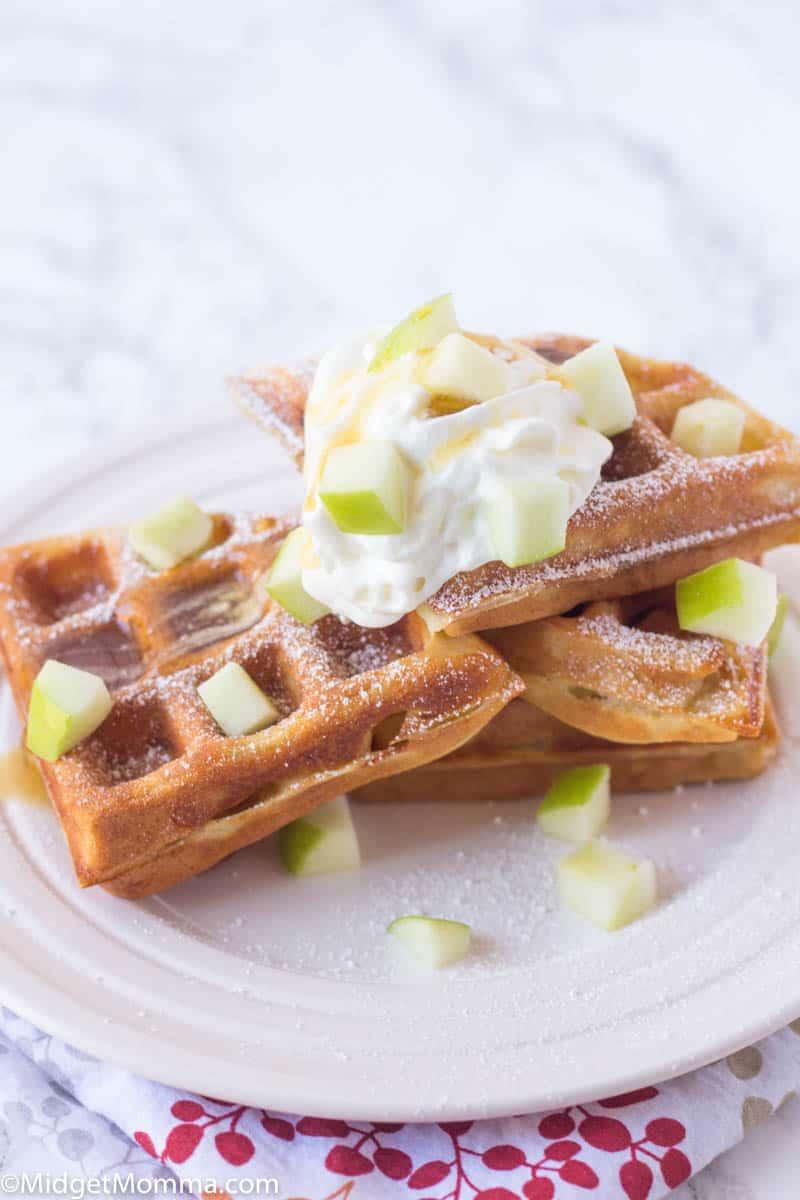 Apple Waffles Ingredients
Flour
Granulated white sugar
Baking powder
Baking soda
Salt
Ground cinnamon
Milk
Butter
Eggs
Vanilla extract
Apples
How to Make Apple Waffles
Heat your waffle Iron.
Mix the dry ingredients in one bowl and the wet ingredients in another.
Combine the wet ingredients into the dry ingredients.
Add the apples.
Cook waffles in waffle maker.
Easy Breakfast Recipes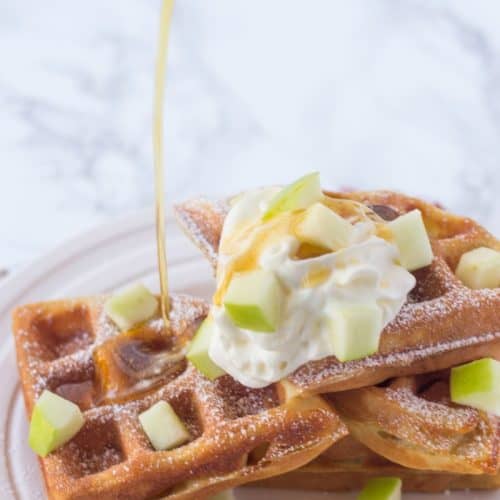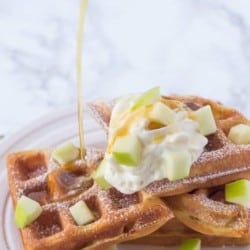 Apple Waffles
Servings
These fluffy waffles are an amazing breakfast. These Apple Recipes are always a hit when I make them and they go perfect with a side of fruit and bacon!
Instructions
Preheat a waffle iron.

Wisk together the flour, sugar, baking powder, baking soda, salt, and cinnamon.

Combine the milk, butter, eggs and vanilla together.

Add liquids to the flour mixture and mix until just combined. Add the chopped apples and mix only until incorporated.

Pour your batter into your waffle maker.
Calories: 600kcal | Carbohydrates: 104g | Protein: 10g | Fat: 15g | Saturated Fat: 8g | Cholesterol: 116mg | Sodium: 874mg | Potassium: 426mg | Fiber: 3g | Sugar: 53g | Vitamin A: 580IU | Vitamin C: 2.9mg | Calcium: 177mg | Iron: 3.6mg
Apple Waffles
Breakfast
22 Weight Watchers SmartPoints per serving on the Freestyle Program
You can add a dab of the new Country Crock Natural on top of them too! Country Crock's Simple Recipe is made with real ingredients: NO artificial flavors or preservatives, 0 grams trans fats per serving, purified water, wholesome oils, and a pinch of salt.
The secret is out! Now you can save time AND make amazing meals with the real ingredients of Country Crock. Share your favorite tried and true recipe made better with Country Crock!
Disclaimer: This post is sponsored by Lunchbox all opinions are 100% my own.
Join the newsletter
Subscribe to get our latest recipes right in your inbox every time we post a new one!