If you are wanting a super fun and easy Halloween dinner then you are going to love this Halloween Pasta Recipe. Super easy, bright orange noodles that take just as much time as normal noodles. This easy Orange Pasta Halloween recipe is great for a family meal or a Halloween party meal.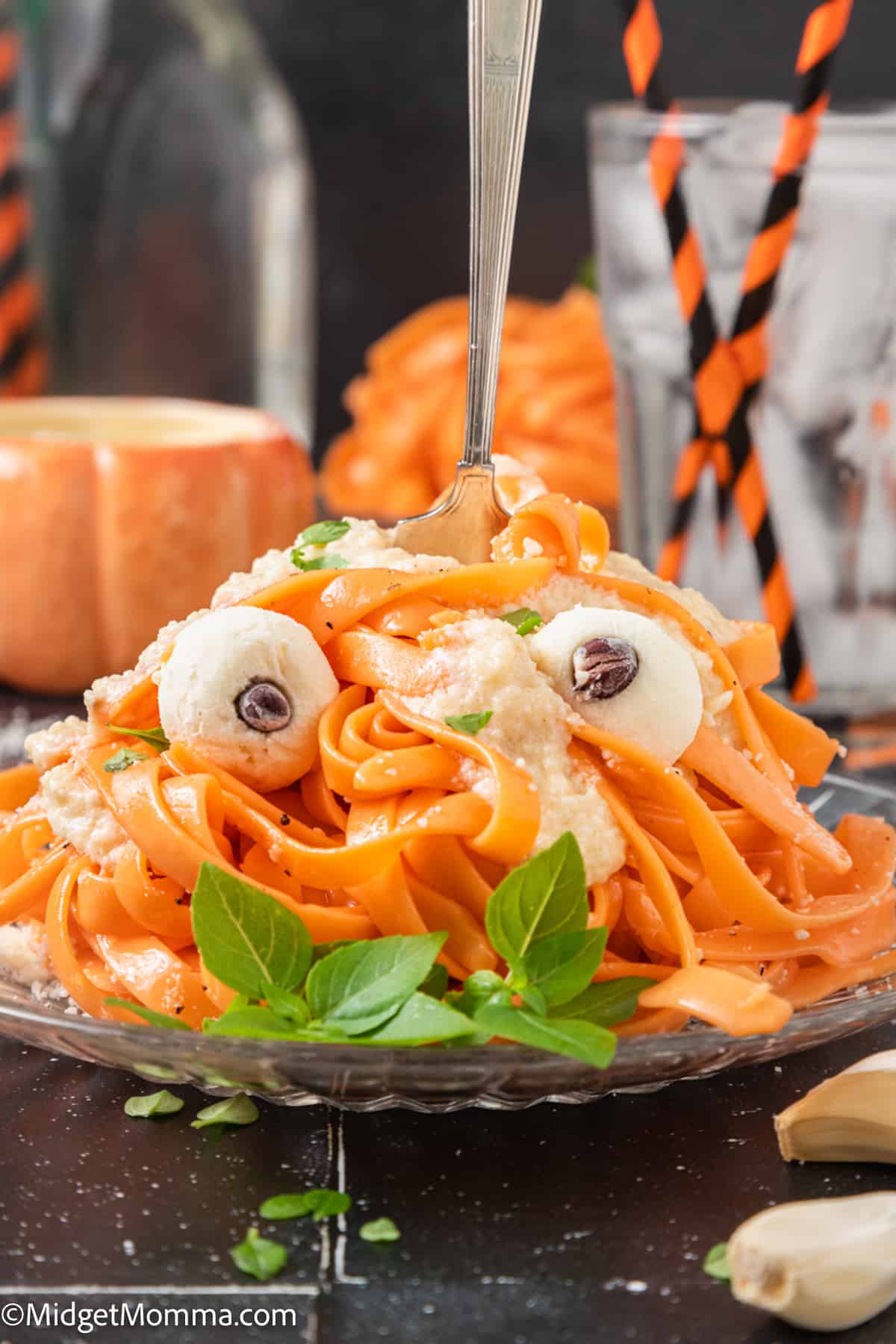 Orange Halloween Pasta
As you all know I like to have fun when it comes to the holidays and Halloween is no exception. Of course for Halloween night I need it to be quicker and easier than other holidays because we have to get dinner done, get dressed up in the costumes and then out we go trick or treating.
I like making a fun Halloween dinner that gets everyone excited for going our trick-or-treating and we tend to spend a lot of our time getting ready to go so I want dinner to be quick and easy while being fun. This colored pasta is an easy Halloween meal idea that you can totally put together last minute if you need to.
You can serve this Halloween spaghetti as the main dish or as a side dish to the rest of your Halloween meal. While the pasta cooks you can make any side dishes that you want to serve with it.
Spooky Dinner Recipes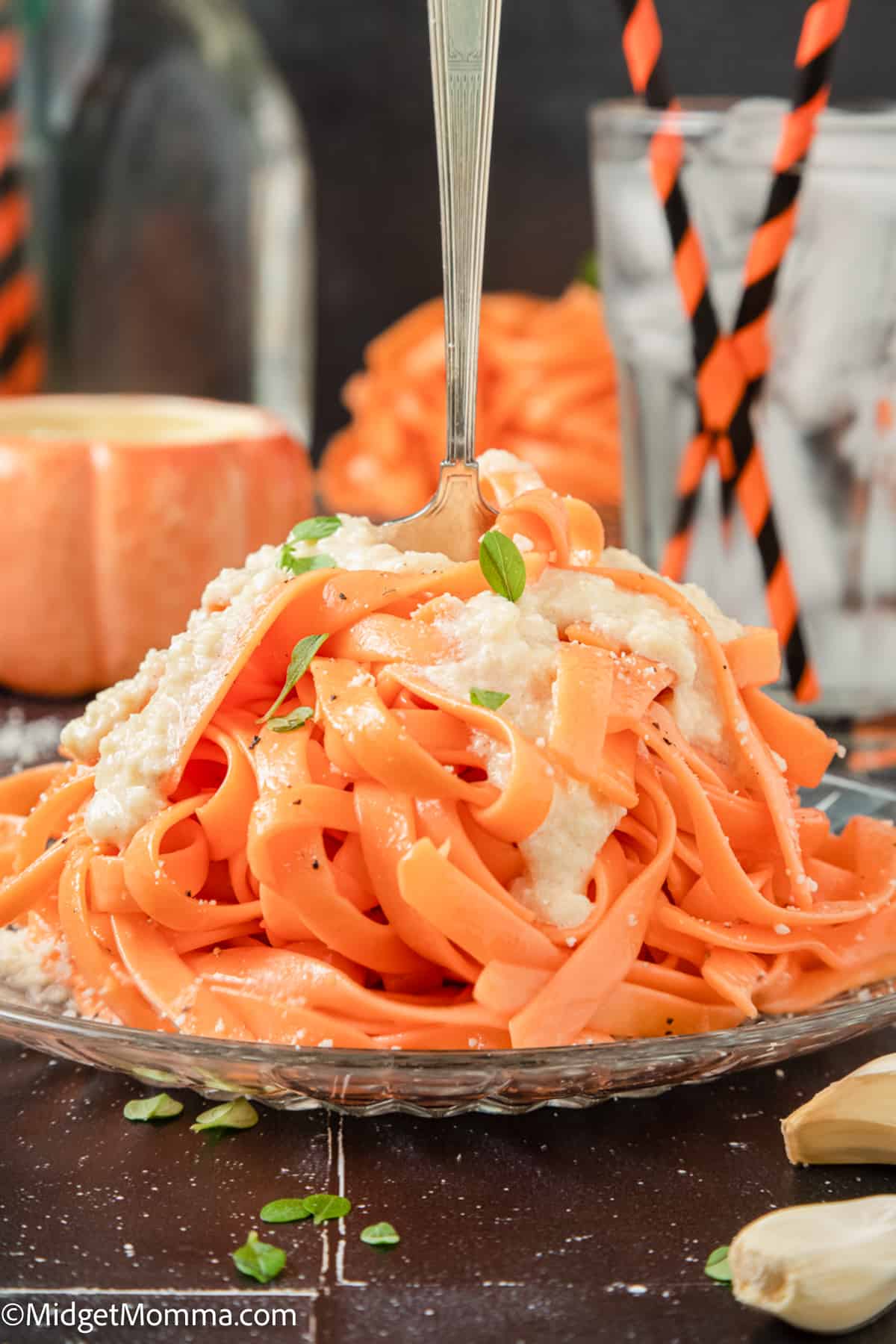 How to Serve Halloween Pasta
There are lots of ways to serve this easy Halloween pasta. Depending on my time depends on how I am serving it. One of the best things is that you can use the cooked pasta in a few different ways and make a meal how you want to. If you want this colored pasta as a main dish that is easy. If you are planning Halloween parties and needed an easy meal to bring with you it works well too.
Pasta sauce. Serve with your favorite pasta sauce, this pasta recipe can be served with any sauce including marinara sauce, pumpkin pasta sauce, homemade spaghetti sauce, homemade spaghetti sauce with ground beef, garlic cream sauce and butternut squash pasta sauce are all great options.
Garlic and Butter. My kids like it when I add a bit of butter and garlic salt.
Butter. Add just a bit of butter and serve.
Make a black Sauce. Make a cream sauce like our roasted garlic cream sauce and color it black with food coloring.
Parmesan Cheese. A little sprinkle of grated parmesan with some butter and garlic salt is another tasty way to serve these Halloween noodles.
Add some monster eyeballs. Super simple to do, use some mozzarella balls and green olives or black olives and make monster eyeballs and put them in the pasta.
Add meatballs. If you have a favorite meatball recipe, make them and add them to the pasta.
Use it to make Halloween Pasta Salad. You can make any pasta orange and use it for any pasta dish that you normally use it for and it works great for pasta salad if you are looking for a dish to bring to a Halloween Party. You can use small cookie cutters to cut cheese into pumpkin shape, and add some diced red onions, red bell pepper, and Italian dressing for a super simple Halloween pasta salad.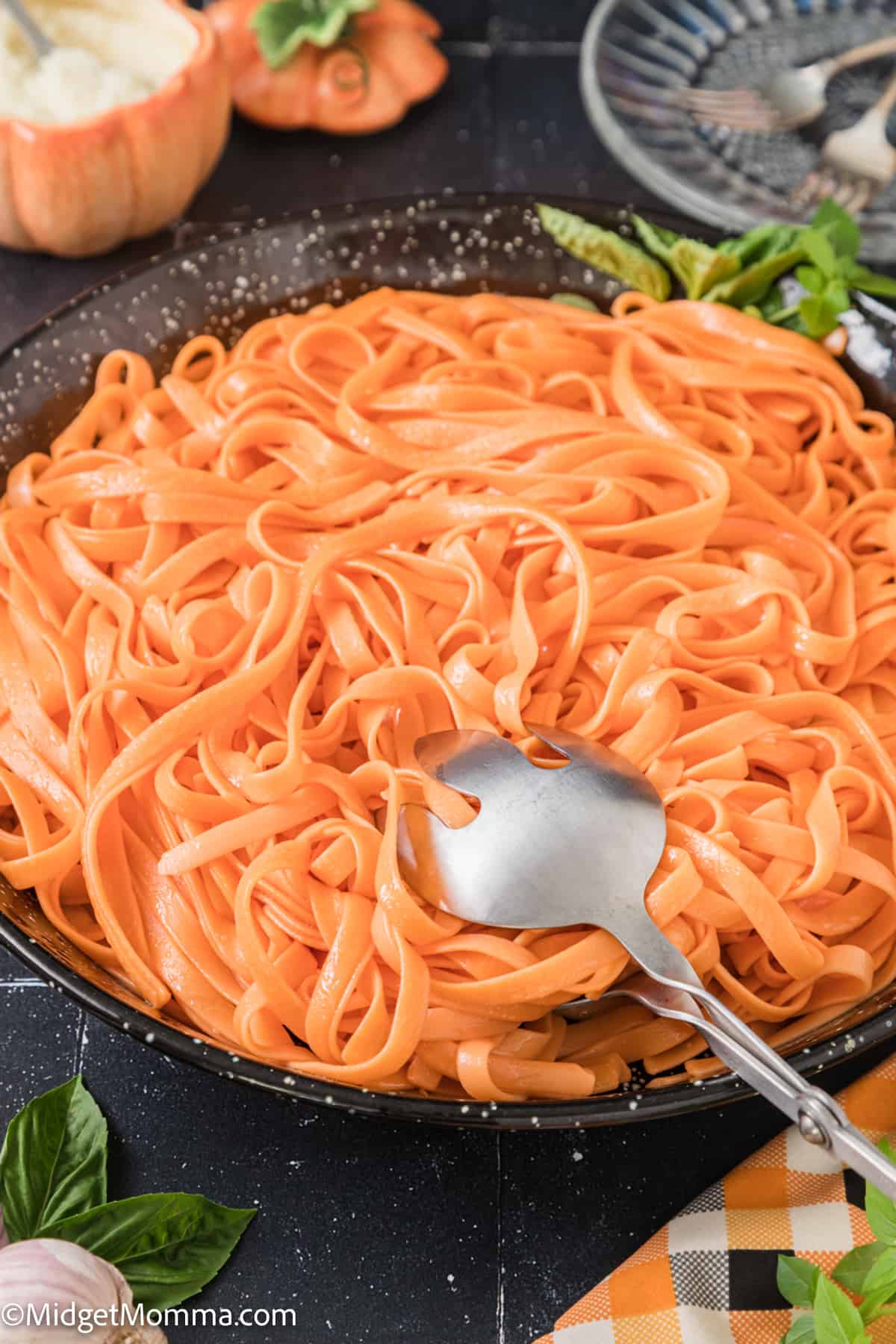 What type of pasta can I use?
Any type of pasta and any shape of pasta will work for this recipe. You can even get Halloween shaped pasta noodles and use them, I like using the pumpkin shaped Halloween pasta.
Can I use whole Wheat Pasta?
While coloring pasta you can use whole wheat pasta however the pasta will not be as bright in color.
What Does Cooking Pasta to Al Dente Mean?
When a recipe says to cook the pasta to al dente, it means that you should cook the pasta until it is tender but still has a little bite to it. You don't want to overcook the pasta or it will be mushy.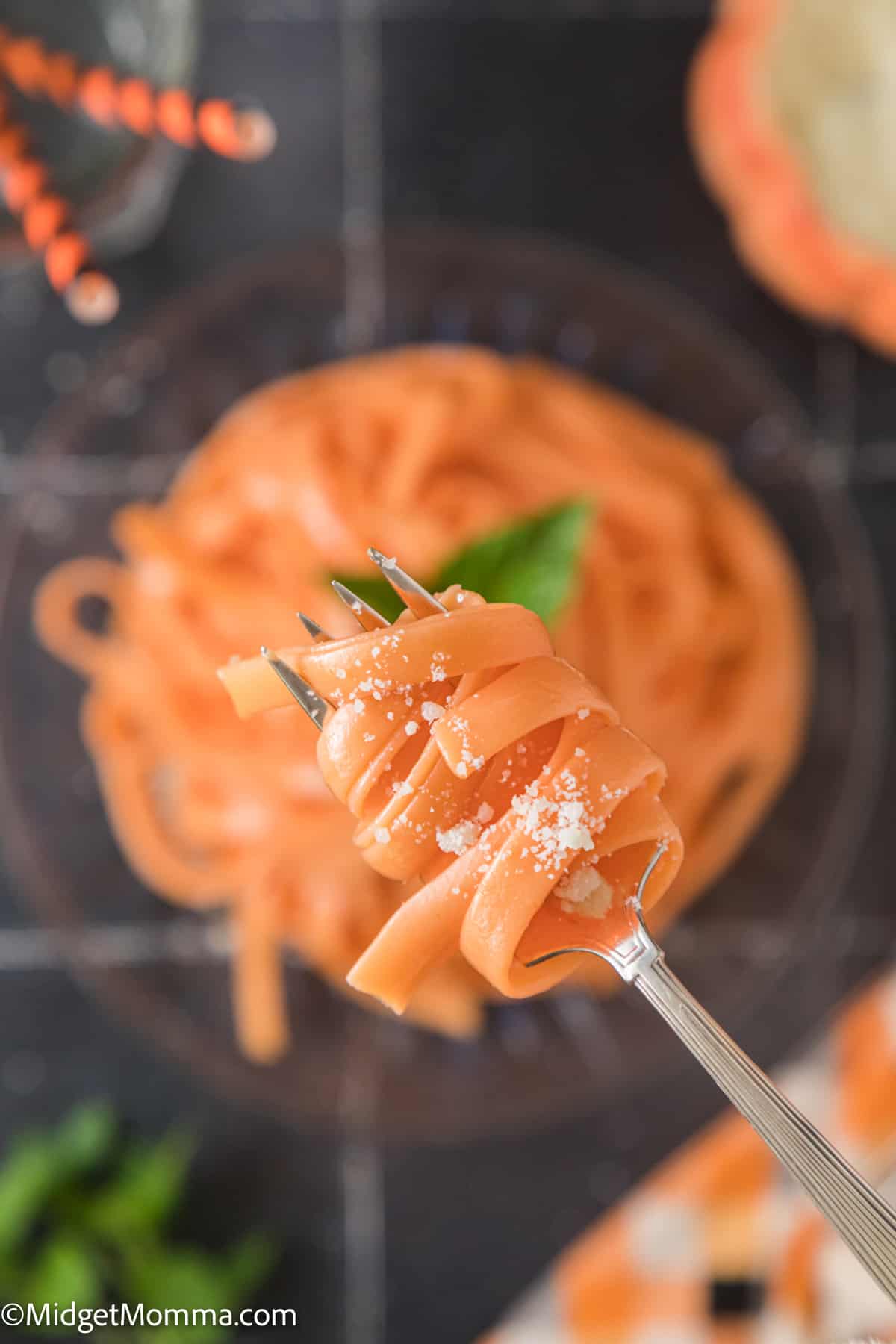 Can I change up the color?
While I am using orange food coloring to make it perfect for Halloween if you want to make pasta have a spooky feel then you can use black food coloring and make black pasta. If you want to make any other color pasta, you can do that and just change out the color of food coloring you are using.
What to Serve with Pasta for dinner
Normally when I make pasta for dinner I take the easy way and get a loaf of fresh Italian bread from the grocery store and make a fresh salad. If you are making this meatless pasta recipe for a busy weeknight then you will probably want to make things as easy as possible, doing bread and salad will make this a complete meal.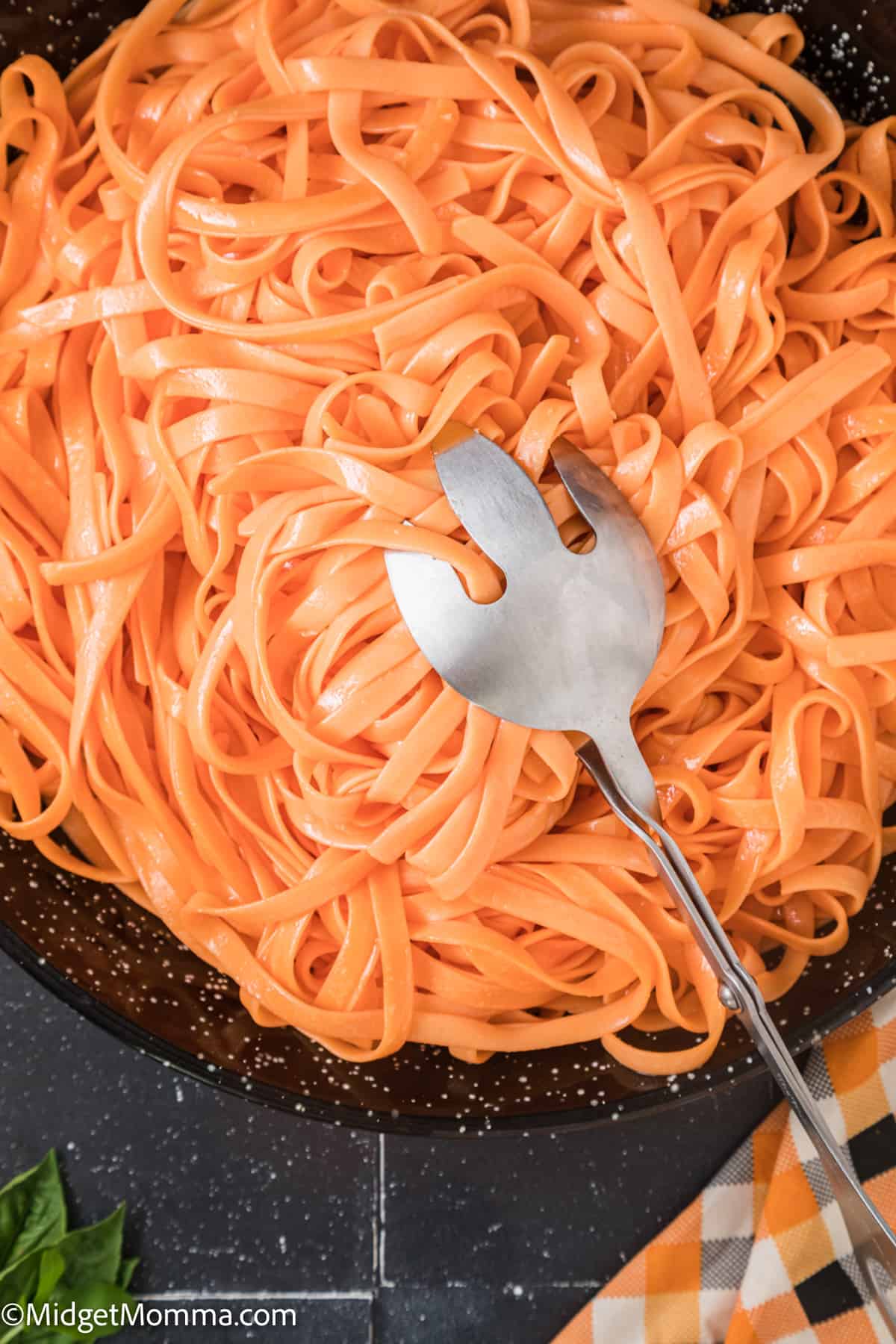 How to Store Leftovers
If you have left overs you want to store them in an airtight container in the fridge. They will keep in the fridge for 3-4 days. Whenever I have left over spaghetti I use it to make baked spaghetti.
How to reheat pasta
Reheating pasta is easy, put the pasta into a large bowl if the air tight container is not microwave safe and heat for 2-3 minutes in the microwave.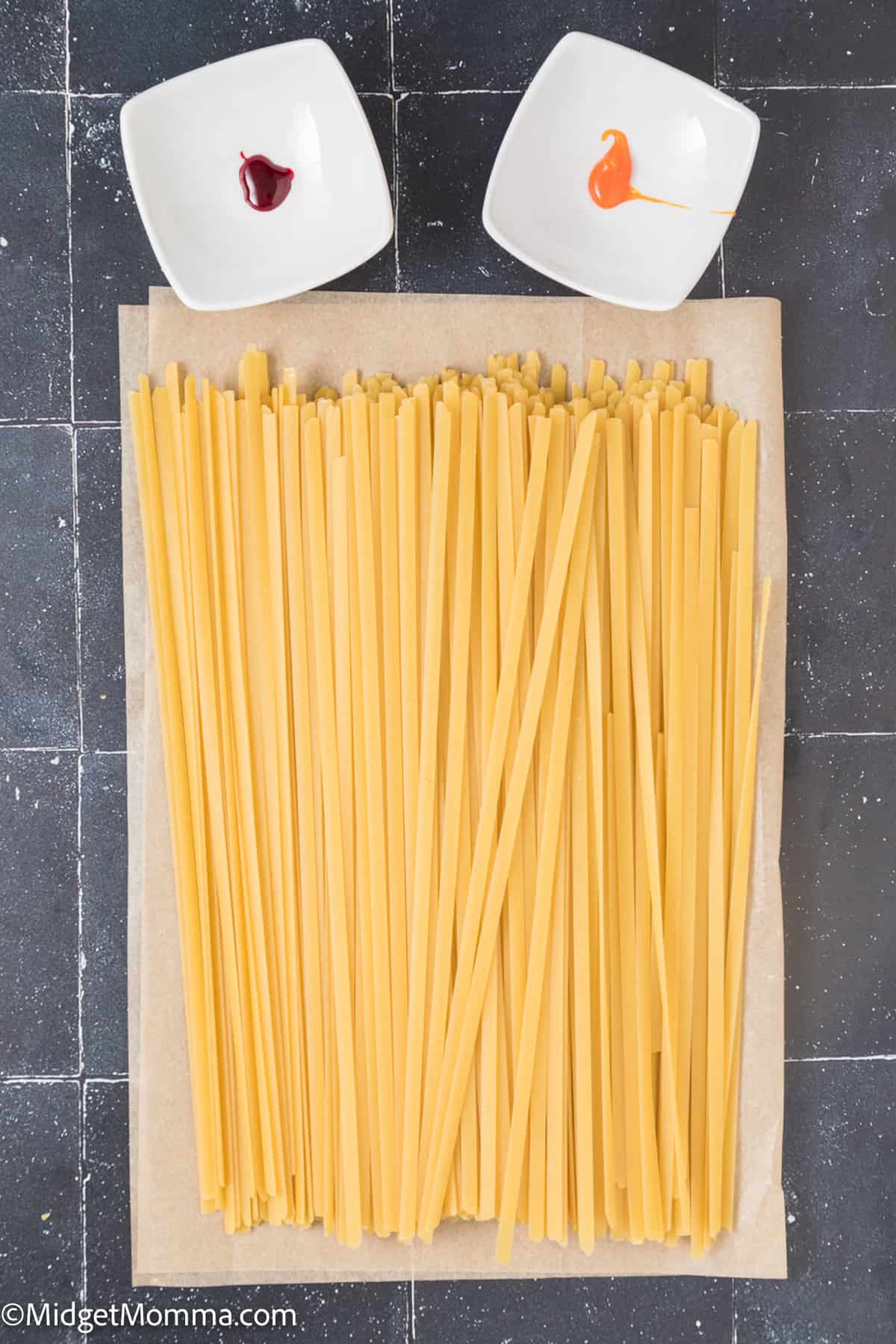 Orange Halloween Pasta Ingredients
White pasta. You can use what pasta but it will not get as bold of a color. You can also use homemade pasta.
Yellow food coloring
Red Food Coloring
How to Make Orange Halloween Pasta
Fill a large pot with cold water.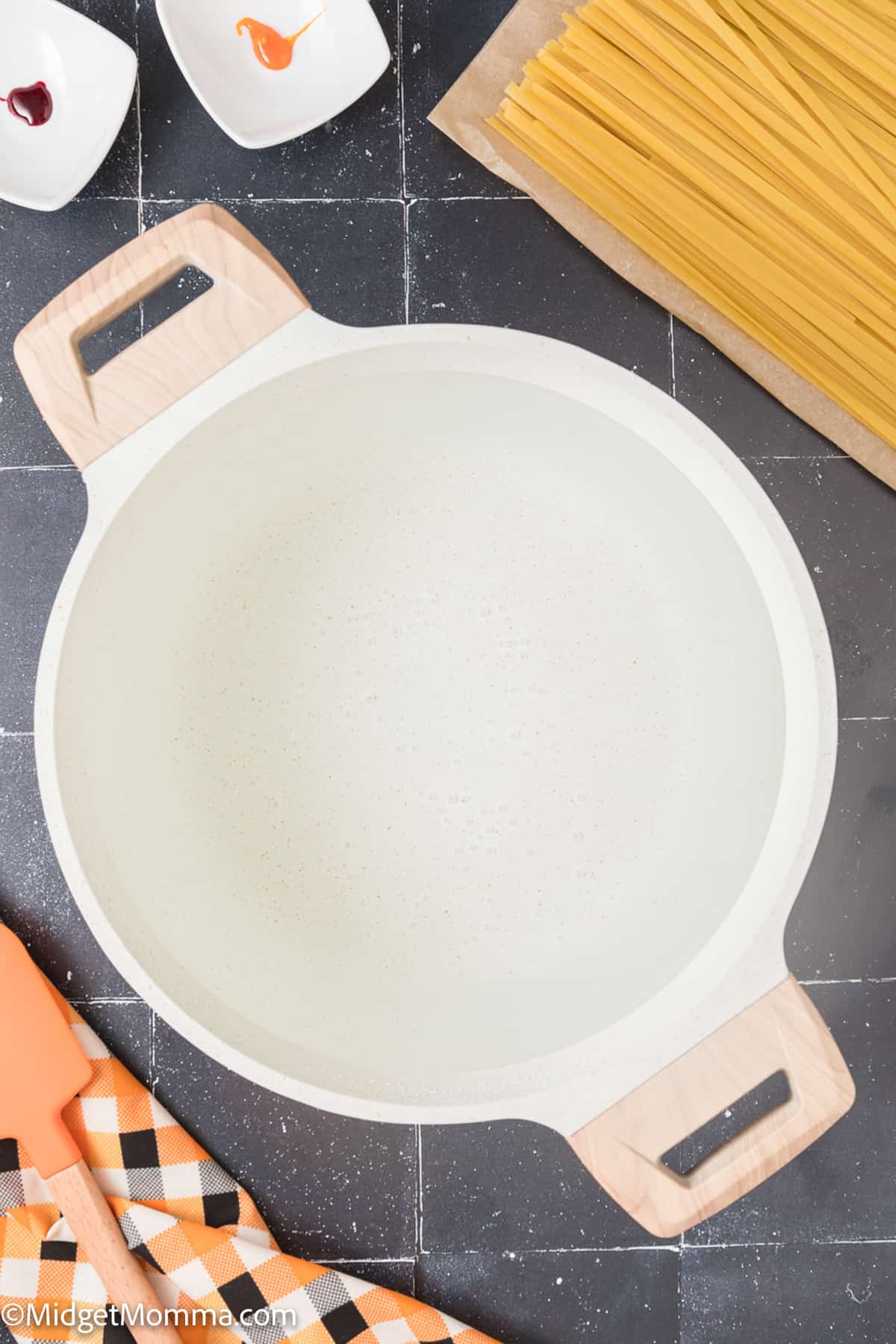 Place the large pot of water on the stove.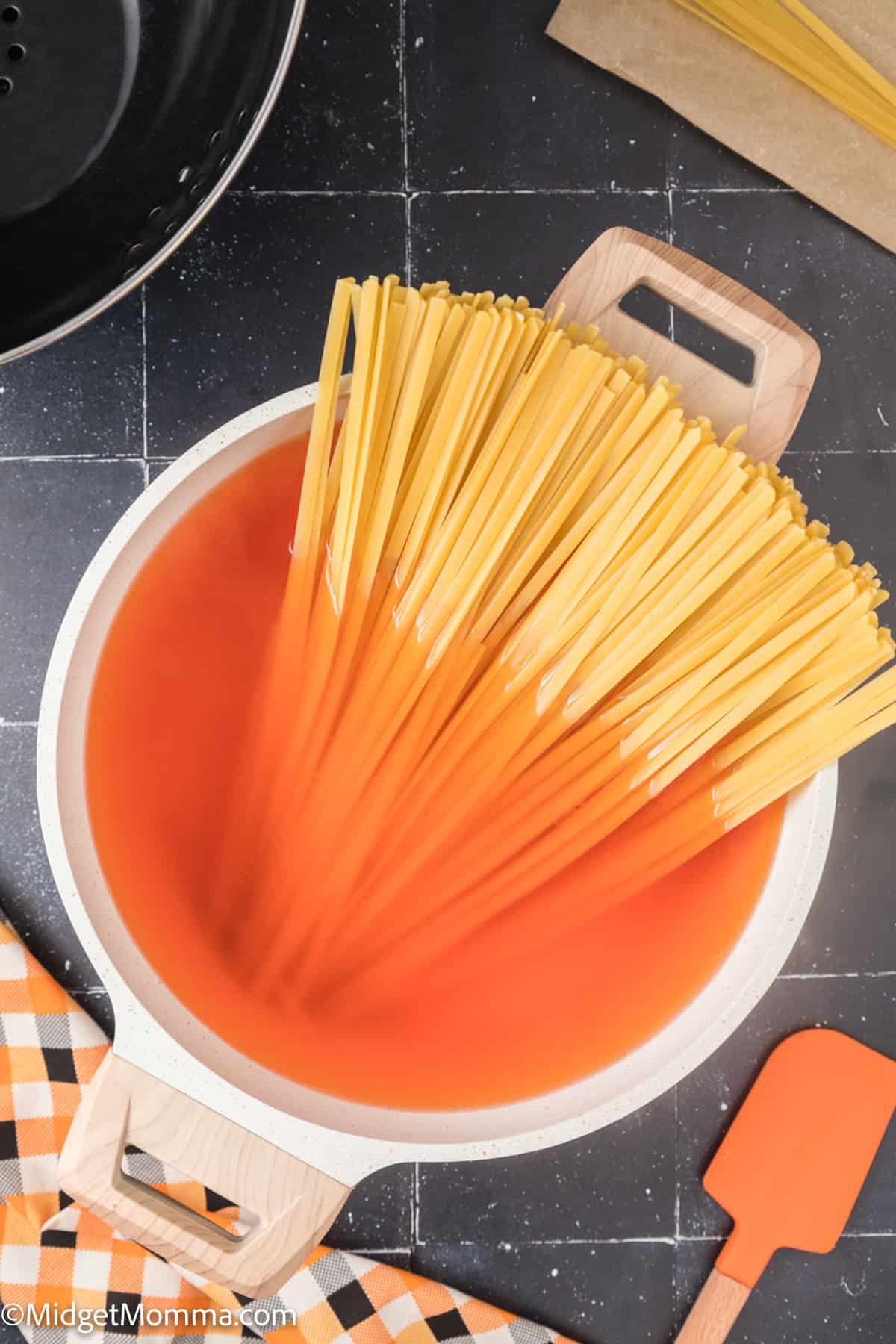 Add the food coloring to the water and bring it to a boil over high heat.
Once the water is boiling add the pasta to the boiling water.
Cook the pasta per package instructions for al dante pasta.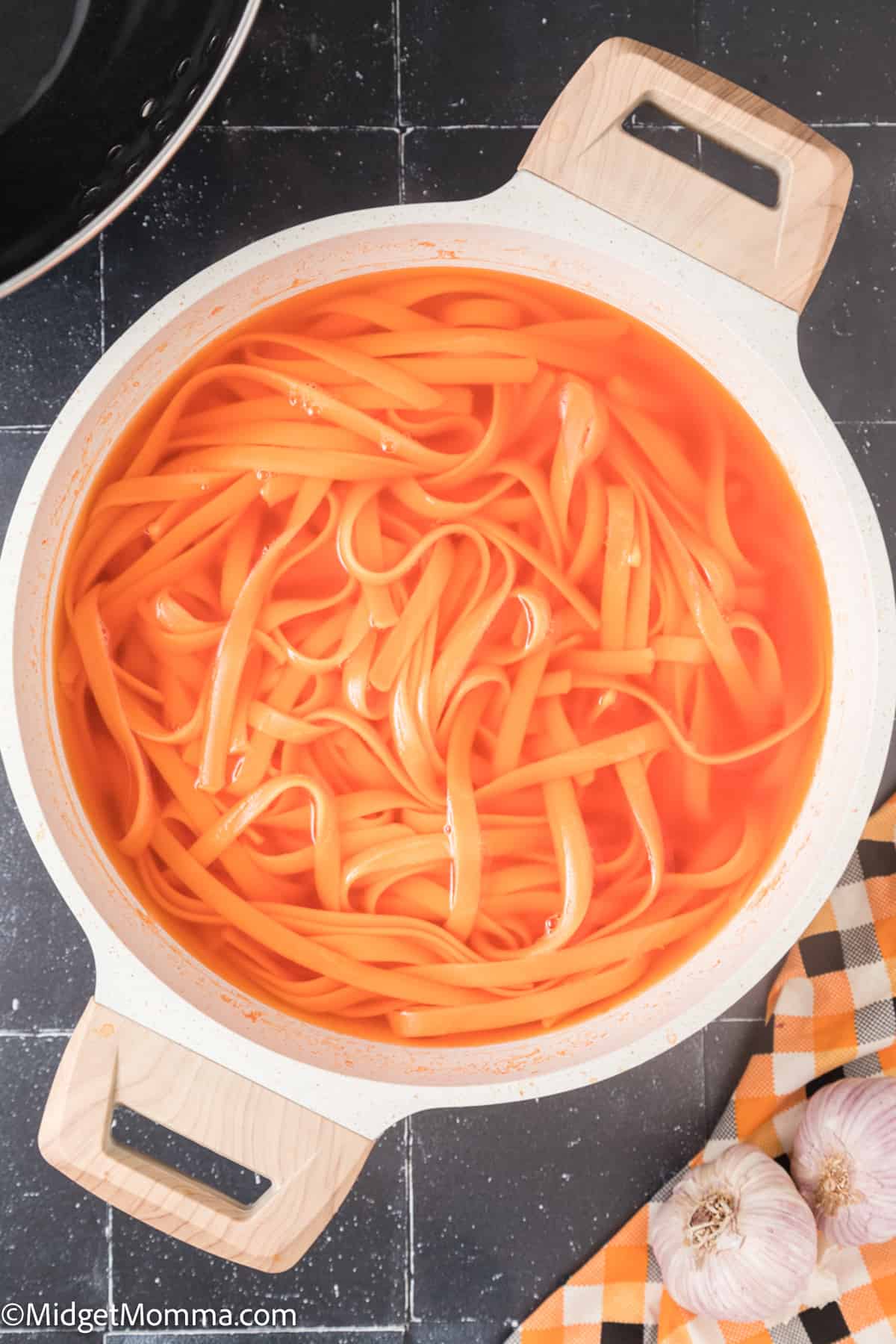 Drain the cooked pasta and add the cooked spaghetti back to the pot.
Add desired toppings and serve.
Easy Halloween Recipes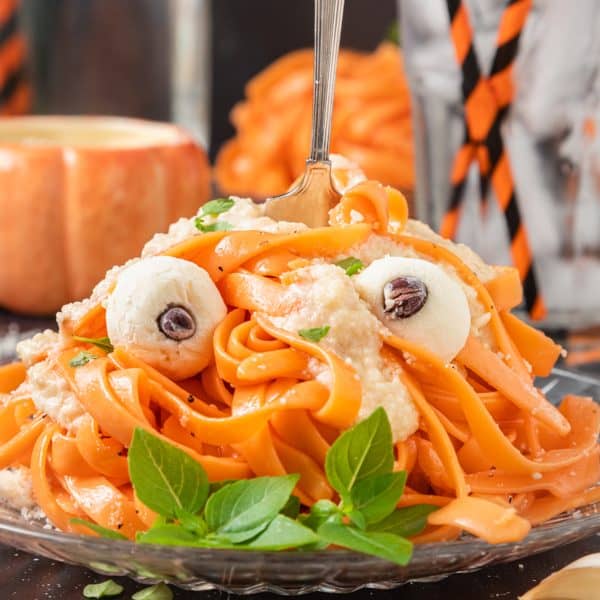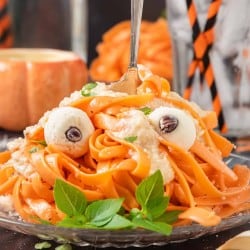 Orange Halloween Pasta
Servings
If you are wanting a super fun and easy Halloween dinner then you are going to love this Halloween Pasta Recipe. Super easy, bright orange noodles that take just as much time as normal noodles.
Ingredients
1 pound Box of white pasta
15 drops Yellow food coloring
15 drops Red Food Coloring
Instructions
Fill a large pot with water.

Add the food coloring to the water and bring it to a boil.

Add your pasta and cook it as the packaging says.

Add desired toppings and serve.
Calories: 280kcal | Carbohydrates: 56g | Protein: 10g | Fat: 1g | Saturated Fat: 1g | Sodium: 5mg | Potassium: 169mg | Fiber: 2g | Sugar: 2g | Calcium: 16mg | Iron: 1mg
halloween pasta, orange pasta
halloween, Pasta