Looking for a delicious Valentine's Day dessert? You know I love to celebrate. These Valentine's Day Desserts are perfect for celebrating with your family. With a wide variety of choices, there is surely a dessert that everyone in your home will love.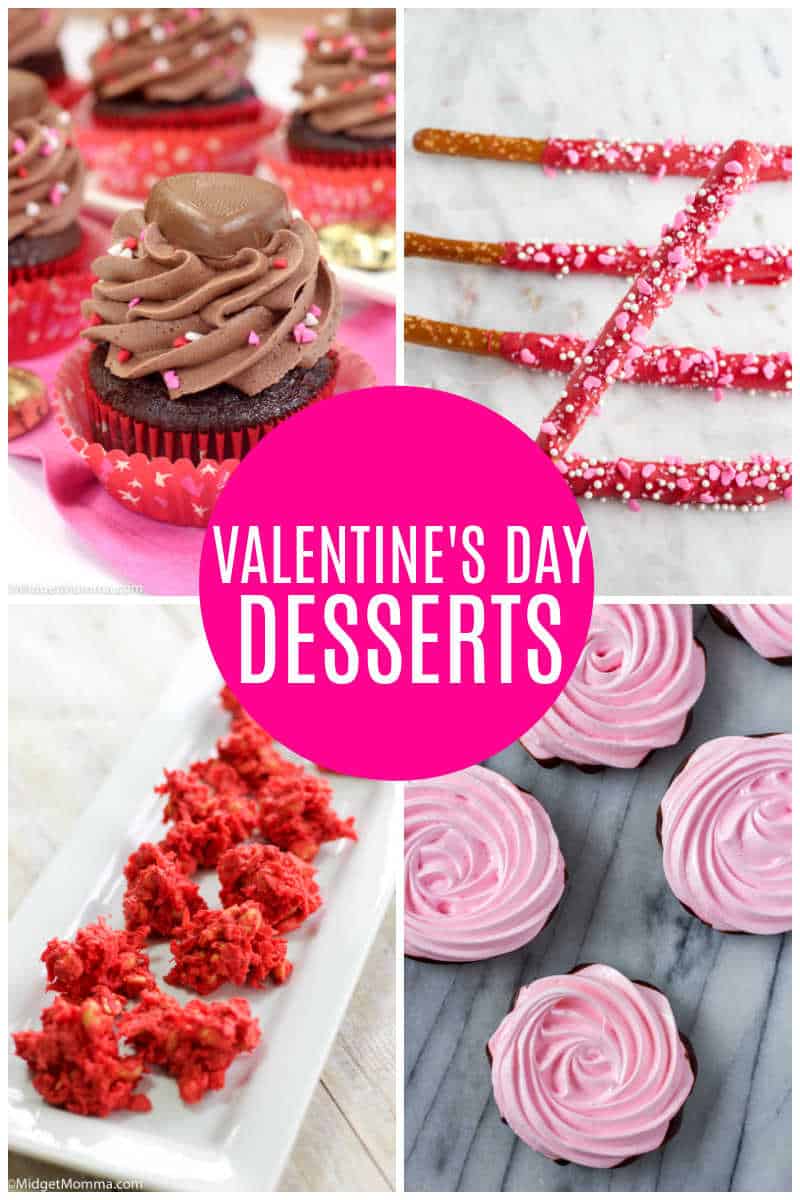 Valentine's Day Desserts
When it comes to holidays, I love making special desserts. Actually all kinds of special meals. So it is no surprise that I would already be planning what I am making for the family to celebrate. These are some of my favorite Valentine's Day desserts.
Be sure to also check out Valentine's Day breakfast Ideas and Valentine's Day lunch ideas.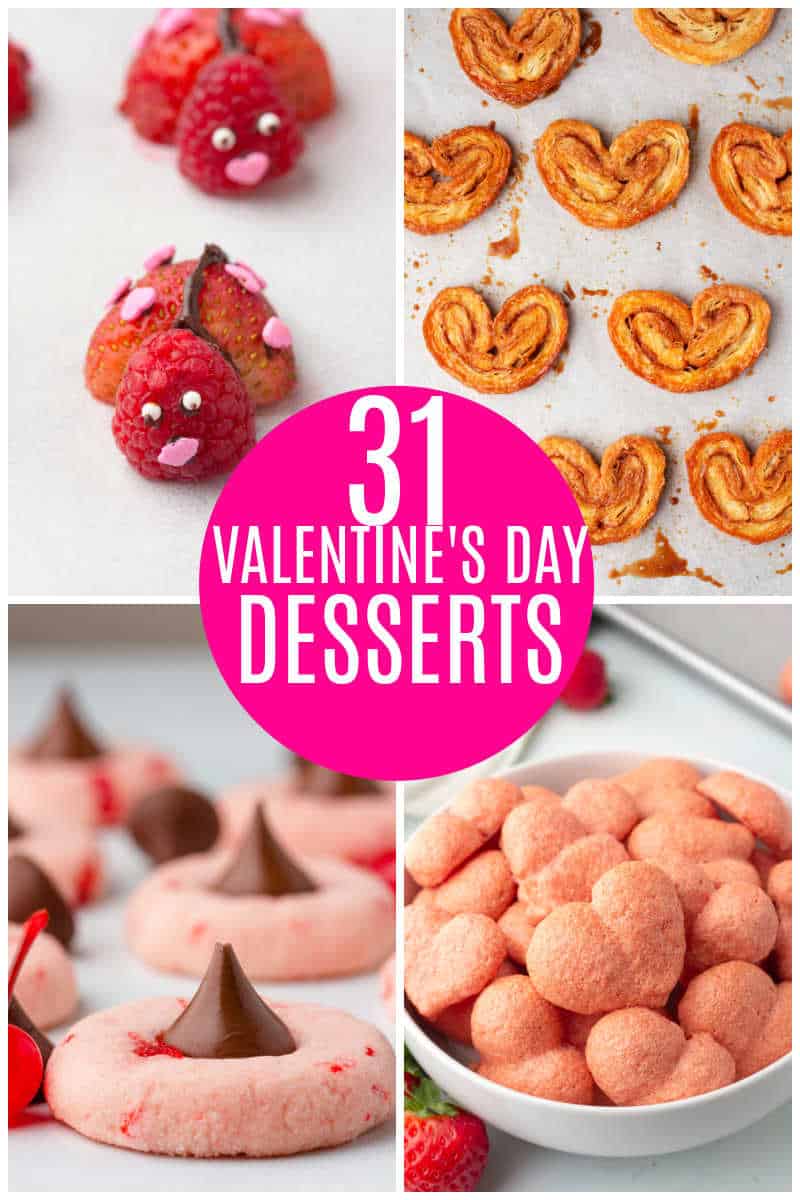 Can I Make These Desserts As Gifts
Many of these Valentine's Day dessert make amazing gift ideas. Make these desserts and then package them in special boxes, bags or containers. Whoever receives these incredible desserts are going to feel loved and special, from the first bite to the last.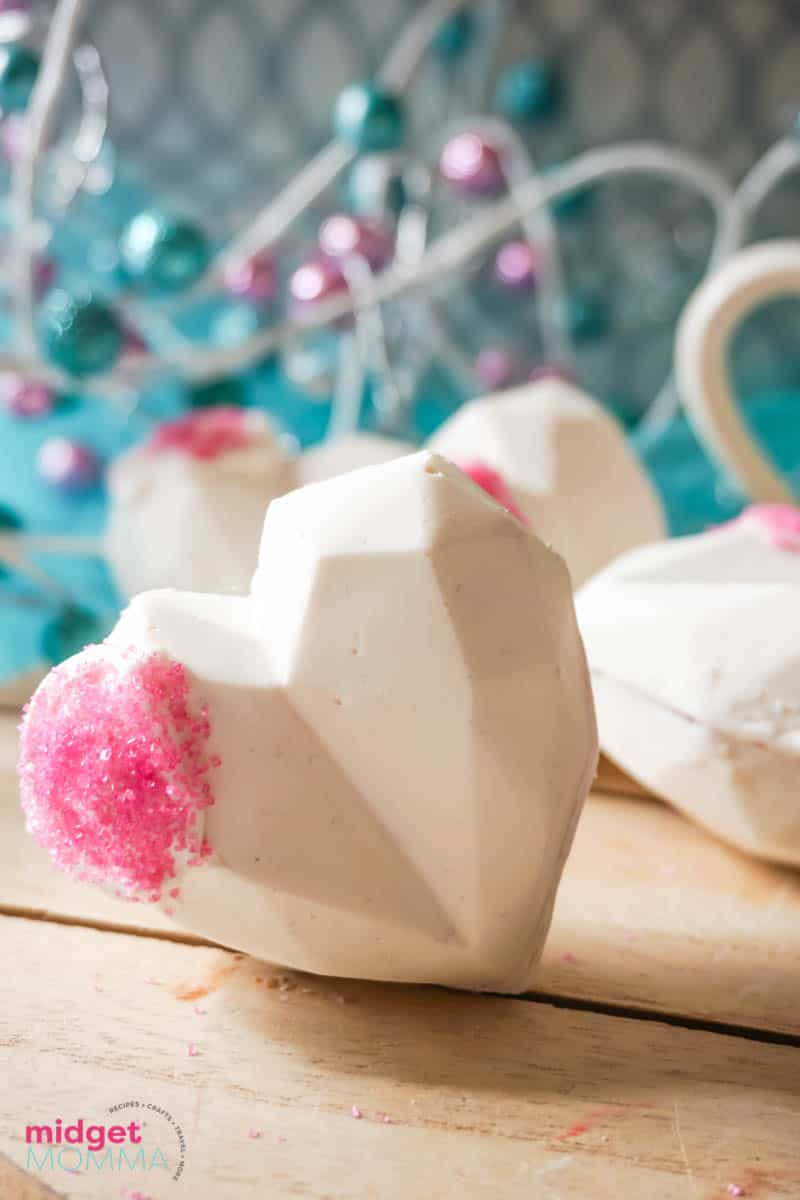 Heart Shaped Strawberry White Chocolate Hot Chocolate Bombs. A white chocolate heart filled with strawberry milk mix, strawberry marshmallows, sanding sugar to make a fun Strawberry White Hot Chocolate.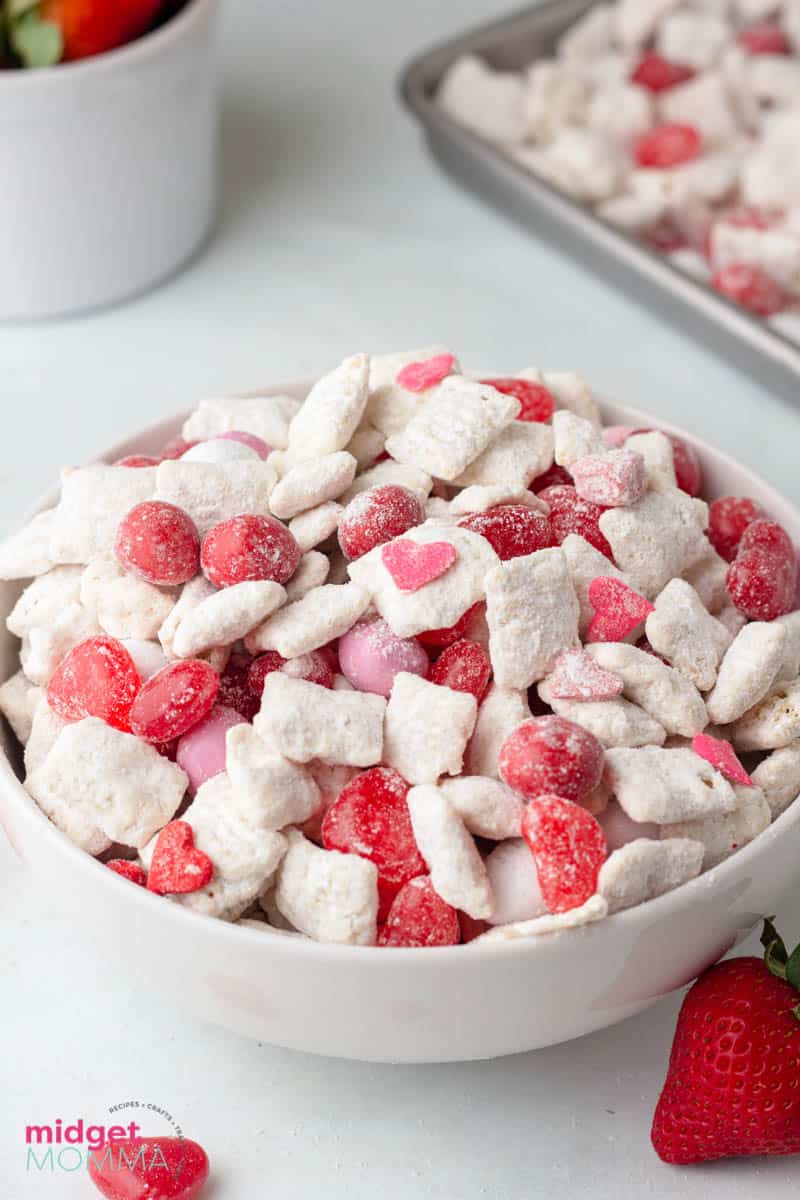 Strawberry Puppy Chow.Also known as Strawberry muddy buddies is a fun and tasty treat that the kids will love and is perfect for Valentine's Day.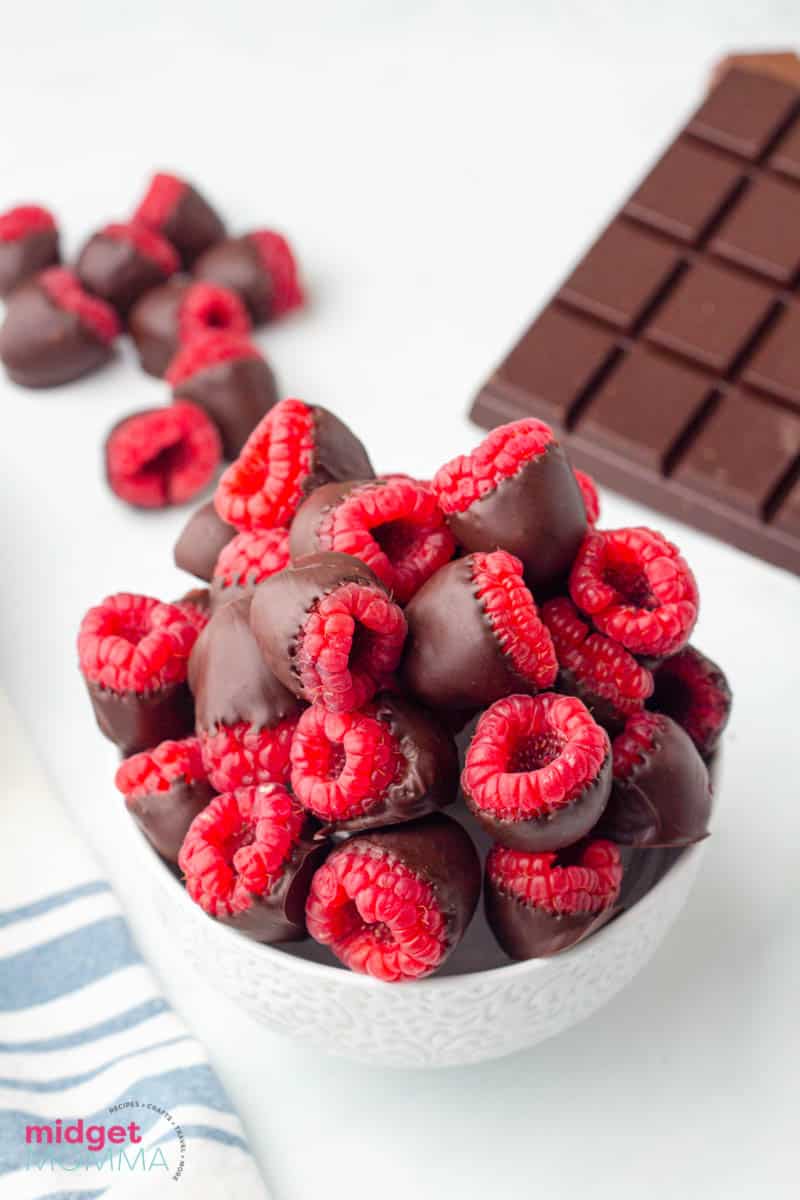 Chocolate Covered Raspberries. With only 2 ingredients, raspberries and quality chocolate you can make these sweet treat.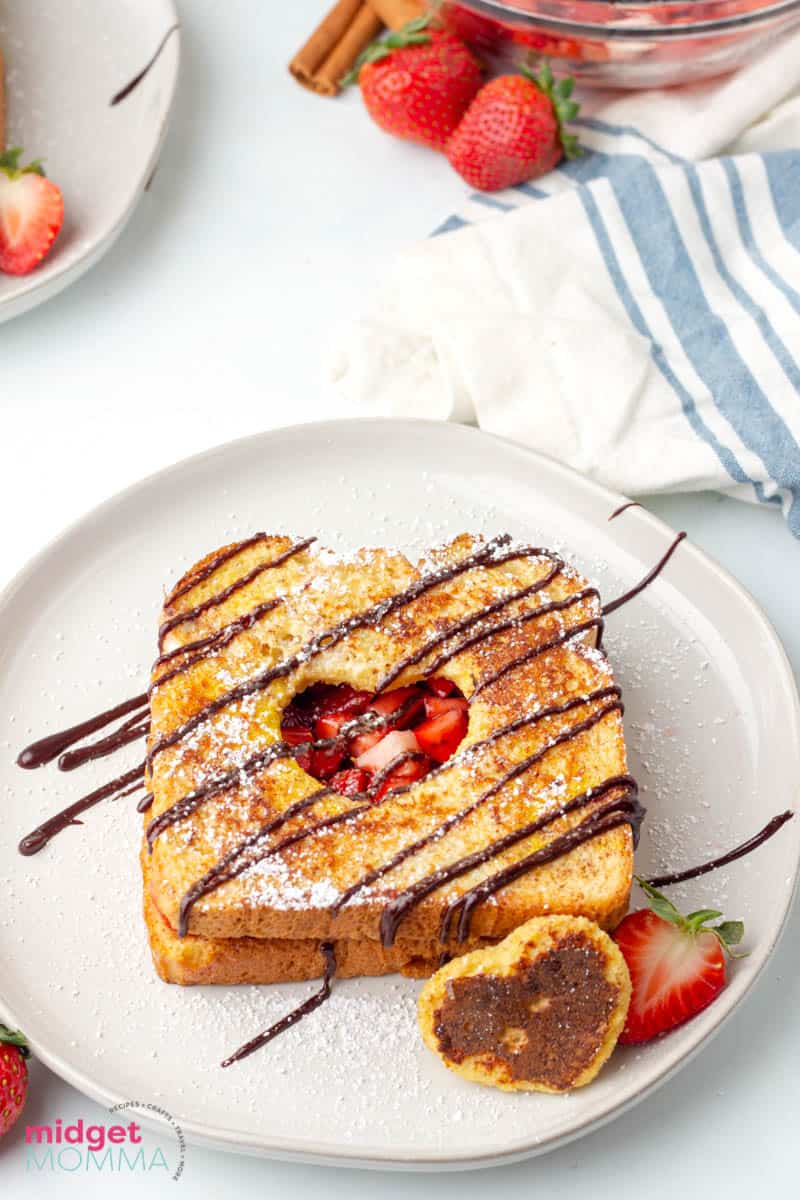 Chocolate Strawberry Stuffed French Toast– Chocolate covered strawberry French toast is a delicious Strawberry Stuffed French Toast that is drizzled with chocolate syrup and dusted with powdered sugar.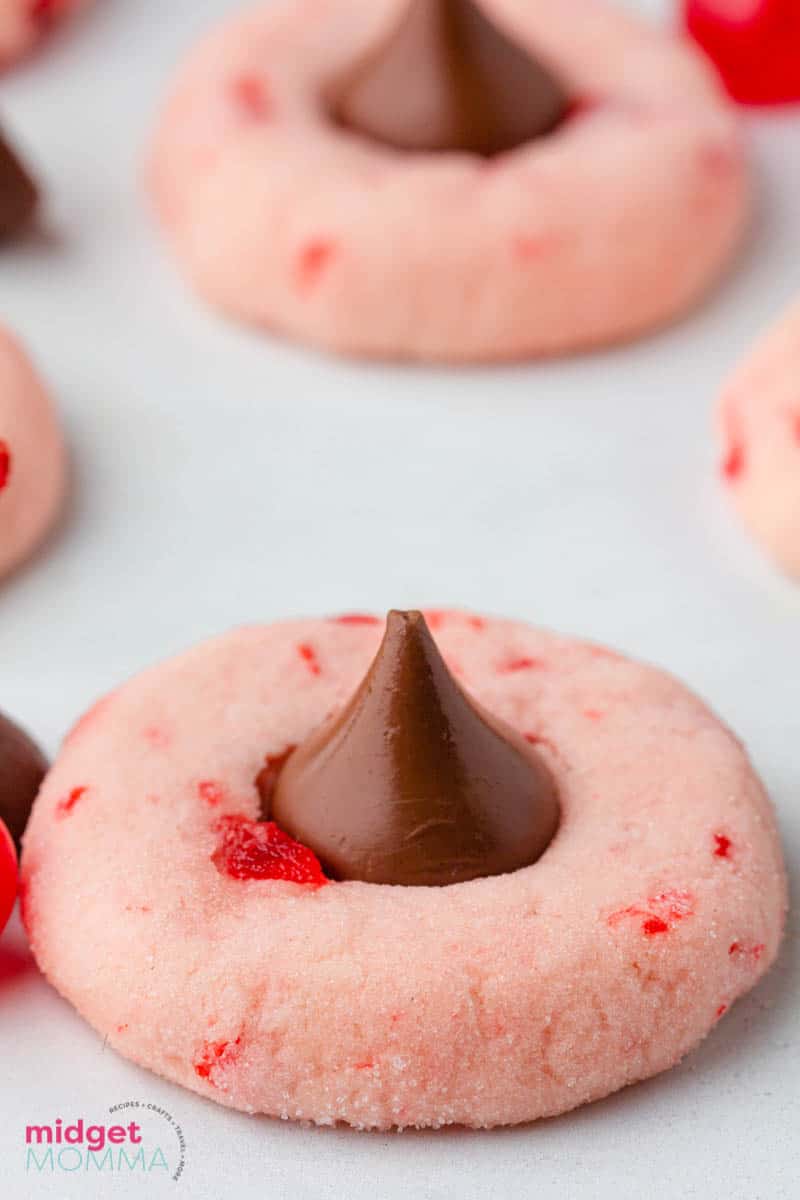 Cherry Kiss Cookies. These amazing cookies are also known as Cherry Blossom cookies. They are a sweet cherry almond cookie with a chocolate kiss in the center.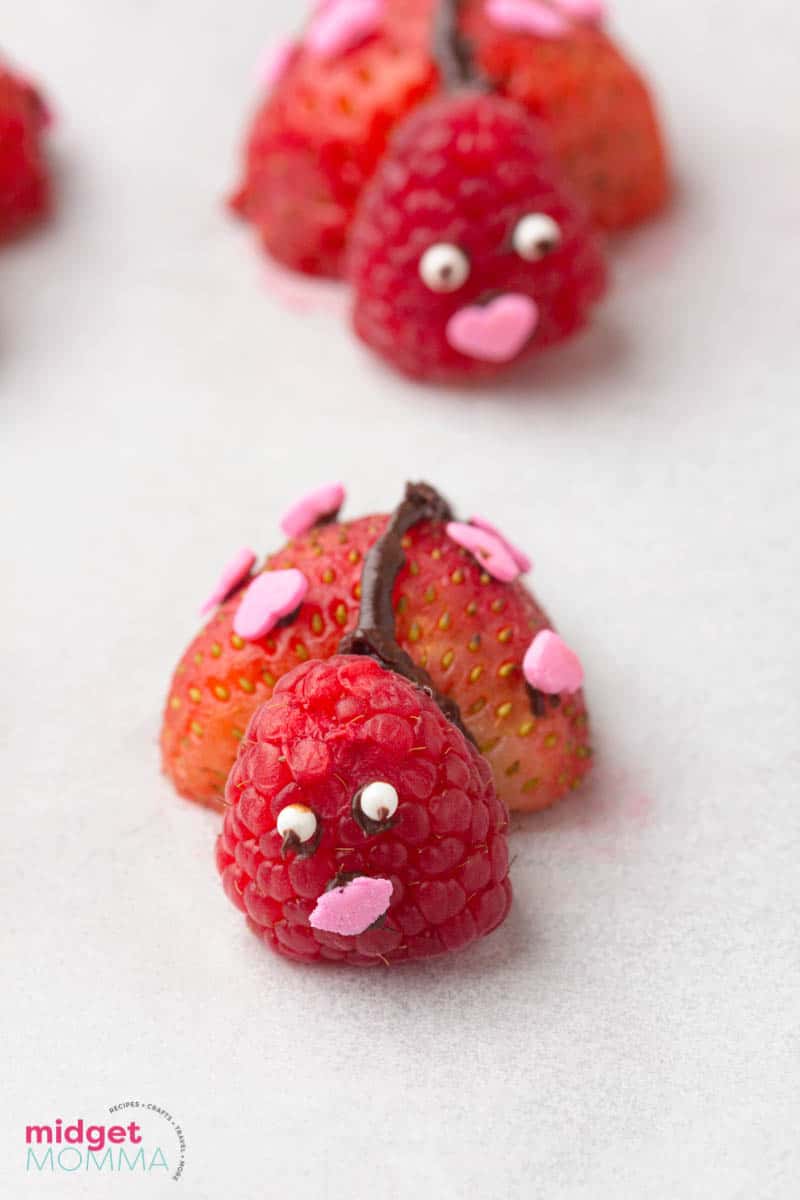 Fruit Love Bugs. These Fruit Love Bugs are a combination of strawberries, raspberries and chocolate. It is topped with some sprinkles too to make it the perfect healthy Valentine's Day treat!
Chocolate Covered Strawberry Cupcakes– These cupcakes taste just like a Chocolate Covered Strawberry! It is made with homemade Strawberry cake mix and amazing chocolate frosting. Then it is topped off with a delicious chocolate covered strawberry!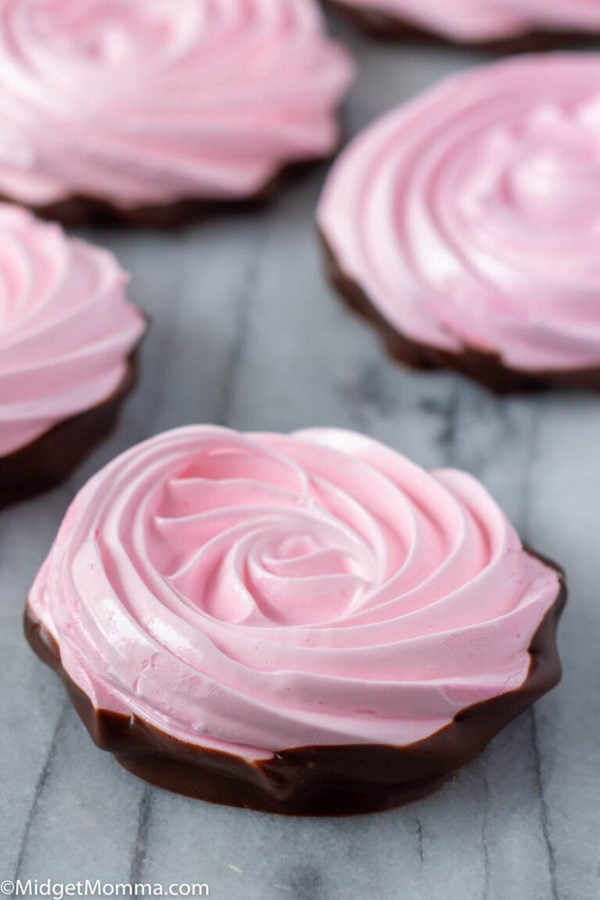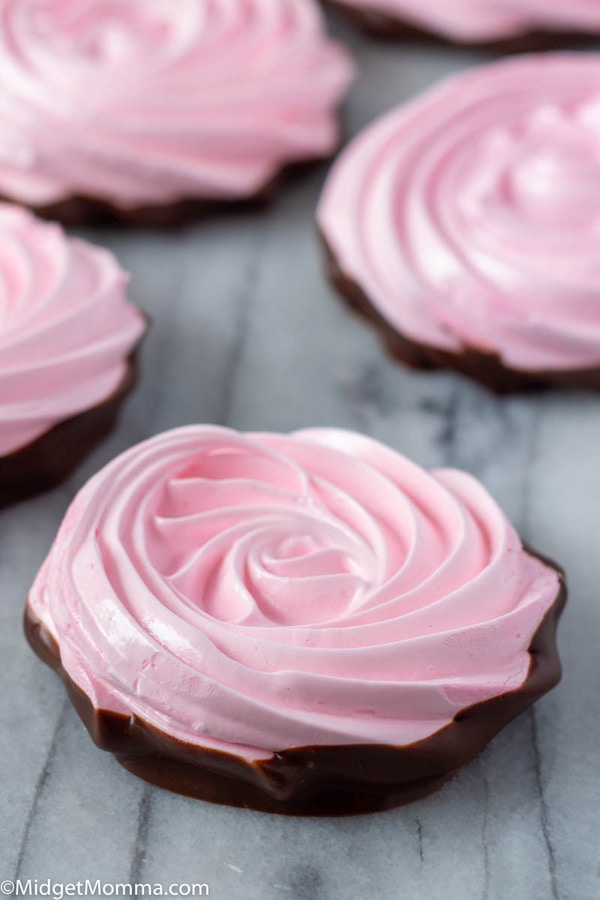 Chocolate Covered Strawberry Meringue Cookies. The perfect light and airy cookie dipped in chocolate giving you the perfect chocolate strawberry flavor in an amazing cookie.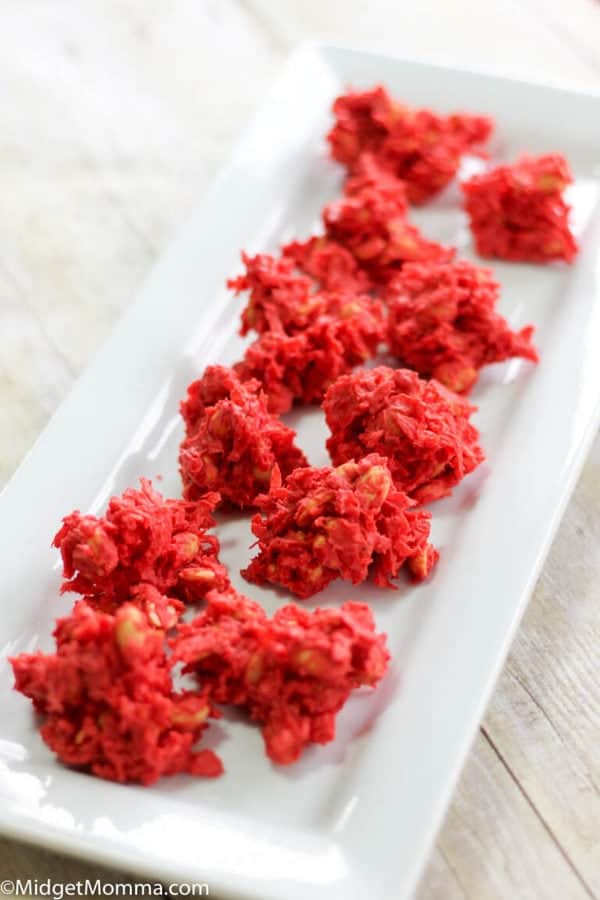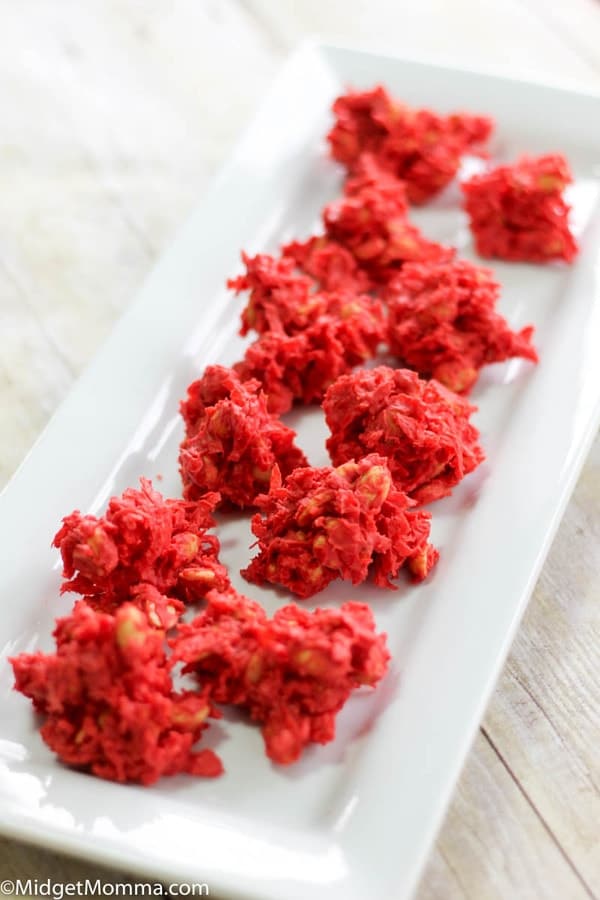 Cupid Poop No Bake Valentine's Day Treat. With only 4 ingredients, these no baked Cupid Poop treats are amazing.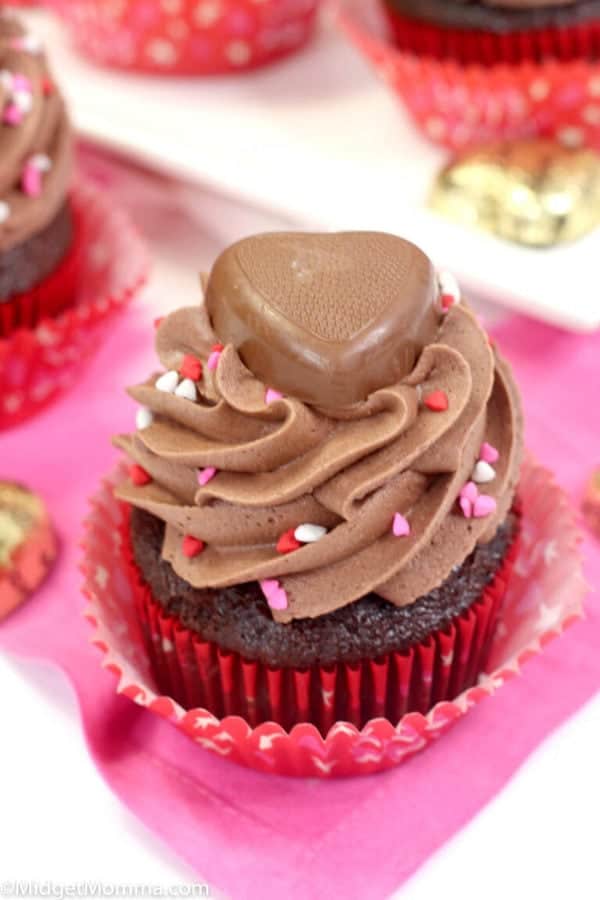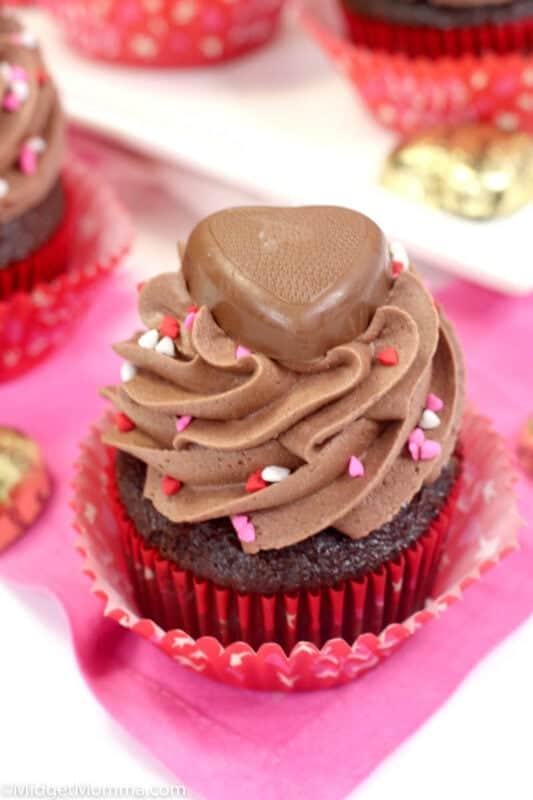 Chocolate Valentine's Day Cupcakes with Chocolate Buttercream. You are going to LOVE these Chocolate Valentine's Day Cupcakes with Chocolate Buttercream! So festive they are perfect for Valentine's Day.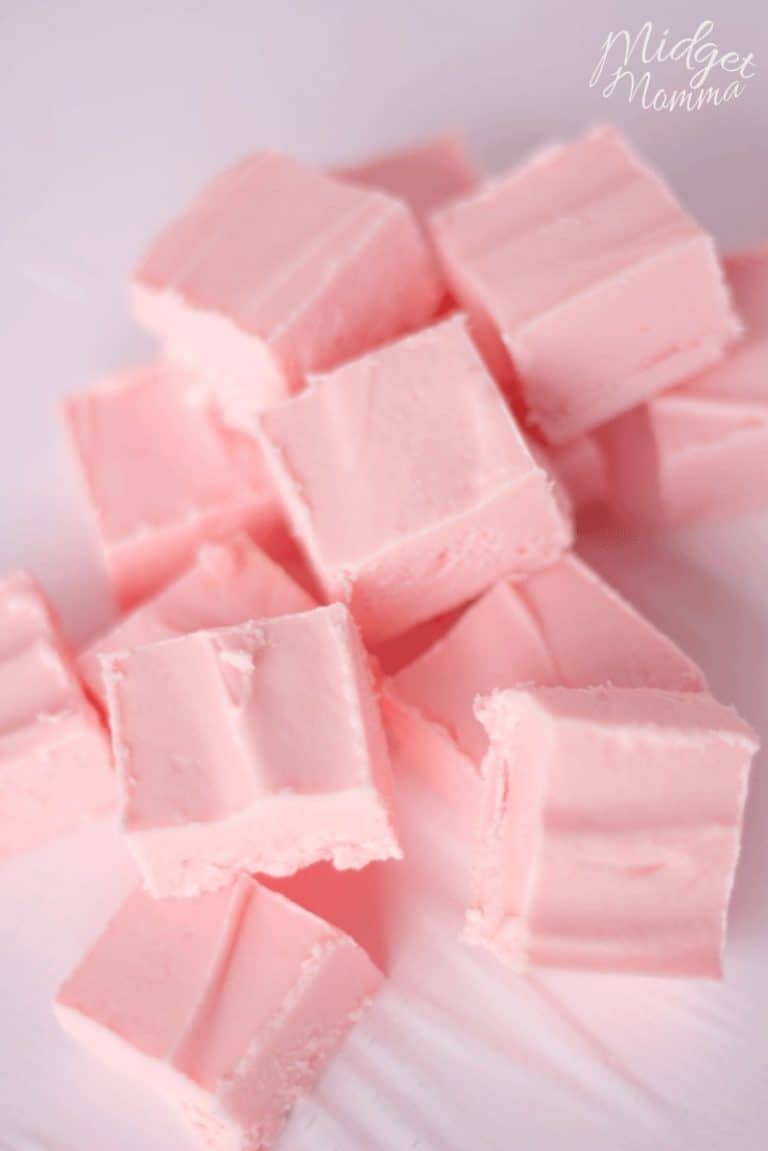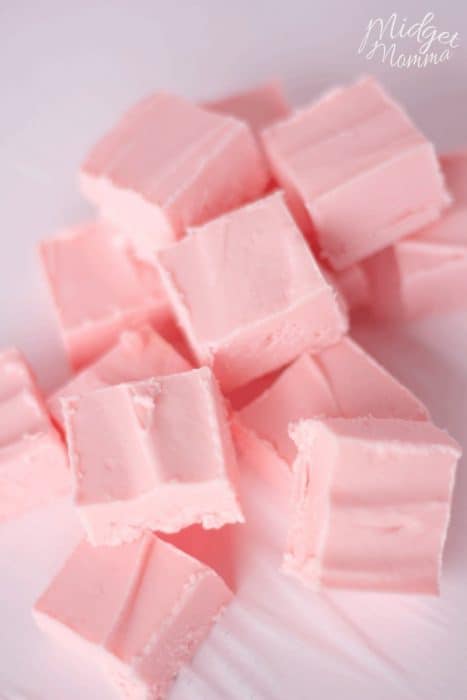 Two Ingredient Strawberry Fudge.It doesn't get easier than making this 2 ingredient fudge. With a fabulous flavor, this fudge is ready in no time.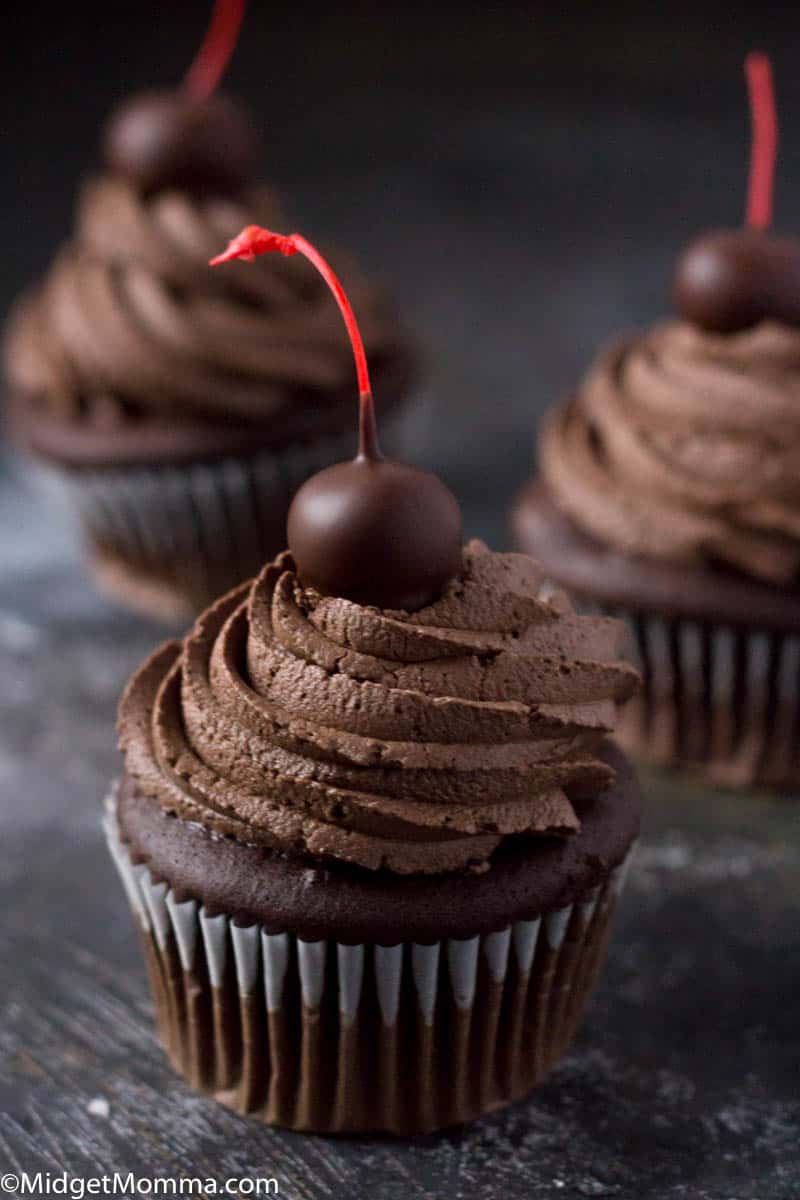 Chocolate Covered Cherry Cupcakes. Moist, fluffy chocolate cupcakes filled with cherries then topped with smooth and creamy rich chocolate buttercream frosting and topped off with a chocolate covered cherry.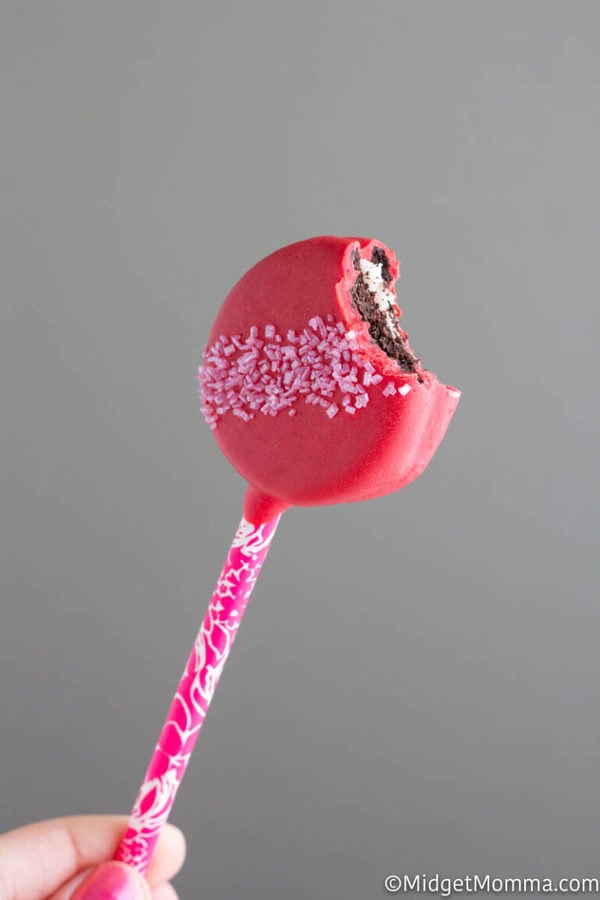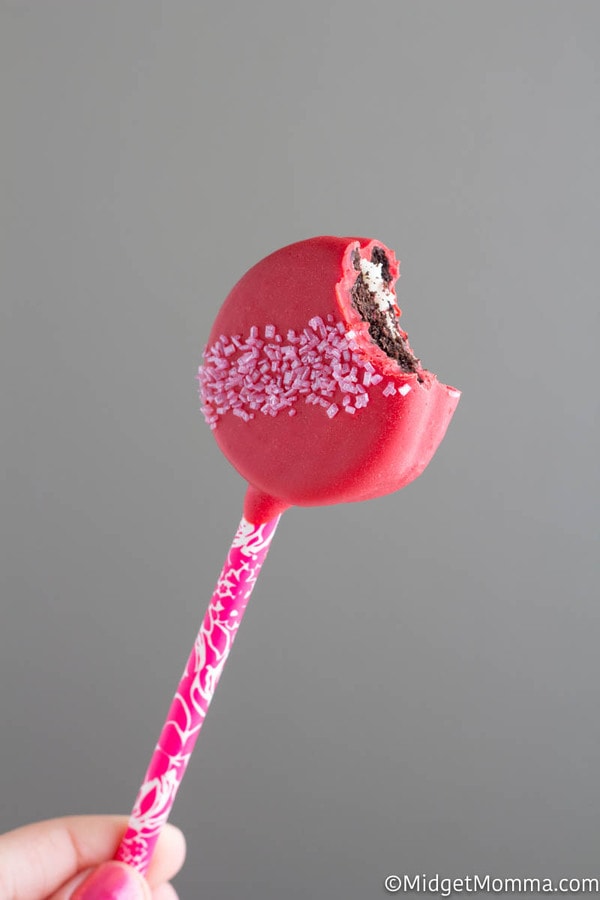 Valentine's Day Oreo Cookies Pops. These are so easy to make and they look amazing! You can make them in to a Valentine's Day pop if you want to or as Valentine's Day chocolate Oreos, whichever one you prefer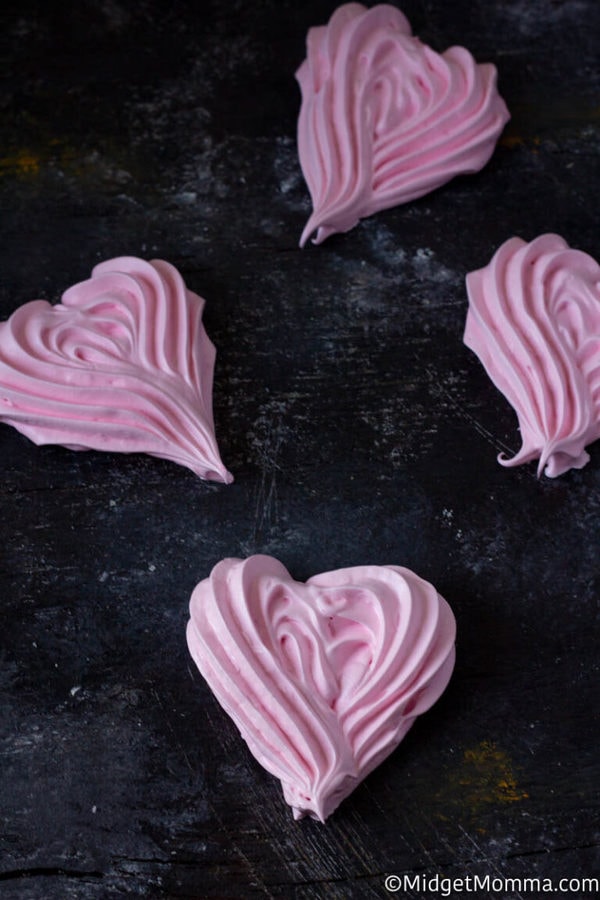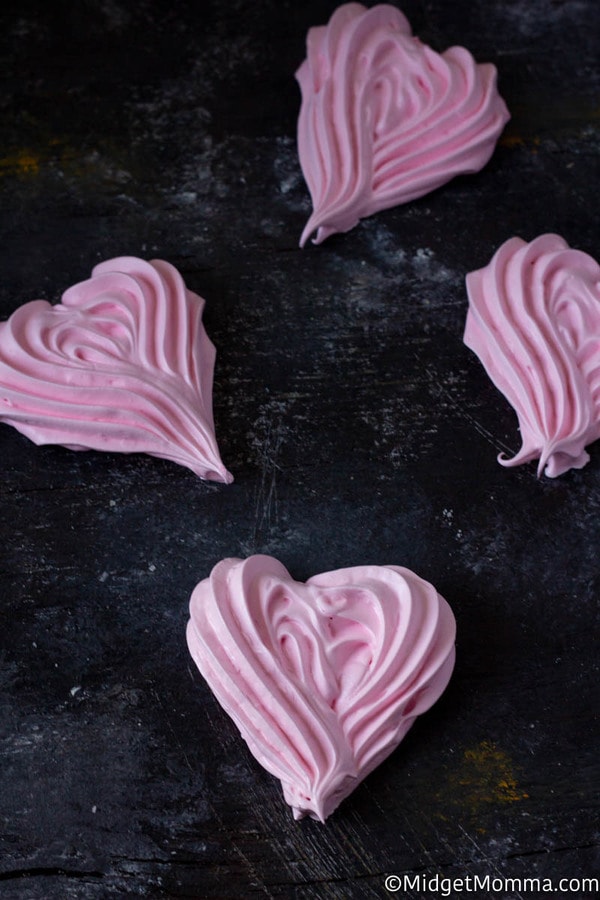 Strawberry Meringue Cookies Recipe. Light and airy, These tasty cookie that are easy to make and only need 5 ingredients!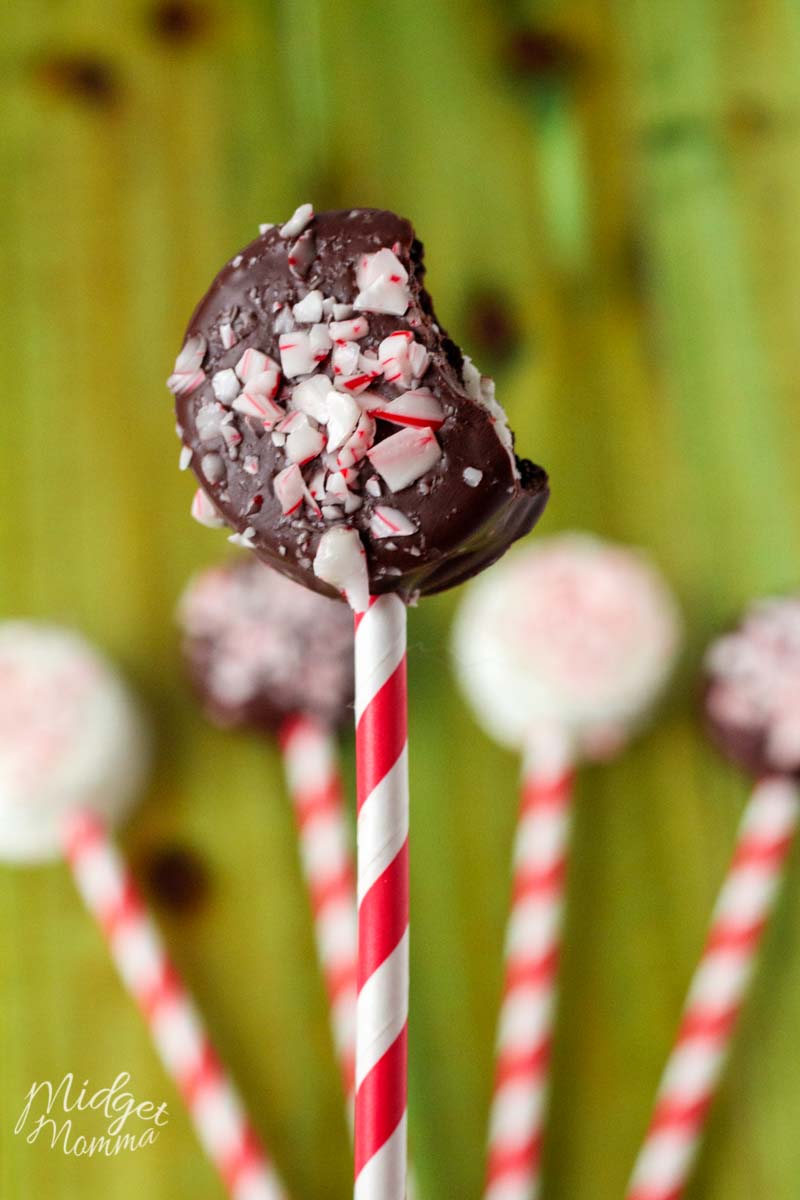 Peppermint Chocolate Covered Oreos. These Chocolate Covered Oreos topped with crushed peppermint candy canes are the perfect Valentine's Day treat.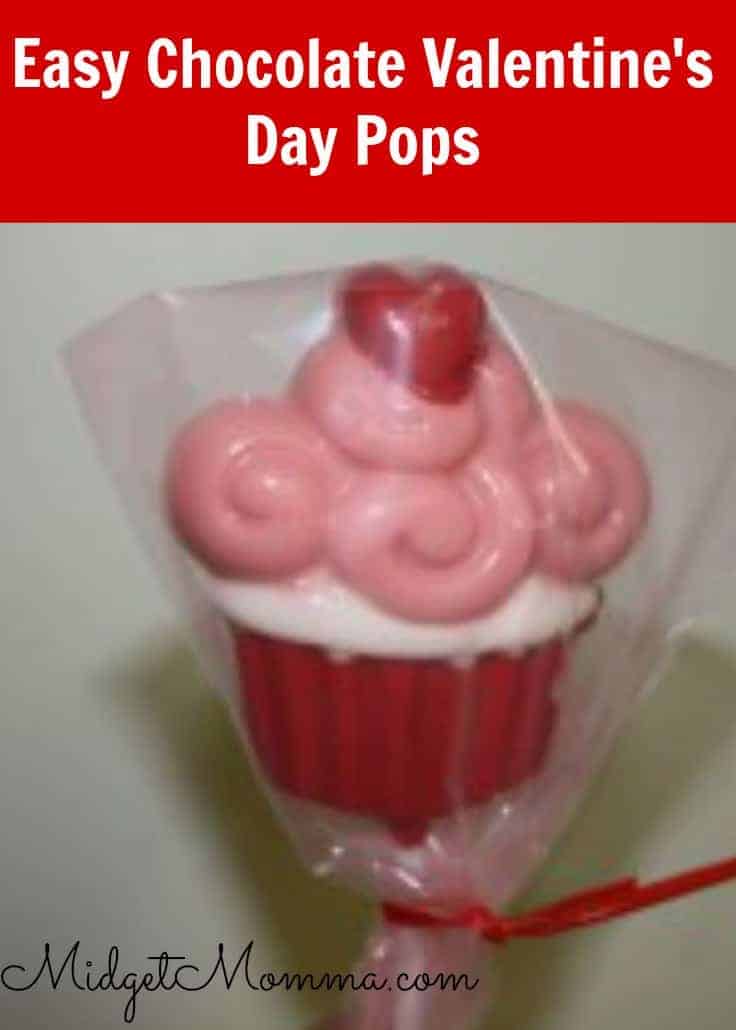 Valentine's Day Chocolate Pops. These pops take almost no time and look like you spent hours.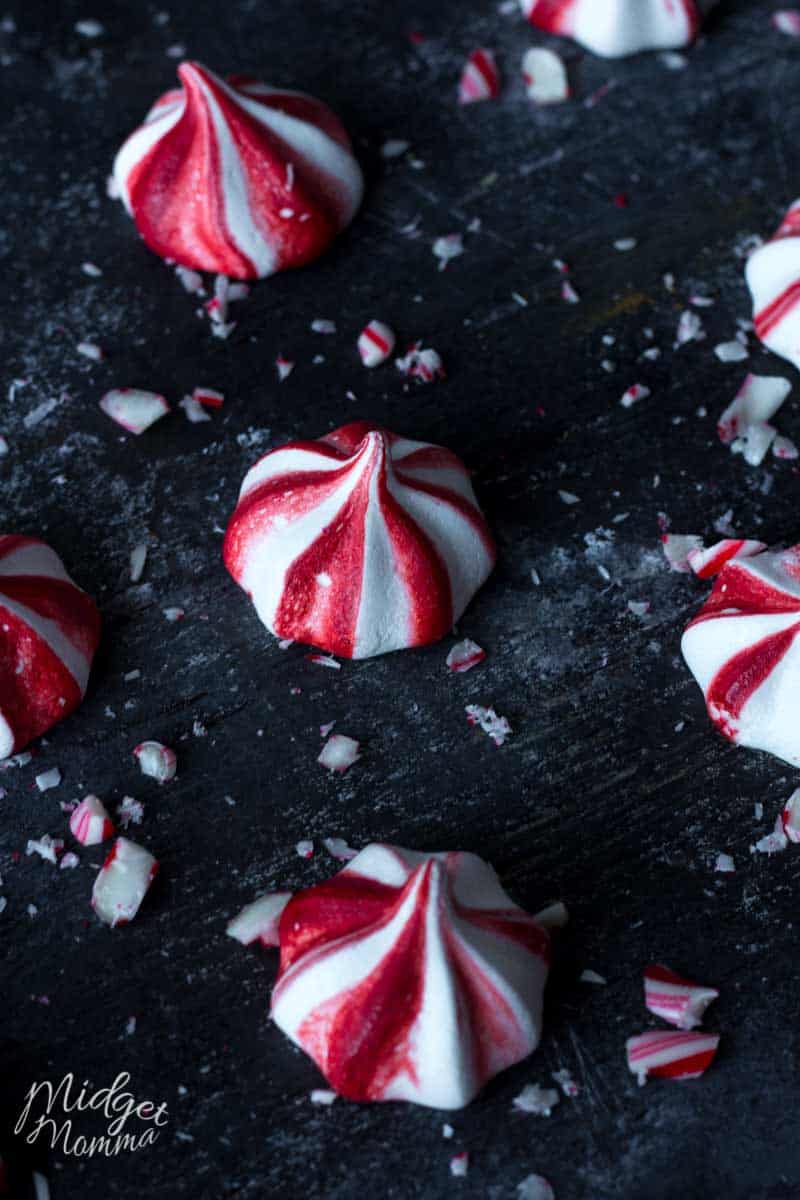 Peppermint Meringues Cookies. These meringues cookies are red and white swirls making them the perfect design for Valentine's Day.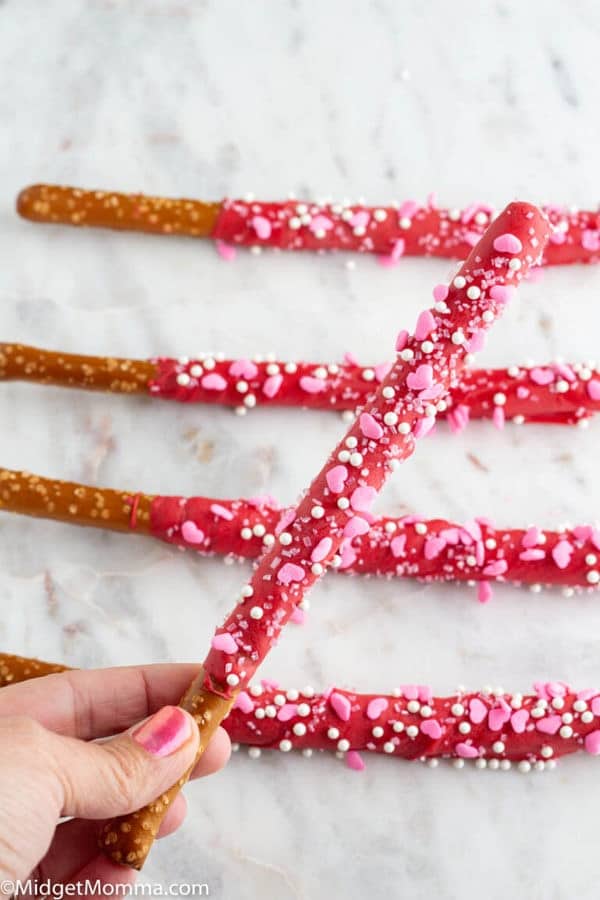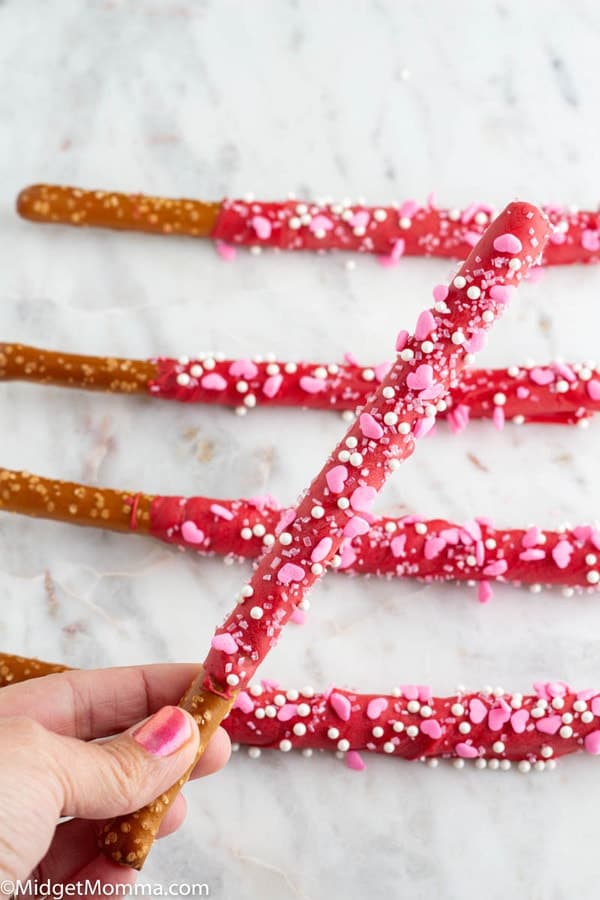 Valentine's Day Chocolate Covered Pretzels. With only 3 ingredients and a few minutes of time you can have these easy kid friendly Valentine's Day treats done and ready to enjoy!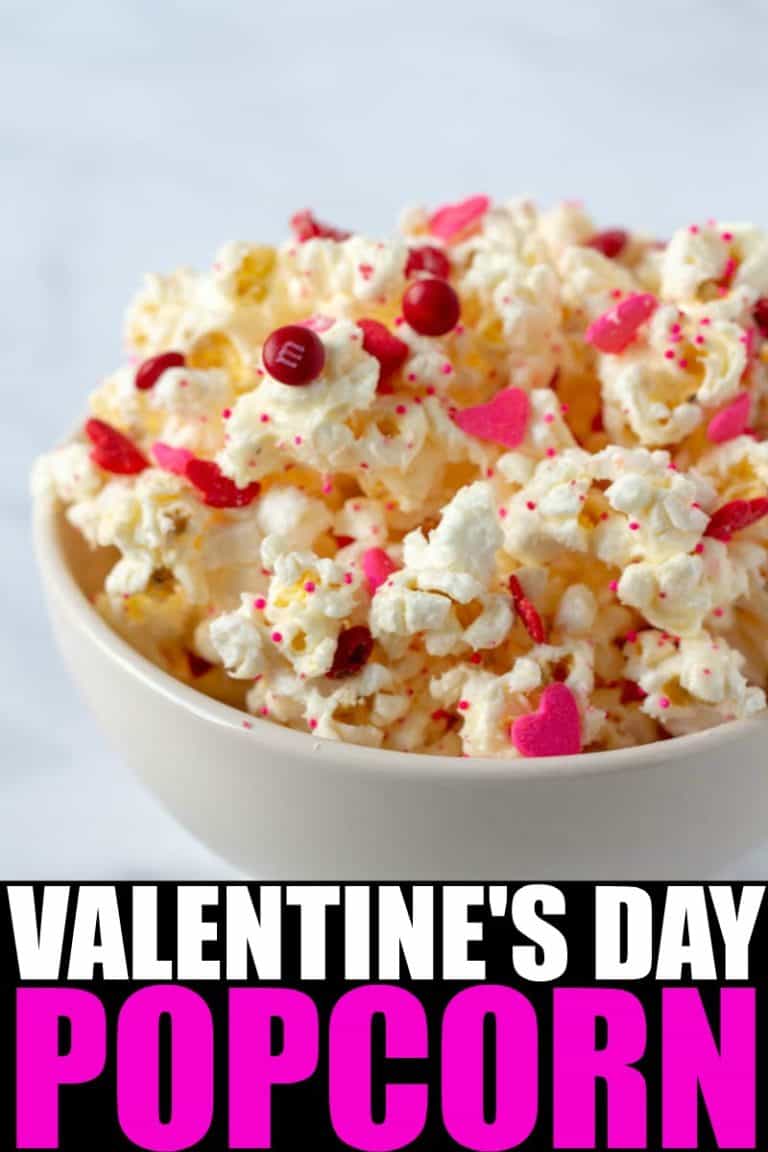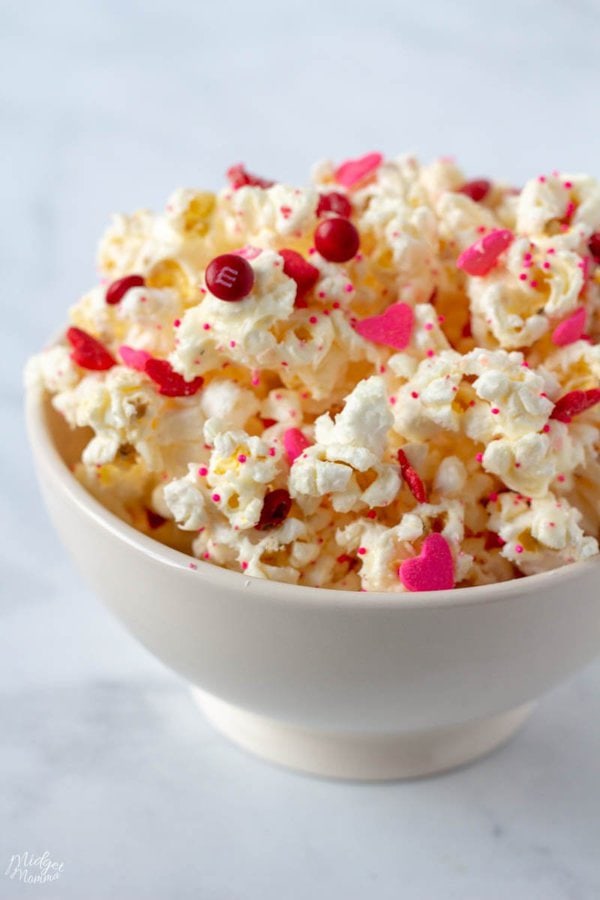 White Chocolate Popcorn Recipe.This easy white chocolate popcorn recipe is so tasty and is always a hit.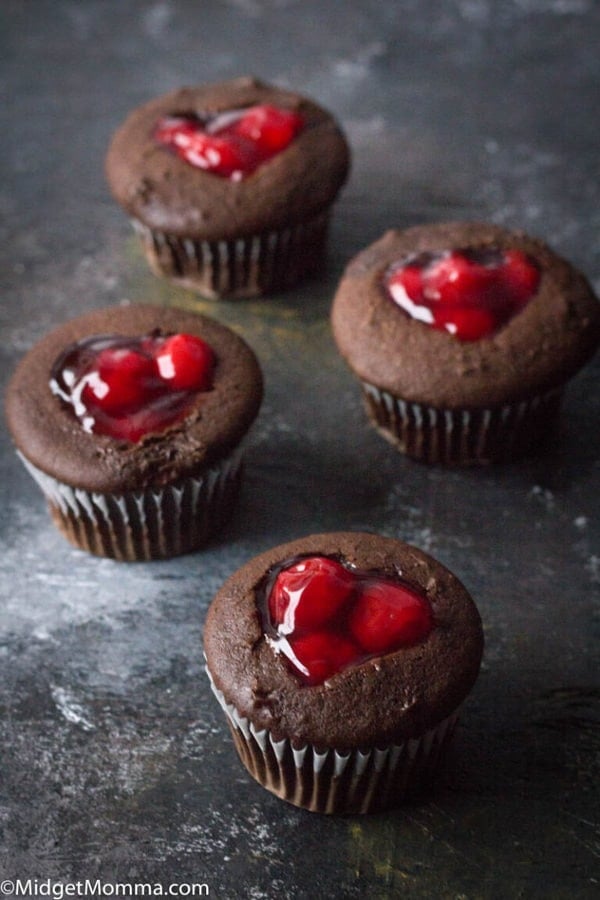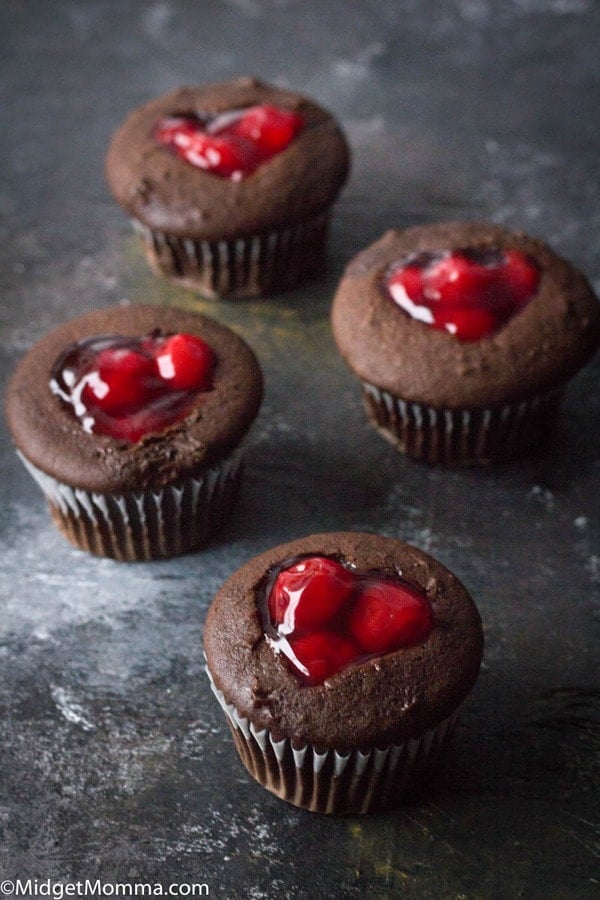 Cherry Chocolate Cupcakes. An easy homemade chocolate cupcake that after baked is filled with cherry pie filling.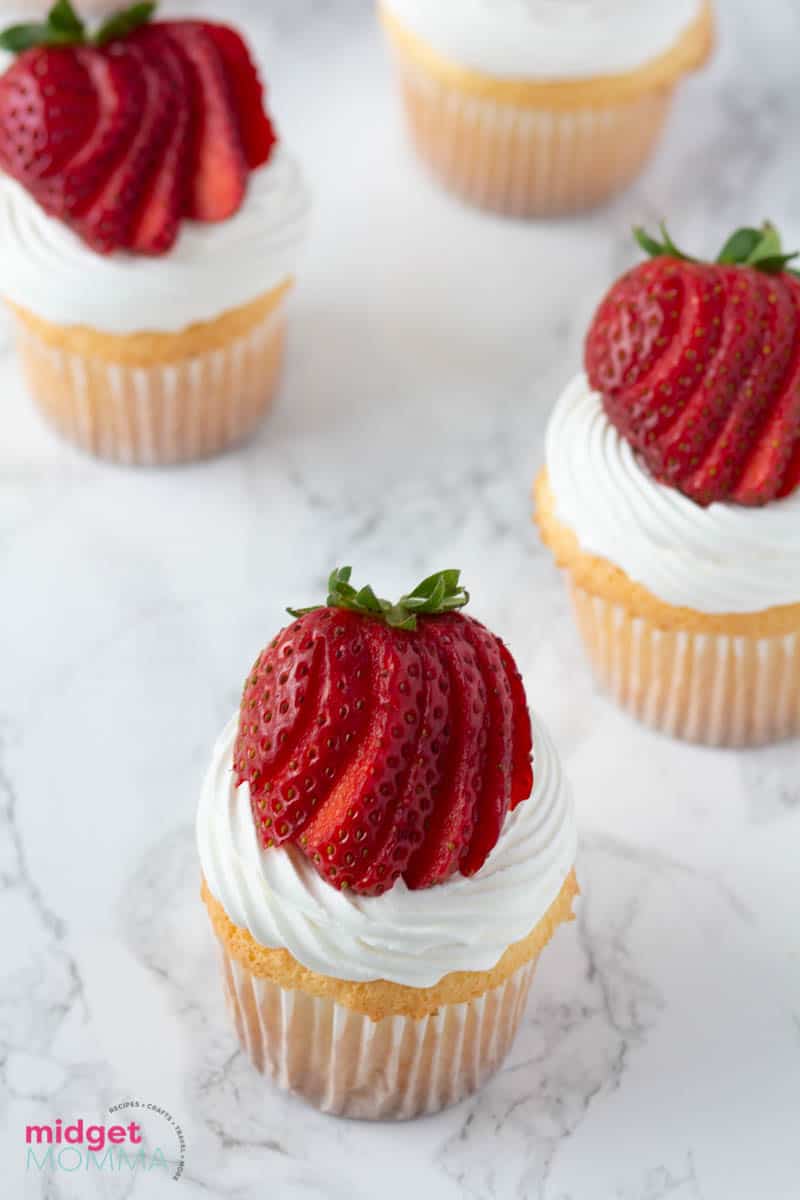 Angel Food Cupcakes.Angel food cupcakes topped with sliced strawberries. Light and airy, these fluffy cupcakes are great for Valentine's Day.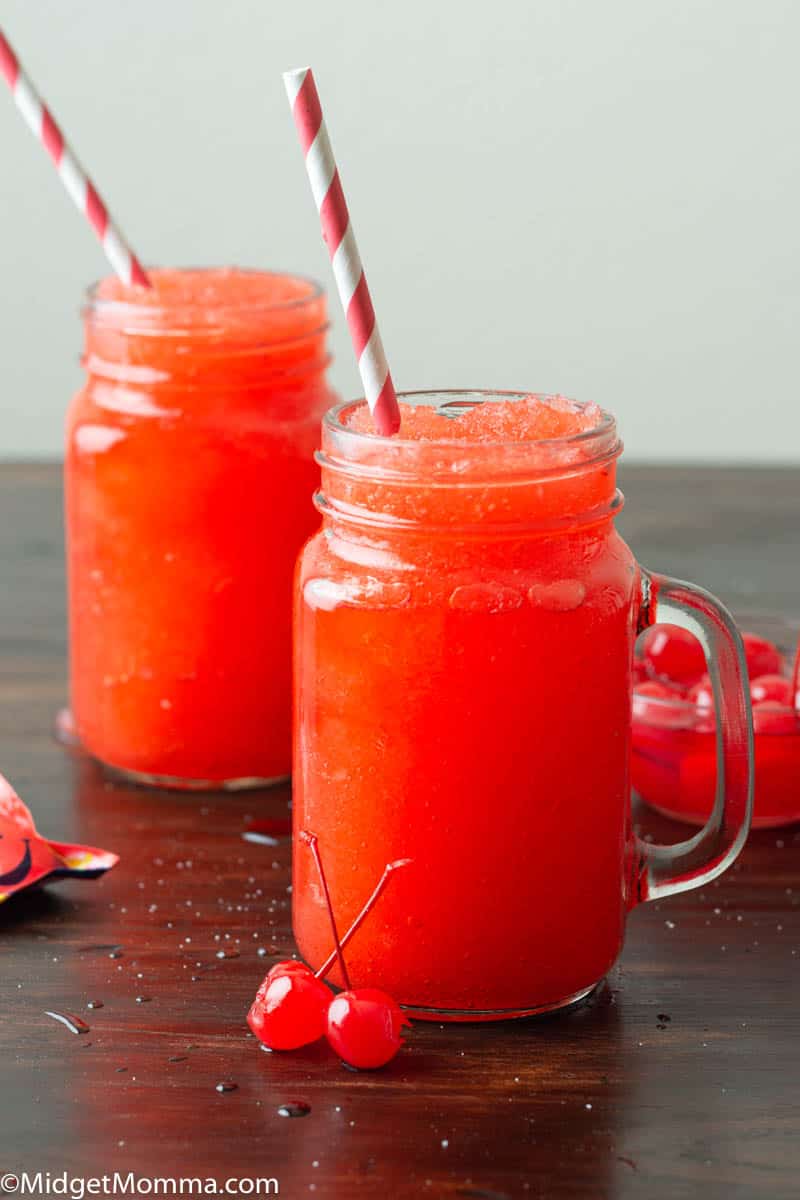 Cherry Slushies. These homemade slushies made with Kool-Aid are our favorite way to make a homemade slushie! With just 5 ingredients you can whip up this fun summer drink that the kids will love!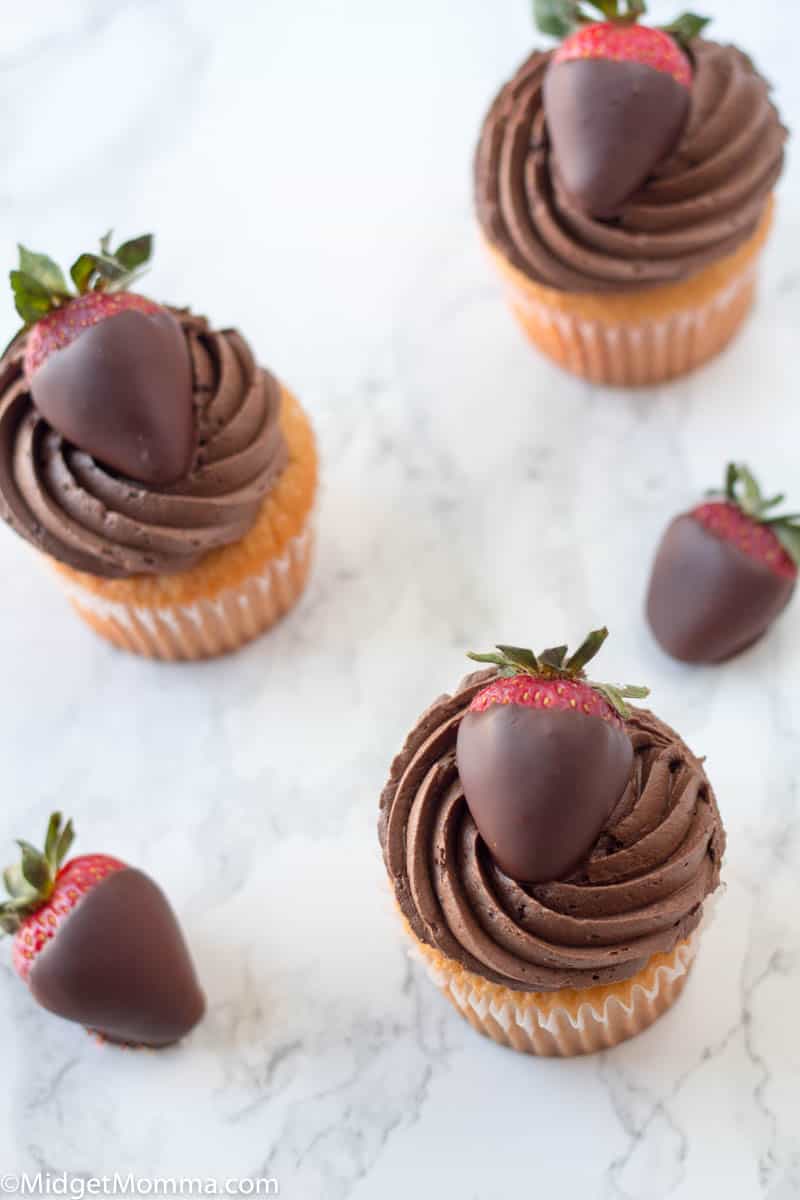 Strawberry Cupcakes made with Real Strawberries. These amazing Strawberry Cupcakes are made with fresh strawberries. This is the best Strawberry Cupcakes recipe ever! It is the only one that I have used for years!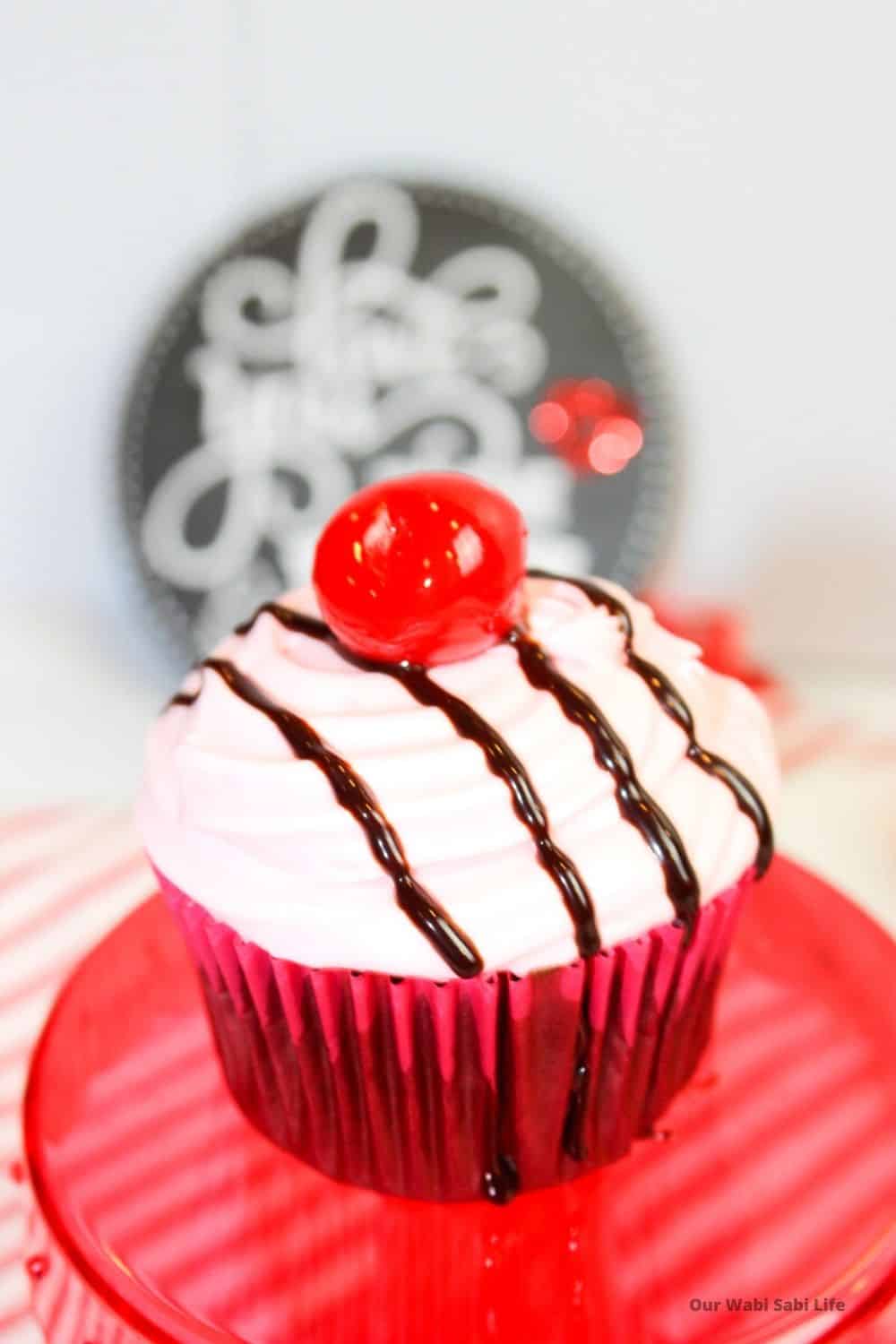 Chocolate Cherry Cupcakes. Chocolate Cherry Cupcakes are moist, flavorful, and a fun twist on a traditional chocolate cupcake. Serve up this cupcake with a dollop of vanilla ice cream and it's pure perfection.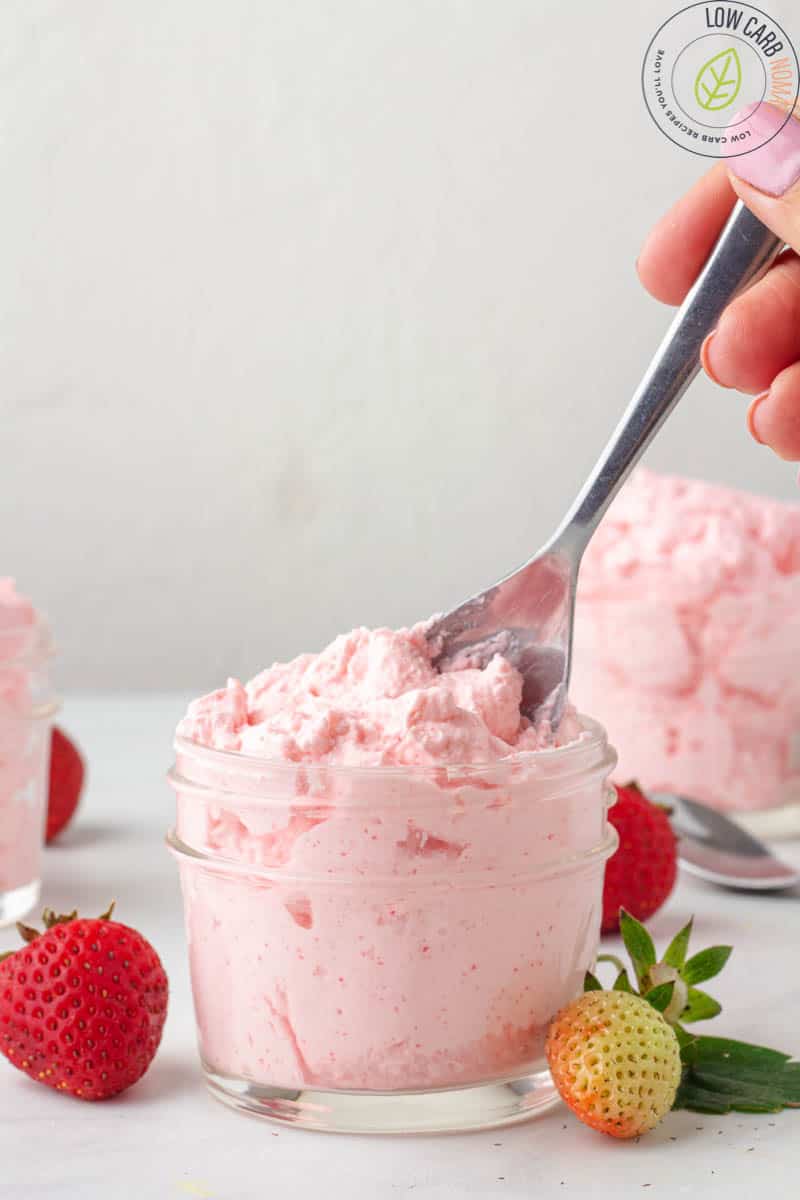 Low Carb Strawberry Mousse. An easy keto strawberry dessert that takes just a few minutes to make. With only 4 ingredients you can make this easy keto strawberry mousse for dessert!.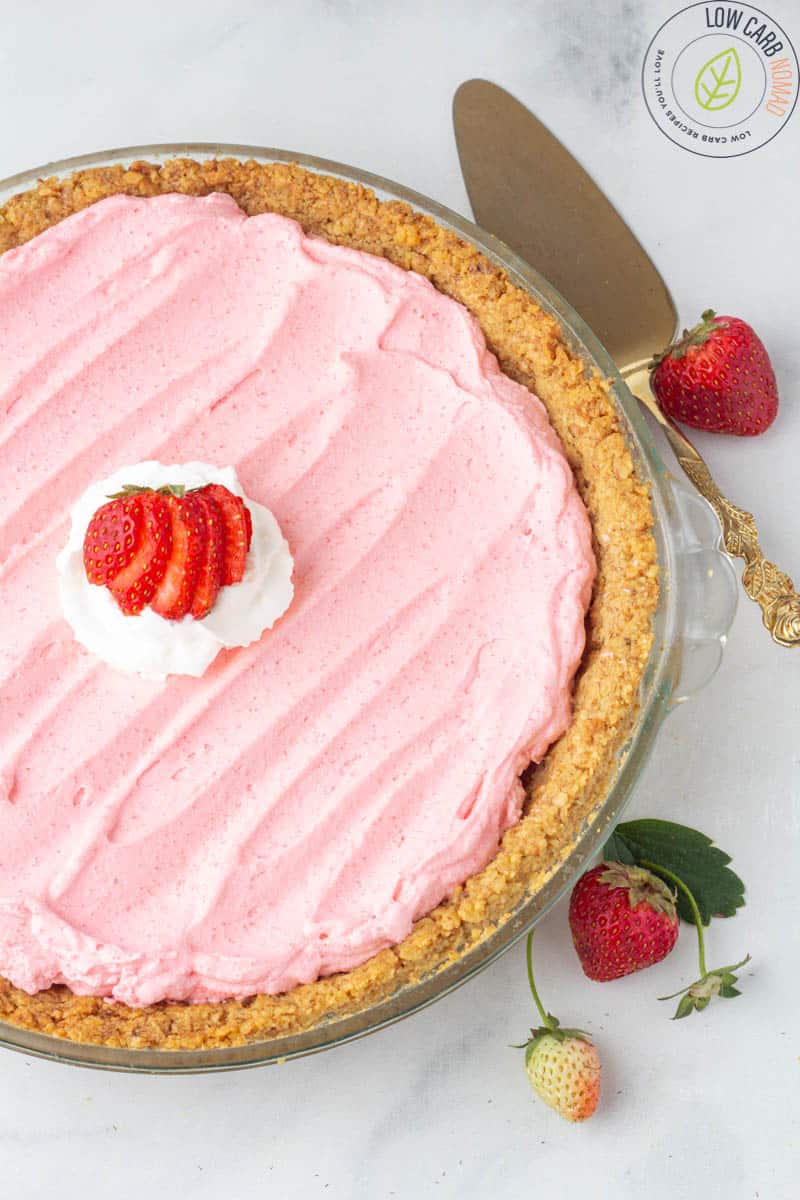 Keto Strawberry pie. Easy low carb dessert that is perfect for anytime of year. With a homemade walnut crust, fluffy strawberry mousse then topped with homemade whipped cream, this keto strawberry dessert is perfect for after dinner or a get together.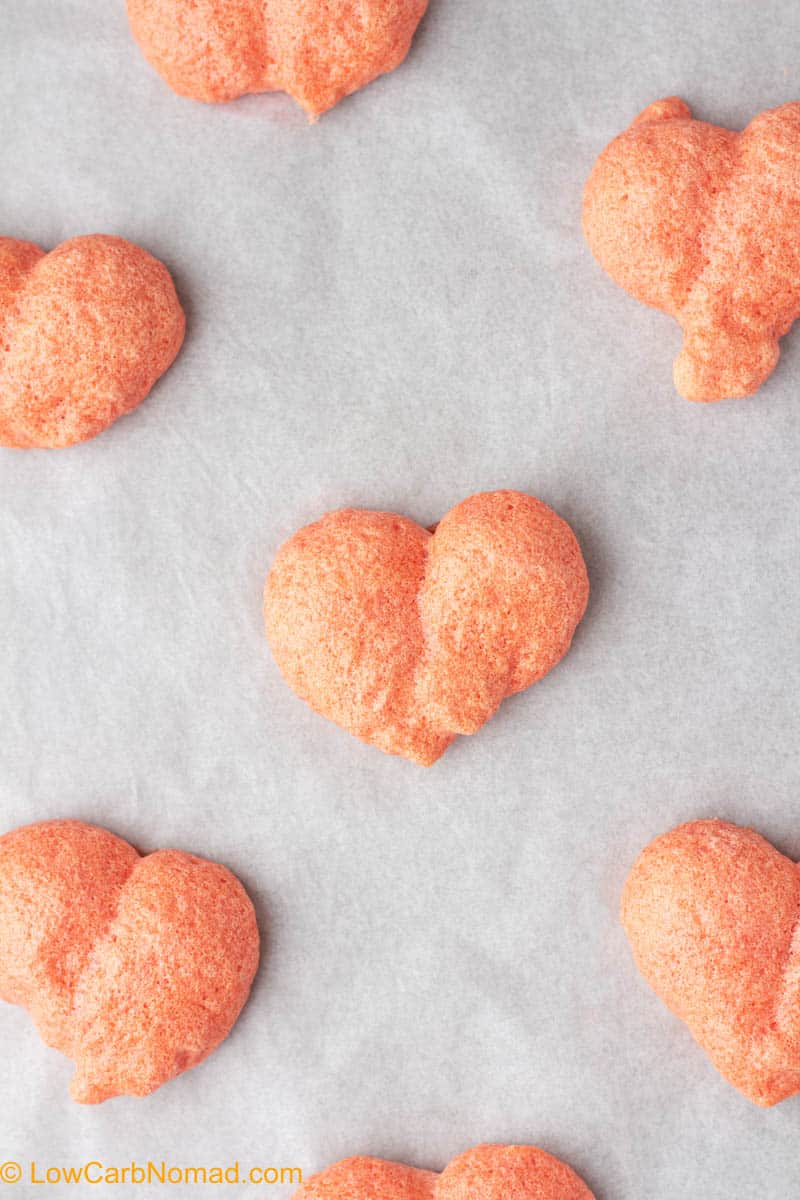 Sugar-Free Keto Strawberry Meringues. These Keto Meringues are a light and airy sugar free cookie that is great for anytime, but perfect for Valentine's Day.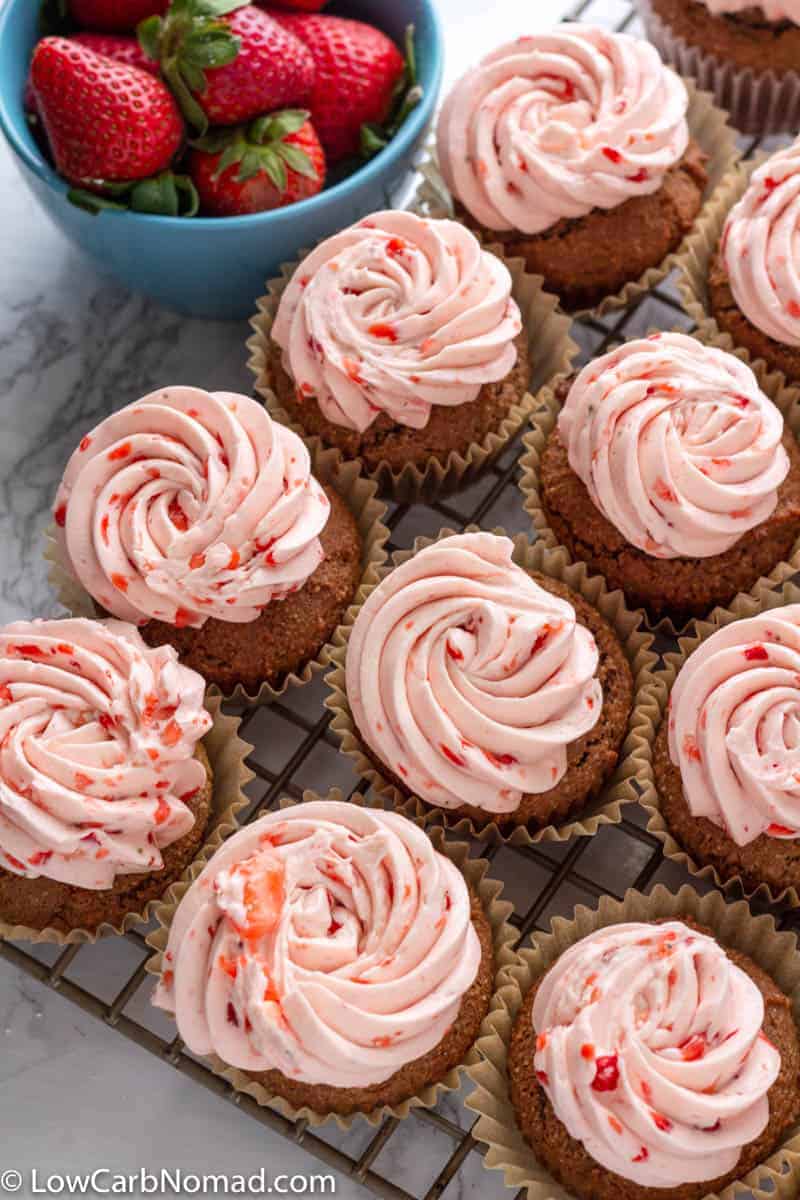 Low Carb Chocolate cupcakes with Low Carb Strawberry Buttercream is one of my favorite low carb chocolate cupcakes recipe to make. They are perfectly fluffy like a cupcake should be with smooth and flavorful sugar-free strawberry frosting.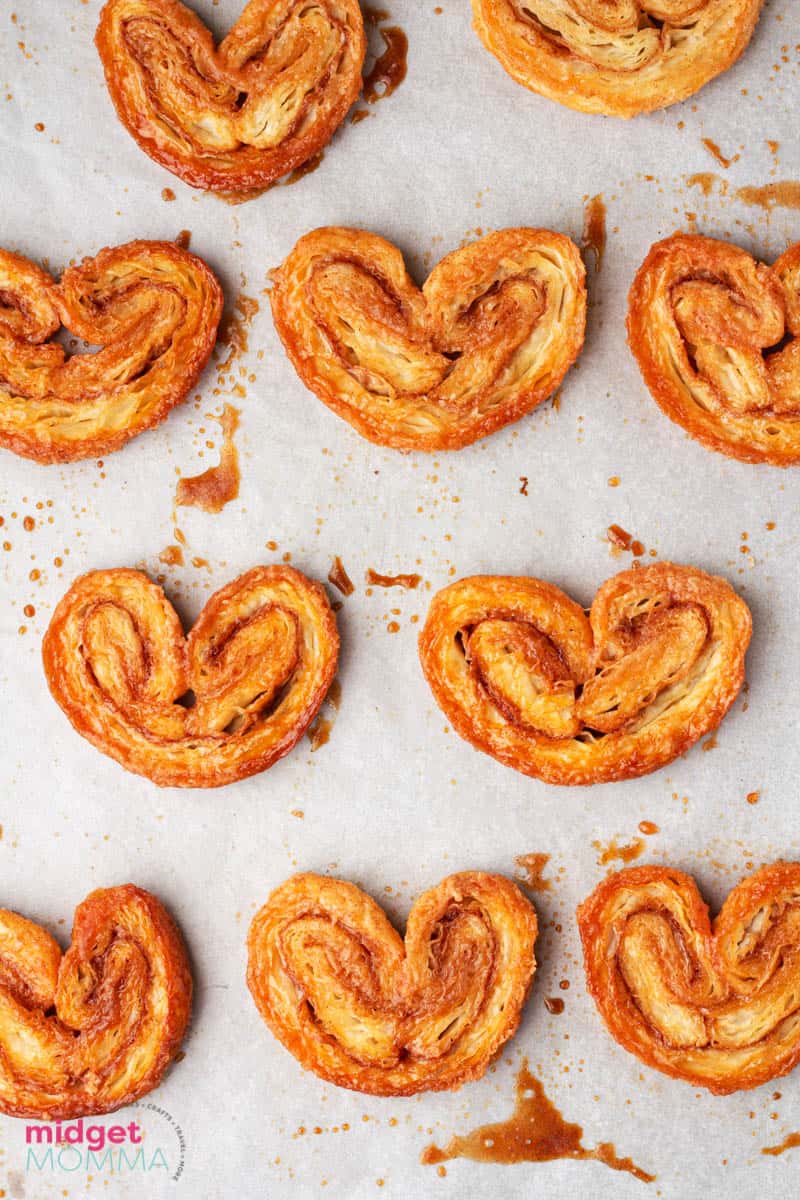 Cinnamon Elephant Ear Cookies. Also known as Palmiers cookies or French Palmier Cookies are the perfect light and sweet cookie. This Palmiers recipe has just 3 ingredients, and they are super easy to make.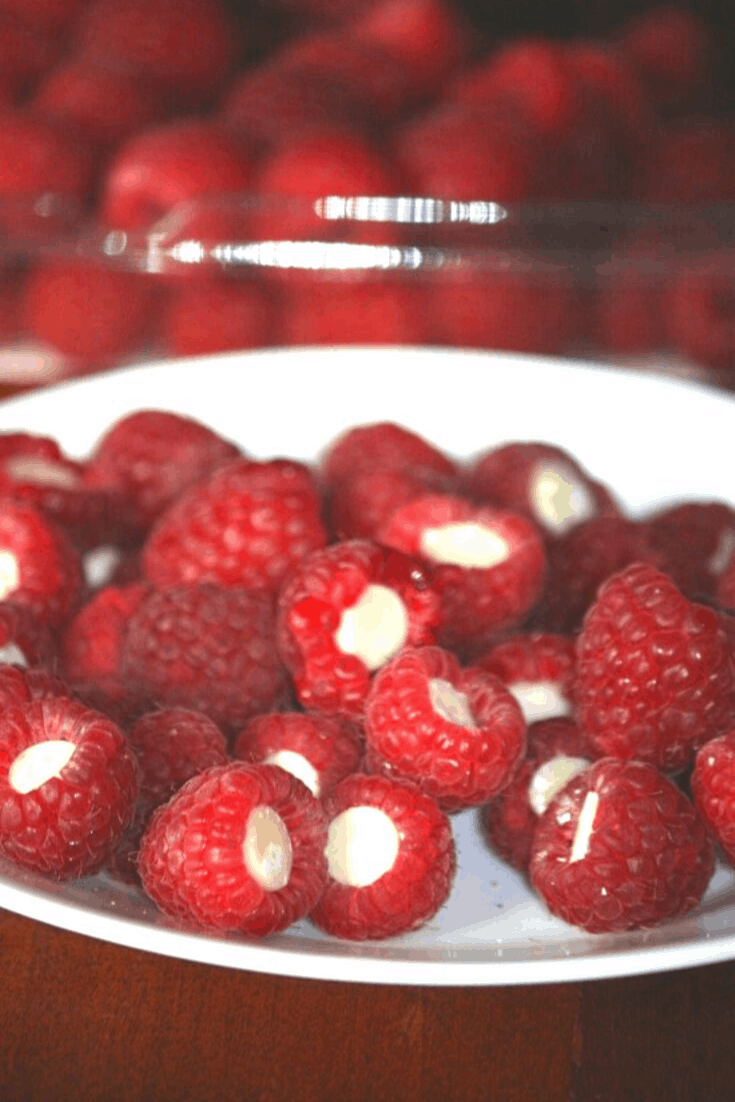 White Chocolate Stuffed Raspberries. This is a twist on chocolate raspberries, made with white chocolate chips stuffed inside the raspberries.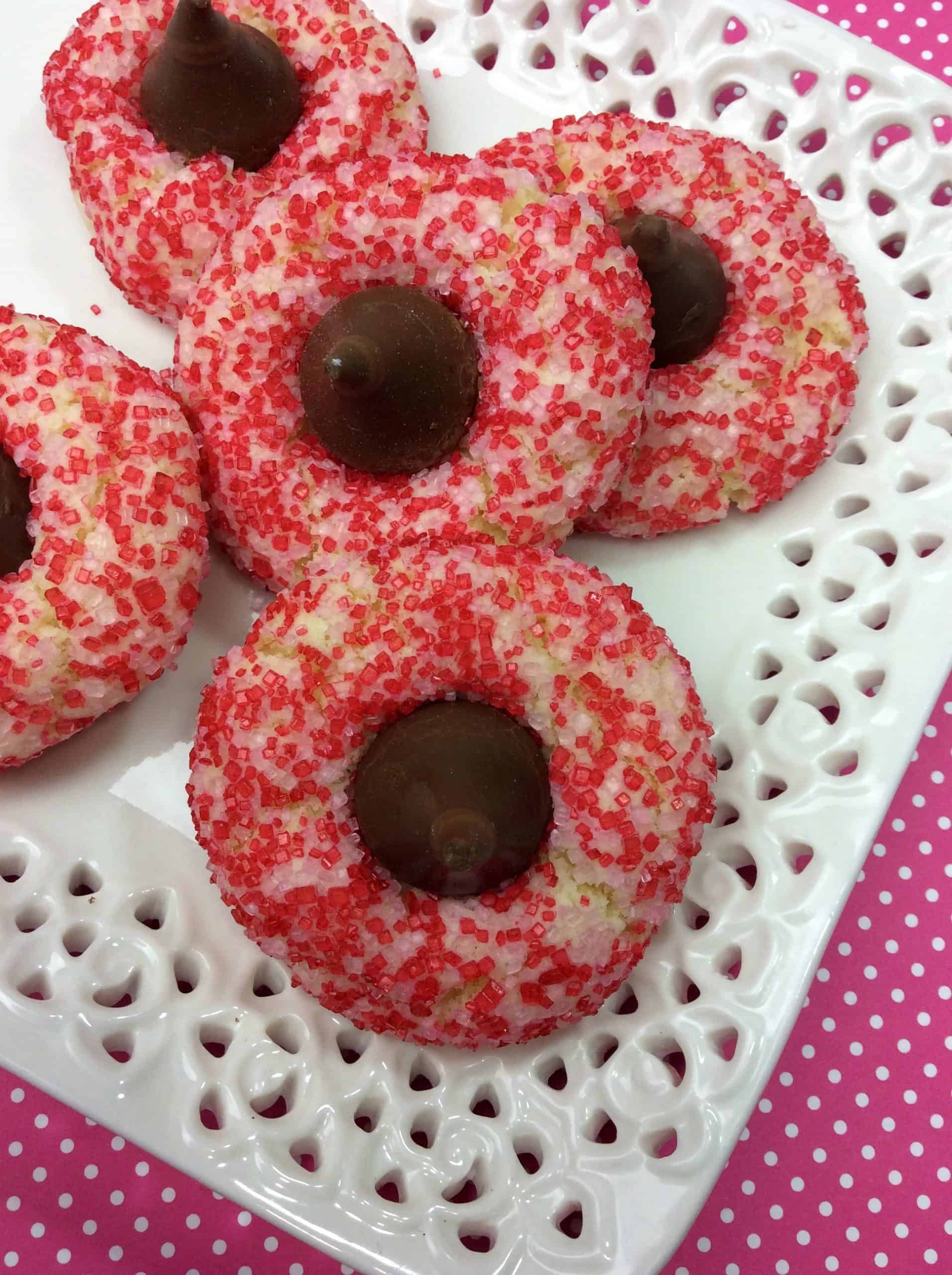 Valentine's Day Hershey Kiss Sugar Cookies.You are going to love Hershey Kiss Sugar cookies that are perfect for Valentine's Day. Enjoy this classic cookie recipe any time of year.
Looking for more Valentine's Day Fun? Check these out!