Keto Snacks are sometimes the only way that someone is going to be successful on the Keto Diet. I know this because it is the Keto Snacks and my Keto Coffee that keep me going most days. I am go, go, go from the time I wake up until the time I actually fall asleep. Sitting down to actually eat a meal doesn't happen until dinner time for me, so my keto snacks are how I keep going and on track all day long.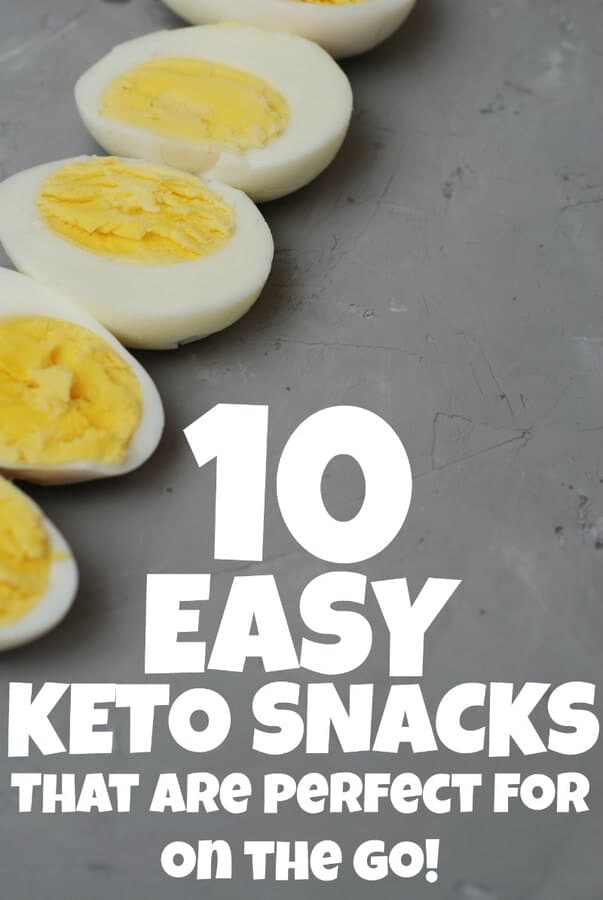 Keto Snacks to Bring with You on the Go
The Keto diet is great for weight loss and overall health. If you're on the go a lot, it can be hard to determine which snacks to bring with you. I like to bring a variety of Keto snacks with me on the go, so I thought I'd share some of my favorites with you! 
If you looking for snacks to keep with you while you are busy on the go, then you are going to love this list of Keto Snacks to bring with you on the go.
10 Easy Keto Snacks to Bring with You on the Go
Any type cheese
When you're on the go, any type of cheese is a good kind of cheese on the Keto diet. If all you have on hand, to bring with you, is cheese, you will be set! Cheese is full fat and fully awesome! Hey, you can even bring your own cheese chips along with you.
You can bring them in cheese slices, or just pieces of cheese in a container. Or you can make a batch of Keto Cheese Chips to bring with you. I also like to keep Whisps Cheese Crisps or Moon Cheese on hand for when I don't have time to make keto cheese chips.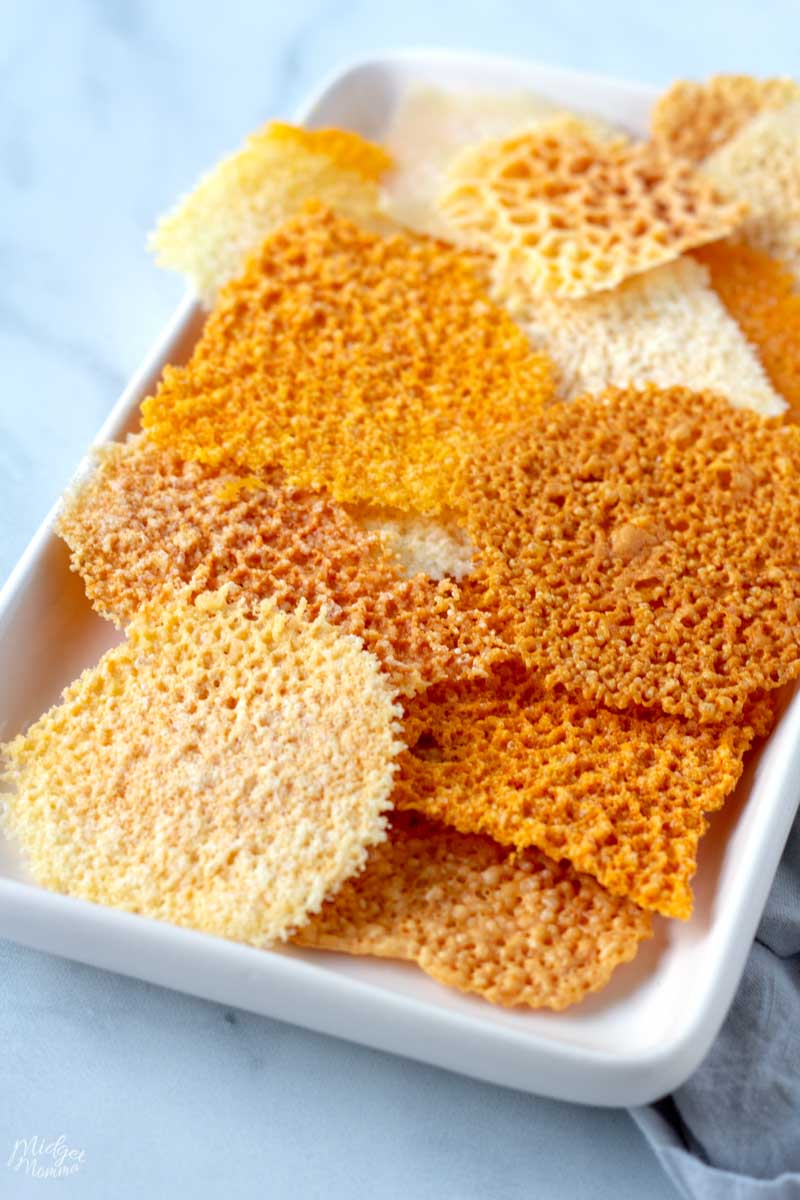 String Cheese
When it comes to bringing Keto snacks with me on the go, string cheese is my go to. I count this separate from other cheese because it is already prepackaged and you don't have to do any prep. You can easily stick it in a lunch bag or purse and it's already pre-packaged. All you do is have to grab it and go!
Eggs
In the mornings, on the go, it's hard to remember to bring something Keto. This is why boiled eggs have become my go to. They're quick to grab and they're filling and very Keto friendly. Plus, eggs go great on salads, lettuce sandwiches, or on their own. I feel like boiled eggs are super low maintenance and I like that.
When you are doing your meal prep for the week you can easily prep a full dozen eggs, by either boiling eggs or baking hard boiled eggs to make them. Then you can put them into containers and keep them in the fridge for easy grab and go snacks.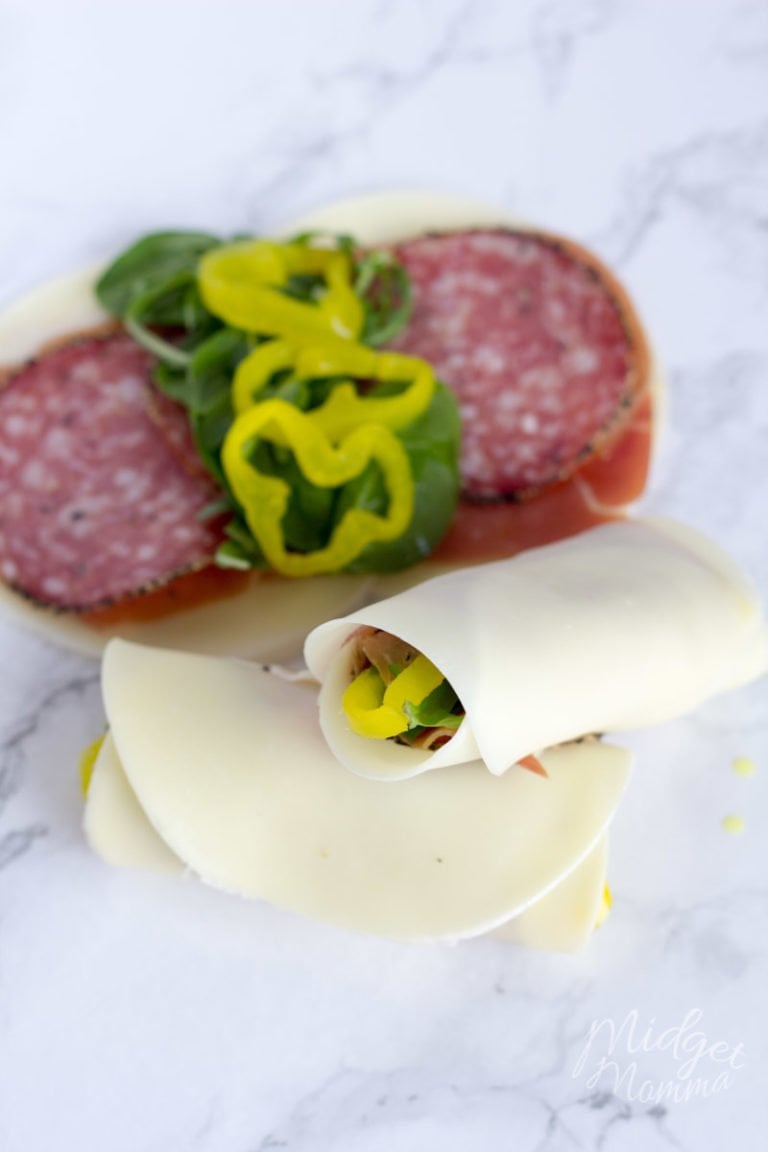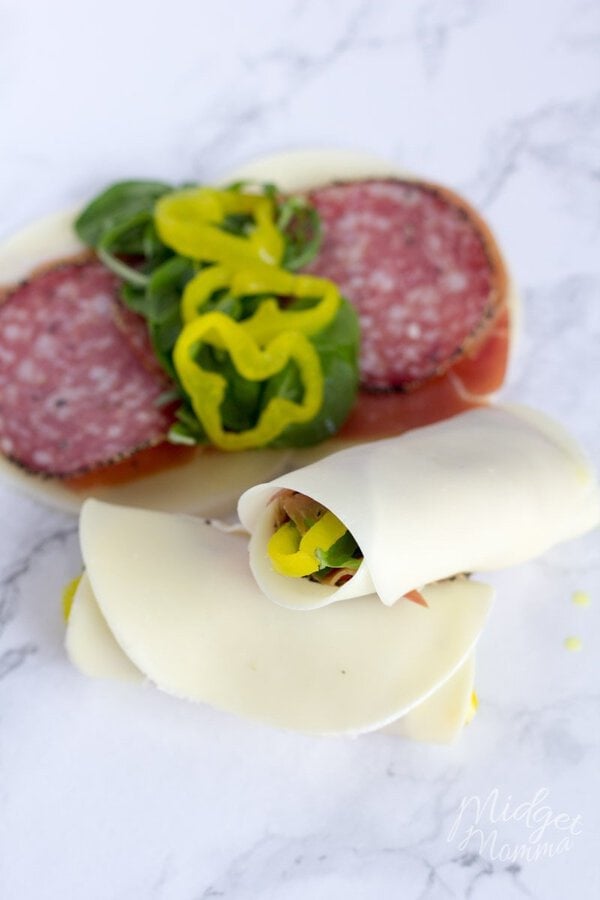 Lunch Meat
Fill a container full of lunch meat and be on your way. Part of the Keto diet is making sure you have enough protein. I have found that lunch meat is the perfect protein snack on the go. I like to add it to a low carb wrap or put it on a large leaf of lettuce with a little bit of mayonnaise.
If I know I am going to want to have this as a snack, sometimes while I am meal prepping I will make Keto Italian Sub rollups, so I am not just eating pieces of lunch meat. Bacon Ranch Pinwheels are also a great keto snack to prep ahead of time and keep on hand.
It is also important to note, that you want to be buying quality lunchmeat, you do not want lunch meat that is made with fillers.
Pepperoni Slices
Some people may not like the idea of eating Pepperoni Slices, on the Keto diet, but for those of you who do – it's the perfect on the go Keto snack. Since pepperoni is highly processed, you may not want to indulge in this snack all the time.
Nuts & Seeds
Nuts and seeds a great snack to keep with you. You do need to make sure you are measuring how much you are bringing since nuts will have more carbs compared to other items on this keto snack list. But they are a great item that you don't need to worry about keeping cold. You can buy prepackaged nuts or buy a large bag and make them into serving sizes yourself.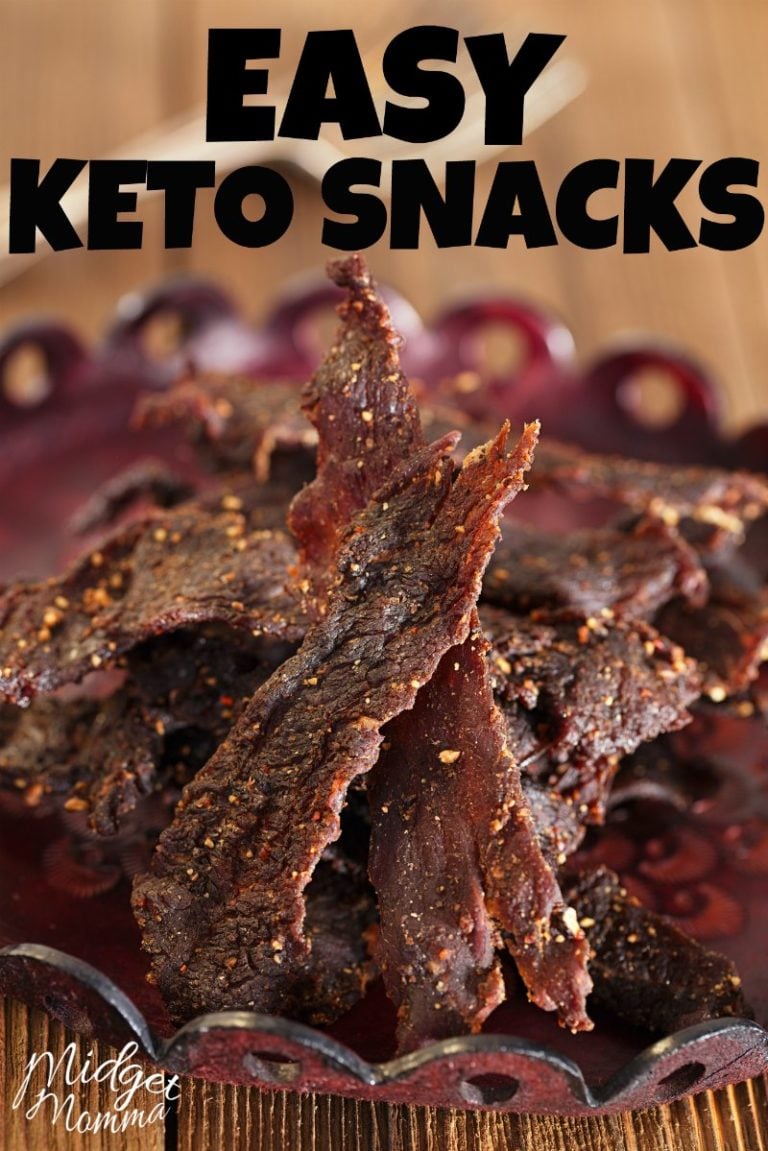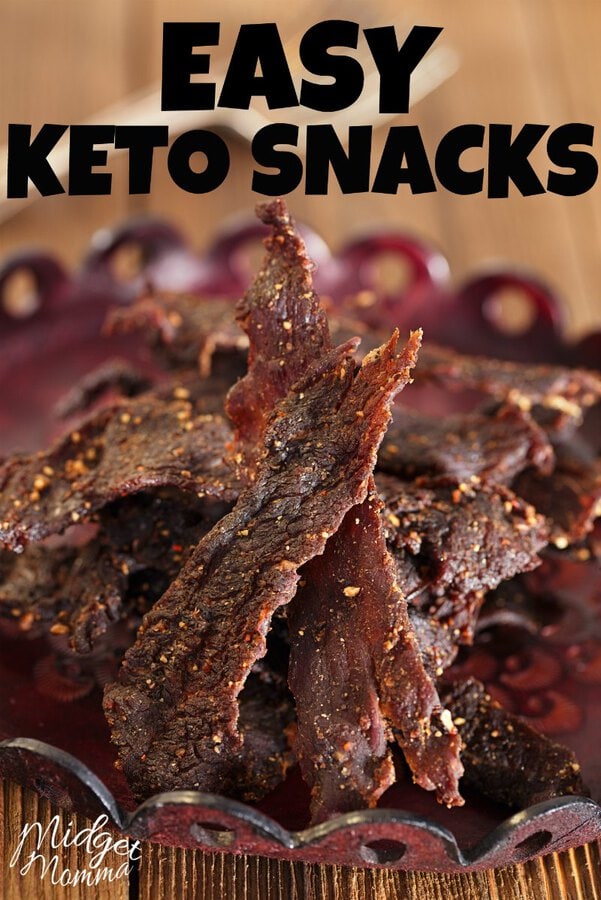 Beef Jerky
Beef jerky is another easy keto snack to keep on hand. Personally I like the ones that are individually wrapped, only because they make my life easier. But you can also buy the larger bags and portion it out yourself.
However be aware that lots of beef jerky has sugar added to it, when it is made. So make sure you are snacking on a brand that does not have sugar in it and is a low carb brand.
Olives
Okay, not everyone can stand olives, but if you can, it's the most perfect on the go Keto snack. I'd encourage you to stick a few olives in a baggy and be on with your day. Olives aren't fattening or high in calories or carbs.
You can buy a large jar of olives and portion them out yourself, or they also have these cool single serve olives that make it really easy to grab and go.
I have also heard a lot of people rave about these Garlic Stuffed Olives, although I have not tried them yet.
Pork Rinds
I know some people have a problem with Pork Rinds because they can't get over the fact that it's made from pig skin. (I have to admit I am one of them so don't feel bad if you are too). So, if you like pork rinds, bring them along as a snack that you can love! They also make them in snack sized bags that you can easily grab and go! 
Low carb veggies
When I am meal prepping for the week I always cut up veggies for my kids. I have done it for years, because they will eat any veggie I have in the fridge already cut up. To help myself have good snacks I have been adding Low carb veggies that I love to my meal planning prep. 
It is super easy to keep Low carb veggies on hand, just wash them, cut them up and then put them in to rubbermaid containers in the fridge. You can portion them out or just have a big container to grab from as needed. 
Keto Low Carb Veggie Snacks 
Cucumbers
Celery
green peppers
cauliflower
broccoli
You can also include things like homemade kale chips under low carb veggies that make great keto snacks.
Hopefully, these Keto snacks to bring with you on the go are just what you were looking for. 
Be sure to check out my Amazon Keto Snack List for tasty Keto snack items that you can grab on Amazon!
Be sure you also check out these other Keto Shopping lists to help you stay stocked up on all of your Keto and Low Carb needs!
Keto and Low Carb Diet Tips
Tasty Keto Recipes you will love!
20 Keto Casserole Recipes – Casseroles make dinner time easy! These Keto Casserole Recipes are ones my whole family loves!
Keto Seafood Recipes – 20 Keto seafood recipes that are totally amazing! All of these seafood recipes are easy to make and taste great!
Keto Chicken Recipes – Over 30 Keto Chicken Recipes that are easy to make! You will never be bored making keto chicken recipes with this list!
Keto Chicken Bacon Ranch Recipes – If you love the chicken bacon ranch flavor combo then you will love this awesome keto recipe list!
Keto Spaghetti Squash Recipes – Spaghetti squash is such a tasty veggie, add in the different ways of cooking and making spaghetti squash with these recipes and your whole family will love spaghetti squash!
Keto Breakfast Recipes– Stuck on what to eat for breakfast? There are a lot of tasty Keto breakfast recipes (not just eggs) that are super tasty!
Keto Instant Pot Recipes – Tasty Recipes that you can cook quickly in your instant pot!
Keto Soup Recipes – Soup is great for lunch or dinner, Plus it is perfect on chilly days too!
Low Carb Shrimp Recipes. – If you love shrimp then you are going to love these tasty low carb shrimp recipes with everything from baked shrimp to fried shrimp and more!