Chicken and Avocado Burrito are a simple but tasty lunch or dinner that is perfect for summer! With just 5 ingredients these Chicken Avocado burritos are perfect for a quick and easy meal! My whole family loves this Chicken Avocado Burrito Recipe!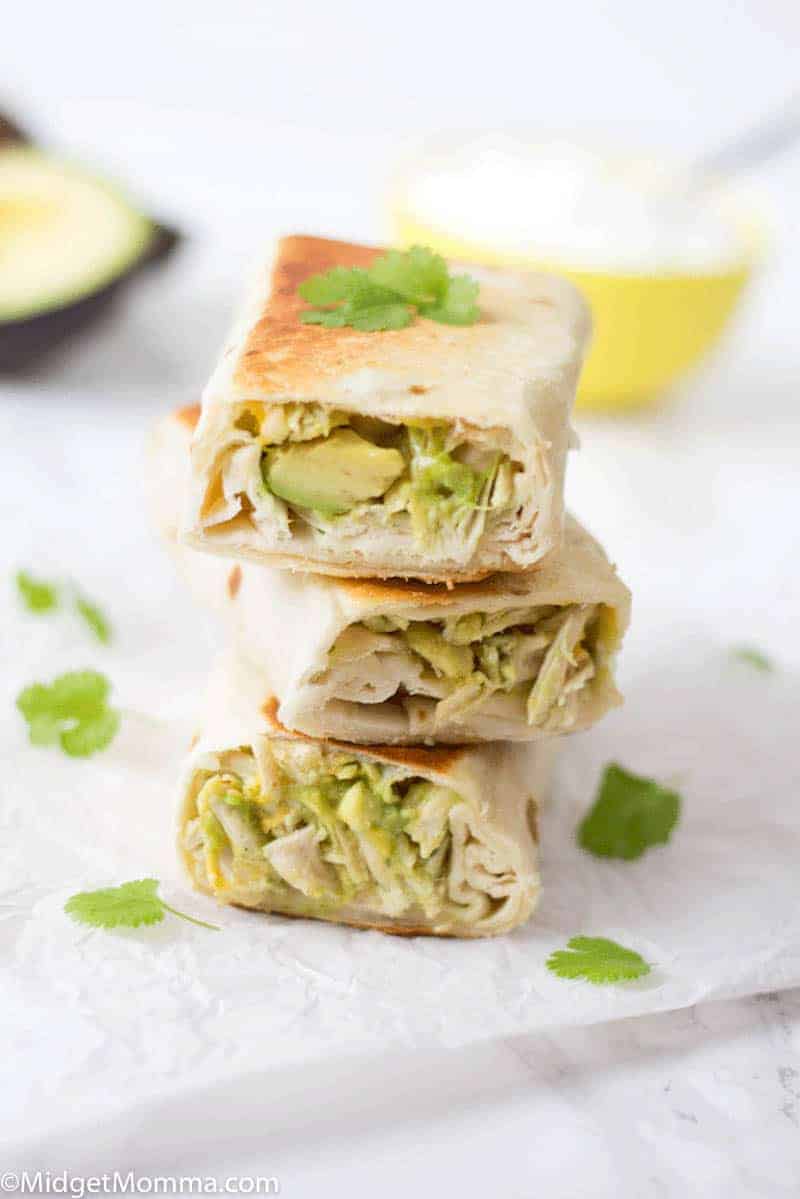 Chicken Avocado Cheese Burrito
If you are looking for an awesome summer time recipe this Chicken Avocado Cheese Burrito is one that will hit the spot for anyone who enjoys a good burrito. This Chicken Avocado Burrito super easy to make as well, which is of course a big plus during the summer when we would all much rather be having fun. This Avocado chicken burrito is perfect for lunch or dinner!
This can be a quick and simple meal if you use a rotisserie chicken or leftover chicken from the night before, so it is also a recipe that is good for using when you have leftovers.
I love the combination of chicken and avocados. It is such a great flavor combo that I love coming up with different chicken and avocado recipes. Chicken and avocado recipes are also perfect for summer! They are full of flavor, light meals but filling! If you love chicken and avocado then you have to try my amazing California Avocado Chicken and the best Chicken Taco Salad!
Easy Lunch Recipes
What to Serve with Chicken Avocado Cheese Burrito
This Avocado Chicken Burrito it tastes amazing with a side of tortilla chips and homemade Guacamole or homemade salsa. You can also make some homemade mexican rice and have a full easy tasty dinner!
Looking for more easy side dishes? Check these out!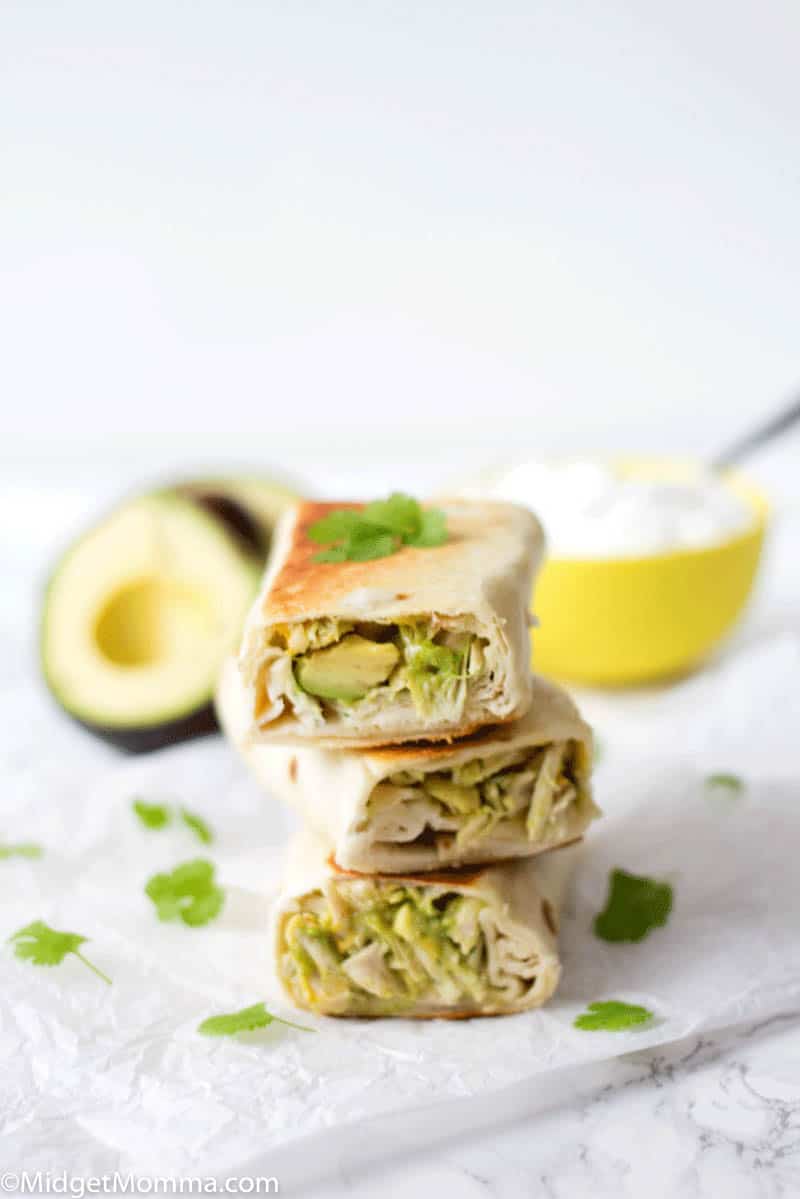 How to Bake Chicken
I normally make these chicken burrito wraps when I have left over chicken or a rotisserie chicken. However if you need to cook chicken before making these wraps, the easiest way to do it is to just toss raw chicken breasts in the oven to cook.
Place chicken breasts in a baking pan add a little olive oil and rub it on the bottom of the pan so the chicken does not stick. Then cook at 400 degrees for 30-40 minutes. You want the chicken to be at 165 degrees Fahrenheit.
How to Cook Chicken in a skillet
If you want to cook the chicken in a skillet, just slice your chicken breasts, season with a little bit of salt and pepper then cook over medium heat in a pan with about a 1/2 tablespoon of oil. You can also add a bit of taco seasoning to the chicken while it cooks as well if you want to. Cook for about 10 minutes, stirring occasionally until chicken is cooked all the way.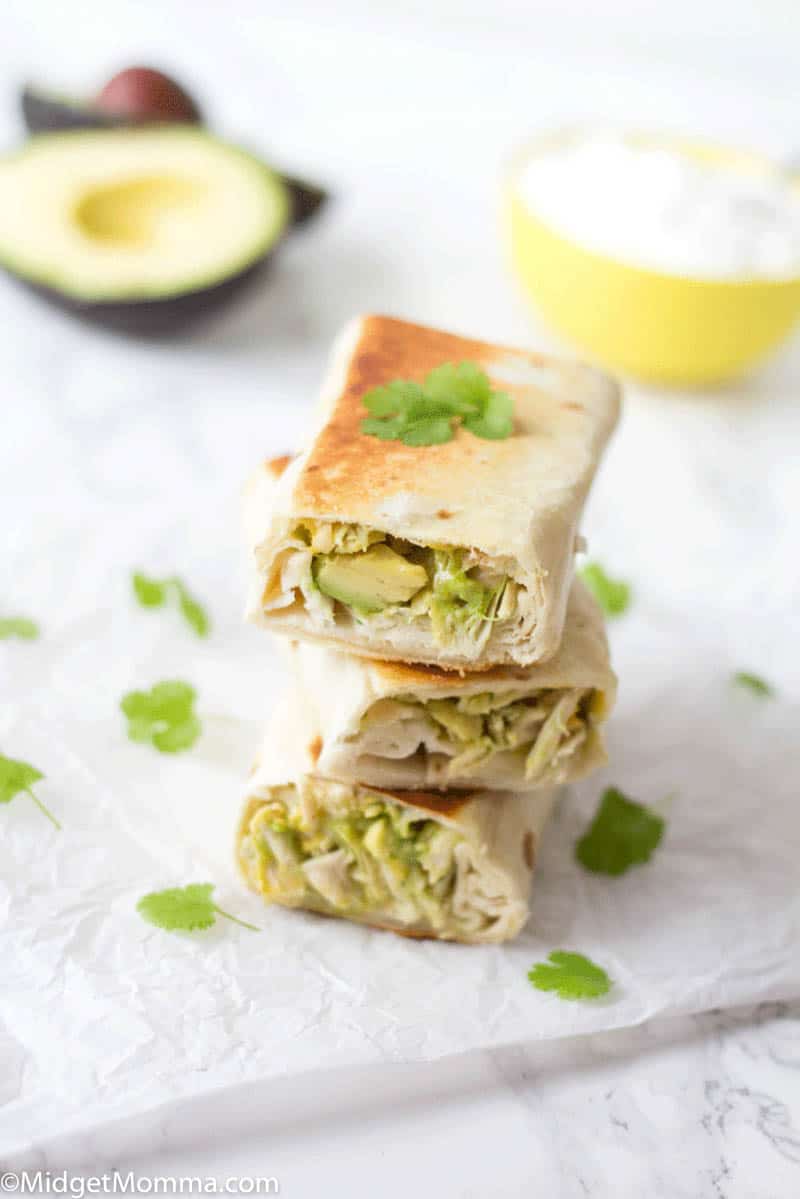 Chicken Avocado Cheese Burrito Ingredients
Shredded or diced cooked chicken
Mexican Cheese
Avocado
Cilantro
Tortillas
Oil
How to Make Chicken Avocado Cheese Burrito
Heat the griddle or a grill pan.
In a bowl mix the avocado, chicken, cheese and cilantro,.
Fill the tortillas with mix.
Fold tortillas.
Cook chicken avocado burritos on the grill or griddle.
Easy Chicken Recipes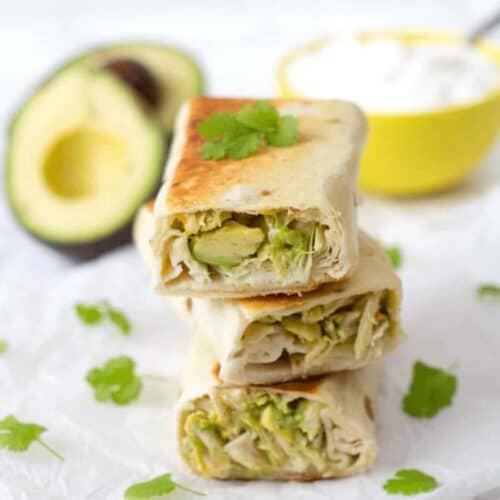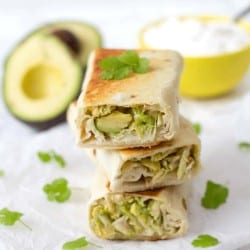 Chicken and Avocado Burrito
Servings
Chicken and Avocado Burrito are a simple but tasty lunch or dinner that is perfect for summer! With jsut 5 ingredients these Chicken Avocado burritos are perfect for a quick and easy meal!
Ingredients
2 cups cooked shredded chicken
½ cup Mexican cheese
1 avocado diced or mashed
2 tablespoons cilantro chopped
4 large tortillas
1 tablespoon oil
Instructions
Get your griddle out and heat griddle with the oil.

While your oil is heating in your pan grab a bowl and mix the chicken, cheese, avocado, and cilantro together.

Get your tortillas, or if you want to you can use homemade tortillas but you need to make them ahead of time.

Fill your four tortillas with mixture and wrap shut. Make sure you have them wrapped tightly so your filling does not come out.

Place the burritos on the grill and press them down with something heavy like a cast iron pan.

Once one side is brown flip the burrito over and brown the other side.

Remove from the grill and continue for each Chicken Avocado Cheese Burrito.
Calories: 369kcal | Carbohydrates: 20g | Protein: 24g | Fat: 22g | Saturated Fat: 5g | Cholesterol: 66mg | Sodium: 359mg | Potassium: 462mg | Fiber: 4g | Sugar: 2g | Vitamin A: 208IU | Vitamin C: 5mg | Calcium: 138mg | Iron: 2mg
Chicken and Avocado Burrito
Main Course
10 Weight Watchers SmartPoints on the Freestyle Program per serving when using chicken breast
Join the newsletter
Subscribe to get our latest recipes right in your inbox every time we post a new one!