One of my favorite things is Fried Macaroni and Cheese from The Factory, and well not only are they expensive they are way far away now that we have moved. One of my closest friends from NJ and I used to get them and share them when we went out:) But today I was having an "I miss NJ Day" and decided to make some myself(first time doing it) and I think they turned out great. We are not real big on fried food in this house but there are sometimes that we do fry things.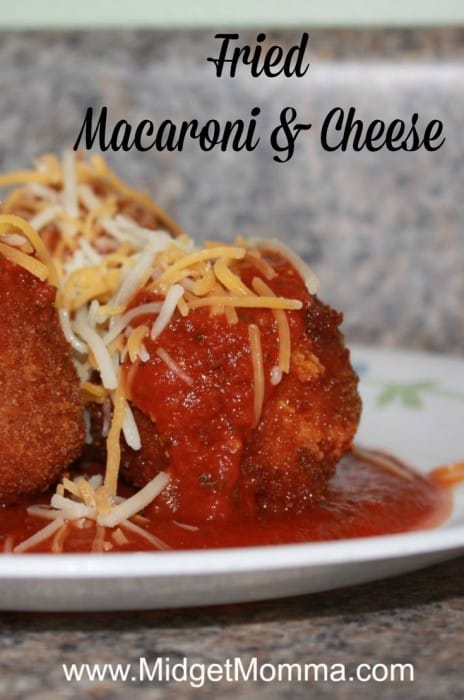 Copy Cat Cheesecake Factory Fried Macaroni and Cheese Ingredients:
1 box elbow Macaroni
1 1lb block cheddar Cheese
1/2 block cream cheese
bread crumbs
4 eggs
shredded cheese(just to sprinkle on top)
1 Jar tomato sauce
milk
Also Needed:
Wax paper
baking sheet
Copy Cat Cheesecake Factory Fried Macaroni and Cheese Directions:
1-prepare pasta according to box and drain,  add back into pot
2-chop up the cheddar cheese and the cream cheese into cubes
3 mix cream cheese, cheddar cheese and pasta till the cheese is melted and coats the pasta
4-form pasta into balls and put in the freezer on baking sheet lined with wax paper for 2-3 hours (until they are completely frozen)
5-have 1 bowl of bread crumbs and 1 bowl with 2-3 eggs mixed with a little bit of milk
6-take frozen mac and cheese balls and dip in milk/egg mixture then into bread crumbs do this 2 times for each mac and cheese ball
7-after you have coated all the mac and cheese balls it is time to fry them. I used my deep fryer set at 350 and they took 3-5 minutes per batch
8-Once they are done being fried(they will be a dark brown color) put a spoon full of sauce on the bottom of a plate, place mac and cheese balls on top of sauce, spoon a little bit of sauce on top if you like extra sauce and sprinkle with shredded cheese.
This post may contain affiliate links. Please read my disclosure policy here