So the first thing I think of when I think of Easter is my great Nana's forgotten cookies. Only on Easter we would be allowed to have these cookies as a tradition. Every year the night before Easter my mom and my siblings would get out my Nana's old recipe card and make these cookies together. The reason they're called forgotten cookies is because they would be left to dry out in the oven overnight. Now that my mom is Nana she loves having the opportunity to make these for her grandchildren. Since I moved away this was my first time making them on my own. I love my KitchenAid so much but when I make these cookies I have to do it the way I was taught so I prefer to use a hand mixer and I also use my grandmothers bowl. These cookies taste so decadent like they are very hard to make but actually there are only four ingredients and are very simple to make.
Easter Cookies Recipe
Nana's Forgotten Easter Cookies
Make sure you also check out all our AWESOME recipes here
Make sure you follow on Facebook and Pinterest for when we post new recipes 🙂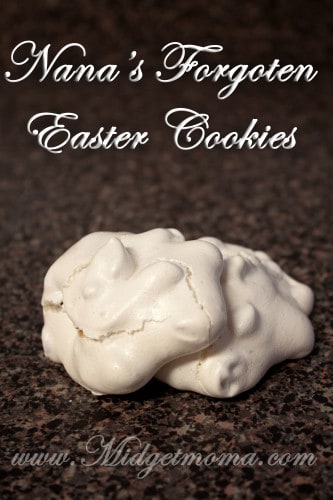 Easter Cookies Recipe | Nana's Forgotten Cookies
2 egg white
2/3 cup sugar
1 teaspoon vanilla extract
1 cup chopped walnuts or pecans
1 cup chocolate chips
Nana's Forgotten Cookies Recipe Directions (Scroll down for the printable version 🙂 )
Line cookies sheet with ungreased foil. Preheat oven to 350 degrees. Beat the sugar and egg whites till stiff. Than add vanilla, nuts, and chocolate chips. Drop the batter by teaspoon onto the cookie sheet. Put into the oven and turn off the oven. Leave in the oven until morning. (Don't look at them)
Nana's Forgotten Cookies Recipe Directions With Pictures
To start preheat the oven to 350 degrees.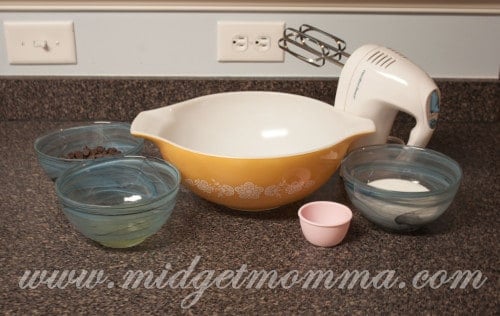 Take your egg whites and sugar mix them until you see them thicken up and leave swirls like shown in the picture. When you lift up the mixer the batter should be stiff peeks.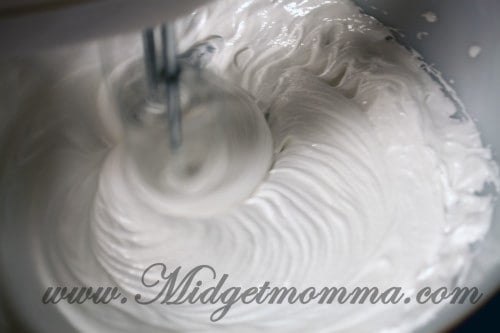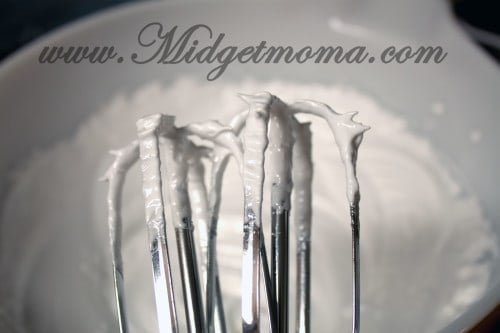 Next mix in the vanilla and chocolate chips. You may add chopped walnuts or pecans but I don't add them because that's the way I was taught to make them.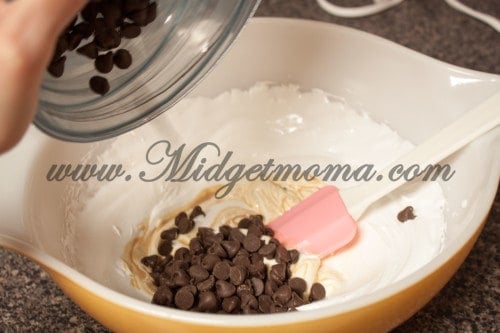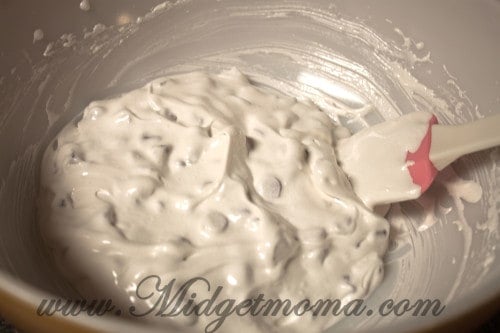 Scoop the batter with a teaspoon onto a sheet pan covered in aluminum foil that has not been greased.
Place the cookies into the oven and immediately turn off the oven. You need to make sure the oven door stays closed for at least five hours. It is best to leave these cookies in overnight. To remind people not to open up the oven door I leave a little sign warning them not to open. The residual heat from preheating your oven will cook the cookies.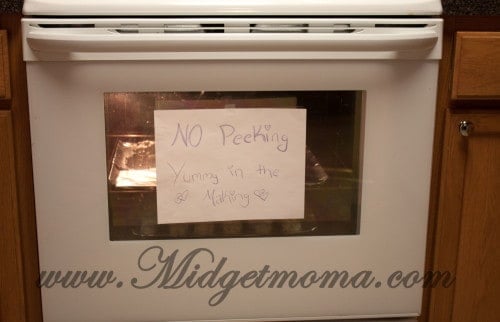 In the morning you can take them out of  the oven and just peel them off aluminum foil. Enjoy
Find more Baking tips and recipes here
Easter Cookies Recipe - Nana's Forgotten Easter Cookies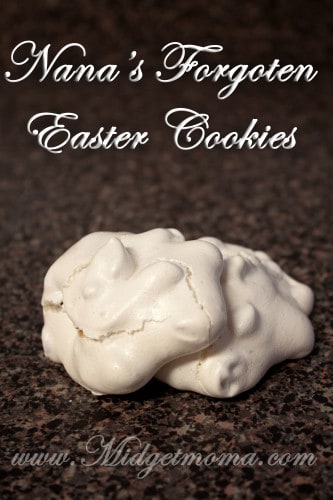 Prep time:
Cook time:
Total time:
Ingredients
2 egg white
⅔ cup sugar
1 teaspoon vanilla extract
1 cup chopped walnuts or pecans
1 cup chocolate chips
Instructions
Line cookies sheet with ungreased foil. Preheat oven to 350 degrees. Beat the sugar and egg whites till stiff. Than add vanilla, nuts, and chocolate chips. Drop the batter by teaspoon onto the cookie sheet. Put into the oven and turn off the oven. Leave in the oven until morning. (Don't look at them)
This post may contain affiliate links. Please read my disclosure policy here