Halloween BOOing! The fun Halloween tradition of secretly giving Halloween treats and gifts to friends, family members, neighbors and even strangers!
Everything you need to know about How to BOO for Halloween, BOOing Ideas and Printable to use when you are doing in your Halloween BOOing.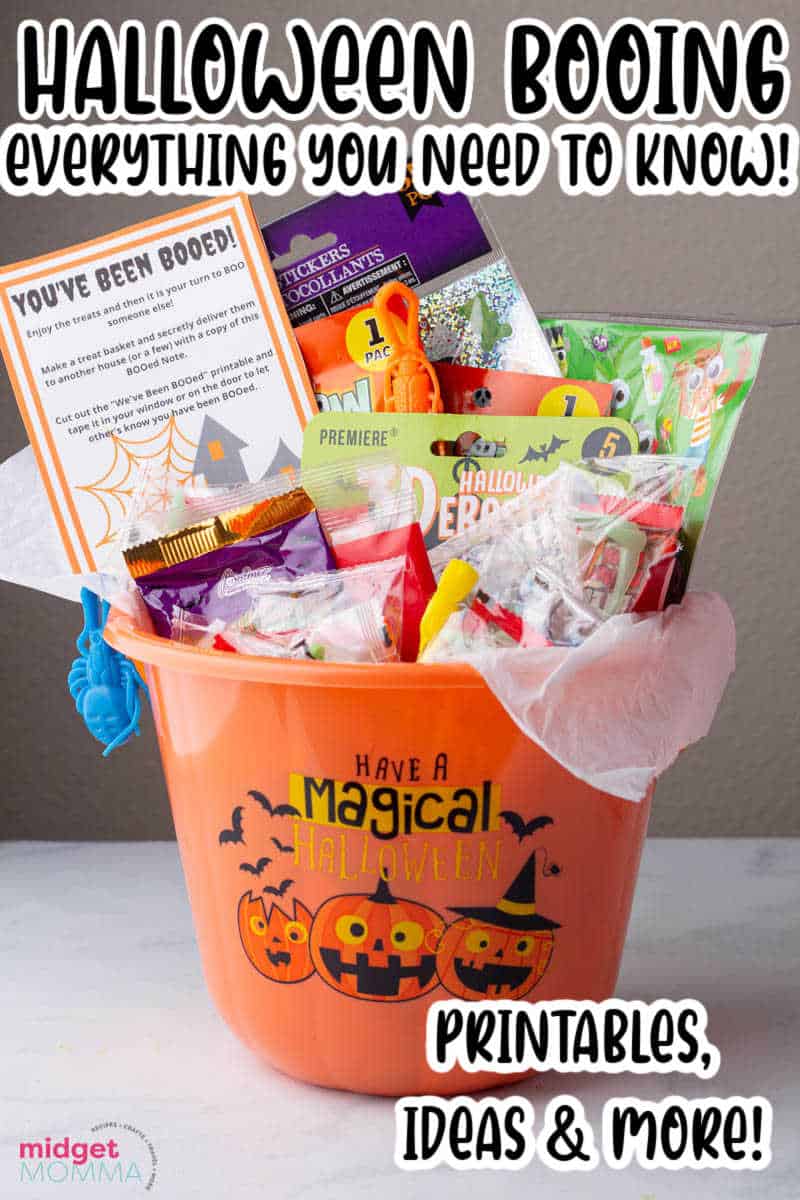 Halloween BOOing
Halloween is almost here and that means that it is time to start having some fun. Recently the hottest thing is to BOO your friends, neighbors and sometimes even strangers.
We have lots of Halloween traditions like Carving a Halloween pumpkin (Sometimes free hand and sometimes using pumpkin carving templates) and making Slime with pumpkin guts, Having Halloween Parties (when we can), and of course making Halloween treats.
This year we have added something new, which was totally unintentional but totally fun and something we are for sure going to do every year from now on, Halloween BOOing!
We had never done the Halloween BOOing until this year when we were BOOed and as soon as we were knew I had to share about it with you guys and get to making some printables so you could join in the fun. The kids loved getting a BOO basket and they loved it even more when we made our own BOO baskets to deliver to people in our neighborhood. I can tell you now this will be a Halloween tradition that we continue doing each year.
If you have done Halloween BOOing before and you are looking for "You've Been BOOed" Printables and "We've Been BOOed" Printables, scroll down a bit and you will find 4 different printable options to pick from!
What is BOOed For Halloween?
Also known as Ghosting, Booing, Being Booed, the BOOing Halloween tradition and I am sure many other names is the perfect way to spread some kindness and fun for Halloween and thru out the month of October.
Simply put, you put together a basket of Halloween treats and secretly deliver it to someone's house, with a note that says "You've Been BOOed" and leave it for them to find
If you receive a BOOing basket then you carry on the fun by putting a sign on your door letting people know you were BOOed and then make baskets of Halloween treats to secretly deliver.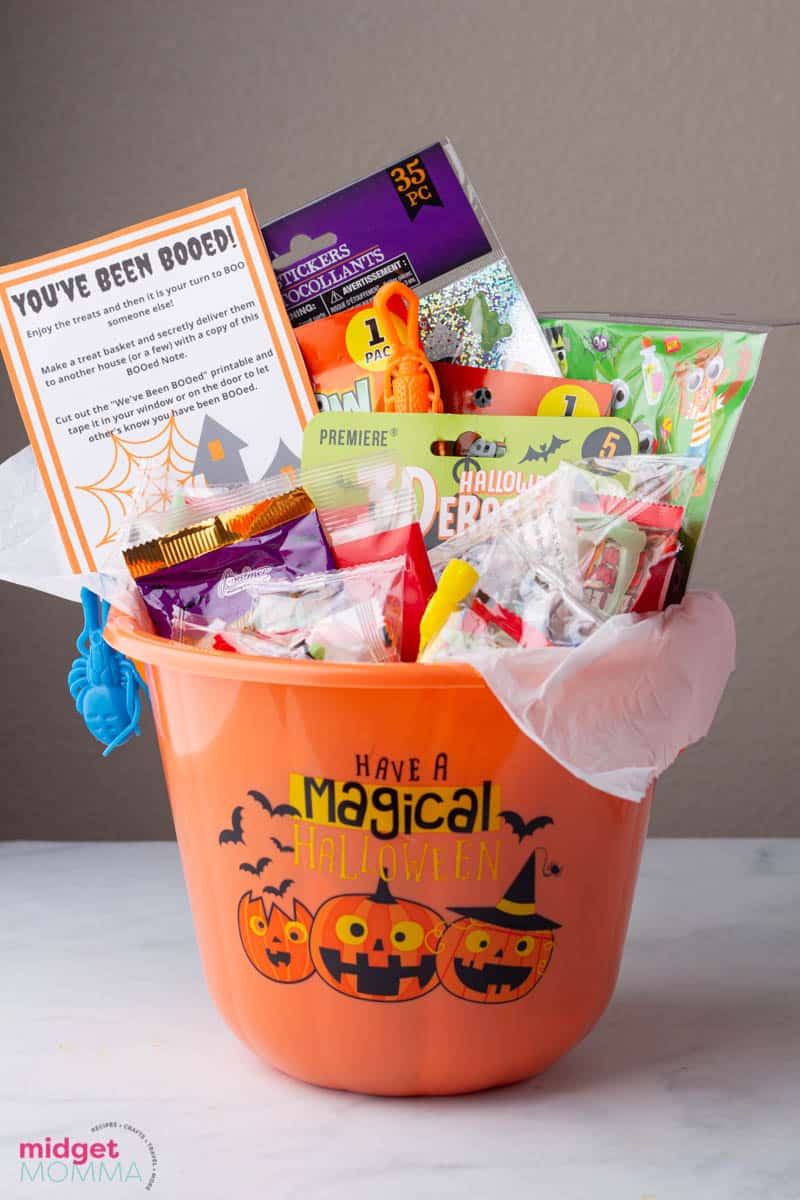 How does Being BOOed Work?
If you get a BOO basket first, enjoy the treats and then it is your turn to BOO someone else! Make a treat basket and secretly deliver them to another house (or a few) with a copy of this BOOed Note. Hang the "We've Been BOOed" sign on your door or window to let other's know you have been BOOed.
You can also be the BOOing starter and start the tradition in your neighborhood and with your friends by putting together a Halloween basket and delivering it to someone secretly.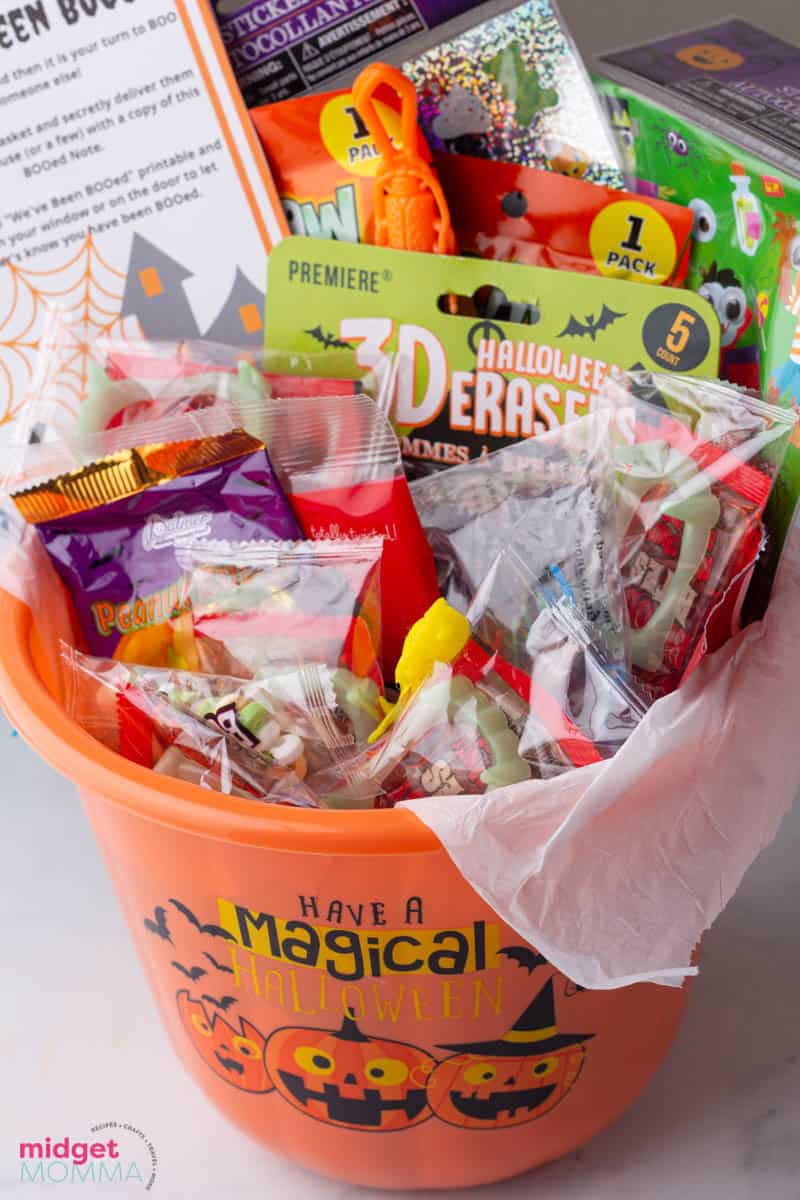 What do you put in a You've Been BOOed basket?
First, you want a basket, there are lots of ideas for the basket. You can use a plastic cauldron, a plastic pumpkin, a wicker basket, really just about anything that can hold treats is great for filling. Here are some great ideas for your BOOing Basket:
You can even check out the dollar store for Halloween baskets, ours had the large pumpkin plastic buckets for a buck!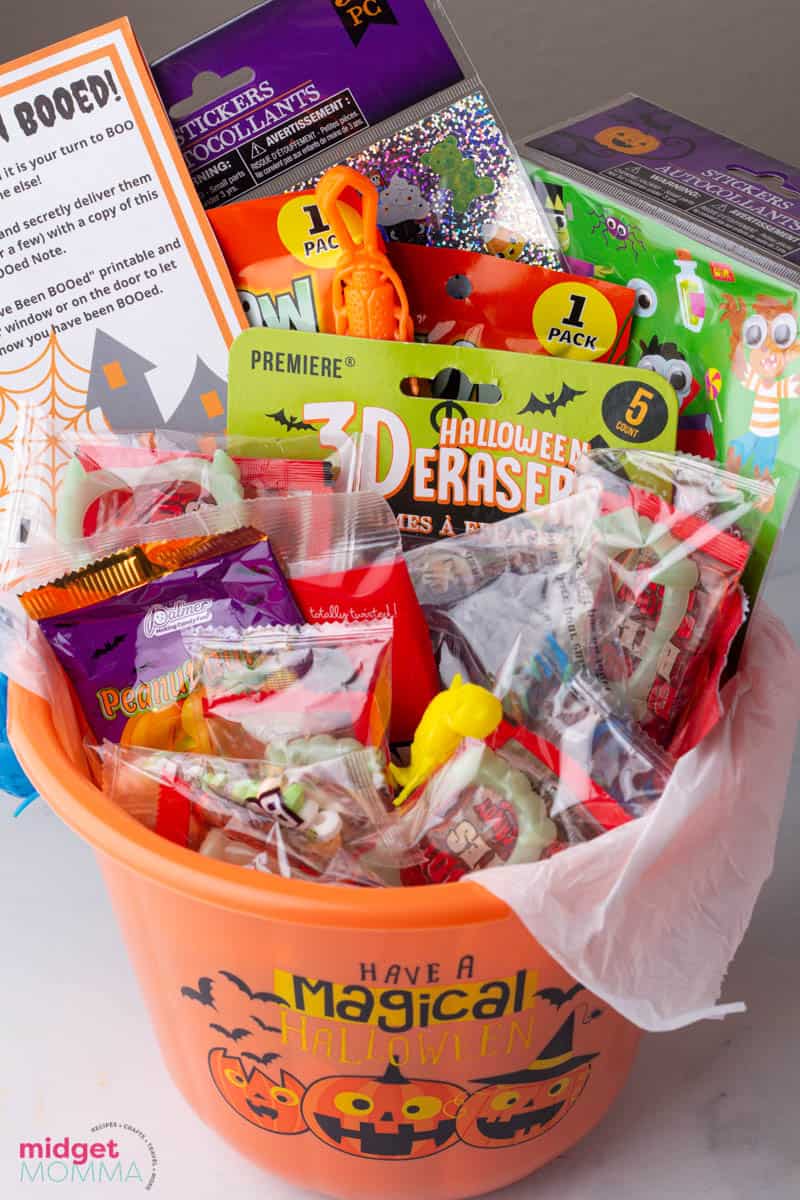 Once you have the bucket you want to use you are going to want to pick out the treats you want to put in it. There are so many  different things that you can include in a BOOed Basket. Some ideas are:
Once you have all of your goodies in your Halloween BOOing Basket it is time to print out the "You've Been BOOed" note and the "We've Been BOOed" note to include in the baskets you are delivering. We have 4 different printables that you can pick from and print out.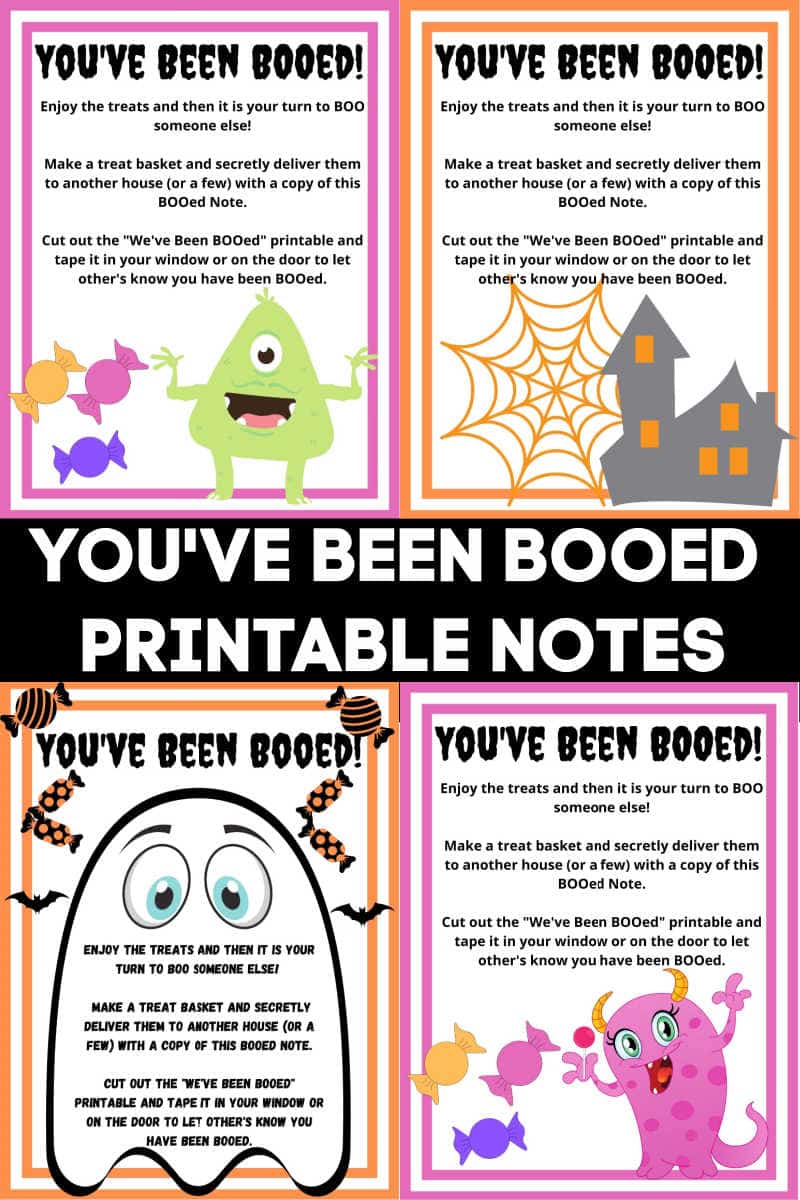 You've Been BOOed Printables
To Make things Easier we have made some fun You've Been BOOed Printables, all you have to do is print them out and include them in your BOOed basket of treats.
Pink Monster You've Been BOOed Note
Green Monster You've Been BOOed Note
Haunted House You've Been BOOed Note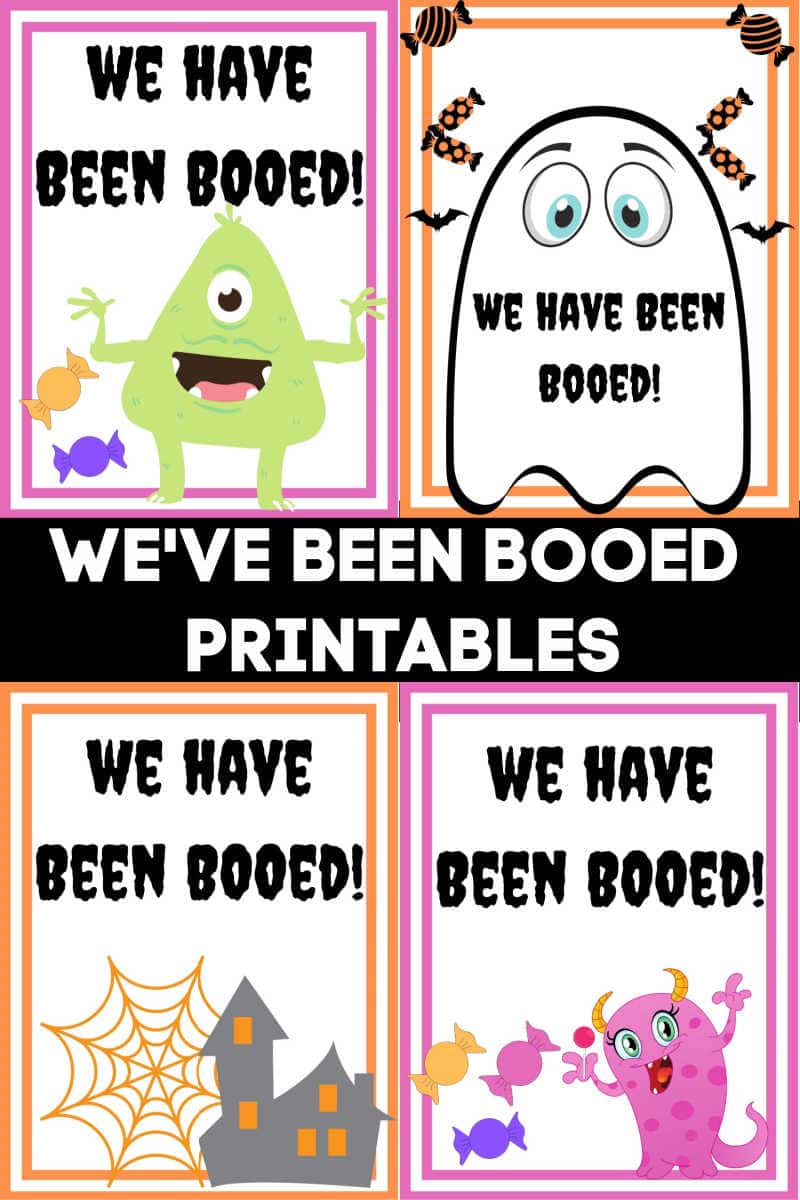 We've Been BOOed Printables
If you were BOOed but your basket did not have a "We've Been BOOed" to hang in the window or the door, you can print one of these!
Pink Monster We've Been BOOed Sign
Haunted House We've Been BOOed Sign
Green Monster We've Been BOOed Sign
Looking for more Halloween Fun? Check these out!