How To Melt Chocolate In A Double Boiler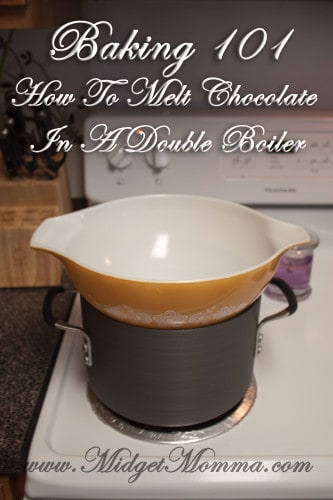 The art of melt chocolate can be a trick thing if you don't know what you are doing. The last thing you would want to do is throw it into a pan and just put that on the stove. Chocolate can burn very easily. A double boiler is a bowl on top of a pot with water in it. It creates a seal and the steam gets trapped underneath to heat the bowl gently.
You can buy a double boiler but it is just a easy to make your own. You will need a pot and a ceramic, metal or glass bowl. You want to make the bowl fits right on top of the pot so it creates a seal. You only want to add a few inches of water, you never want the water to touch the bottom of the bowl. You will need to heat the water over medium heat. Once the water comes to a boil place your bowl with chocolate on top. You want to make sure no water gets in the bowl with the chocolate, this will case your chocolate to cease up. You will want to use a rubber spatula to keep scraping down the boil so the chocolate of the side of the bowl will not burn. Once the chocolate is melted remove the bowl from the heat.
This post may contain affiliate links. Please read my disclosure policy here
The following two tabs change content below.
MidgetMomma
Stay-at-home mom of 3 turned work at home mom living in the Poconos, Lauren is a self admitting coffee addict, coupon loving lady who loves helping others and teaching others to save money. Lauren loves a good deal on quality products and finding ways to save money so she can do the things she loves. Lauren believes the challenges in life are what make us who we are and we should love and embrace ourselves and take time to help others. When not blogging Lauren loves to shop (with coupons and deals of course), travel, hang out with family and enjoy great food.
Latest posts by MidgetMomma (see all)