Lucky Charms Cupcakes with Marshmallow Icing & Surprise Filling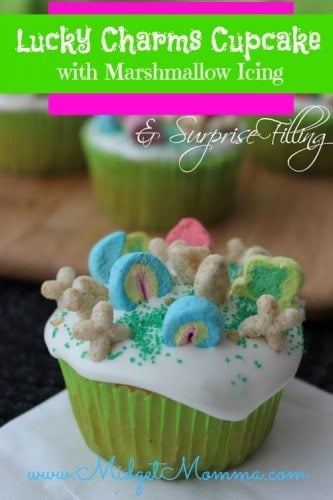 If you are looking for a fun cupcake for the kids for a surprise or for St. Patricks day these Lucky Charms Cupcakes with Marshmallow Icing & Surprise Filling are perfect. They are fun and festive and there are a few things you can do to make them your own and get creative! They will definitely be a hit with the kiddos! 
Lucky Charms Cupcakes with Marshmallow Icing & Surprise Filling Ingredients:
1 box Cake Mix – You can use chocolate or Vanilla for these, vanilla was used when making them. You can also make you boxed caked mix taste like a bakery cake with the directions found here
3 Eggs
1/3 cup Vegetable Oil
1 cup Water
Green Decorating sprinkles
1/4 cup softened Butter
7 oz Marshmallow Cream
2 1/2 cup Powdered Sugar
1 to 2 tbsp  Milk
1-2 cups Lucky Charms cereal
Lucky Charms Cupcakes with Marshmallow Icing & Surprise Filling Directions:
Making these is easy and fun, first bake the cupcakes according to the package. Or you can use my post here on how to make Boxed Cake taste as good as a bakery . Bake your cupcakes and let them cool.
Combine the butter and marshmallow cream in a bowl and use your stand mixer (I use my kitchenAid) or use a hand mixer and mix until blended well. Then slowly add the powdered sugar and mix well, then gradually add the milk until the icing consistency you want. For these a little bit runnier then normal gives them more of stylish look to go along with the marshmallow icing theme.
Remove half of the icing to another bowl and add green food coloring and mix well to blend color, you can go as dark or bright as you want. If you want darker green add more drop but if you want a bright green go with the neon food coloring.
Transfer green icing to zippered bag and clip corner to pipe or using an icing bag with a wider opening tip.
Using a knife cut a small square in the center of each cupcake and fill with the green icing, you can make the icing go as deep as you want to in the cupcake

Then cut off inner part of removed "plug" and replace in cupcake. Now your surprise filling is hidden

Ice top of cupcake with white icing, you can use a spatula if you want it to be flat icing or you can use a piping bag to give it an icing swirl, follow the directions here on How to Create a Cupcake Icing Swirl
Once your cupcakes have icing on them place Lucky CHarms pieces on top and sprinkle some green sprinkles on top.
This post may contain affiliate links. Please read my disclosure policy here
The following two tabs change content below.
MidgetMomma
Stay-at-home mom of 3 turned work at home mom living in the Poconos, Lauren is a self admitting coffee addict, coupon loving lady who loves helping others and teaching others to save money. Lauren loves a good deal on quality products and finding ways to save money so she can do the things she loves. Lauren believes the challenges in life are what make us who we are and we should love and embrace ourselves and take time to help others. When not blogging Lauren loves to shop (with coupons and deals of course), travel, hang out with family and enjoy great food.
Latest posts by MidgetMomma (see all)