If you are looking for an amazing crispy baked chicken wings recipe then you are in luck! These Garlic Parmesan Wings are easy to make and the flavor is amazing! These easy Garlic Parmesan Chicken Wings are perfect to serve as an appetizer or a the main part of a meal.
I personally love chicken wings, I love how easy it is to change up the flavors and always have something tasty to enjoy. I get really excited when I see chicken wings on sale at the store, sometimes probably a little to excited, but hey what can I say wings are amazing!
If you are also looking for the perfect side dish, green beans and bacon is one of our favorites!
Garlic Parmesan Wings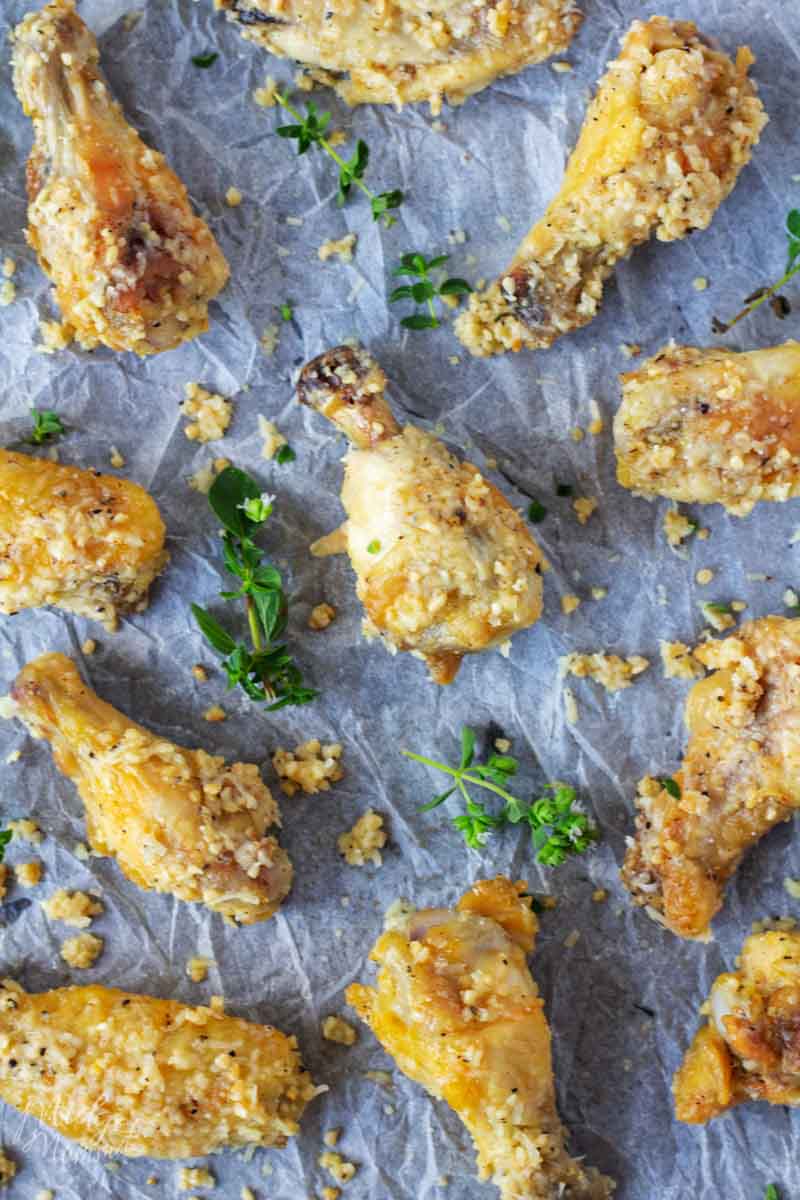 With this easy baked chicken wings recipe, you will have oven baked chicken wings in less than 30 minutes! That is just enough time to get a few other tasty dishes like microwave sweet potatoes, Garlic Parmesan sweet potato fries, parmesan asparagus, and Cauliflower White Cheddar Mac & Cheese.
I change up what I make as a side for this garlic parmesan wings recipe depending on my mood or what I am making them for. If I am making garlic parmesan wings for dinner then I try to have a few different veggie sides that we love and we have an easy to make healthy dinner.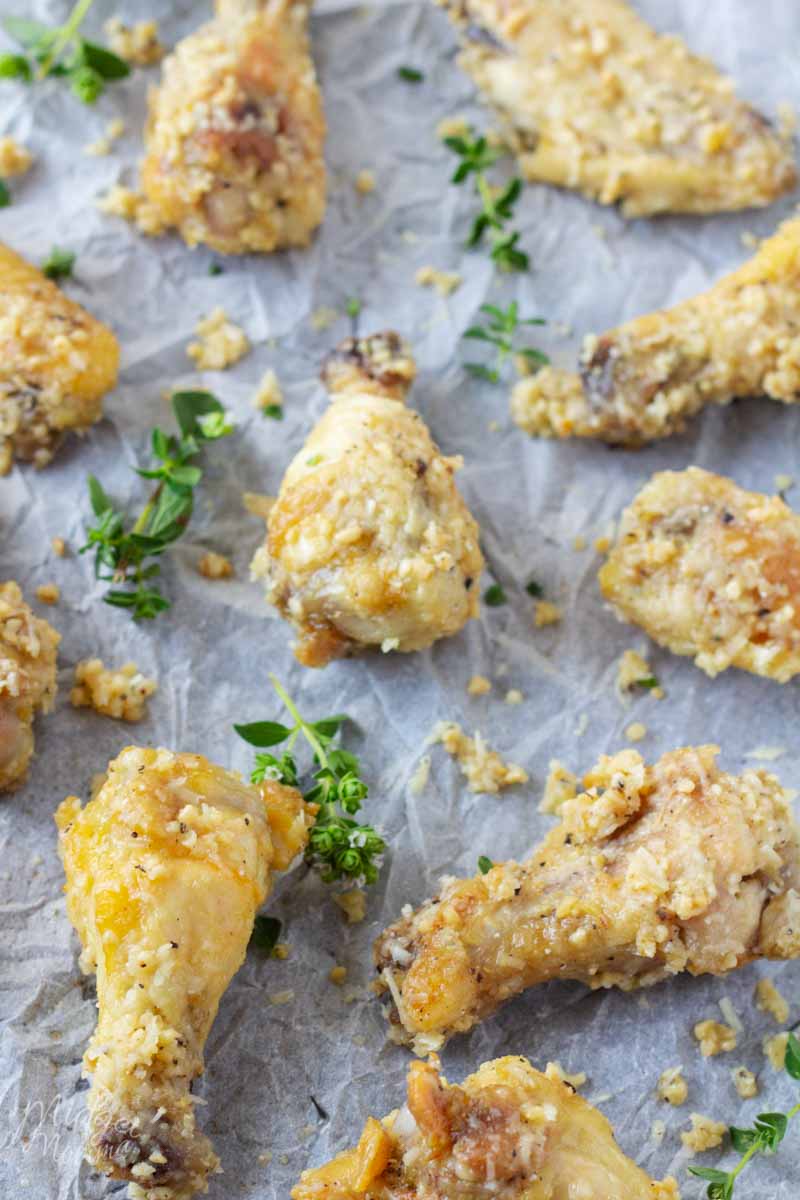 They have always been a hit anytime I have made them for a party! If we are making parmesan wings for having a party then I also like to make my copycat Auntie Anne's pretzel recipe, Crock pot Queso, Buffalo Chicken Nachos, and Chicken Bacon Ranch Fries. It is like the perfect party spread combo!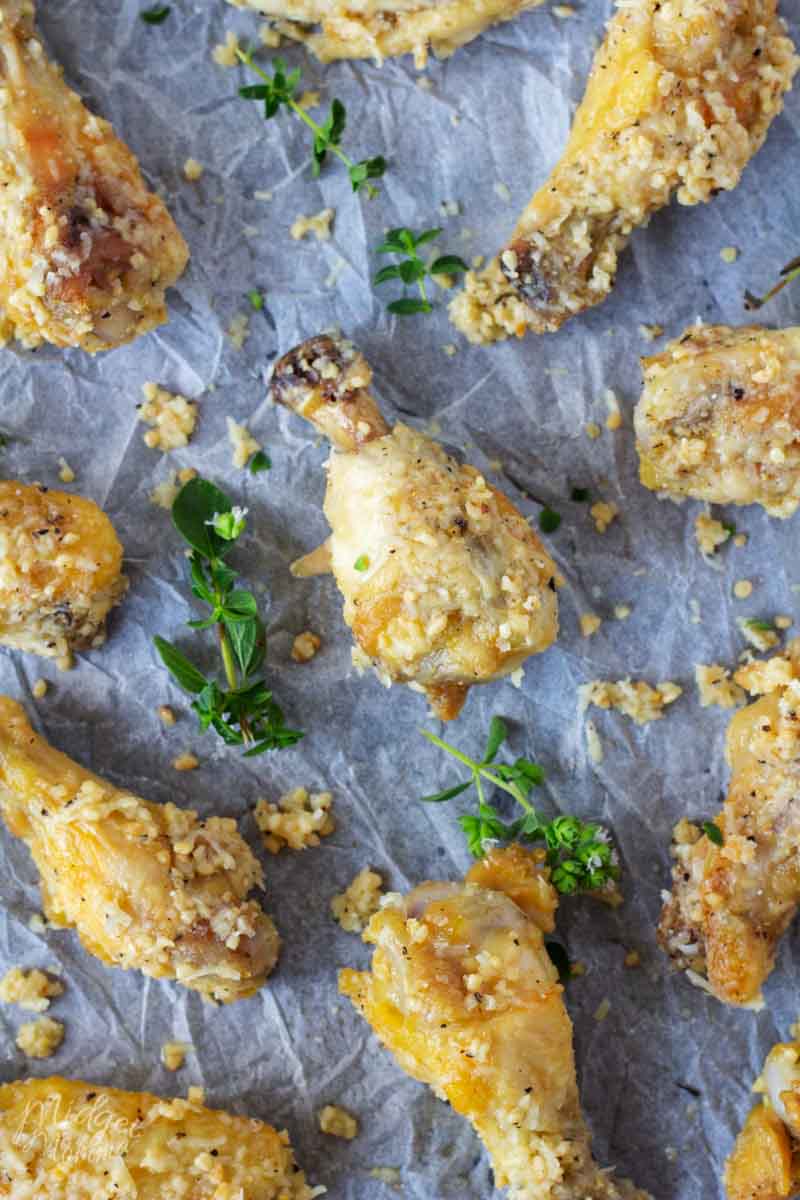 With these garlic parmesan wings you don't have to worry about a messy garlic parmesan wing sauce, which I personally love because there is less mess to clean up! Less mess.. YES PLEASE!
If you are a big fan of wings like we are then you will also want to try Baked Cajun Chicken Wings! Oh they are so good too! I am not sure which one is my favorite, so please don't ask me to pick just one. 🙂
Baked Parmesan Chicken Wings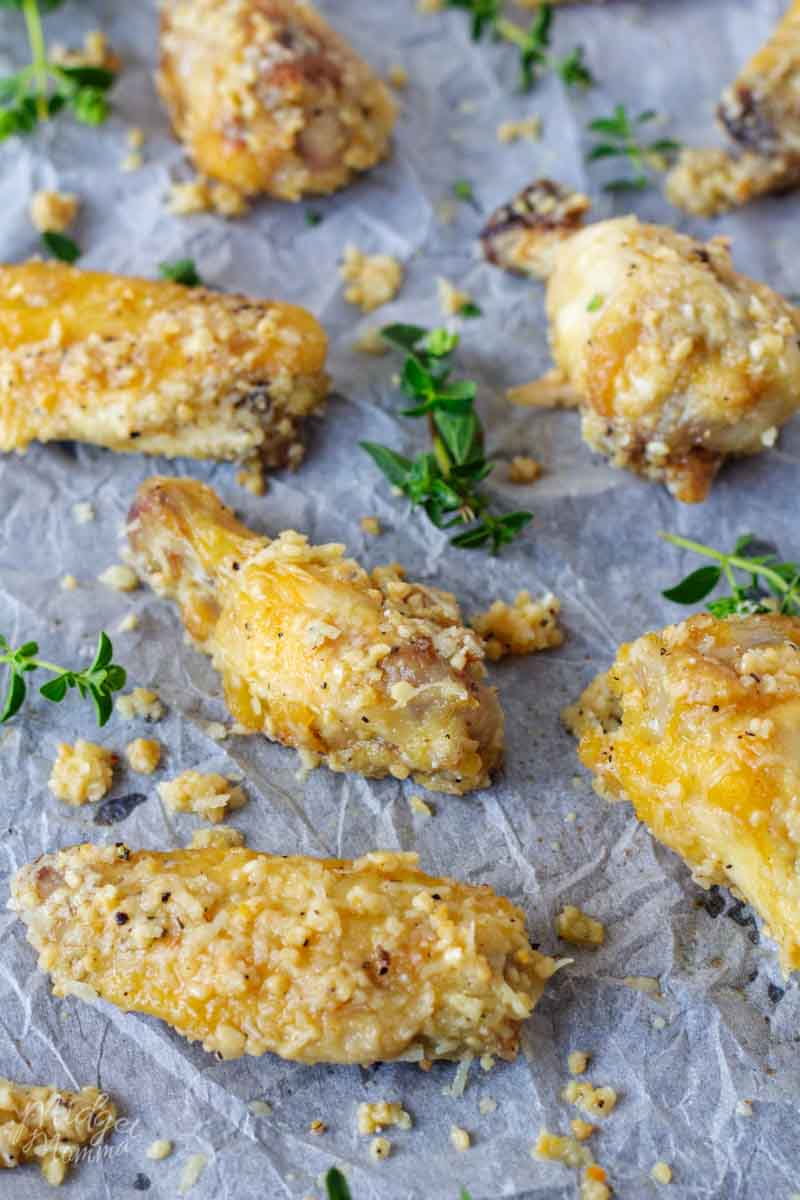 If you are on the Keto Diet this a tasty keto friendly chicken wing recipe. It is easy to make and there is just 1 carb per serving!
How to Make Garlic Parmesan Wings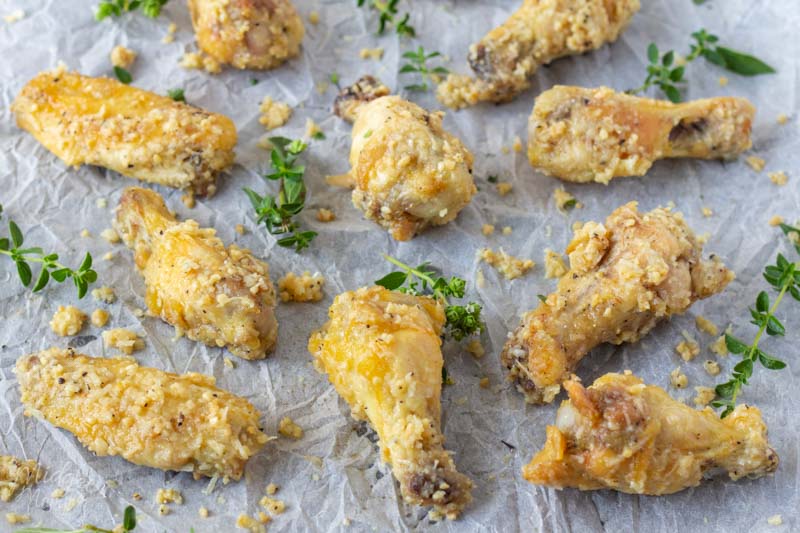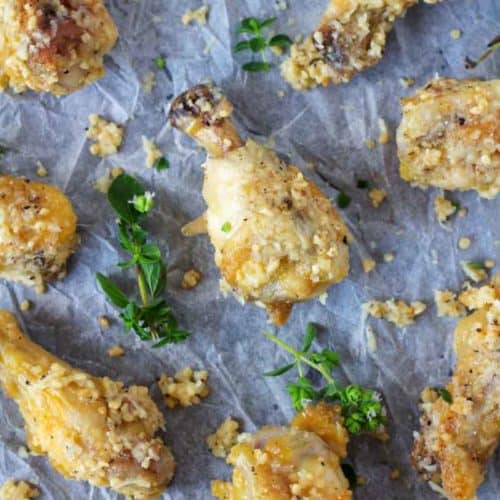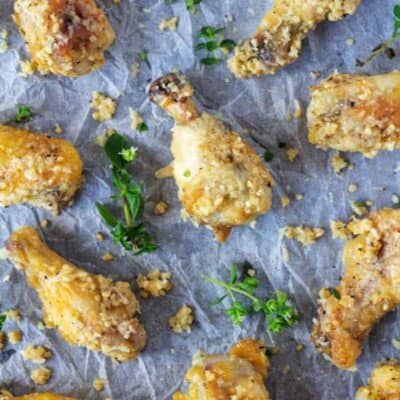 Garlic Parmesan Chicken Wings
These Garlic Parmesan Chicken Wings are exploding with flavor and easy to make. A simple baked chicken wings recipe that makes a great main course or appetizer!
Print
Pin
Rate
Servings: 4
Instructions
Preheat the oven to 425 degrees and line two sheet pans with parchment paper.

Fill your steam pot with water and bring it to a boil.

Place your chicken wings in the steam pot and boil for 10 minutes.

Dry the wings off on a plate lined with paper towels.

In a bowl mix the wings with the garlic, salt and pepper.

Place the wings on the sheet pan and bake for 20-25 minutes or until golden brown.

Place the butter and chicken wings in a large mixing bowl. Than sprinkle the cheese and garlic powder over the wings, stir to evenly coat the wings.
Nutrition
Calories: 581kcal | Carbohydrates: 1g | Protein: 44g | Fat: 43g | Saturated Fat: 14g | Cholesterol: 193mg | Sodium: 316mg | Potassium: 362mg | Vitamin A: 555IU | Vitamin C: 1.8mg | Calcium: 101mg | Iron: 2.2mg
Check out these sides that go amazing with this Baked Parmesan Chicken Wings to finish up the meal!
More Chicken Recipes: 
Slow Cooker Parmesan Garlic Chicken Bake
Rosemary Garlic Chicken Meatballs
Cracker Barrel Chicken and Dumplings Recipe