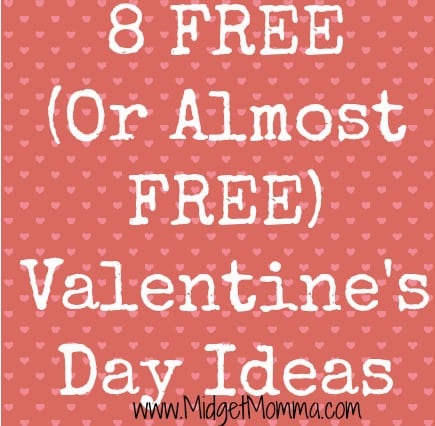 Don't forget to Pin it
Valentine's Day is almost here. Have you made your restaurant reservation, made heart-shaped treats for the kids, bought a romantic gift for your honey, picked out a sexy outfit and booked a sitter? Whew…and all this is for what? To end the night at a crowded restaurant where they hike up the prices in the name of romance?
If your typical Valentine's Day plans lead to overspending and disappointment, keep reading before you throw in the towel completely. Parents these days need to use every excuse they can find to carve out a little couple time. So keep the sitter, ditch the dinner reservation and try one of these fun ideas that won't break the bank.
And check out these tips for spending time together all year long: 10 Ways Parents Can Find Alone Time »
1. Skip dinner. Well, you can still eat dinner, but save money by making a meal at home and going out just for dessert. Even if you choose the best restaurant in town, chances will be greater that you can score a reservation later in the evening. Or just savor your sweets with your sweetie at the bar.
2. Play hooky from work. Valentine's Day is on a Tuesday in 2012. If you already have a nanny for the kids while you're at work, take the day off — or even just the afternoon — and spend it reliving your carefree, pre-parent days with your partner. Linger at a coffee shop, visit a free museum or take in a romantic comedy at matinee prices — holding hands, of course. Or check out that fancy restaurant's cheaper lunchtime menu.
3. Dance in the living room. Make a mix of songs from the milestone years in your relationship: when you met, got engaged, tied the knot, etc. Once the kids are snoozing, pop open some wine and pop in the mix. Take it up a notch by dressing up like you're going out dancing.
4. Go low-tech. Sometimes something as simple as turning off technology can help you tune in to your relationship. Once the kids are in bed, light some candles or start a fire and play a board game, cook together or just talk. No phones, no TV, no computer — just you and your honey.
5. Take a walk. Whether it's a nature trail or cute part of town, hold hands (or link arms) and go for a stroll. Talk about your past year's highlights and your fun ideas for the year ahead. Reminisce about your first Valentine's Day together and how far you've come. Warm up with a drink at a bar or a cup of cocoa at home — and a kiss.
6. Write a love poem. This is an especially great idea if you don't consider yourself a writer, because your partner won't expect it. For help, check out this step-by-step poem tutorial. Write from your heart and your partner will love it, even if the poem ends up more silly than serious.
If you'd rather leave the composing to the pros, here's a sweet idea from Sherry A. Sims, a national breast cancer advocate in Tulsa, Oklahoma: "On Valentine's Day when money was tight, my husband and I would meet in the greeting card department of our local grocery store. After reading various Valentine's Day cards, we'd 'give' the ones we liked best to each other," she says. "This activity gave us the ability to express our deepest feelings for one another — without spending a dime. Plus, it gave us a way to communicate during a difficult time — without ever saying a word."
7. Get married all over again. If you really want to have fun, check to see if your city is holding a group wedding or vow renewal ceremony. (A quick Internet search turned up group weddings planned in New Jersey, Georgia, Tennessee and Florida.) These ceremonies are usually inexpensive or even free, and some even have sponsors and the chance to win prizes.
8. Recreate your first date. Whether it was roller skating, taking your dogs for a walk or going to dinner and a movie, go on a retro date. Rent that movie and cook what you both ate, book a sitter and take the dogs for a long stroll or find a roller rink. There'll be small fees for admission, but the nostalgia will be worth it.
This is a guest post from
Amy Leibrock, Care.com Contributor