Coloring coconut is one of the easiest baking tricks there is to make your desserts fancy! These easy steps for How to Color Coconut will have you making your coconut desserts even fancier so easily, that you will do it all the time! Seriously, it takes just 2 ingredients and 2 minutes of your time to dye coconut and make it look amazingly beautiful on your desserts!
How to Color Coconut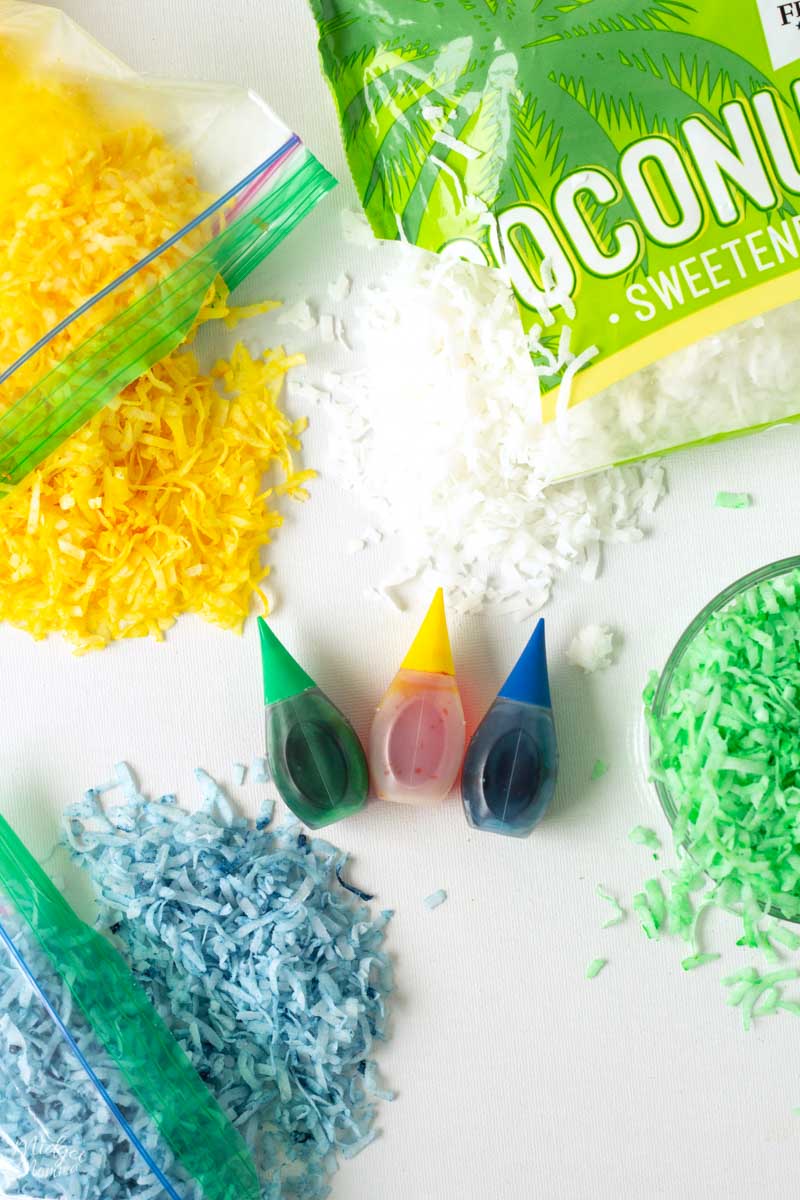 When I am baking I love using coconut for many different desserts. Not only do I love the flavor of coconut, but it is so easy to customize the colors that I want when I am decorating my baked goods and desserts. I can literally make coconut ANY color I want to in just a few minutes! It is like a magical baking secret, that can totally change the way you make your desserts!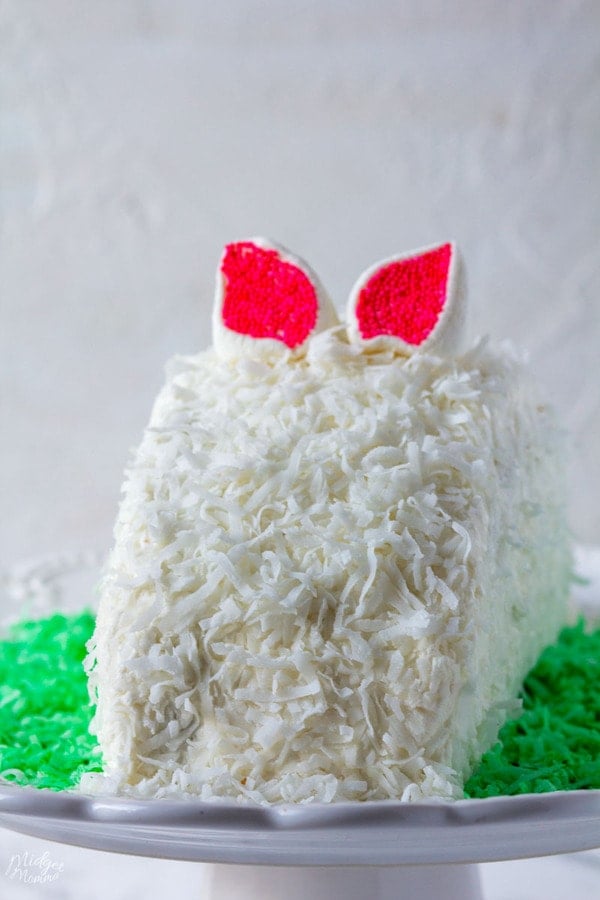 What to Use Colored Coconut For
Use dyed coconut like you would uncolored coconut in cakes, cupcakes, cookies, and desserts. However if you are going to also toast coconut, be sure you toast your coconut before you color it.
Colored Coconut is perfect to use as edible grass for cakes and cupcakes. It is a staple in my Easter dessert baking and many of my other holiday recipes as well.
There are LOTS of different cupcake flavors that go perfect with coconut too! My favorites are:
If you are looking for some amazing frosting recipes be sure to check these out!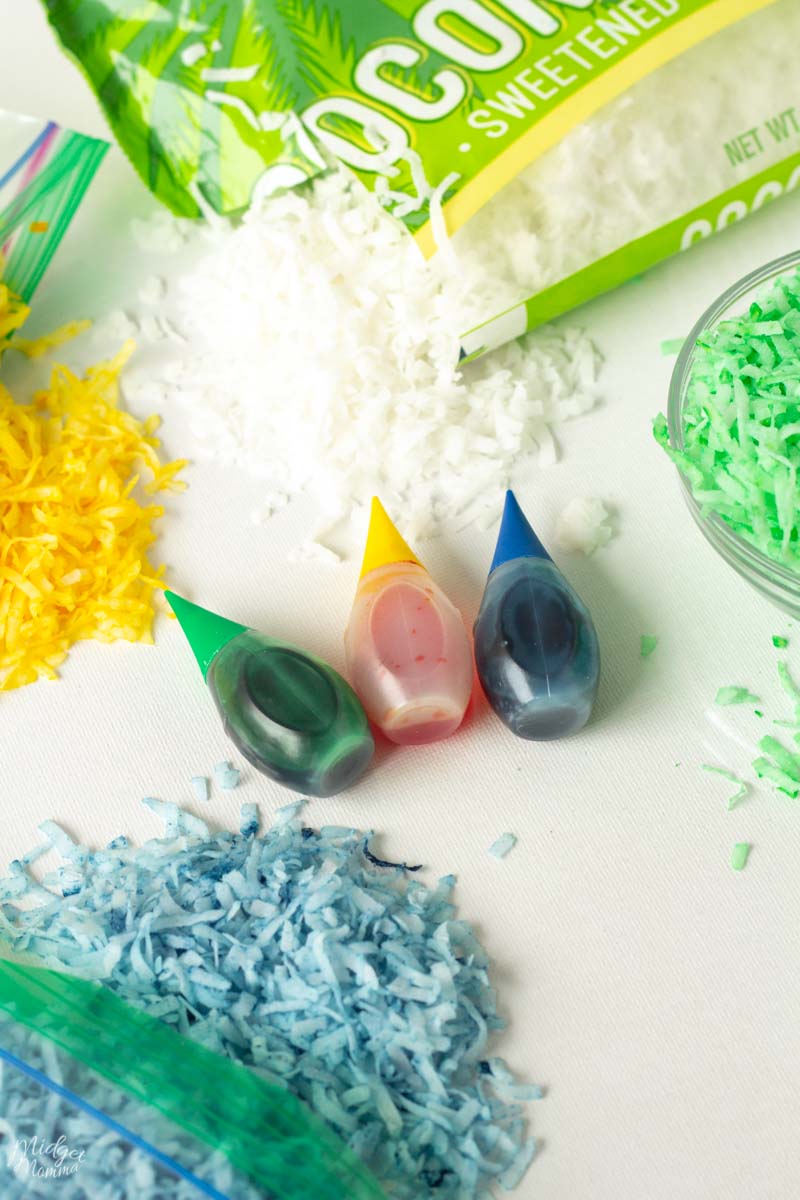 How to Color Coconut Different Colors
You can use sweetened or unsweetened coconut when you are coloring it. You can also use shredded coconut or coconut flakes just the same when you are coloring it. So anytime you have coconut in a dessert that you want to fancy up you can use these steps to dying coconut to easily fancy up the dessert.
How to make Pink Coconut
2 drops of red food coloring per cup of coconut
How to make Blue Coconut
2 drop of blue food coloring per cup of coconut
How to Make Green Coconut
3 drop of green food coloring per cup of coconut
How to make Yellow Coconut
3 drop of yellow food coloring per cup of coconut
How to Make purple Coconut
2 drop of blue food coloring and 2 drops of red food coloring per cup of coconut
What Food Coloring to Use when Coloring Coconut
You can use any color you want to when it comes to the food coloring when dying coconut. If you are wanting bright colors, they have some awesome neon food coloring, and pastel food coloring. You can also stick with traditional food coloring colors, or you can mix the food coloring to create different colors.
You can use gel food coloring or liquid food coloring to dye your coconut, either one works the same way.
Check out these awesome desserts that are perfect for using dyed coconut!
Colored Coconut Ingredients:
Shredded Coconut
Food Coloring
Step By Step Directions for Dyed Coconut
Place coconut into a ziploc and add a few drops of food coloring. You want to use a different ziploc bag for each color that you are making.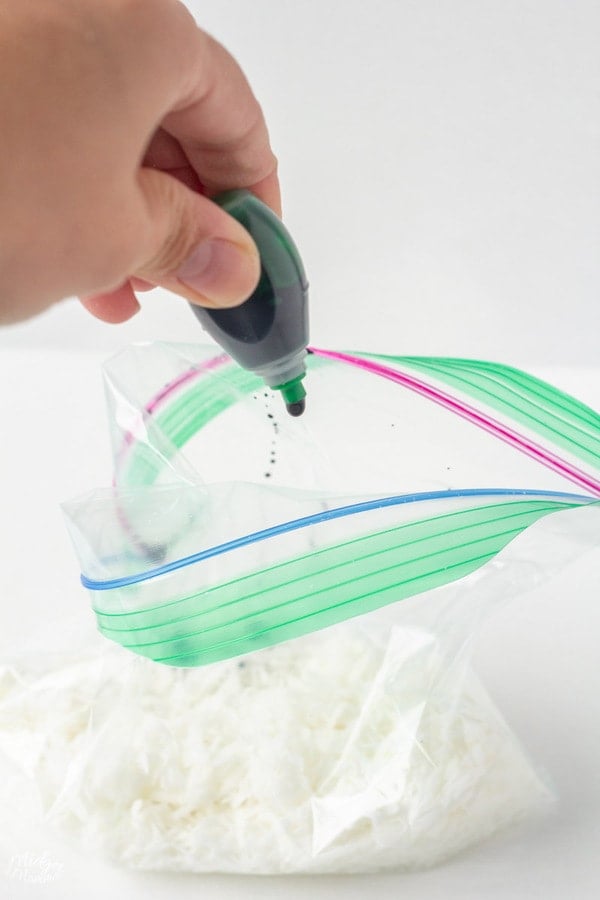 Close the bag well after your food coloring and coconut are in the bag. You want to make sure that you are closing the bag tightly.
I have learned the hard way what happens when you think you have zipped the bag all the way, and it isn't. It is a HUGE mess to clean up when dyed coconut goes flying across the kitchen.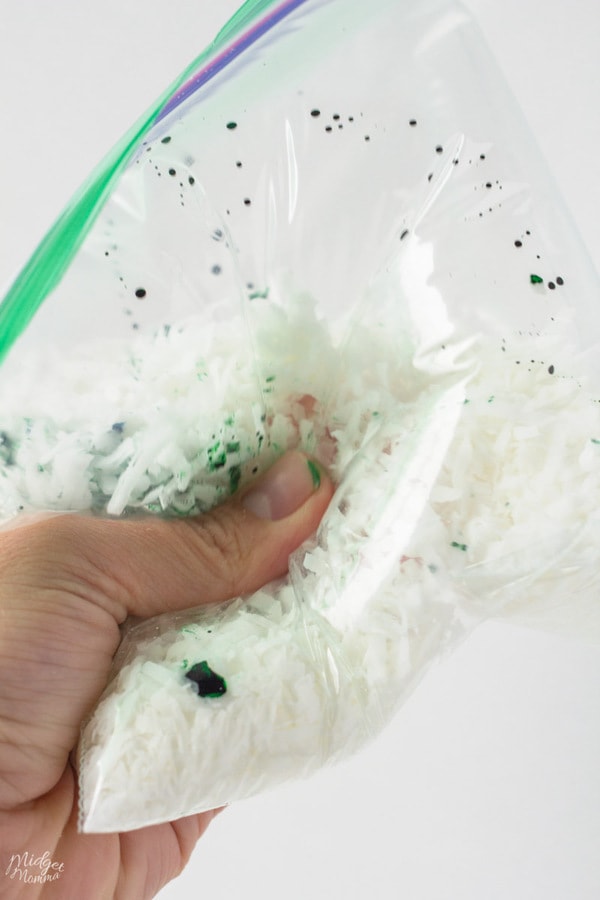 Mix it up, then add food coloring a few drops at a time and mix well until you have the desired color you want for your coconut.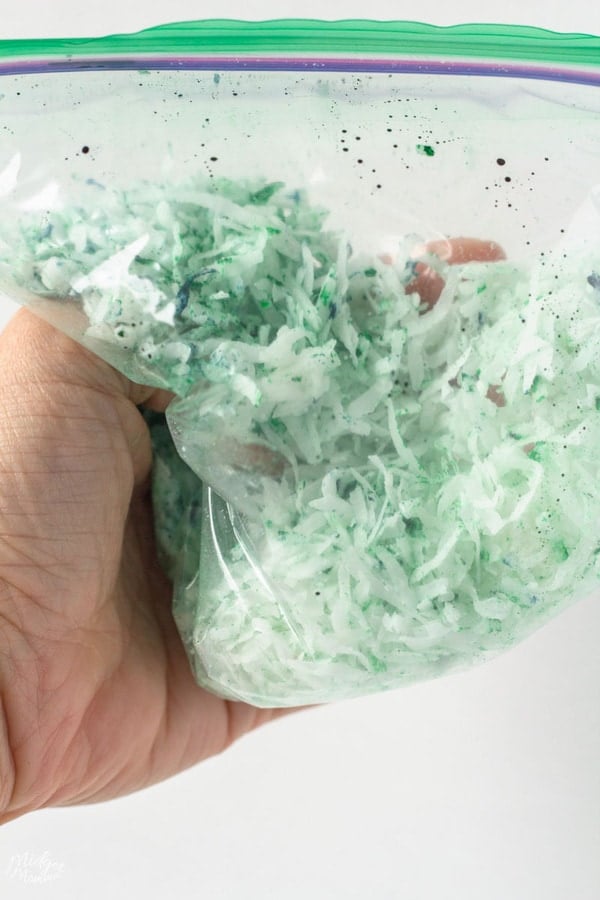 Pour colored coconut on a baking sheet and let it dry for a few minutes. Use as you would normally use your coconut in your desserts.
Do yourself a favor and print out the How Many Cups in a Gallon and other liquid measurements printable to help you with your measurements in the kitchen! I have mine hanging on my fridge and it makes a super easy cheat sheet for whenever I am cooking and need to use liquid measurements.
Check out these other awesome baking tips and tricks!
Join the newsletter
Subscribe to get our latest recipes right in your inbox every time we post a new one!
This post may contain affiliate links. Please read my disclosure policy here